Classic Basil Pesto Crostini recipe features zesty pesto sauce spread over crispy toasted baguette slices. An easy and festive appetizer!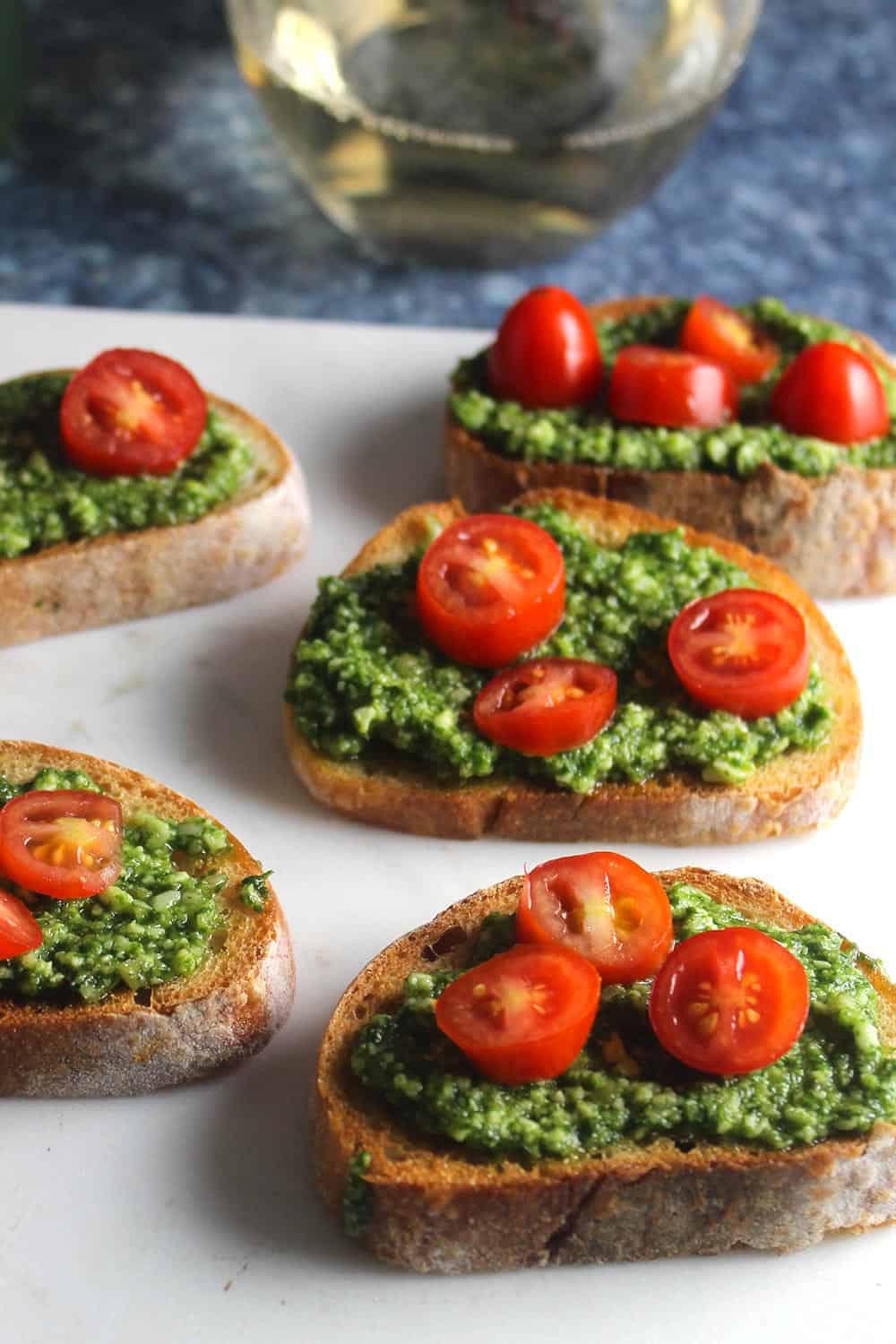 I first posted the basil pesto crostini recipe for a Mother's Day theme with the Sunday Supper blogging group. That was fitting as my mother and rest of the family love my pesto. I'm updating it just in advance of Christmas — the red and green colors of the pesto crostini topped with tomatoes brings a Christmas look with a taste of summer!
If you're looking for another tasty recipe with Christmas colors, check out our Simple Christmas Pizza! And if you have more pesto on hand after enjoying these crostini, try our scallops with pesto recipe!
Pesto is pretty simple to make, so I've yet to figure out exactly what makes mine seem to stand out for people. Maybe it's because I make sure to have plenty of garlic in mine, or the way I meticulously pluck those basil leaves and leave behind any that don't look great. I also like to use Pecorino Romano cheese, which imparts a nice flavor. Perhaps some people buy that store bought pesto, which can't compete with pesto made that day.
Lately I've been making kale pesto more often than basil pesto. One reason I started doing so was the difficulty with finding good basil outside of its peak season in late summer. But I've been finding more local New England farms producing basil year round now, such as the Green Mountain Harvest basil we grabbed for our latest batch of basil pesto. So basil pesto might be making a comeback in our house!
How to make basil pesto crostini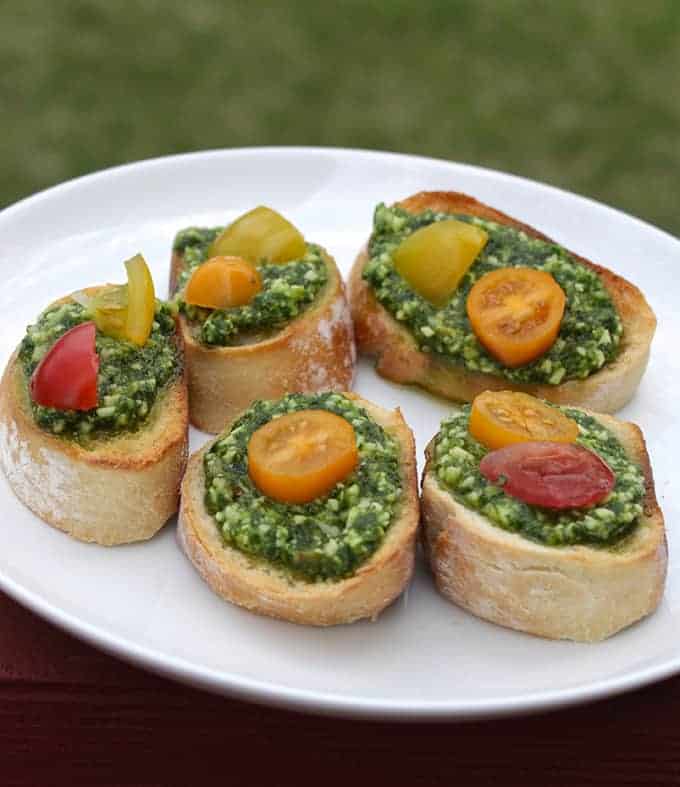 Below are some tips on how to make pesto crostini. Click here to jump down to the recipe card to get the complete step by step instructions.
Make the basil pesto
Get your food processor ready with the metal chopping blade inserted at the bottom. Our Cuisinart food processor(Amazon affiliate link provided) has made a lot of pesto!
As a first step, add the garlic and pulse to mince. Doing the garlic before the other ingredients prevents there from being large chunks of garlic in the pesto.
Add the remaining pesto ingredients and purée. Scrape the sides to get bits of basil and garlic incorporated into the pesto and pulse. Set the pesto aside until you are ready to top the toasted bread with pesto.
Prepare the crostini
Slice a baguette into rounds about ½ inch thick. I used to make the bread slices a bit thicker, then realized people would fill up on the bread and not have room for as much pesto and/or dinner following the pesto appetizer.
Coat the baguette rounds with oil spray and toast for about 5 minutes in the oven or toaster oven. You want the crostini to get lightly browned but not too crispy.
Spread each of the crostini with the pesto to cover, followed by a couple bits of tomato.
You can skip the tomatoes if you like. However, they make for a festive green and red presentation if you are making around the holidays.
Making pesto crostini ahead of time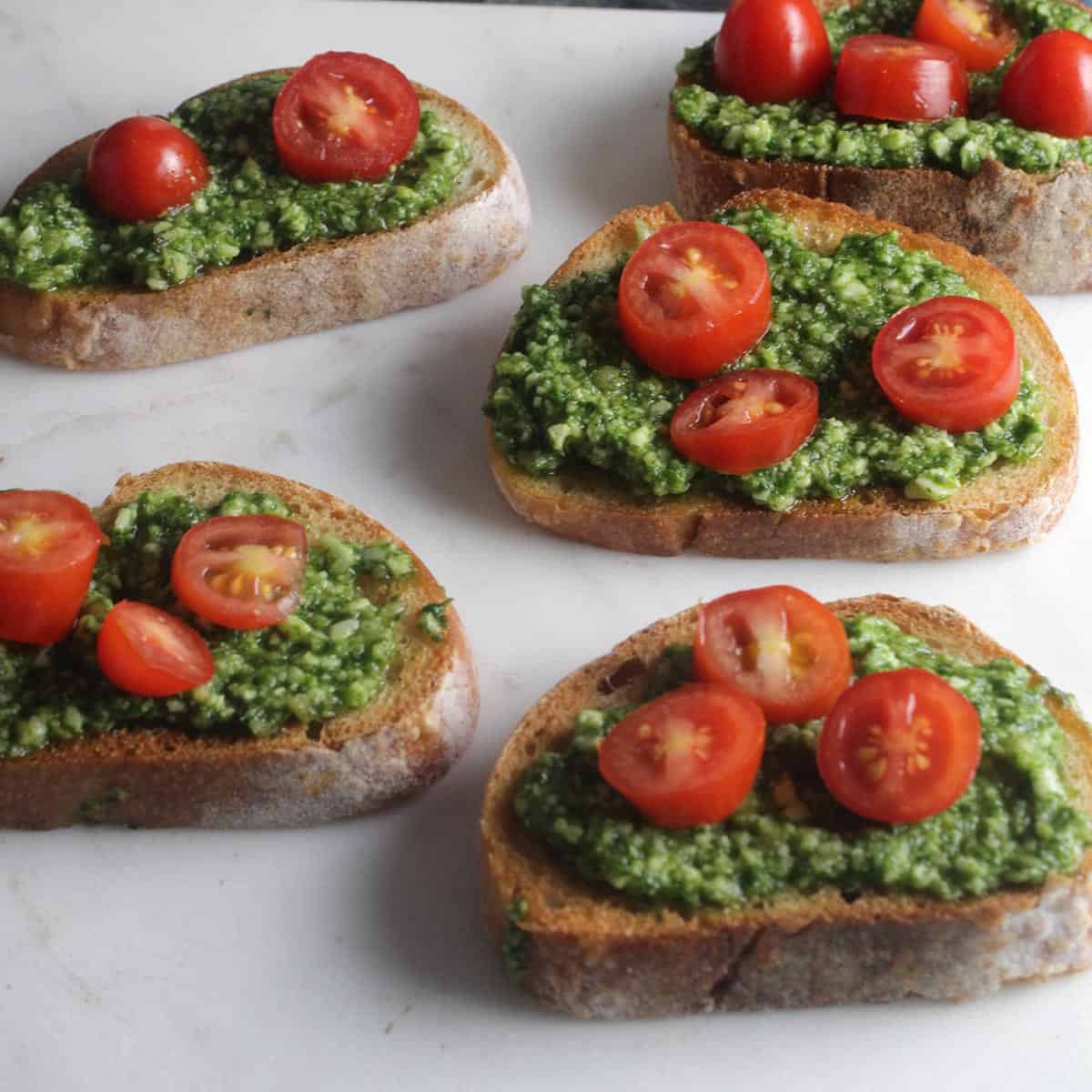 To make these pesto crostini for a crowd, I get the pesto ready earlier in the day, and get the bread all sliced up in advance, too. Then at the party I quickly toast the bread and spread the pesto, and boom, it's ready to go. And I mean go fast off the plate!
If you are making the pesto a few hours in advance of serving, you can simply leave the pesto out at room temperature until you are ready to serve. Pesto can keep in the refrigerator for several days if you want to really get a head start. Just take the pesto out at least an hour before serving so that it spreads better.
Scaling up pesto crostini for a crowd
I typically make at least double the pesto recipe given, either to serve pesto crostini to a larger group or to have some leftover pesto for other uses. To double or trip the recipe, simply click the scale button (e.g. 2x or 3x) in the recipe card below. I did want to measure quantities for times when you simply want to make enough crostini with pesto for 2 to 4 people as a starting point for this recipe.
Making Nut Free Pesto Crostini
Pine nuts are typically used for classic basil pesto. That is the way I always prepared pesto before our son was diagnosed with a nut allergy. I have found toasted pumpkin seeds to be a good substitute for pine nuts in this pesto recipe. I order pumpkin seeds from Gerbs, which produces seeds and other foods in a nut free environment (Amazon affiliate link provided).
See our collection of nut free pesto recipes for ways to make pesto without nuts.
More appetizer ideas
Looking for some more appetizer ideas? How about trying one of these:
Wine Pairing for Pesto Crostini
Sauvignon Blanc is a classic choice for pesto. We have also tested a Vouvray (Chenin Blanc) and a Passerina with good results. Read on for details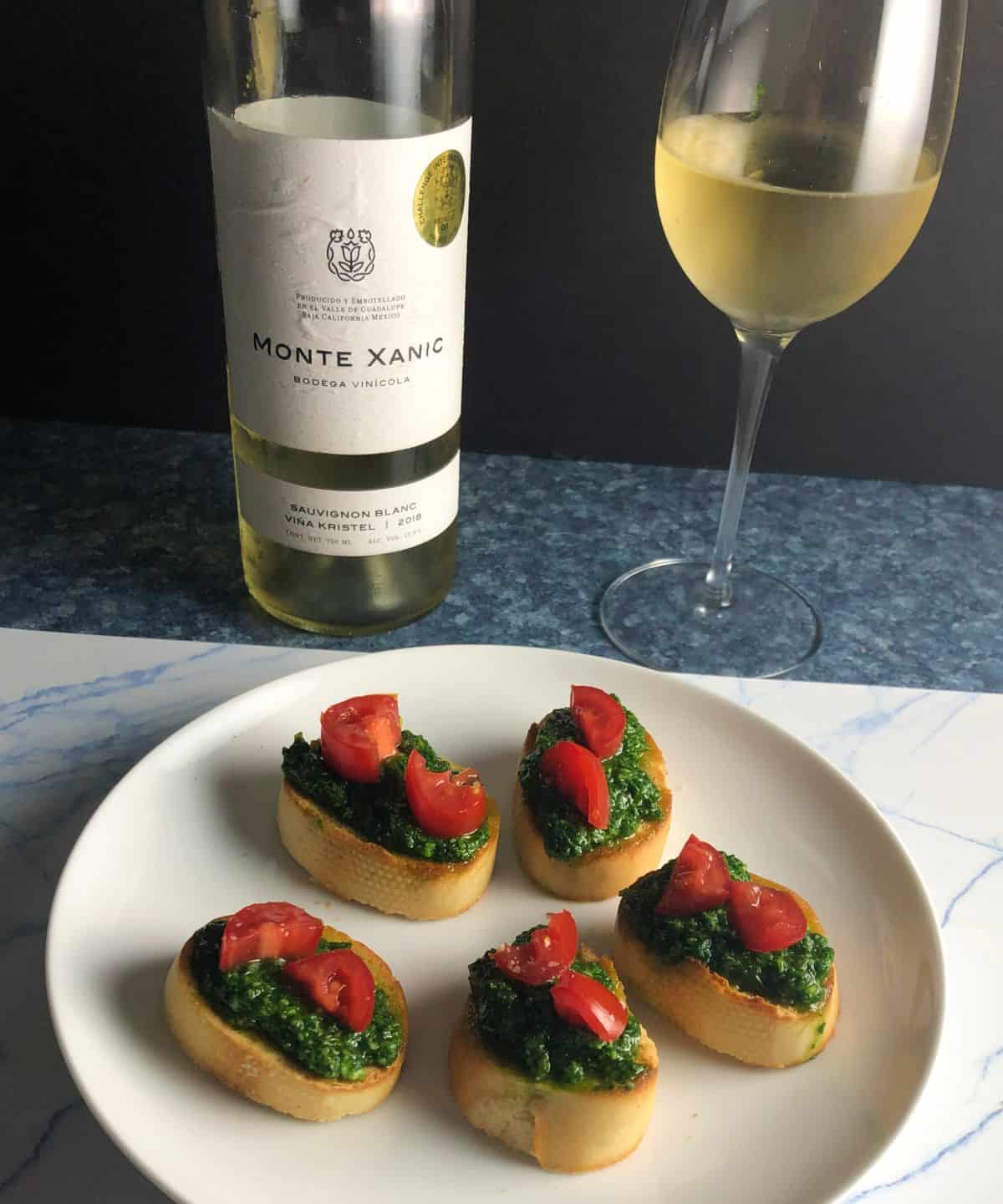 As I mentioned, Sauvignon Blanc is a classic pairing for all things pesto.
Mexico might not be the first region you think of when it comes to Sauvignon Blanc, but this bottle we tried recently from Monte Xanic is a great expression of the varietal! Crisp acidity and a clean taste makes it an excellent partner for the pesto crostini. Our mention of this pairing seemed to fit this article well, but we actually made this batch of crostini with kale pesto. Whether you try pesto with kale or the basil version keep Sauvignon Blanc in mind!
Monte Xanic, located in the Valle de Guadalupe region in Baja, is considered one of the Mexico's first boutique wineries. To give you a sense of the quality of their wines, this Sauvignon Blanc can be found on the wine list at the French Laundry — which is high up on my restaurant bucket list!
Ok, so Sauv Blanc is a classic pairing choice, but you can go with other crisp white wines, too. I like to serve pesto with a Picpoul de Pinet, for instance. When serving the pesto along with other apps, sparkling wine can also be a nice choice.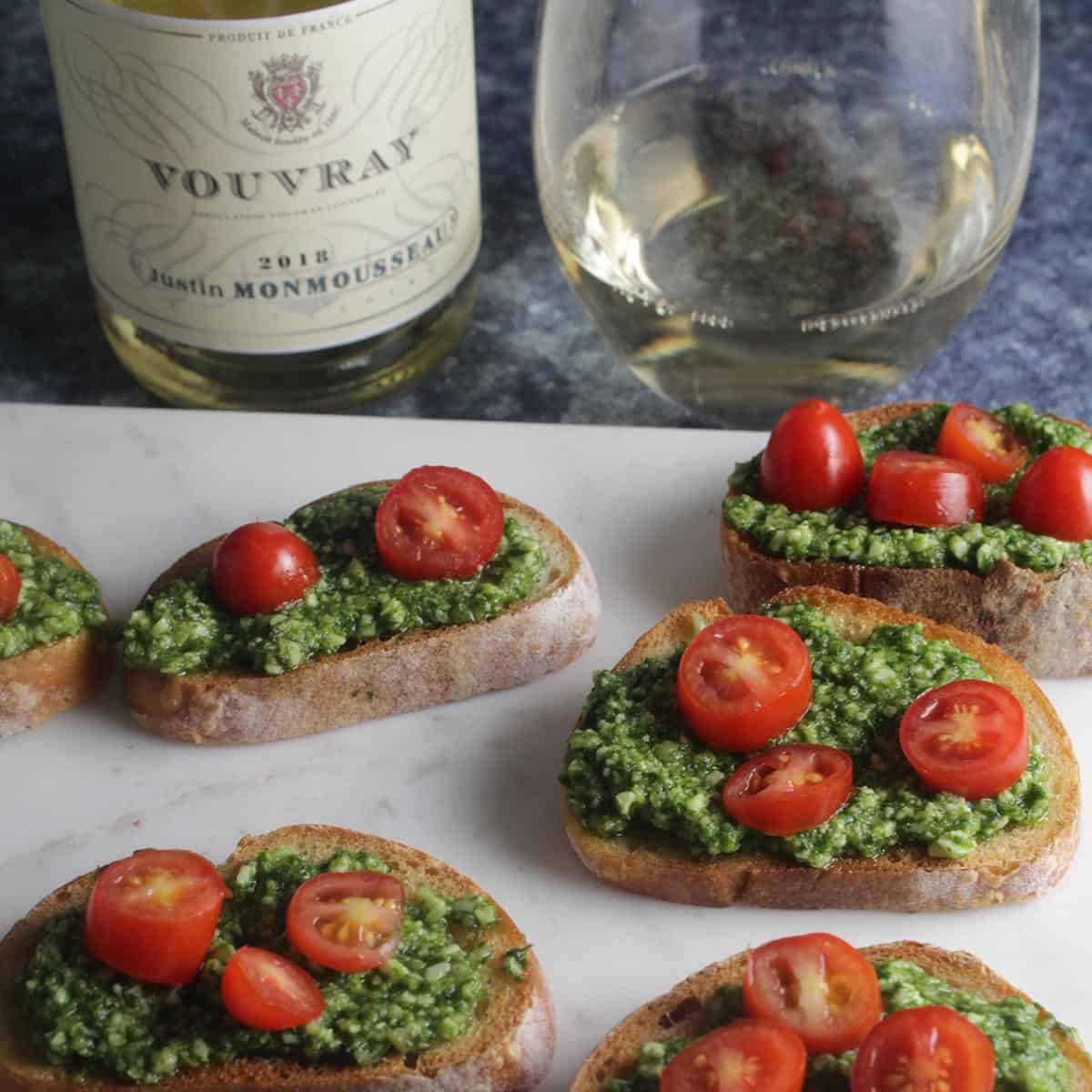 For a recent recent remake of this crostini recipe, we tested a couple of different pairings for this appetizer. First up was the 2018 Cantina Numa Passerina ($12, 12% ABV) from Le Marche region of Italy. I tried quite a few white wines made from the Passerina grape when visiting nearby Abruzzo . The Passerina is light, lemon fruit, with a hint of sweetness. This wine paired well with the crostini. The Passerina also shows that crisp Italian whites generally are a good match for pesto.
We also tested a bit of the 2018 Justin Monmousseau Vouvray ($16, 12% ABV) that I was planning on serving with some Spicy Lentil Soup. The Vouvray shows lemon fruit, a bit of honey on the palate. More full bodied than the Passerina. The honey element refreshes the palate after a bite of the zesty pesto.
Print
Recipe card
Classic Basil Pesto Crostini
Fresh homemade pesto spread on crispy crostini, topped with some tomatoes, for an easy and tasty appetizer.
Author: Cooking Chat
Prep Time:

15 mins

Cook Time:

5 mins

Total Time:

20 mins

Yield:

5

servings

1

x
Category:

Appetizer

Method:

food processor + oven

Cuisine:

Italian

Diet:

Vegetarian
1 cup

fresh basil leaves, rinsed and tightly packed

2

cloves garlic

½ cup

extra virgin olive oil

⅓ cup

Pecorino or Parmesan cheese

2 tbsp

toasted pine nuts or pumpkin seeds

1

baguette, sliced into ten ½ inch thick rounds (you will have extra)

¾ cup

tomatoes, diced
oil spray
Instructions
Start the pesto: Have a food processor at the ready, with sharp blade at the bottom. Add the garlic, and pulse to mince.
Add basil: Put the basil into the food processor, and give it a quick whir to begin chopping the basil and make room for the remaining pesto ingredients.
Finish the pesto: Add the olive oil, cheese and pine nuts. Puree to get everything well combined. Open the food processor, scrape the sides to get bits of garlic and basil that haven't been incorporated, then give the processor a final whir.
Toast the crostini: Preheat an oven to 400. Spread the bread out in a single layer on a baking sheet or large piece of aluminum foil. Coat one side of each slice of bread with oil spray. Put the bread into the oven, and toast for about 5 minutes until it starts to brown and get slightly crispy.
Finish the crostini: Remove the toasted crostini from the oven, and spread a dollop of the kale pesto to coat one side of each piece of bread. Top each piece of crostini with 2 or 3 pieces of tomato. Place on a serving platter and enjoy!
Notes
I often make double the amount of pesto given here, and have extra pesto for something else. You can easily double the recipe to a bigger group of people or to have pesto for another use such as our Ligurian Pesto Pasta.
Pine nuts are typically featured in classic basil pesto. But I have been substituting toasted pumpkin seeds for pine nuts with good results to make a nut free pesto.
You can also use a toaster oven to brown the bread for the crostini.
Keywords: basil pesto, pesto crostini, appetizers, holiday appetizers
Recipe Card powered by