I hadn't heard of the Italian region of Molise until I heard it was going to be the March stop on the Italian Food, Wine and Travel group's virtual tour of the country. Perhaps I should have started by learning about where Molise is found on the map of Italy; but my first concern was finding some Molise wine to sample and pair with a meal! So let's find out what we did for this Molise Wine Pairing Surprise.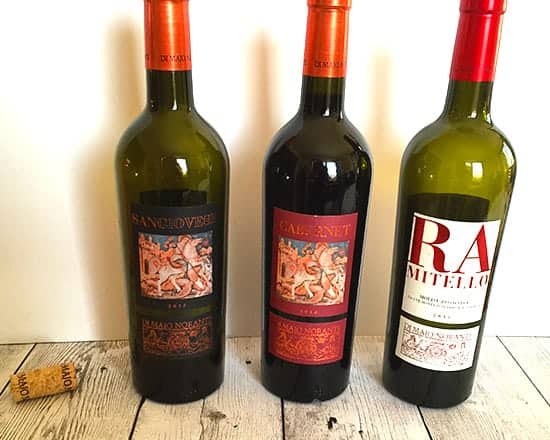 We have covered the majority of the Italian wine regions so far, and Pairings Wine & Food has had at least one bottle of wine from each Italian region in stock. Until we got to Molise. I finally managed to stump Ray on this one…at least briefly! There were none in stock, but he offered to order some for me when I asked about it this past weekend. Three wines from Molise were due to come a few days before our #ItalianFWT event.
I usually put some quality planning time into considering the wine and food pairings I put together, particularly the ones I'm planning to cover for one of these food and wine pairing blog groups. But this time I need to get Jen from Vino Travels a title knowing only that three Molise wines to be named later were on their way. Thus my Molise Wine Pairing Surprise title. I had a rough idea of what I'd be cooking midweek, but would decide what I'd do for pairings after the wine arrived.
Wednesday the Molise wines landed at Pairings.  It turns out that all three wines were Molise reds from Di Majo Norante, which seems to be one of the top Molise wine producers. There was s a Sangiovese, a Cabernet, and a blend of Montepulciano and Aglianico. What to do for our Molise Wine Pairing…
Molise Wine Pairing for Meatless Meat Sauce
The night before picking up the Molise wines, I had made a batch of Meatless Meat Sauce, tossed with spaghetti this time instead of linguine. This tomato-based sauce gets its substance from a combination of portobello mushroom and tempeh. It's a very good vegetarian approximation of a meat sauce! Grab the recipe here.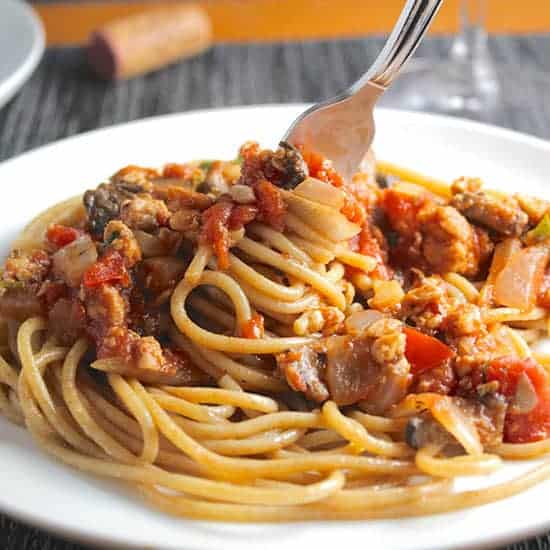 Sticking with the Italian theme, I roasted some Romanesco for our veggie side dish. This was my first time trying this vegetable which is sort of a cross between broccoli and cabbage. We all enjoyed the way the Roasted Romanesco came out–plenty of good quality Parmigiano on top didn't hurt! Unfortunately I didn't learn until after making the dish that sheep's milk cheese is big in Molise; otherwise I would have used Pecorino.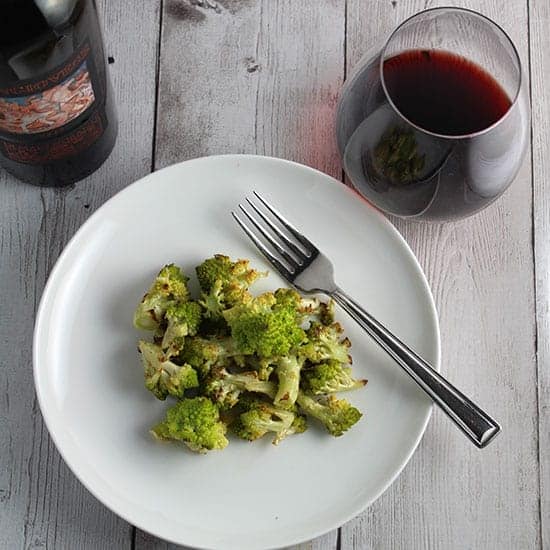 I thought Sangiovese would be a natural pairing for the tomato-based sauce, so we opened the 2013 Di Majo Norante Sangiovese ($14 , 13% ABV) with the spaghetti and Meatless Meat Sauce. Wow, what an interesting wine for under $15! I got berries and sage on the nose. Velvet mouthfeel, complex tastes to sort out…charcoal, tannings, but also some good fruit. Black cherry, I'd say. There's a lot of inky depth to this wine, and it evolved in the glass nicely, showing that fruit a bit more while retaining good structure.
This Molise Sangiovese was definitely a good match for the Meatless Meat Sauce, and I bet it would be very nice with a carnivore version of pasta sauce, too. The pairing with the Roasted Romanesco was OK, with the cheese providing some bridging for the wine. But the Sangiovese definitely paired better with the pasta.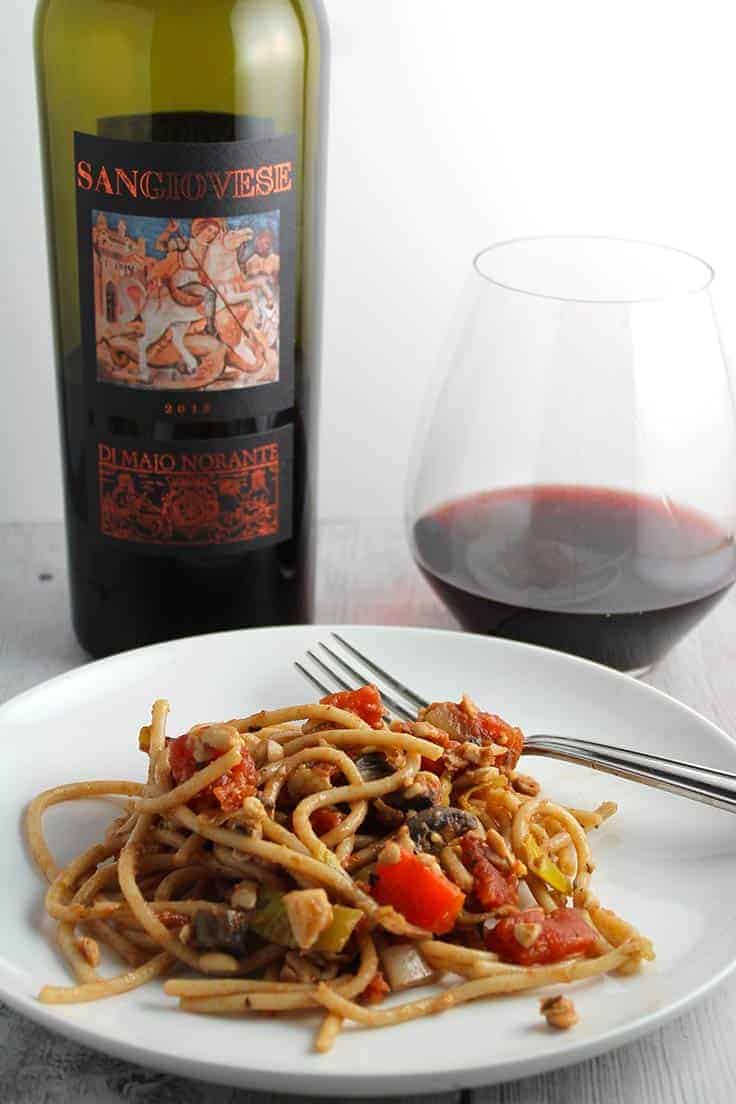 Molise Wine Pairing for Pizza
I wasn't going to have time to cook another meal before today's #ItalianFWT post, so I thought a Molise pairing for pizza would make sense. I thought the 2011 Ramitello Rosso ($21, 13.5% ABV) might be a good wine pairing for the mushroom pizza I picked  up. This Ramitello from Di Majo Norante is 85% Montepulciano and 15% Aglianico grapes from Campomarino on the Adriatic coast.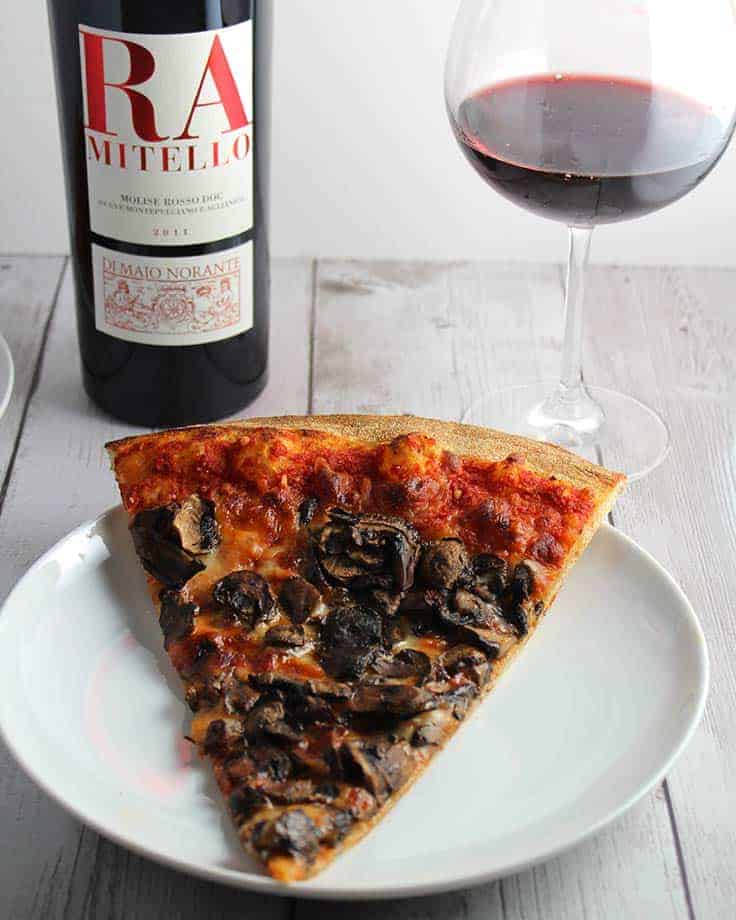 The Ramitello comes decorated with a label noting the bottle was a Wine Spectator 100 selection. Nonetheless, I liked its humbler and less expensive Sangiovese cousin quite a bit better. The Ramitello is quite tannic, I first noted its chewiness and leather. There is a bit of blackberry fruit that shows a bit more with time in the glass. I would say this wine has potential to improve with decanting or aging; but for easy sipping with pizza, this wasn't the best option. I am guessing the the Sangiovese we had would make a better Molise wine pairing for pizza
A Molise Wine Pairing to be Determined
We also have a bottle of 2014 Di Majo Norante Cabernet ($14, 13% ABV) to try. We didn't get a chance to sample it yet, but will come back and update this post when we do. Our first two Molise wines were big red wines, so I'm wondering if this 2014 Cab could use some time in the cellar or a decanter. We shall see.
Where is Molise anyway?
Molise in South Central Italy, located between the Apennine mountains and the Adriatic sea. It is the newest region in Italy. It used to be part of neighboring Abruzzo; the new Molise region became effective in 1970. Though wine has been produced in this area for centuries, Molise wine is not commonly found on the market in the United States. But there are clearly some good quality producers like Di Majo Norante, and hopefully we will see more Molise wine coming our way!
More Molise Wine Posts From #ItalianFWT Friends
Here's what my fellow #ItalianFWT bloggers came up with from Molise.
Vino Travels – Di Majo Norante of Molise Rocks the Mediterranean
Culinary Adventures of Camilla – Risotto agli Spinaci with a Montepulciano-Aglianico Blend
Rockin Red Blog – Molise: The Land of Gladiators
Food Wine Click – A Molise Sangiovese with a Sauce to Make as the Pasta Cooks
Cooking Chat – Molise Wine Surprise
The Wining Hour – Sausage and Tomato Herbed Focaccia with Ramitello Biferno di Molise
Enofylz Wine Blog – A Taste of Molise: Authentic Italy
Please join us for a live twitter chat this Saturday March 5th at 11am EST at #ItalianFWT. For a listing of upcoming wine pairing events, visit this page.