Roasted root vegetables tossed with hearty farro grain and savory Parmigiano cheese makes for a substantial side dish, or can also be served as a vegetarian main. Our contribution to a SundaySupper event focused on root vegetables. Read on for details or jump ahead to our Roasted Root Vegetable Farro recipe.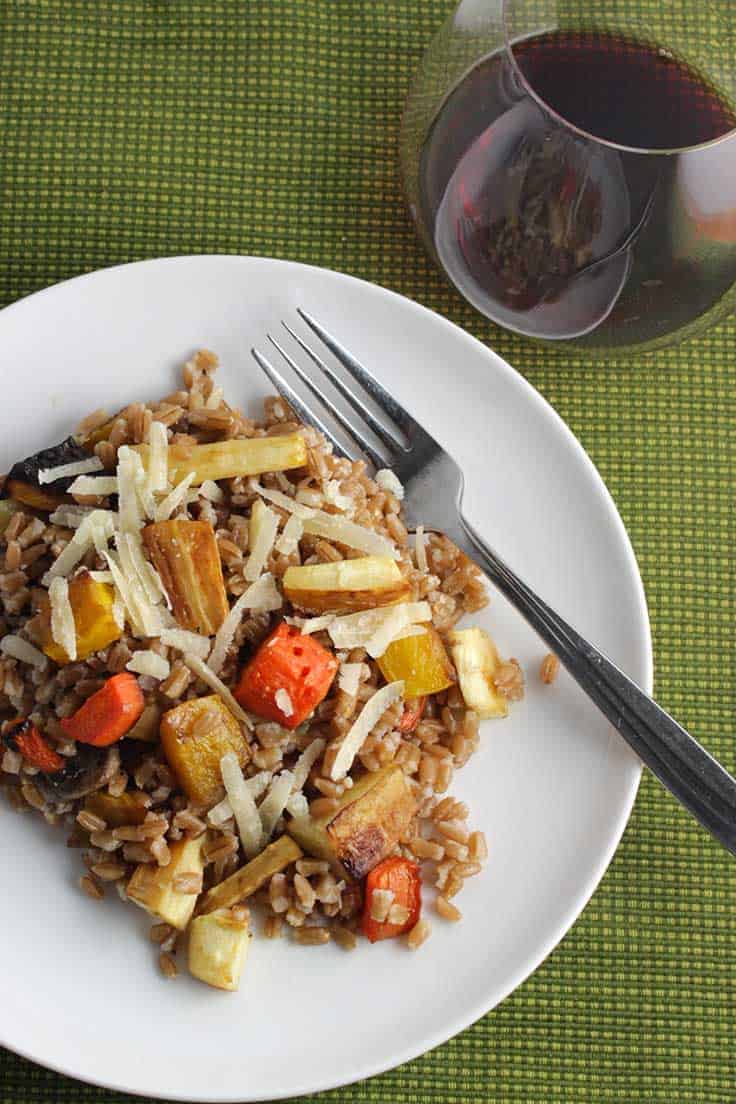 When I heard the Sunday Supper group would be focusing on root vegetables, I knew right away that I'd be roasting some. Sure, I'll sauté some carrots with onions to start a soup or a stew, but roasting rooting vegetables is definitely my favorite way to cook them. I love the way roasting brings out the sweetness in the root vegetables and adds a nice depth of flavor. Before I get further, let me say thanks to Cindy at Cindy's Recipes and Writings for hosting this tasty Sunday Supper event!
I first thought perhaps I'd make a roasted root vegetable soup. But as I was planning the past week's menu, I was looking for a substantial side dish to serve with pan seared salmon. Along came Roasted Root Vegetable Farro.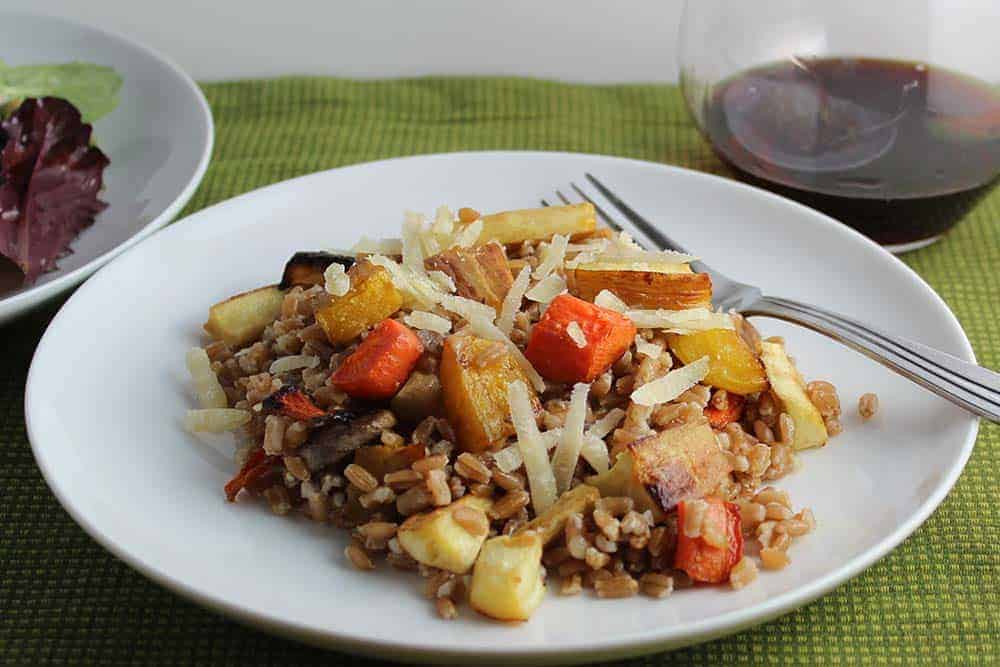 If you haven't tried farro, I definitely encourage you to check it out. Farro is a hearty ancient strain of hard wheat popular in Italian cooking. Combined with the roasted root vegetables, it makes for a very hearty side dish.
Making Roasted Root Vegetable Farro
You can easily change up the root vegetables used in this recipe. In fact, I thought the I had a type of turnip in the mix here, until I cut it open and realized it was a golden beet.
To make the Roasted Root Vegetable Farro, get the the farro soaking and the garlic roasting as your first steps. If you start the water boiling for farro after adding the veggies to the oven to roast, the farro and veggies will be done around the same time. Note that some vegetables roast faster than others, so checking early and pulling out those are done yields the best results.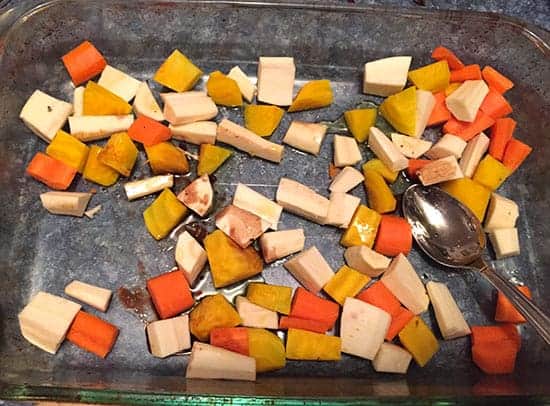 The caramelized vegetables and farro get tossed with some quality Parmigiano cheese for some nice nutty flavor. I also added a small bit of sautéed mushrooms on hand from another cooking project. It was a nice touch, but certainly not necessary.
As I mentioned, I enjoyed the Roasted Root Vegetable Farro as a side dish for salmon. I actually wound up mixing some of my salmon in with the farro, and that tasted great too.
Someone here passed on the salmon and just ate a good portion of the root vegetable farro as their main, so you can definitely serve it as an entree too. Whatever root veggies you roast for this, and however you serve it, I hope you enjoy it!
More farro recipes
Be sure to check out these other recipes featuring the hearty farro grain!
Wine Pairing
If you are serving Roasted Root Vegetables as a side dish, you would want to consider what the entree is that you are serving with it. This is a great side for salmon or chicken. Pinot Noir was a great match for the roasted root veggie farro along with the simple preparation of salmon, and it would work well with chicken, too. If you were serving the farro as a main dish, Pinot would still work, but you might also like to try a full bodied white wine like Chardonnay.
Recipe Details
Print
Recipe card
Roasted Root Vegetable Farro
Caramelized roasted root vegetables combined with hearty farro grain makes a substantial side dish. Can also be served as a vegetarian entree.
Author: Cooking Chat
Prep Time:

10 mins

Cook Time:

45 mins

Total Time:

55 mins

Yield:

5

servings

1

x
Category:

Side

Method:

roasting & stove top

Cuisine:

Italian

Diet:

Vegetarian
1

head of garlic

3

parsnips, peeled and chopped into bite sized pieces

2

carrots, peeled and chopped into bite sized pieces

1

golden beet, peeled and chopped into bite sized pieces

3 tbsp

plus 1 teaspoon extra virgin olive oil, divided

1 tbsp

balsamic vinegar

2 cups

farro, soaked for

20

minutes, then drained and rinsed.

½ cup

Parmagiano cheese
salt and pepper to taste
optional sautéed mushrooms
Instructions
Preheat oven to 400 degrees.
Cut the root end off the head of garlic, exposing the bottom of the garlic cloves. Drizzle exposed cloves with 1 teaspoon olive oil. Season with salt and pepper to taste. Wrap the garlic in aluminum foil in oven. Roast until garlic is brown and getting very soft, about 45 minutes. Set aside to cool when done roasting. When the garlic has cooled, squeeze the good stuff out of the skin and it is ready to use.
Chop the other vegetables as the garlic starts to roast–they need a bit less time. Spread the chopped root vegetables in a roasting pan. Spread the balsamic vinegar and 2 tablespoons of the olive oil over the vegetables, and add salt and pepper to taste. Toss the veggies to combine with the olive and vinegar.
Place the roasted root vegetable pan in the oven alongside the garlic. This is also a good time to start boiling a large pot of water for the farro.
Roast the root vegetables for 25 minutes, then remove the pan to check for vegetables that are done, most likely some of the parsnips will be done first. They are done when browned and easily pierced with a fork.
Remove the vegetables that are done, and set aside. Return the rest of the vegetables to roast for another 10 minutes. Remove the roasting pan, and set the vegetables aside.
Cook the farro as the root vegetables are roasting. Add the farro to the large pot of boiling water, and boil until the the farro is tender, at least 25 minutes.
When the farro is tender, drain the farro and then toss with 1 tablespoon olive oil and the cheese. Stir in the roasted root vegetables and the roasted garlic (squeezed out of its skin). Add optional mushrooms if using. Serve and enjoy the roasted root vegetable farro as a hearty side dish or vegetarian main.
Keywords: root vegetables, farro recipes, side dish
Recipe Card powered by