We were recently seeking a restaurant in Ogunquit for a family meal. Foremost among our concerns was finding a place that could accommodate our son's multiple food allergies, while providing a dining experience we would all enjoy during a quick spring Maine getaway by the sea. After we learned the destination we had in mind had yet to open for the season, Northern Union restaurant caught our eye.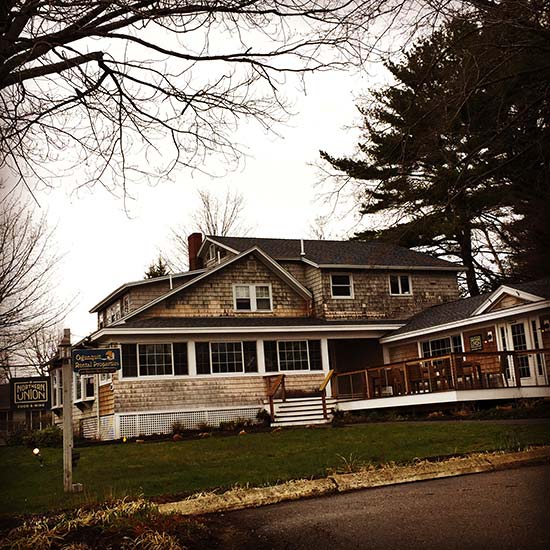 Jodi found Northern Union doing some web research and correctly figured I would be interested in the restaurant's focus on wine pairings and seasonal food. I called ahead and the staff expressed confidence they could accommodate our son's food allergies (egg, nuts, sesame seeds and dairy), so we booked a reservation for the five of us.
I would describe Northern Union as having a rustic chic atmosphere. At a glance the weather beaten shingles make the restaurant look like a large beach house from the exterior. There are several small, comfortable rooms that we passed through, seeing couples on couches enjoying small plates with a glass of wine. Our table was the only one set in a small library, made from large dark plans of wood. We settled down to the table ready to eat!
We started by reviewing B's food allergies with our server. Her conversation with the chef took some time, but she was happily able to report back a good number of the menu items that could be prepared safely for B. He chose the grilled hanger steak, and loved his choice, even though it was cooked a bit less than the medium he ordered. That dish is served with potatoes roasted with duck fat and baby carrots. I thought the potatoes were tasty, but B found them a bit rich. Duck fat may be an acquired taste!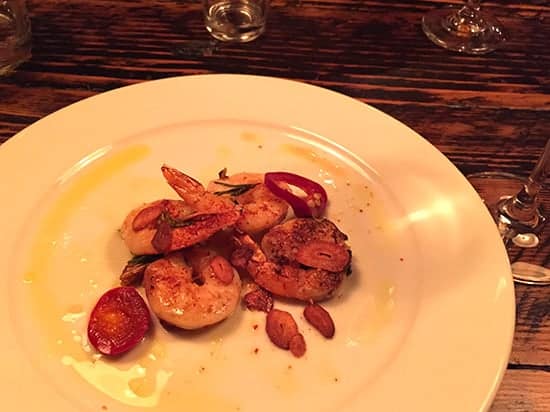 There are quite a few interesting small plates, and I get the impression some people will come and just order several of those along with wine.  I ordered Shrimp a la Plancha to start, which is served with rosemary, pickled chiles and espellette pepper. That last ingredient gave the shrimp a flavorful kick, which pleased my palate more than our ten year old's.  The shrimp tasted so fresh and was cooked just right. I had the shrimp with a glass of Schloss Gobelsburg Grüner Veltliner, which was very refreshing and made for a good pairing.
Speaking of pairings, each of the dishes is listed on a menu with a suggested wine pairing. The pairings definitely seemed like good suggestions, but I veered off in my own direction based on wines I was interested in trying. The wine list has a nice variety without being overwhelming, and is reasonably priced. There's a good range of glass and half bottle options, which is nice for multi-course dining.
Rounding out the starters we had at our table, my father enjoyed the curried cream of celery soup. I'm not a big celery fan so this didn't sound appealing, but I did sample a bit and liked the fresh taste. My mother had a market salad and Jodi had the Maine potato latkes with herbed créme fraîche. Those latkes were very tasty, I also ordered some to go with my main.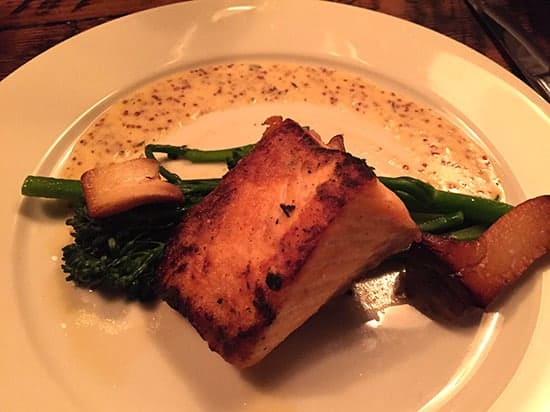 I mention the hanger steak that our son really enjoyed. For my entree, I chose the grilled salmon with oyster mushrooms and a whole grain mustard sauce. The sauce and the dish as a whole was very flavorful. The salmon was cooked a bit more than I prefer, but the dish was still very enjoyable based on the way it was prepared. I ordered a glass of salmon with a glass of Mouton Noir Pinot Noir from the Willamette Valley.
This glass of pinot brings me to one of my small critiques of our visit. The pinot came out notably warm. When I commented on this the server attributed it to the glasses having been recently washed. Another glass was brought, while not quite as warm was still more like room temperature as opposed to the 55 to 60 degrees at which pinot ought to be served. To keep things moving I said it was OK, but it didn't help with the enjoyment of the wine.
The pan roasted pork loin served with fingerling potatoes got rave reviews from my father. Jodi and my mother both ordered pasta dishes they were pleased with: ricotta tortelloni with asparagus and prosciutto, which was presented very creatively, and a traditional pasta bolognese.
Overall, we were pleased with our dining experience at Northern Union. The food is high quality, creative and seasonal. The wine list and suggested pairings certainly appeal to those of us who prioritize having good wine with our meals. Most importantly for us, we appreciated the attention to the food allergy concerns we expressed.
There were a couple of areas with room for improvement. The pacing of the meal was quite slow. While I appreciate our server being eager to talk with the chef about the food allergy issues, it wouldn't have seemed like such a long wait for our return if she had first taken care of some drink orders. Then it took quite awhile for our first course to arrive, and it would have been nice to have something to nibble on as we waited. Toward the end of the meal, our server apologized about the slow service, and mentioned they are quite short staffed early in the season. As a way of acknowledging this, they brought out a complimentary, food allergy safe dessert for us to share. It was a Greek fried dough which I believe is called Loukoumades, and our son loved this! The thoughtfulness of this gesture certainly enhanced my good feeling about our visit to Northern Union.