Today we explore Oltrepò Pavese, an Italian wine region that was new to us. We had a chance to sample two wines from the region, and experiment with some pairings. Disclosure: The wines discussed here were provided as complimentary samples by the Consorzio Tutela Vini Oltrepò Pavese.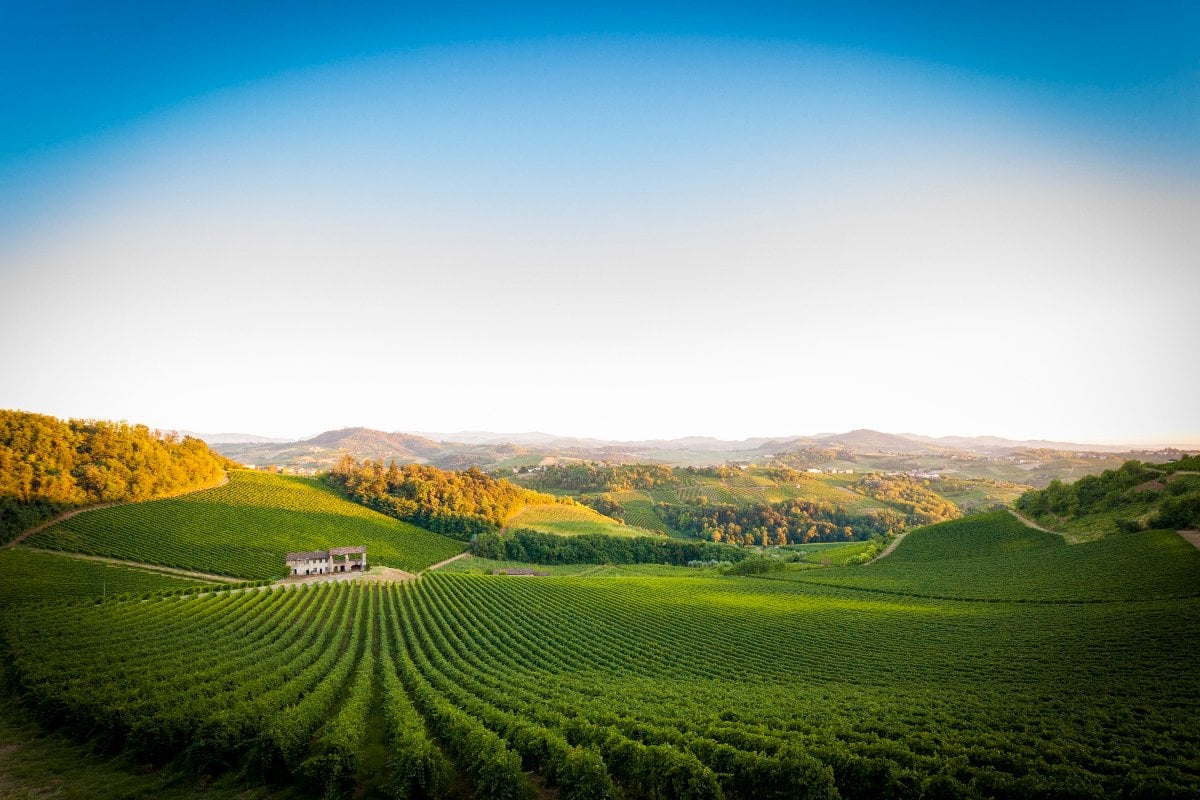 When Susannah Gold from Vigneto Communications asked about people wanting to try some wine from Oltrepò Pavese, I was all in! Italy has such an abundant diversity of wine and wine regions, there is always something new to learn…and taste! Thanks for hosting, Susannah! More background can be found in her intro post.
Jump to:
Introduction to Oltrepò Pavese
Oltrepò Pavese is in Lombardy, in Northern Italy. It is at a crossroads between regions, on the border of Emilia-Romagna and Piedmont.
The terrain consists of rolling hills between the foothills of the Apennine Mountains and the Po River. Those hills combined with the wineries make it a popular destination for biking vacations!
Wines of Oltrepò Pavese
Evidence of winemaking in Oltrepò Pavese goes back thousands of years. The roots of the modern wine industry started taking hold; including La Versa, one of the wineries from which we received a sample.
There are approximately 13,000 hectares of vines under production in the region. The big four varietals are Pinot Nero, Croatina, Barbera and Riesling. However, you can find many more types of red and white wines in lesser quantities.
The Consorzio Tutela Vini Oltrepò Pavese was founded in 1961 to promote the high quality wines of the region. They are also leading important initiatives such as promoting sustainability in the area.
Oltrepò Pavese Sparkling Wine
We started our tasting of Oltrepò Pavese wines by opening La Versa Collezione 2007 Brut sparkling wine (13%), Metodo Classico (traditional method). The wine is made with a blend of Pinot Nero and Chardonnay grapes.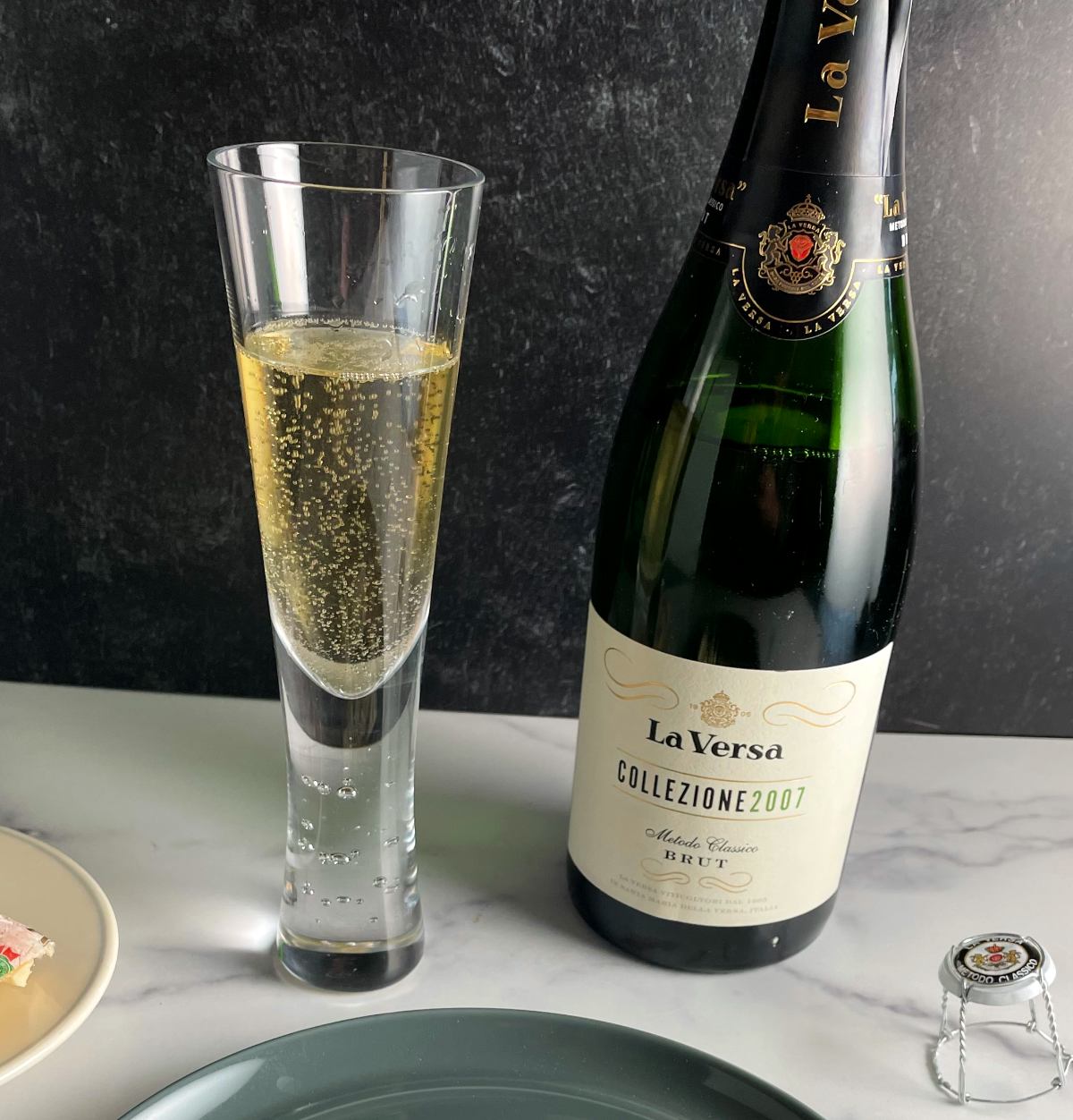 I did wonder if this wine was actually produced with grapes from the 2007 harvest, or if that was the year this wine was introduced. I did learn these are in fact 2007 grapes, with the wine spending 144 months on lees, disgorged in 2019.
I get brioche notes on the nose of this sparkling wine, with apple and yeast on the palate. The wine is quite dry on the palate (8 g/l residual sugar), lively bubbles with a nice lingering finish.
La Versa was founded by Cesare Gustavo Faravelli back in 1905 as a cooperative winery dedicated to making wine from the best grapes characteristic of Oltrepò Pavese, and has grown over the years keeping true to that theme.
Sparkling wines have always been central to La Versa's success. In 1935, using some rudimentary equipment, they produced the first Italian traditional method sparkling wine.
Pinot Nero
Our second wine in this tasting was the 2020 Travaglino Pinot Nero Dell'Oltrepò Pavese (13% ABV). The grapes, 100% Pinot Nero, are sourced from Ca Nova vineyard which has brown clay soil, with sand and pebbles. The wine is aged for 6 months on lees.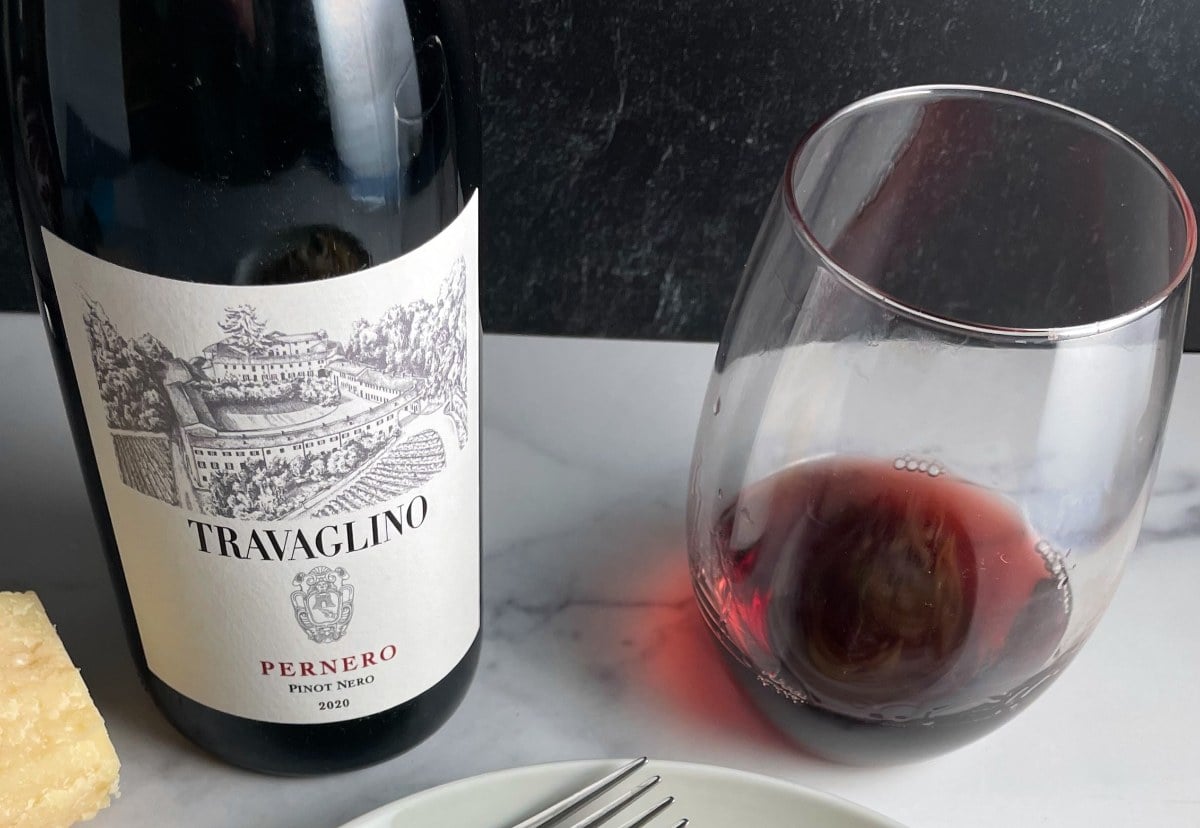 Pinot Nero is the Italian name for the Pinot Noir grape. I have often not liked Pinot Neros as mush as I tend to like the versions of the grape from places like Burgundy and the Willamette Valley. But I really liked this Pinot Nero from Oltrepò Pavese!
The Pinot Nero has a jammy nose, with notes of brambles. Dark fruit on the palate — boysenberry, pomegranate and a bit of red licorice. A nuanced and flavorful wine!
But we didn't have the wines on their own, time to talk about pairings!
Pairing with Taleggio Cheese
So our plan was to try both of our Oltrepò Pavese wines with the pasta dish we were making for dinner. But clearly we didn't the entirety of both bottles for that experiment, so we had a chance to test out another pairing before dinner got cooking.
Creamy cheese and sparkling wine tends to be a winning combination. And I recalled awhile back I had written up some notes on trying a pairing for Taleggio cheese.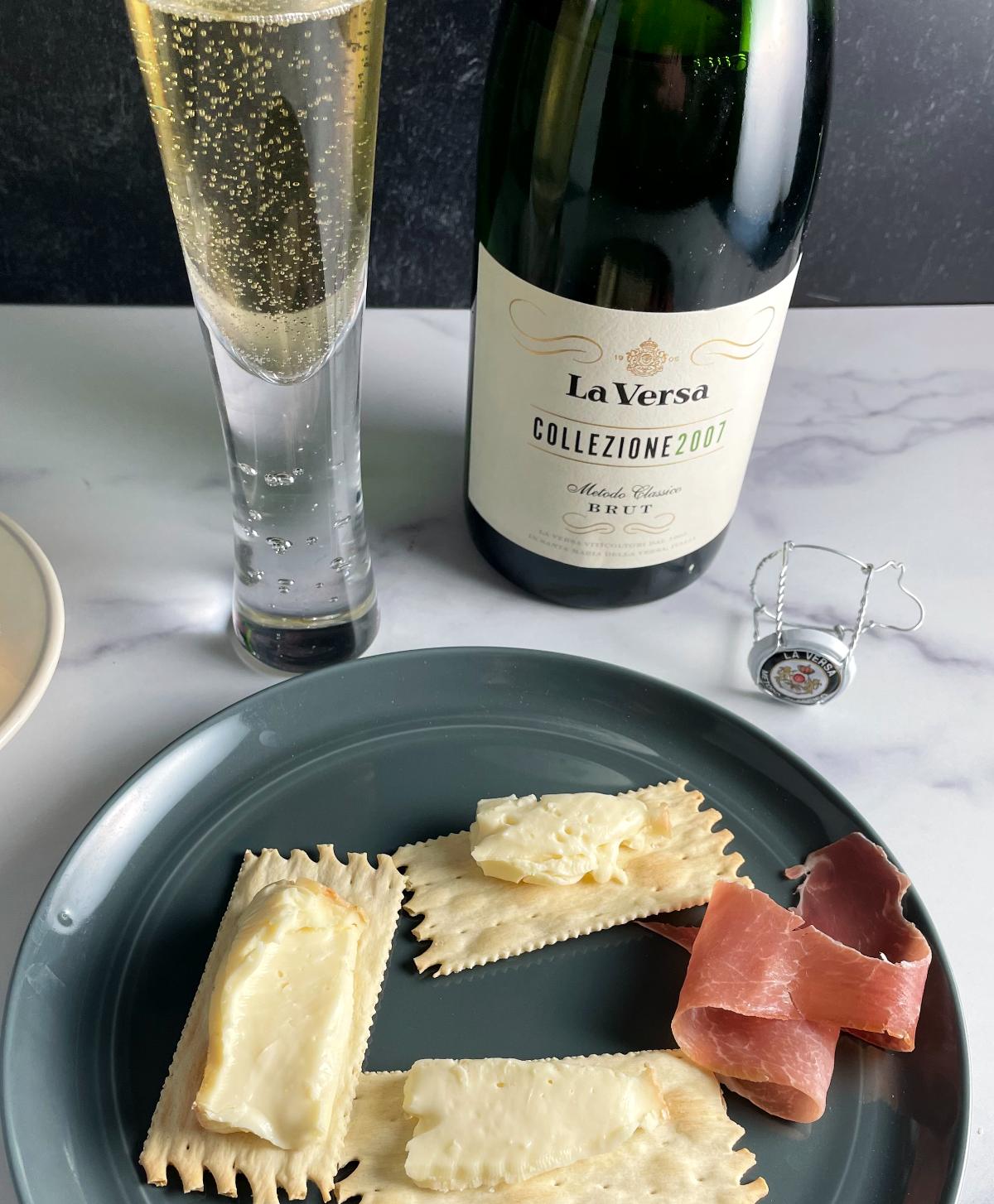 A little background research reminded my that Taleggio is produced in Lombardy and nearby regions. Food and wine from the same region always tends to be a good idea, so I just had to pair some Taleggio with La Versa sparkling wine!
For more details on this pairing, check out our article on Taleggio Cheese Wine Pairing Options. Here I will just say that the dry sparkling wine did a wonderful job of cleansing the palate after bites of the pungent cheese. It was definitely my favorite pairing with these Oltrepò Pavese wines!
Oh yes, we had some prosciutto out on the plate with the cheese. That always seems to enhance an Italian wine pairing!
Radicchio Pasta Pairings
I've had a couple weeks of radicchio rolling in from our local farmshare. One night I made a delicious, simple side of sautéed radicchio with finished with some good balsamic vinegar. I had a notion that the next time I got my hands on some radicchio, I would do a similar preparation, but turn it into a main dish pasta recipe.
Radicchio has a distinct bitter taste profile, so I suspected it could be a bit challenging on the wine pairing front. But both sparkling wine and Pinot Noir are pretty versatile in their pairing capabilities, so I thought testing both wines from Oltrepò Pavese with my radicchio pasta creation would be interesting.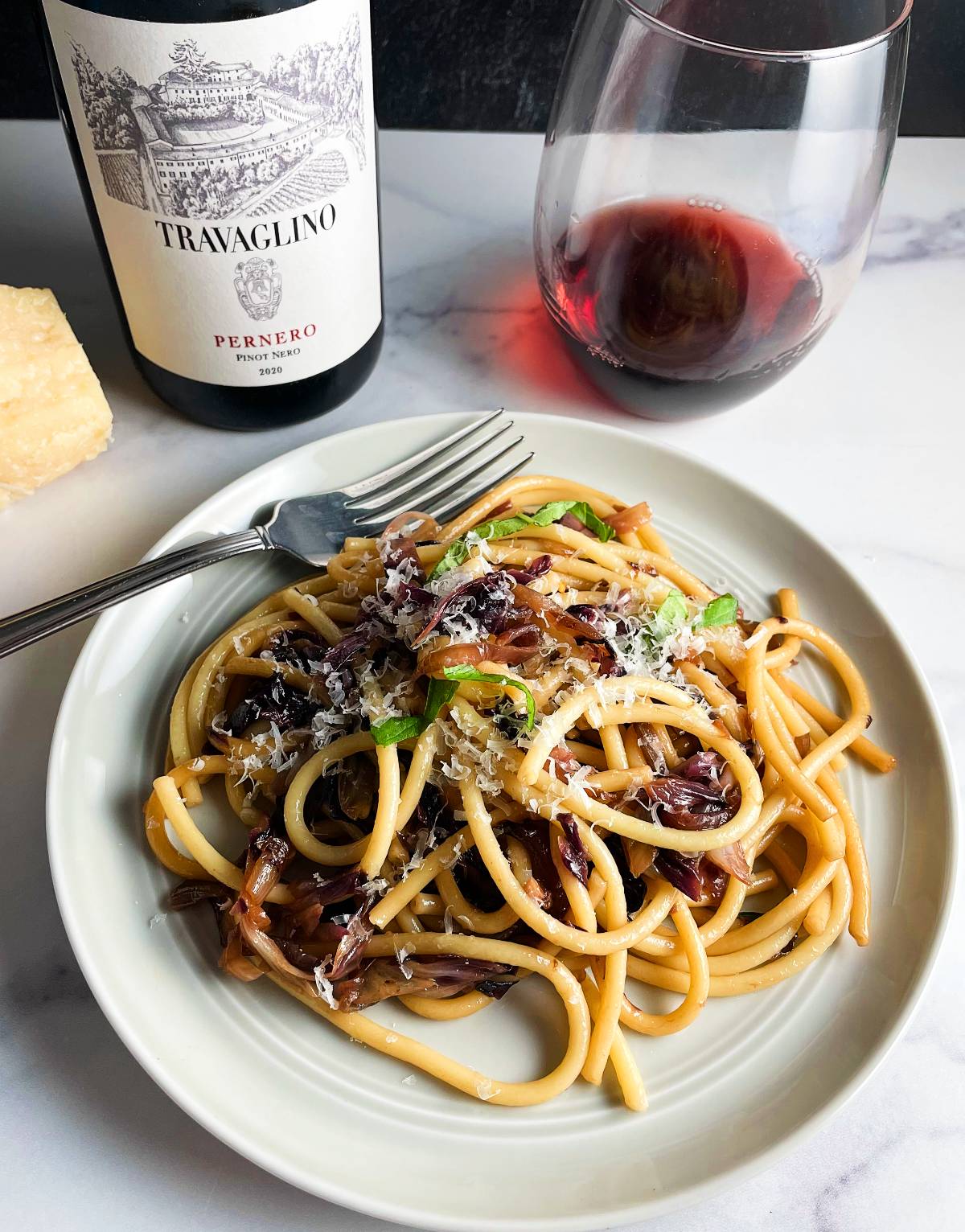 So I cooked up a pretty simple skillet of sautéed radicchio with garlic, olive oil and a few other ingredients. Tossed with pasta along with balsamic and Parmigiano cheese.
The pasta dish was pretty good, but I want another go at tweaking it before I share the recipe. Need to balance out the bitterness of the radicchio a bit more.
With that last note about the bitterness, you might correctly surmise that the wine pairing was a bit challenging.
I prepared the pasta as a vegetarian dish. In that original form, I would give the nod to the Pinot Nero as the better pairing, compared to the sparkling wine. But still I would grade the combo in the "B" range.
After tasting both wines with the original dish, I wondered if the saltiness of the prosciutto might balance the radicchio's bitterness. So I broke up a few bits and mixed with my pasta on the plate. Low and behold, pasta now worked pretty well with La Versa sparkling with, with that prosciutto as a flavor bridge to the wine.
Future pairings planned
Based on my experimenting, I am going to remake the radicchio pasta with some prosciutto or pancetta, and perhaps more cheese. Taleggio, perhaps? I think sparkling wine will be the way to go, perhaps one with just a bit more residual sugar to balance the bitterness. Suggestions welcomed!
If you manage to get your hands on a bottle of La Versa sparkling wine, I would definitely encourage you to try it with Taleggio, or other flavorful, creamy cheese.
After trying the Pinot Nero with the radicchio, I noticed the tech sheet suggested the wine goes well with "delicate flavors" such as risotto or appetizers. Well, radicchio is not exactly delicate! But this is a very good wine, I'd like to track down another bottle to try another pairing with a more nuanced dish.
More Oltrepò Pavese Articles
Be sure to check out all these articles about Oltrepò Pavese from my Italian Food, Wine and Travel friends!