Wondering what wine to serve with Taleggio cheese? We break down some good Taleggio wine pairing choices based on our experimenting. Disclosure: The sparkling wine mentioned in the article was provided as a complimentary sample.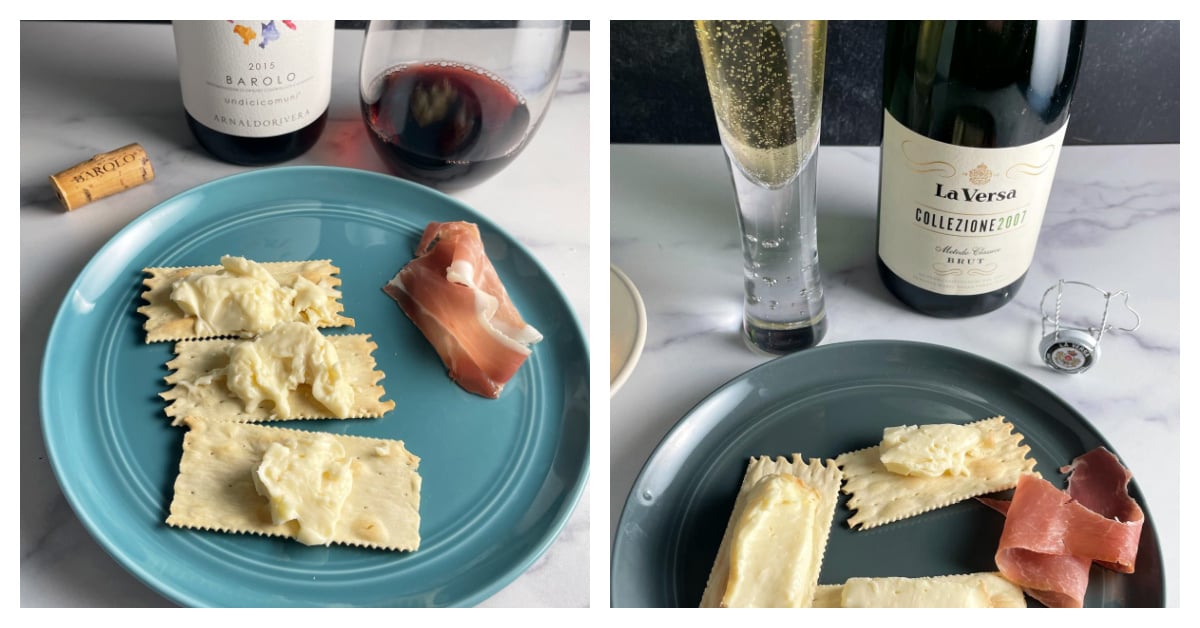 Way back in the very early days of blogging, back in 2007, one of our very first posts talked about a Taleggio cheese wine pairing.
I hadn't tried Taleggio before, but the description at Whole Foods caught my eye. I took it home to try with some wine.
Upon opening the cheese wrapper, a pungent aroma quickly filled the kitchen. "Good and stinky" was the first impression. The taste was rich, strong and creamy. This semi-soft cheese tastes a bit like a brie with a bit more punch.
Before we get into the Taleggio wine pairing topic, let's cover some basics about Taleggio cheese.
Jump to:
Taleggio Cheese FAQ
What is Taleggio cheese?
Taleggio is a cow's milk cheese produced exclusively in the Italian regions of Lombardy, Piedmont and Venetia. It is a European Union designated DOP cheese–Denomination of Protected Origin, meaning it can only be produced in these designated areas and get the Taleggio name. It has been produced for centuries, with some stories dating its origin to the 10th century.
What does Taleggio cheese taste like?
Taleggio cheese has a rich, creamy texture with a pungent odor; yet the taste is not overwhelming. I would describe it as flavorful with a bit of tangy funk. "Meaty" is another word that comes to mind describing Taleggio
How do you eat Taleggio cheese?
We served Taleggio spread over some good crackers, along with some prosciutto. You could also spread it over crostini. I haven't tried cooking with it, but several articles note that it melts well and can be used in dishes like risotto or cheesy pasta preparations.
Taleggio Cheese Wine Pairings
Wine and cheese is a classic combo, but what wine you serve with cheese depends a lot on the cheese. So let's explore some pairings we have tested for Taleggio!
Original pairing: a Chardonnay
At the time I first picked up some Taleggio, I tended to go for white wines with cheese. I've since evolved to a more nuanced approach.
That inclination to go with a white wine led me to go for a full-bodied white, so it was a Sonoma Chardonnay from Benziger that we paired with the cheese.
This Chardonnay had a nice balance of oak and butter notes, with a touch of lemon, and a ripe fruity bouquet. There was also a hint of mineral tones in the background, with a nice clean finish.
I concluded that the Chardonnay was a decent pairing for Taleggio, but speculated a red wine might work even better for the characteristics of this cheese.
We did eventually test out the red wine with Taleggio idea during our recent tasting, but first tested what I would say is now my favorite pairing for Taleggio.
An Italian sparkling wine
We recently had the opportunity to taste a pair of wines from the Oltrepò Pavese DOC, in the Lombardy region of Northern Italy.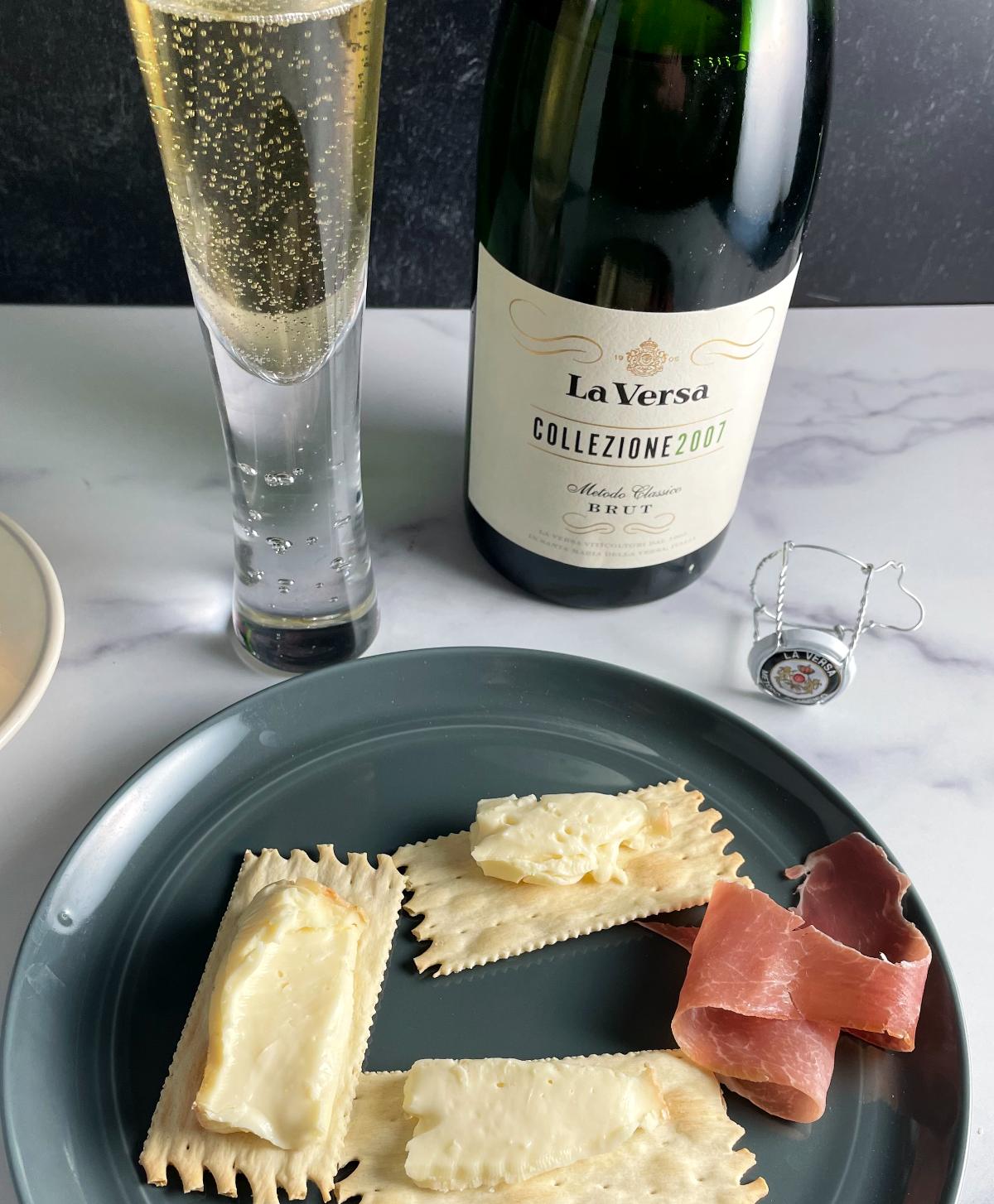 The sparkling wine proved to be an excellent pairing for the Taleggio! Not a surprise, as the pairing had two important things going for it. First, wine and food from the same region (Lombardy, in this case), often can be a good match. Second, sparkling wine and creamy cheeses can be a great combo!
La Versa Collezione 2007 Brut sparkling wine (13%), Metodo Classico has toasty yeast notes on the nose, apple and bready flavors on the palate. Quite dry, with a nice long, finish. Cleansed and refreshed the palate after bites of the Taleggio. An excellent pairing! I would say this was my favorite of the pairings we have tried for Taleggio.
If you can track down the sparkling wine we had, I would encourage it! Other Brut style sparkling wines could work nicely with Taleggio, too.
Check out our collection of 25+ Pairings for Sparkling Wine for more bubbly ideas!
Barolo
Following our original pairing with Taleggio experiment, I noted that an Italian red wine would be good to try as a pairing.
We picked up 3 bottles of the 2015 Arnaldo Rivera Undicomuni Barolo ($32, 14% ABV) recently, so figured we would give that a try with the Taleggio!
This is an excellent Barolo for a reasonable price! Made in an approachable style, I would say the 2015 is drinking perfectly. Alas, I seem to have misplaced my tasting notes, will have to update with them when we open another bottle.
But what I do recall from the pairing is that the Barolo definitely worked with the Taleggio cheese, but I would give an edge to the sparkling wine as the best pairing for Taleggio. Jodi commented that tasting the cheese after the Barolo dampened the Taleggio's flavor a bit, whereas the sparkling wine brought forth the flavors better.
That said, if you are looking for a red wine option with Taleggio cheese, try a Barolo!
We just had a modest pour of the Barolo with the cheese, leaving another solid glass+ for each of us to go with our beef stew!