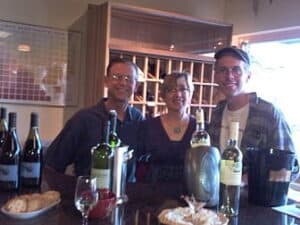 It's no surprise that Jodi & I were the first tasters for the inaugural Saturday tasting at the new "Pairings: Exploring Wine and Food". We've gotten friendly with Lori & Ray, the owners of this new wine shop in Winchester, MA, and had eagerly anticipated its opening. Their vision for a shop focused on matching interesting wines with good food pairings certainly resonates with the interests I write about here. And they have done their homework, with lots of tough "field research", having visited dozens of wineries around the year before starting up the shop.
Pairings has just been open for a couple of weeks, but a recap of a few events I've been to there thus far gives a good flavor of what they are up to. I can give you an idea of the good food and wine pairings they offer there, but you need to get there yourself to appreciate Lori & Ray's passion for good wine and food pairings!
As I noted, we were first in line for their first Saturday event, where they focused on the wines of Southern France. I've come to love the wines of the region–what's not to like about the earthiness of the reds with their "garrigue" and they very reasonable prices. They had a lineup of 2 whites and four reds, ranging in price from $8 to $17–each offered at the tasting with an accompanying food, of course. I especially liked: the
Saint-Peyre Picpoul-de-Pinet
served with goat cheese (a bit like a good Sauvignon Blanc); the
Carignissime de Centeilles
(100% Carignan) which I'm thinking could be our house red for awhile; and the
Clos Centeilles
blend of Mourvedre, Grenach, and Syrah, served with Lamb and Balsamic Four Onion Spread.
The prices were a bit higher at the next Pairings tasting I made, but they stuck to the theme of very good value, and of course, matching the wine with food. This one focused on the Pacific Northwest, mostly the Washington State winery Reininger. They sampled side by side Reininger's Walla Walla offerings with their Columbia Valley wines of the same varietal (their "Helix" label is from Columbia Valley). I liked both versions of their Merlot & Cabernets; and left with the Helix Merlot primarily because at $20 it was a great value–this supple, complex wine with blackberries and a touch of spice is clearly not the one disparaged by

Sideways

.

They also had a very interesting Carmenere, probably the most interesting wine of the line-up, but it's been a week since I tasted it and can't do it justice without notes!

Two winemakers have already come to Pairings to present their wines; I was able to make the one Steve Canter of

Quivira

. I enjoyed hearing Steve talk about his use of biodynamic techniques. A few of us were skeptically inquiring if he did the "whole biodynamic program" (which includes things like burying a cow's horn filled with manure) and he quickly replied that "it's all or nothing!". While he might consult the lunar calendar to time his planting, he also uses a lot of technology–such as flyover photos of the vineyard to determine which rows needed what type of care. He also explained how zinfandel grape clusters ripen unevenly, and he takes care to only use the portion that has ripened properly. You get a sense of that delicate touch when you sample their Zinfandel, which I took home along with a very nice Grenache.

Well, I'll sign off for now, you can be sure to see more posts on my finds over at Pairings!