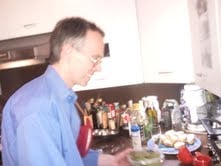 I used to be a proponent of the George Costanza preventing "worlds from colliding" theory (click here if you need to brush up on your Seinfeld references), but I've increasingly come to see that my "work world" (building social capital) is very compatible with my home world and interests (i.e. cooking). Sharing a meal is certainly a great way to bring people together and build social capital. So for this year's Social Capitalist Luncheon, "building social capital world" I decided to offer a three course meal prepared by your truly as one of our raffle prizes. For a more updated multi-course meal, check out our Festive Winter Wine Dinner at Home.
Well, things couldn't have worked out better. Out of 330 event attendees, it just so happened that the winner of this raffle prize wound up being the proud parents of one of honorees, Saskia Epstein. And for my first attempt at taking my cooking on the road for a meal like this, I can't imagine more graceful and flexible hosts than Don & Jane (they insisted that I not try a substitution for the lemons I forget!). They assembled a very interesting and wonderful group of people for a fun night of conversation and enjoying good food and wine.
I put together a three course menu where I tried to pick up on some of the things Don and Jane said they liked, and definitely emphasized seasonal ingredients such as the asparagus. I combined some old standbys like pesto crostini with some new creations such as the final course. And had some good help along the way from Ray & Lori at Pairings Wine & Food thinking about the wine and food matches.
Like any fairly serious cook, I can of course think of a few things ways this could be improved, but overall I'd say things went over really well. Here's the menu, with links to recipes and some additional wine info where available.
(skipped the goat cheese for this version)
Spicy Dip & Chips
Cheeses–Camembert & Aged Cheddar
Wine Pairing: Prosecco offered by our hosts!
Wine Pairing:
2009 Fontezoppa Verdicchio di
Matelica
Served with White Beans & Spinach
Wine Pairing: 2008 Crabilis Vermentino from Sardegna (white)
Reds:
2007 Willamette Valley Vineyards Pinot Noir
2007 WillaKenzie Estate Willamette Valley Gamay Noir
(people were also sipping this with the pork)
Wine Pairing: 2007 Quivira Dry Creek Valley Zinfandel
Dessert
Jane nicely volunteered to handle dessert, I remember it was wonderful and featured fresh berries, but by the end of the night I wasn't taking notes!