Today we explore food pairings for Crémant d'Alsace wines. These are versatile, high-quality sparkling wines that make a great way to start a party–perfect for the upcoming holidays! We include a simple recipe for Cremont Crackers with Fig along with our wine pairing notes. Disclosure: Wines provided as complimentary samples from our friends at Teuwen Communications.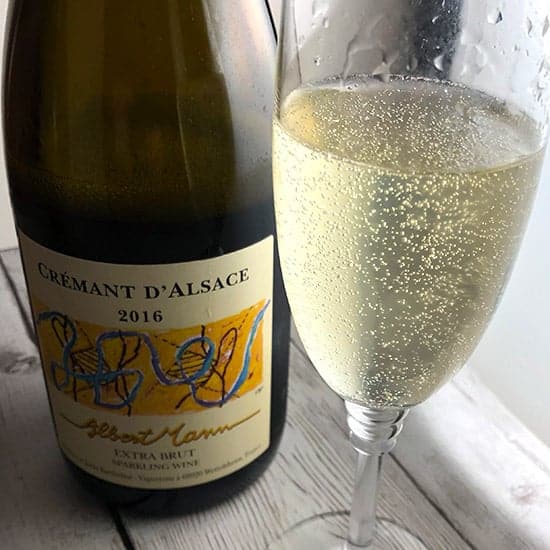 Ok, I need start by confessing that my title is slightly misleading.
If you've come to this article to find the single best pairing to work with Crémant d'Alsace, you may be disappointed.
Our sampling of three Crémant d'Alsace wines for this French Winophiles event shows that there is a fair amount of variation within this type of sparkling wine. There's no single pairing that works across the board. Rather, we will walk you through the three Crémant d'Alsace wines we opened, the various food pairings we tried with them, and report on the pairings that proved to work best in our opinion.
We mostly paired the wines with a variety of appetizers that required little to know work, but we did put together a little Cremont Crackers with Fig recipe to share with you along with our wine and pairing notes.
For other ideas for bubbly, be sure to check out our 25+ Best Pairings for Sparkling Wine.
But first, a little background on Crémant d'Alsace…
What is Crémant d'Alsace?
Crémant is a type of sparkling wine from a number of regions around France, using the same secondary bottle fermentation as does Champagne. Alsace is the largest Crémant producer; Crémant d'Alsace accounts for over 50% of Crémant wine produced in France.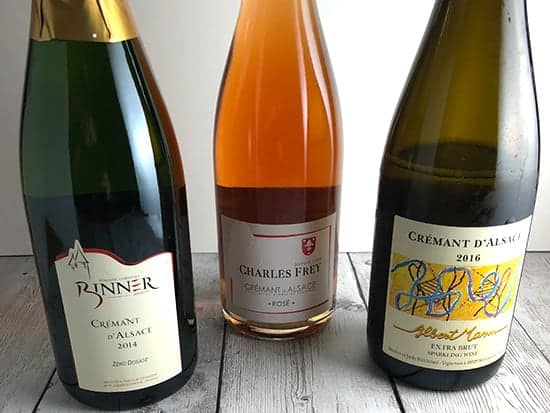 White Crémant d'Alsace is typically a blend made from combination of Pinot Blanc, Auxerrois, Pinot Gris, Riesling, Chardonnay and Pinot Noir.
Crémant d'Alsace rosés must be made from 100% Pinot Noir. We got to try one of those as well as two whites. This Wine Folly page was a reference for the details on Crémant d'Alsace grapes.
Bottom line– Crémant d'Alsace can be a great source for high quality sparkling wines, for substantially less than you would pay for a Champagne. While I do appreciate a good Champagne, I'm happy to find a good value in the sparkling category and apply my limited wine splurge funds elsewhere! (Brunello, most recently!)
Crémant d'Alsace is one of several wonderful, food-friendly wines from the Alsace region of France, on the German border. We got to sample a nice range of still white wines from Alsace back in June — get the details here with a tasty pork and cabbage skillet recipe for no extra charge!
Pairings for Crémant from Albert Mann
We started out Crémant d'Alsace tasting this month with the 2016 Albert Mann Crémant d'Alsace Extra Brut ($24, 12.5% ABV). With the extra brut in the title of this wine, I was figuring on a pretty dry sparkling wine and pairings that might work well with that style.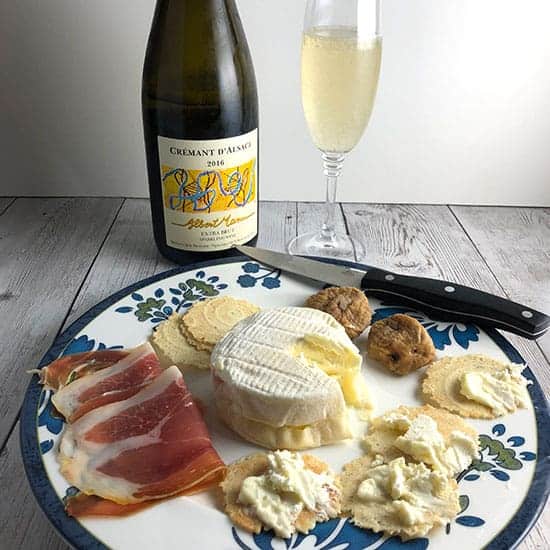 I put together a snack plate with Serrano ham, Cremont cheese, crackers and dried figs for the Albert Mann Crémant. I got almond notes on the nose of this Crémant, and a clean, crisp taste with apple fruit. Well-balanced. Definitely a style of sparkling wine I enjoy.
The ham was OK with the Albert Mann Crémant, but the creamy cheese seemed to be more the right match as opposed to the salty cured meat. Cremont is a double cream aged cow & goat milk cheese from Vermont Creamery. If you're looking to put some New England food out for the Thanksgiving holiday it's a nice choice!
The cheese spread on a thin cracker was a good pairing for the Albert Mann Crémant, but it got even better when we added a bit of dried fig to the mix! So my best pairing for the Albert Mann Crémant is "Cremont Crackers with Fig".
It is so simple it doesn't necessarily require a recipe…but we did put in a recipe card for it toward the end of the post just in case!
The Albert Mann Crémant d'Alsace is made from Auxerrois, Pinot Blanc and Pinot Noir, hand harvested from 35 year old vines. Made in the traditional method, and aged on lees for approximately 14 months.
The Albert Mann estate covers 52 acres over five Grand Crus that form the heart and soul of the Alsace domaine: Schlossberg, Furstentum, Hengst, Steingrübler and Pfersigberg. They have been practicing biodynamics since 1997.
Charles Frey Crémant d'Alsace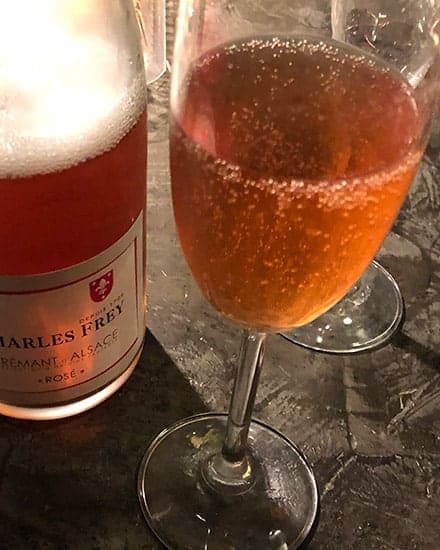 We brought the 2015 Charles Frey Crémant d'Alsace Extra Brut Rosé ($24, 12% ABV) with us visiting. I knew that our hosts would have a lot of food choices to nibble on, giving us a chance to test some pairings. We also brought along the makings of our Cremont Crackers with Fig to try with the rosé.
I tasted strawberry fruit on the Extra Brut Rosé; I tasted more fruit than I recalled from the Albert Mann the night before, and even noted a touch of sweetness that belies the Extra Brut term.
So this Charles Frey Crémant d'Alsace Extra Brut Rosé was OK with our Cremont Crackers and some other cheese that was offered.
But the Extra Brut Rosé really shined with my brother-in-laws homemade soppressata pizza! He makes his with some notable spiciness, which was nicely offset by the fruit profile of the rosé. And of course, bubbles are good with the good melted cheese on the pizza.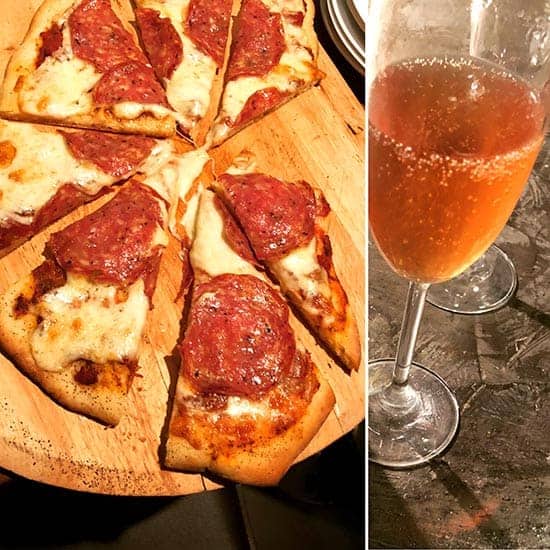 Soppressata is an Italian dried salami; if you want to try making your own pizza, this recipe looks a bit like what we had.
As required, the Charles Frey Crémant d'Alsace Extra Brut Rosé is made from 100% Pinot Noir. Domaine Charles Frey, founded in 1965, is comprised of 35 acres. They switched to biodynamic agriculture in 1977.
Pairings for Binner Crémant d'Alsace
Our final sample for this Winophiles event was the 2014 Binner Crémant d'Alsace Zero Dosage ($24, 12.5% ABV). I was anticipating a very dry wine based on the zero dosage term on the label–signifying very little residual sugar. However, we were struck the the fruit forward aspect of the wine. I got prune on the nose and apple on the palate.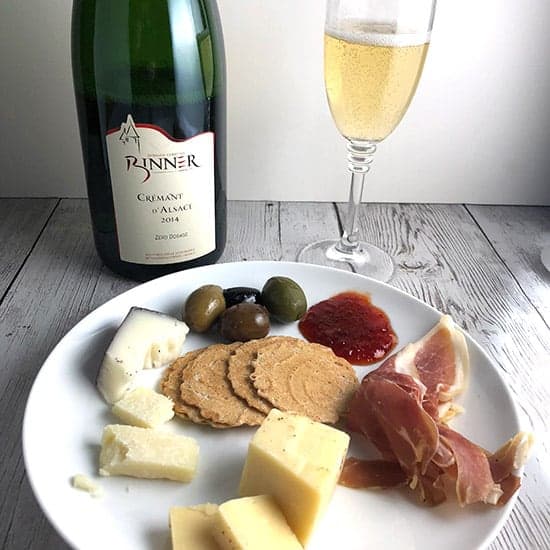 We again put together a sampling plate of cheeses, Serrano ham and olives. We definitely found the Binner worked better with the more flavorful morsels. The "Barely Buzzed" cheese, which gets some bold flavor from coffee rubbed on the outside, was the best of three cheeses we tried with the Binner Crémant d'Alsace Zero Dosage.
The Pecorino Romano wasn't great on its own with the Binner, but when we spread a little Hot Red Pepper Extra Fruit Jam from Vermont's Side Hill Farm, we had another good pairing going. The Binner was also pretty good with the olives. I could see trying this wine with a moderately spiced chili too.
The Binner Estate was founded back in 1770. Average vine age is 35 years, with many of the vines over 60 years old. They have been farming biodynamically for decades, and have a commitment to natural wine making methods, with no chemical yeast added to the wine.
Recipe for Cremont Crackers with Fig
OK, it is so simple this little appetizer barely needs a recipe, but we will do a recipe card to make it even easier! We recommend the Cremont Crackers with Fig paired with the 2016 Albert Mann Crémant d'Alsace Extra Brut.
Print
Recipe card
Cremont Crackers with Fig
Thin crackers topped with rich Cremont Cheese and a bit of fig makes for a delicious appetizer. Excellent with dry sparkling wine!
Author: Cooking Chat
Prep Time:

5 mins

Total Time:

5 minutes

Yield:

4

servings

1

x
Category:

appetizer

Method:

quick prep

Cuisine:

American
3

ozs Cremont Cheese

12

thin crackers, such as 34 Degree Crisps

2

dried figs, cut into pieces ½ inch or smaller
Instructions
Set out the crackers. Scoop about 1 teaspoon of the cheese on each cracker, then spread it out with a knife to cover the crackers.
Top each Cremont Cheese Cracker with a piece of the fig. Serve and enjoy with a dry sparkling wine.
Notes
Cremont Cheese is a double-cream aged cow and goat milk from Vermont Creamery. You could try this recipe with other creamy cheeses such as Brie. Stay away from soft cheese with a strong taste, like Camembert…at least for this recipe and pairing!
You want to find a very thin cracker to use here to let the cheese and fig taste shine!
You could substitute a fig jam for the dried fig if you like. Just use a little dollop of jam on each piece of cheese.
The tip you may have seen about leaving cheeses out for an hour before serving applies more to hard cheeses than soft! Keep the Cremont cheese in the fridge until you are ready to serve.
Keywords: appetizers, Cremont cheese, soft cheese
Recipe Card powered by
A Host of Cremant Ideas from the French #Winophiles
Don't forget about our Twitter chat which starts at 11am EST on Saturday Nov. 17. Follow us under the hashtag #winophiles and join the conversation.