Make this Nino Franco Maple Cinnamon Prosecco Cocktail for a festive start to a holiday meal or other gathering! High quality sparkling wine combined with maple cinnamon for some deliciously sweet fall flavor. Disclosure: Wine, simple syrup and recipe provided by the winery as a complimentary sample.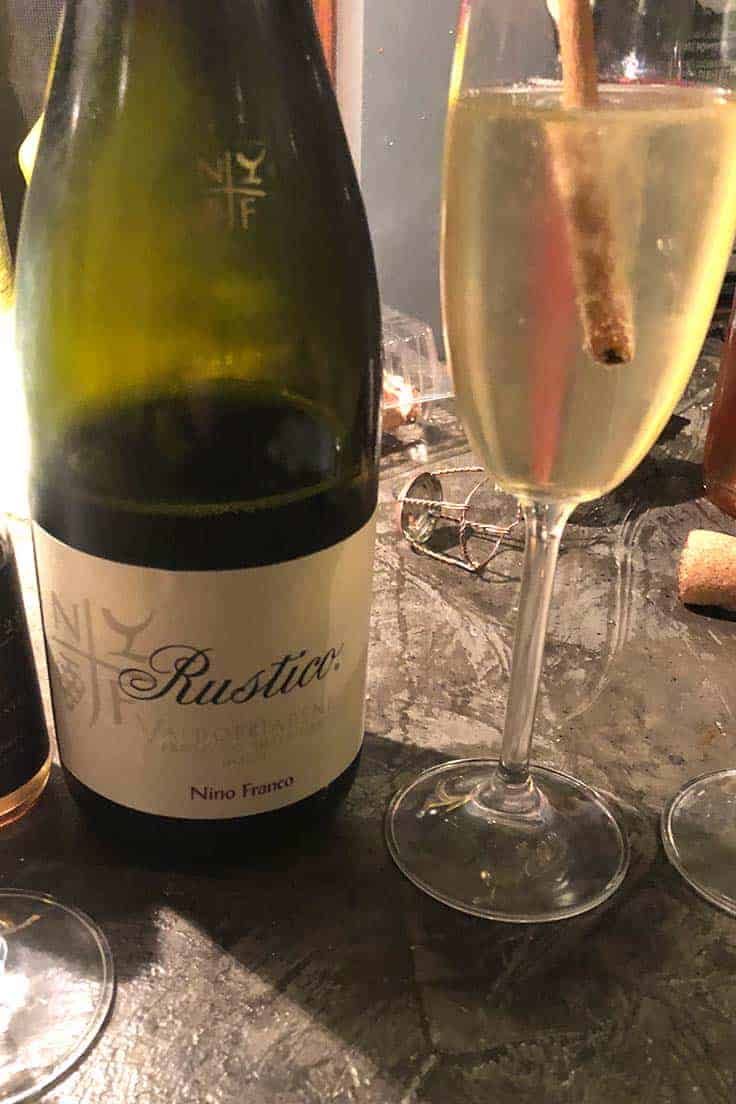 I'm not typically a fan of adding anything to my wine, but I do occasionally mix some OJ with sparkling wine to make a mimosa for a holiday brunch. So when I received a sample package of Nino Franco Rustico Valdobbiadene Prosecco Superiore DOCG along with some syrup and a recipe, I was up for giving it a try!
BTW, check out the article on Prosecco Superiore for more information on this special wine.
Sparkling wine is very festive, perfect for the holiday season that is rapidly approaching. A good Prosecco is a great option for the season, typically an affordable way to enjoy some quality bubbles.
Combine some maple cinnamon simple syrup with a glass of Prosecco and you've got a tasty holiday cocktail!
My sister and brother-in-law were hosting a family dinner during the recent long weekend. I figured it was the perfect time to try this Prosecco cocktail!
This Nino Franco Maple Cinnamon Prosecco Cocktail is bursting with fall flavor! The maple cinnamon syrup adds a sweet cinnamon taste to the dry Prosecco. This Prosecco cocktail is delicious on its own, and also good with spicy appetizers.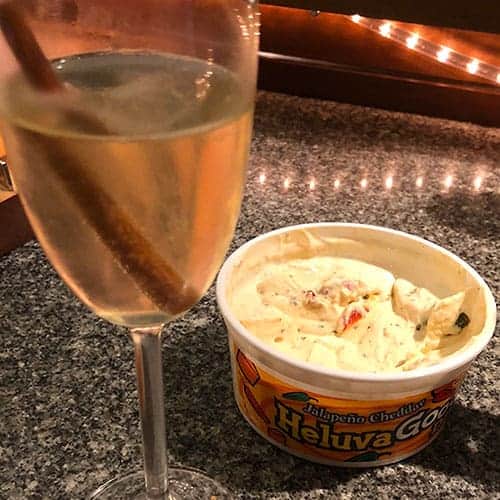 I liked it with the Helluva Good Dip Jalapeño Cheddar dip that someone had brought to the party!
About Nino Franco
Nino Franco was founded in 1919, making it one of the first wineries in the Valdobbiadene region, the heart of top notch Prosecco production. They were also one of the first producers to export Prosecco. The quality driven estate is now in its fourth generation of family ownership.
The Nino Franco Rustico Valdobbiadene Prosecco Superior DOCG ($19, 11% ABV) is an excellent expression of Prosecco wine. Made from 100% Glera,the grape formerly known as Proseccoo — but that is another story!
The Rustico is put to good use in this Prosecco cocktail, but it is also excellent enjoyed on its own. The wine has a pleasant flowery nose, and is crisp and refreshing on the palate, well-balanced.
Print
Maple Cinnamon Prosecco Cocktail from Nino Franco
An easy prosecco cocktail bursting with festive fall flavor.
5

ozs Nino Franco Rustico Valdobbiadene Prosecco

½ oz

Root 23 Maple Cinnamon Simple Syrup

1

cinnamon stick

1 oz

apple cider (optional)
Instructions
Pour the Prosecco in to a flute or cocktail glass.
Add the Maple Cinnamon Simple Syrup and apple cider, if you are using it.
Stir the Prosecco cocktail with the cinnamon stick. Leave the stick in the cocktail for a nice presentation and additional flavor. Enjoy. Cheers!
Notes
If you are making more than one Prosecco cocktail, line up the number of glasses you wish to make. Repeat the instructions for each glass.
A typical pour for a glass of wine is 5 ozs. A 750 liter bottle of Prosecco (standard size) will have enough wine for 5 cocktails.
We did not use the optional apple cider, and it came out very nicely. Let us know how you like it with the apple cider if you try it!
Recipe Card powered by