We paired Pork and Cabbage Skillet with a very good Riesling from Alsace for a delicious meal. Just one of the great pairings with had with white wines from Alsace as part of the #AlsaceRocks event. Read on for details about the recipe and wine, as well as other Alsace pairings we enjoyed. Disclosure: The wines were sent by Alsace Wines sent as complimentary samples as part of the #AlsaceRocks campaign.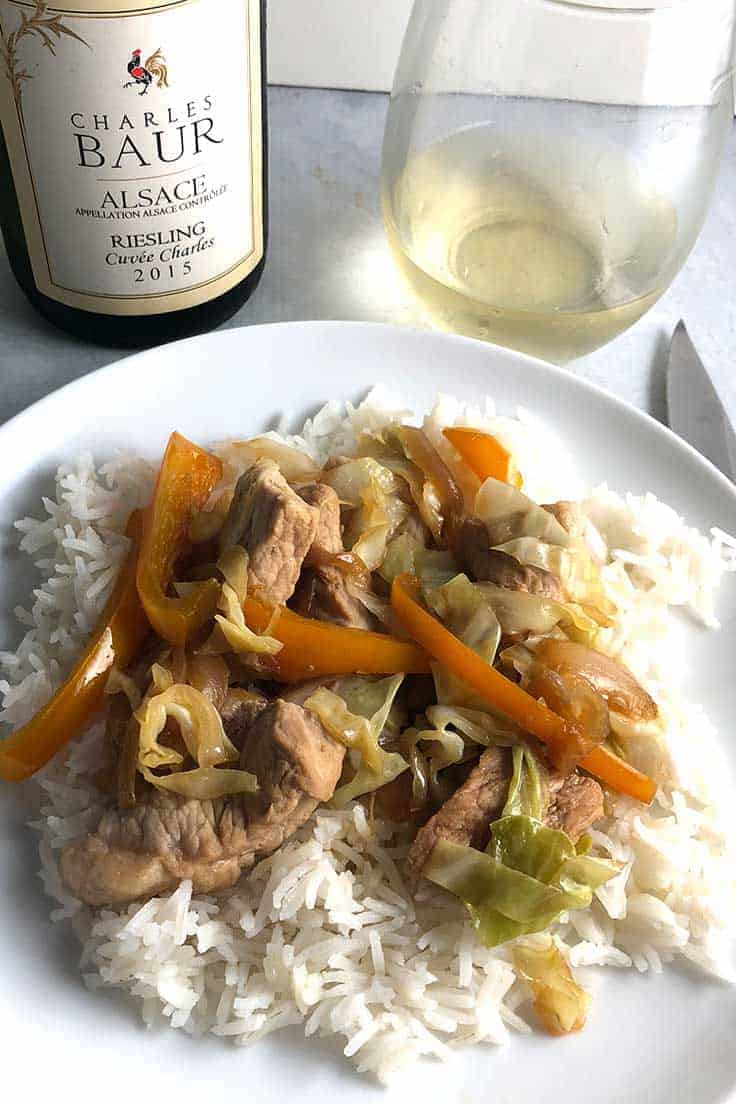 This month we had a chance to sample four white wines from the Alsace region of France as part of the #AlsaceRocks event the French Winophiles. For today's event, I wanted to feature one of the wines paired with a new recipe. But I will let you know about the other pairings we enjoyed, too!
Pork and Cabbage Skillet with Riesling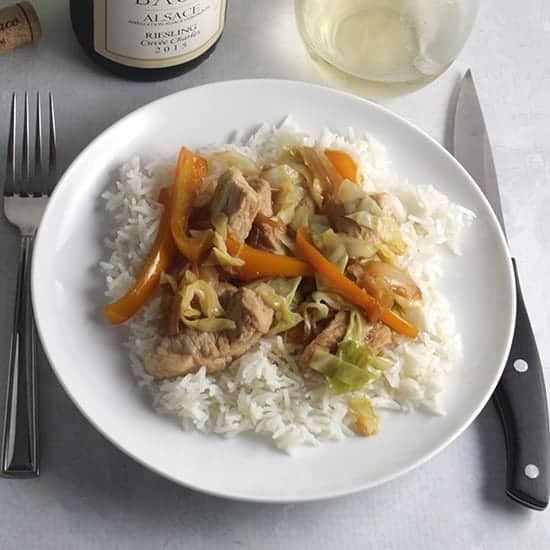 So I decided to focus on making something new to go with the 2015 Cuvée Charles Riesling. In a sense, this should be pretty easy. Riesling is one of the most versatile, food-friendly wines out there. Riesling is considered by many to reach its peak form in Alsace, where it has been grown since the 15th century.
I decided to hone in on making a pork dish to go with the Riesling. There is certainly a lot of pork featured in Alsatian cooking, but I decided to go with a Pork and Cabbage Skillet recipe that leans draws upon Asian flavors, with soy sauce and ginger in the sauce.
To make the Pork and Cabbage Skillet, get the sauce ready first and set it aside. Then you cook up some onions with a bit of bell peppers. The pork comes next, followed by the cabbage. The whole pork and cabbage skillet cooks up in under 20 minutes.
We had the Pork and Cabbage Skillet served over rice. I've also had this served over mashed potatoes.
For another tasty pork and cabbage combo, try our Cider Marinated Pork Tenderloin with Cabbage. We also enjoyed that with a Riesling! Looking for another favorite skillet recipe? Our Greek Style Ground Turkey Skillet is very popular!
Cuvée Charles Riesling from Alsace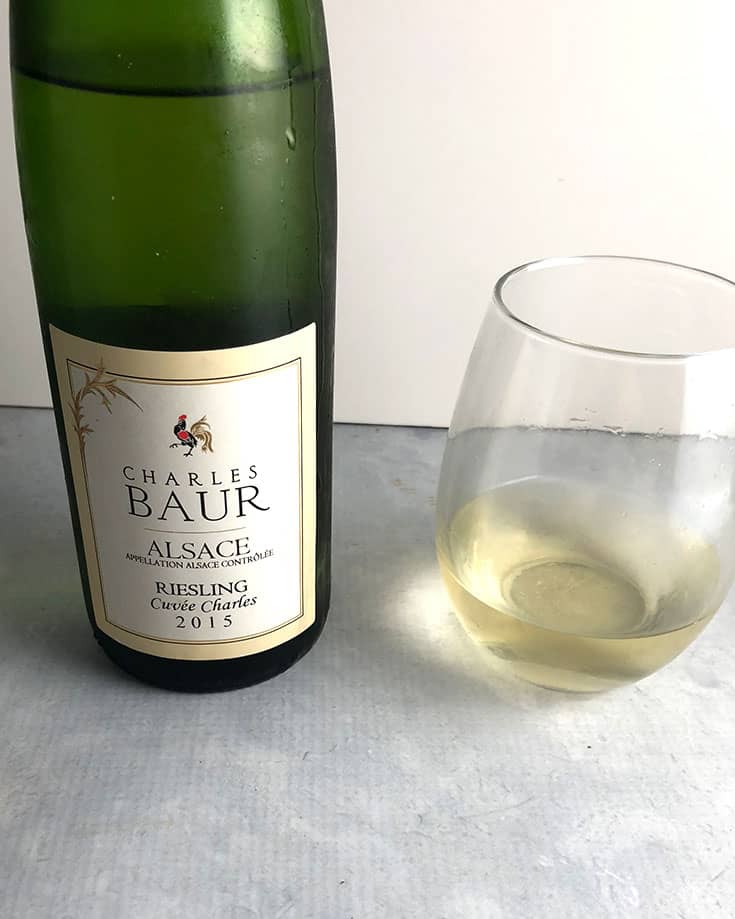 As I mentioned, we opened the 2015 Cuvée Charles Riesling ($23, 13% ABV) to serve with our Pork and Cabbage Skillet. This Riesling has white flowers on the nose. I get green apple and white pepper on the palate, with a touch of honey and cinnamon. Fresh and crisp with a long finish.
This crisp, dry Riesling definitely pairs with the salty aspects of the dish that come from the Asian style sauce. There is plenty of structure here to match the meat. A bit of bacon added to the dish might have been a nice bridge to further enhance the pairing. We were definitely pleased with the pairing.
Cuvée Charles comes from Charles Baur winery, located in the heart of Alsace, in the town of Eguisheim. The winery has been in the family since the 18th century, now with some 42 acres on the slopes of Eguisheim and the vicinity. The family has made a tradition of producing Cuvée Charles to be the most representative Riesling of the vintage, in honor of the winery founder.
The Cuvée Charles Riesling comes from 100% Riesling, grown in sandy soil with gravel. The grapes are pressed and then fermented in temperature controlled tanks with indigenous yeasts. The wine then matures on lees for several months prior to bottling.
For more information on the winery, visit the Charles Baur website.
More Pairings for Alsace White Wines
So as mentioned, I was issued a pairing challenge as part of this #AlsaceRocks event. There were four different white wines from Alsace to try–the Pierre Sparr Crémant d'Alsace Brut Réserve, 2013 Domaine Pfister Gewurztraminer Tradition and 2015 Ribeauvillé Pinot Blanc, in addition to the Charles Cuvée Riesling.
I started out by trying to determine if one of these Alsace wines would pair well with our Black Bean Turkey Chili. Which one do you think would work best?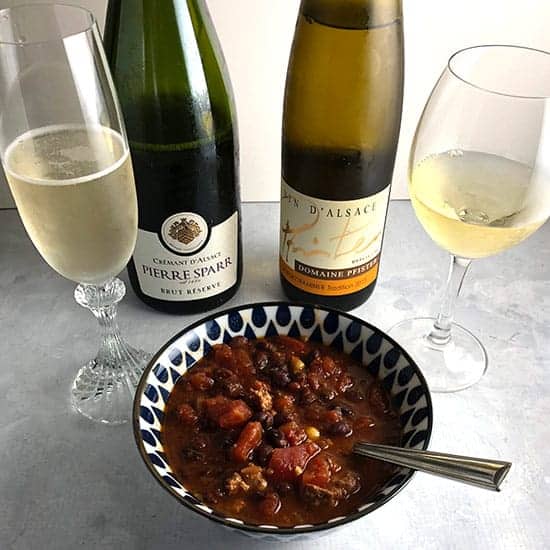 I had other plans for the Riesling, and narrowed it down to the Crémant d'Alsace and the Gewurztraminer. Sparkling wine goes with so many things, including spicy food, so the Crémant seemed worth trying. Our Winophiles host Jeff from foodwineclick suggested trying the Gewurz, so that was the other one we tested.
Both wines worked reasonably well with the turkey chili, but the bubbly was my preferred pairing. From the Pierre Sparr Crémant d'Alsace ($20, 12.5% ABV) I got apple blossoms on nose light mouthfeel, gentle bubbles. Apple fruit with hazelnut notes. The bubbles and clean fruit cleansed the palate, getting us ready for our next bite of chili.
I should note that our turkey chili is moderately spicy. If it had more heat, the Gewurtz with more sweetness might have worked better.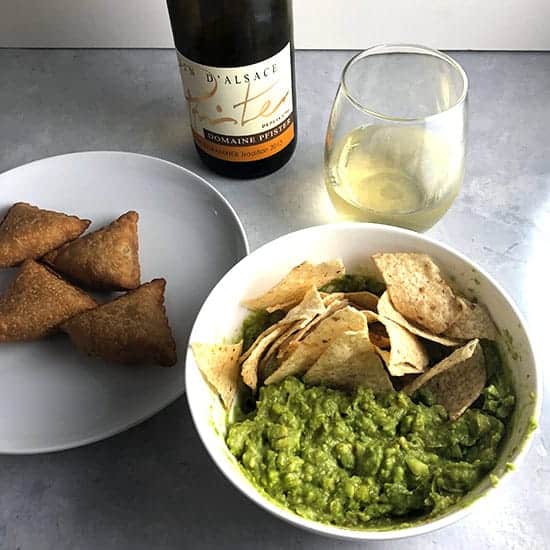 We managed to save some of the Domaine Pfister Gewurztraminer ($30, 13.5% ABV) to test with a pair of appetizers the following evening. You get a whiff of sweetness on the nose of this Gewurztraminer. Peach fruit and honey on the palate, with a touch of baking spice. Nice long finish.
That flavor profile certainly suggests a good wine partner for spicy food. The Pfister Gewurztraminer went quite nicely with our guacamole as a result — we will add it to the list of wines that work with guac! But the Gewürztraminer definitely found its best partner when we tried it with Indian food…the spice elements of the wine went perfectly with the spices in the vegetarian samosas we had. Not a surprise here, I have previously sung the praises of an Alsace Gewurztraminer with Indian food.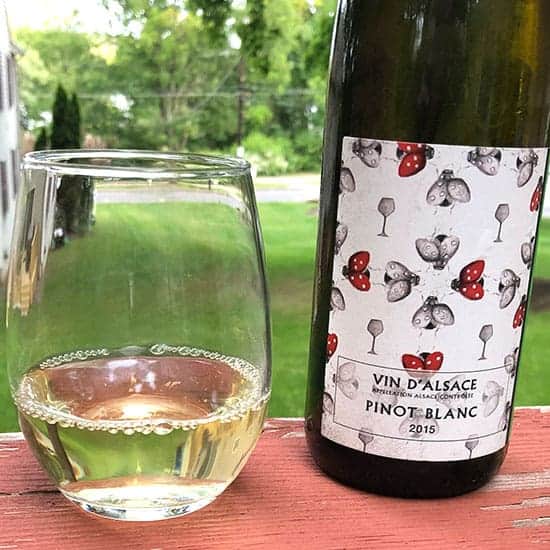 Just in time for today's article, we had a chance to put together one more wonderful wine pairing featuring a wine from Alsace. The 2015 Ribeauvillé Pinot Blanc ($18, 12.5% ABV) turned out to be a great pairing for our Juicy Grilled Chicken Breasts, definitely something to keep in mind this summer!
Print
Recipe card
Pork and Cabbage Skillet
Pork and cabbage cook together along with onions and a tasty sauce for an easy skillet meal. Delicious with a Riesling from Alsace!
Author: Cooking Chat
Prep Time:

10 mins

Cook Time:

17 mins

Total Time:

27 mins

Yield:

6

servings

1

x
Category:

main

Method:

stir-fry

Cuisine:

Asian
For the sauce
¼ cup

low sodium sauce

1 tsp

apple cider vinegar

¼ tsp

dried ginger

1 ½ tsp

honey

2 tsp

extra virgin olive oil
Additional ingredients
1

onion, chopped

2 tsp

olive oil, divided

½

of a red or yellow bell pepper, chopped

3 cups

cabbage, chopped into thin slices

3

boneless pork chops, cut into

½

inch thick slices
Instructions
Make the sauce by combining the soy sauce, honey, ginger and olive oil in a small bow. Set aside.
Heat 1 teaspoon olive oil in a large skillet on medium heat. Add the onions, cook for 5 minutes, stirring occasionally. Add the pepper, and cook for a few more minutes.
Push the vegetables to the side of the skillet. Add the remaining teaspoon of olive oil, then add the pork to the center of the skillet.
Cook the pork for 2 minutes without moving, then stir fry the pork with the onions for 1 minute. Add the cabbage and the sauce, and stir fry for 1 more minute.
Cover the skillet and lower heat to medium low. Cook for 5 minutes covered. Remove cover after the 5 minutes, stir, and check pork for doneness–it should be just cooked through. It will likely be done at this time but cook for a few additional minutes, covered, if needed for the pork to be cooked properly.
Serve the pork and cabbage skillet over rice or potatoes, along with a Riesling from Alsace. Cheers!
Notes
You could use fresh ginger instead of dried ginger if you like.
Recipe Card powered by
More Skillet Recipes
I love the convenience of cooking up a skillet meal, quickly melding flavors together. Here are some more of my favorite skillet recipes:
Alsace Pairings and Conversation with French Winophiles
Please join our chat on Twitter – whether you posted or not. We love visitors and happily chat and answer questions. Simply tune in to the #winophiles hashtag on Twitter this Saturday, June 16 at 10am CDT. You can also check out the #AlsaceRocks hashtag for more Alsace fun during and after the chat.
Here's a list of great Alsace wine suggestions from our Winophiles