Pairings for sparkling wine roundup to give you ideas for New Year's or any other time you are popping the cork on a bottle of bubbly! Updated just in time for New Year's Eve with our latest sparkling wine pairings.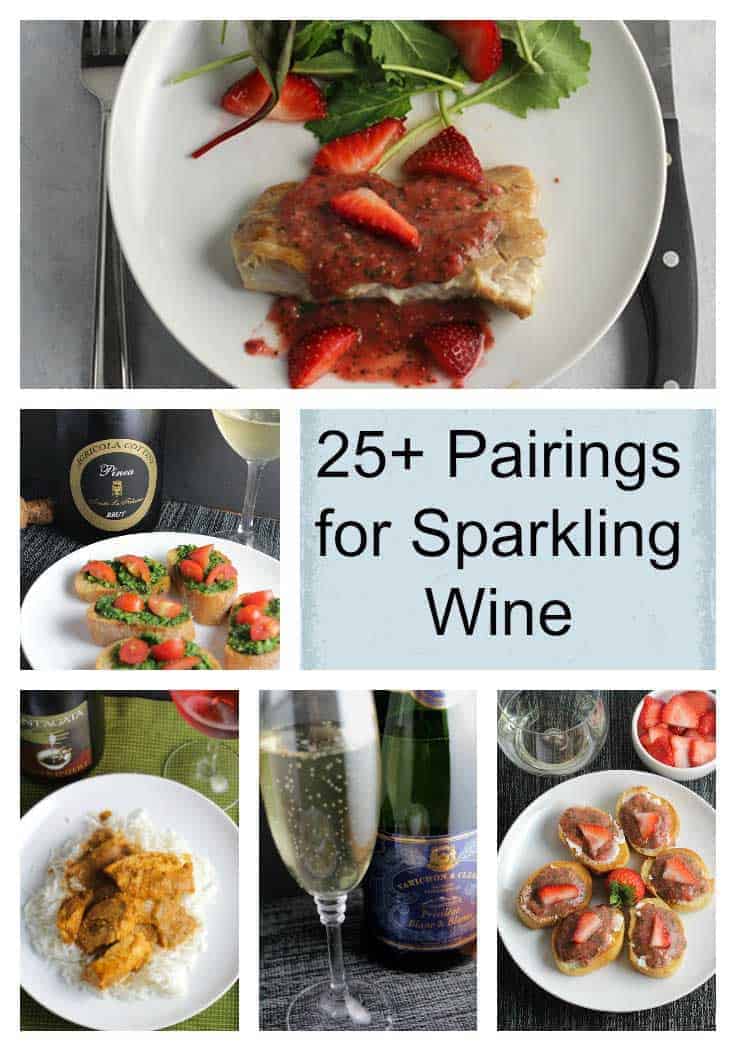 So here we are. It's almost New Year's Eve, and I'm a food blogger with with a keen interest in good wine pairings. So it's time again to apply that wine pairing experience to share with you some great pairings for sparkling wine.
Speaking of experience, I need to make sure to tell you about a great way to keep any leftover bubble (yes, it does happen!). This little gadget really does preserve those bubbles for a day or two. Including my Amazon affiliate link for your convenience.
This article is an update of one I initially posted back in 2014. I start out with some new pairings for sparkling wine that we have enjoyed since that initial publication. The new pairings are followed by suggestions from our December 2014 Wine Pairing Weekend event. We wrap up with some bonus pairings to make sure you have plenty of ideas…but we always love to here more ways to enjoy the bubbly. Cheers!
Our Latest Pairings for Sparkling Wine
We've updated this roundup with a couple of new pairings from the recent past.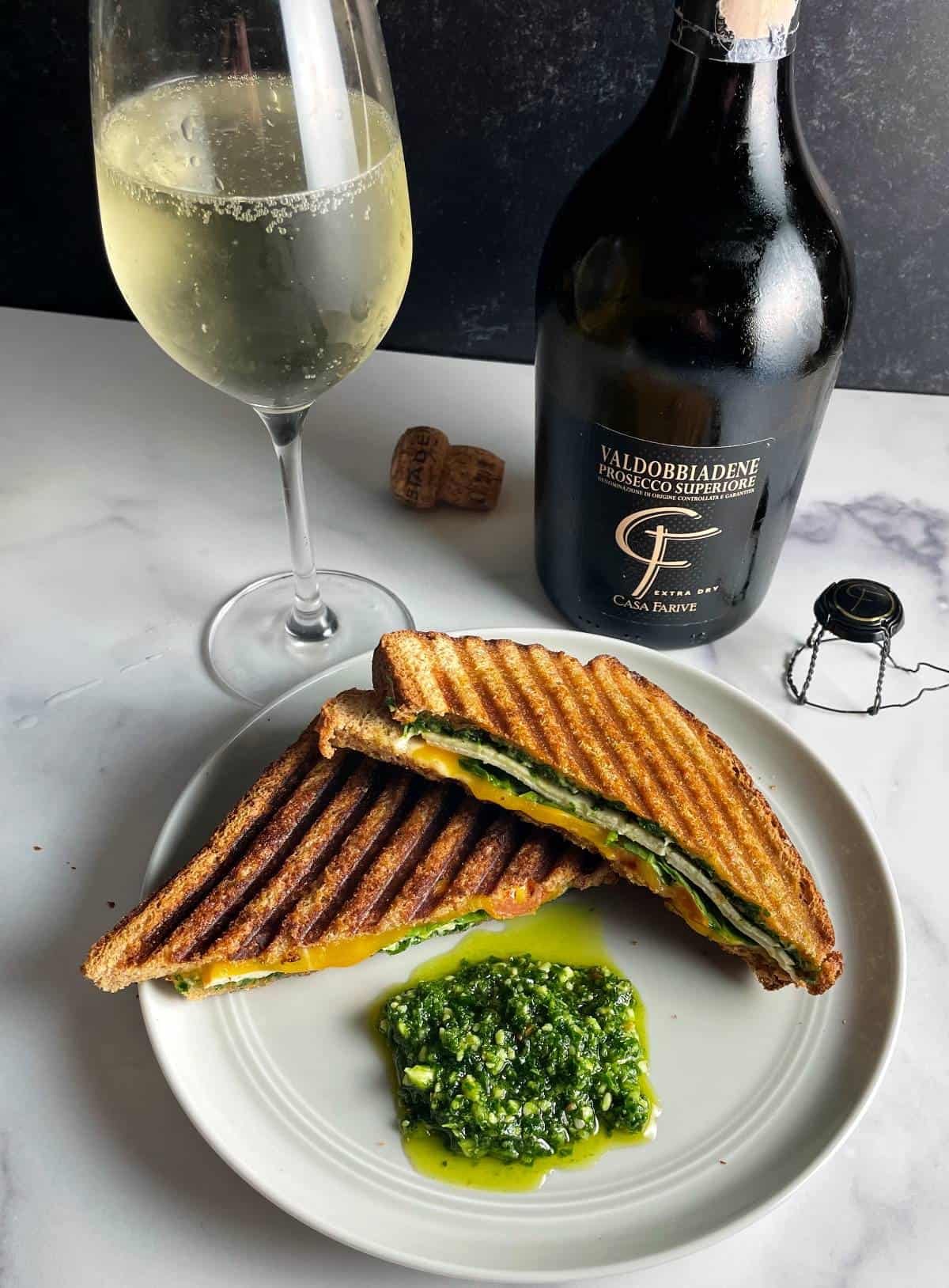 We were asked to come up with a recipe that would pair well with some Prosecco Superiore. We decided to update our Turkey Pesto Panini recipe to pair with it, and the combo was delicious!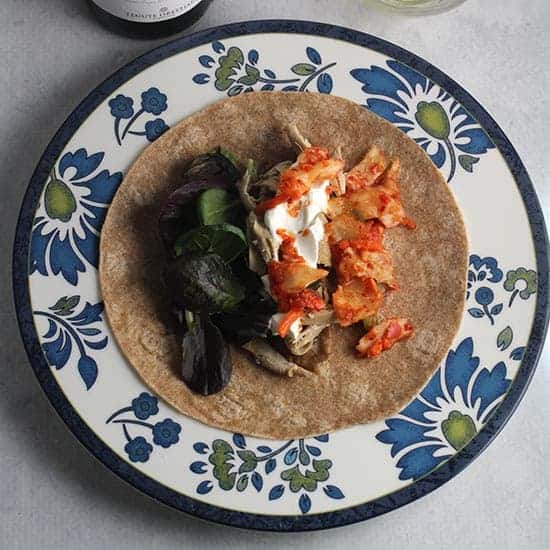 Kimchi Chicken Burritos have a flavorful spicy crunch. The fermented Korean cabbage kimchi provides a creative change of pace to your burrito routine! Easy to put together and a good way to use leftover chicken. After testing several options, we concluded that sparkling wine is the best pairing for this healthy dish, so keep it in mind for your New Year's meals!
Brazilian Beans, Greens and Bacon with Sparkling Wine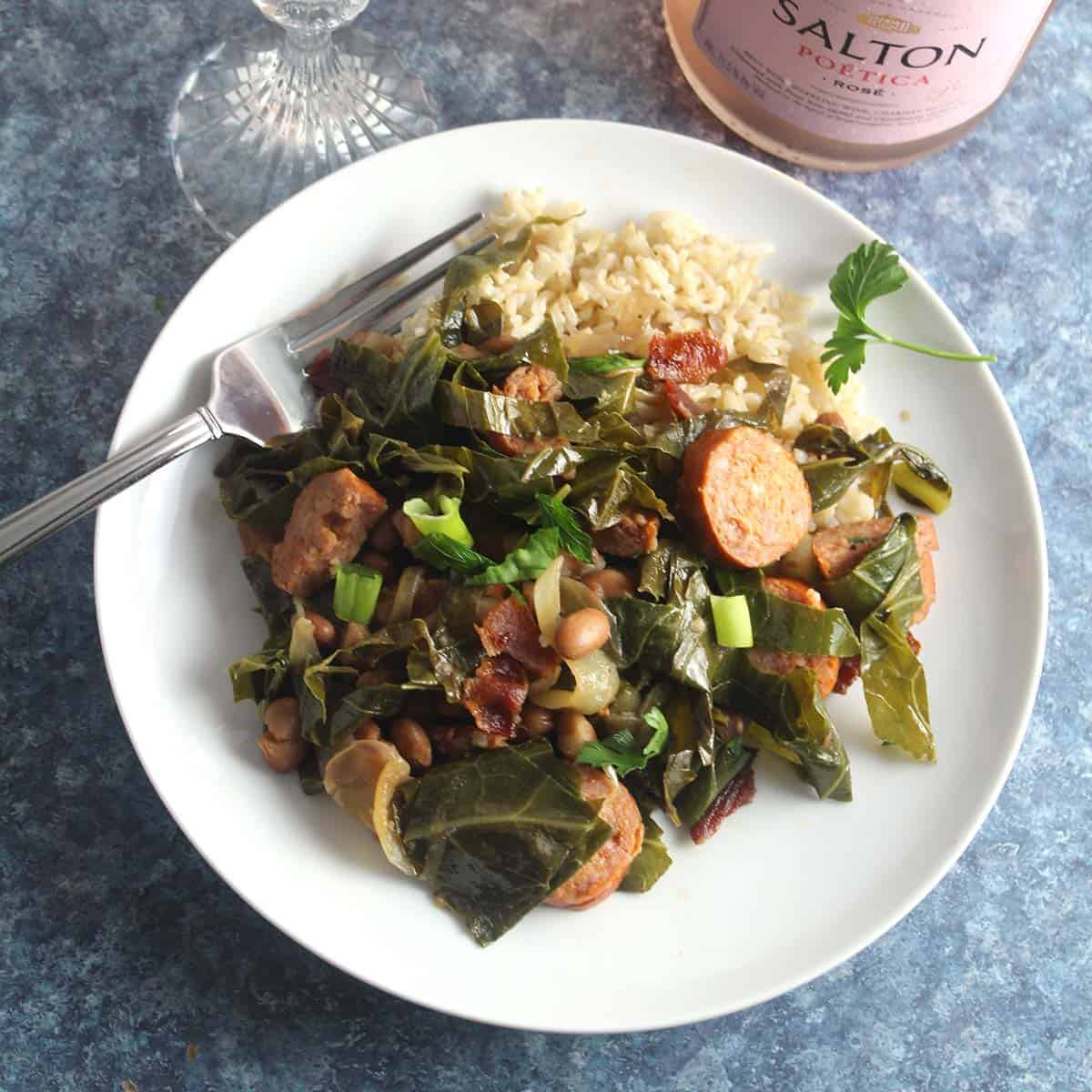 Delicious Brazilian Beans, Greens and Bacon skillet recipe, which we made to prepare with a Brazilian sparkling rosé wine from Salton Winery. The recipe is loosely based on the Brazilian dish Feijão Tropeiro. Brazilian wine was one of several new types I tried in 2019!
Cremont Crackers with Fig Paired with Crémant d'Alsace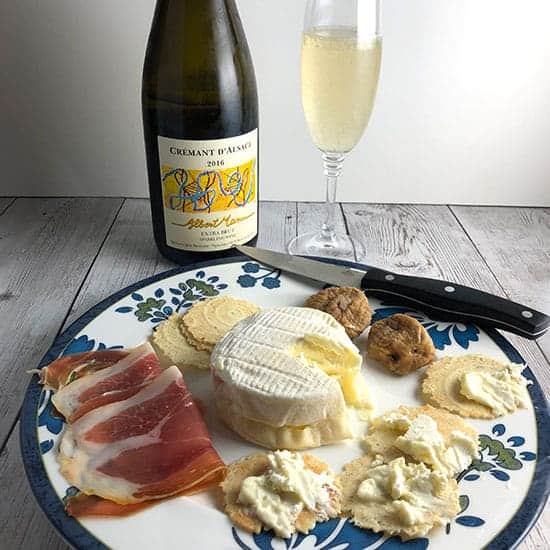 During the fall of 2018 we had a chance to sample an array of Crémant d'Alsace sparkling wines. We especially liked the pairing shown above which featured the Albert Mann Crémant d'Alsace paired with creamy Cremont cheese and figs. Crémant is a great value option in the sparkling wine category too– check out this article for more on these wines and the pairings for them.
Mahi Mahi with Strawberry Sauce
Get the New Year off to a healthy and delicious start with our Mahi Mahi with Strawberry Sauce! This was awesome with a bottle of champagne…could also be a nice Valentine's Day idea.
Savory Strawberry Pesto Crostini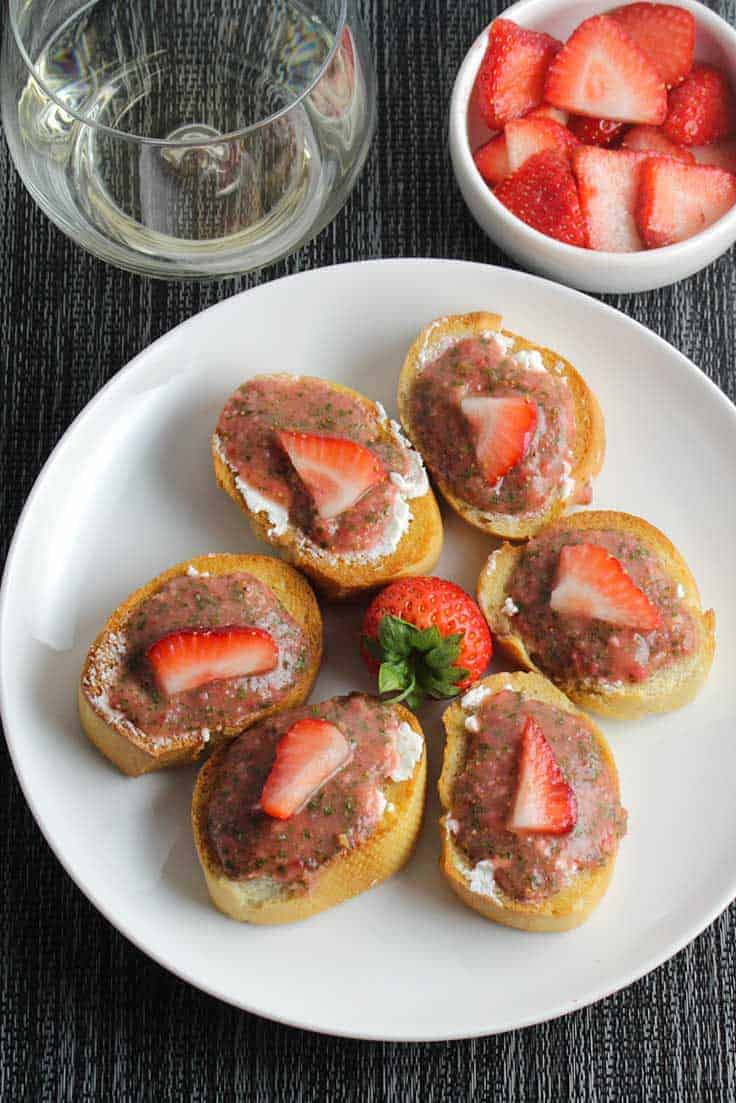 OK, I need to confess that is a still white wine in the photo. But I'm sure these Savory Strawberry Crostini would be delicious with a glass of Champagne! Would be perfect for a New Year's Eve appetizer.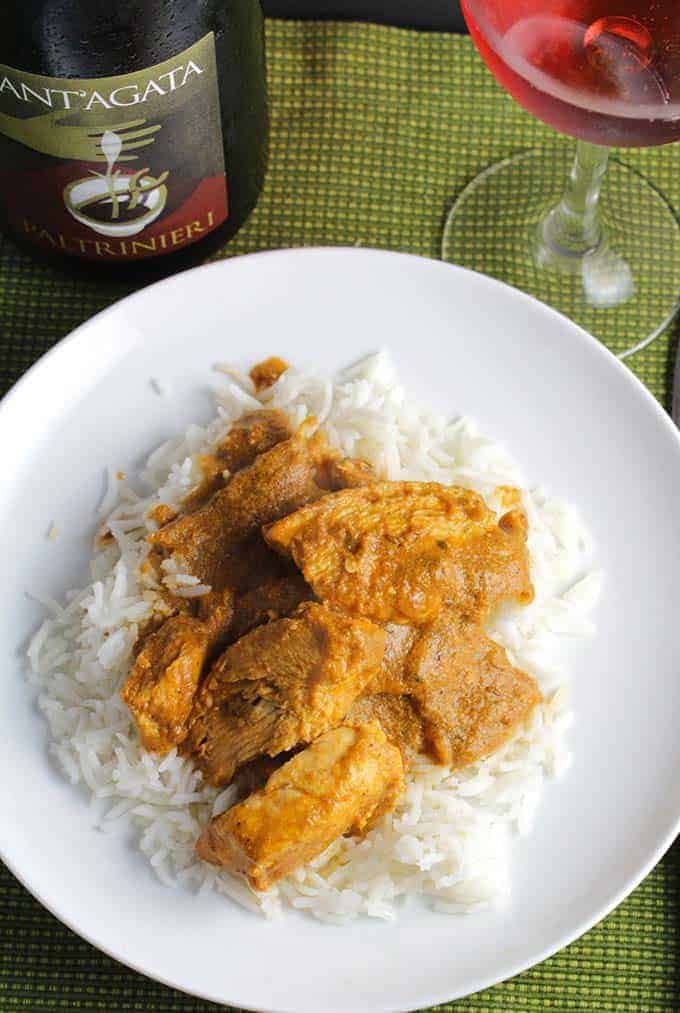 We made Quick Chicken Tikka Masala using a mix from India in a Box, and paired it with a Lambrusco. That's a lightly sparkling red wine from Italy. Of course if you don't want to make your own chicken tikka masala, you could try this pairing with some Indian take out!
Easy Cheeseboard with Kale Pesto Crostini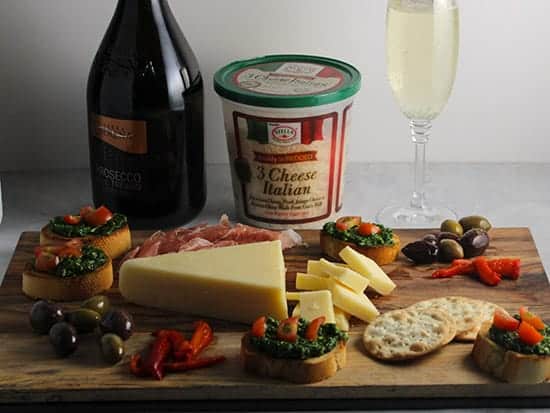 I mentioned pesto crostini as a bubbly pairing idea when I originally posted this article. We kick that idea up a notch by serving kale pesto crostini as part of a delicious cheeseboard. A bottle of Prosecco is just the thing to go with the kick provided by the pesto as well as the saltiness of the prosciutto and olives.
Quinoa with Salmon and Strawberries
Another healthy meal that goes great with Champagne! Grab the recipe for Quinoa with Salmon and Strawberries here.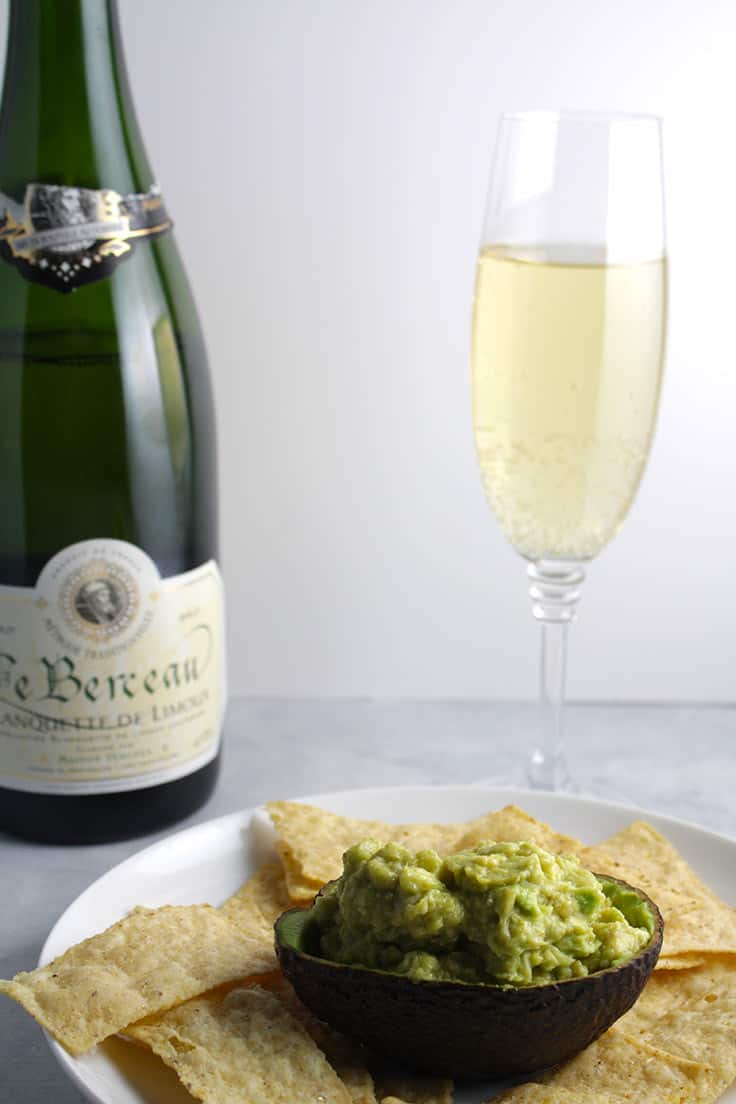 I've done some experimenting to pick the best wine for guacamole. My original choice was a Riesling, but the French bubbly we paired with Guacamole earlier in 2016 worked out great! Get the details and my guacamole recipe here.
St. Nuage Cheese with Champagne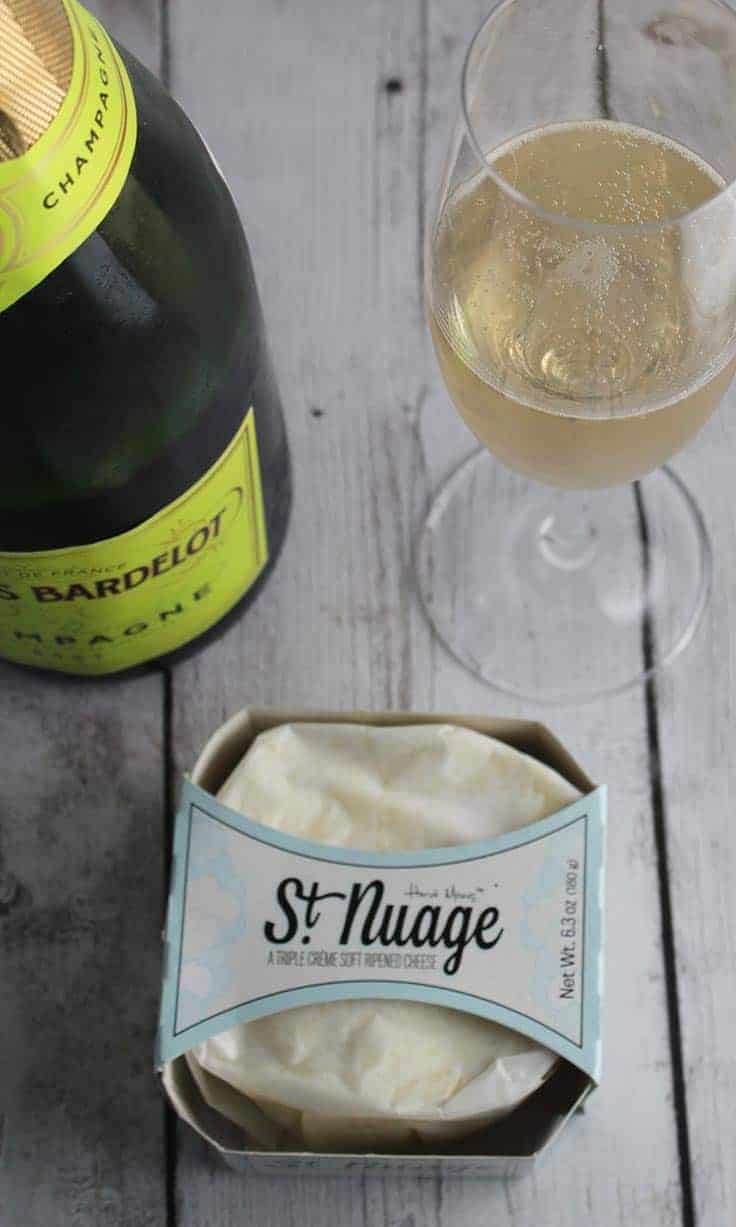 We had a chance to sample a lot of great French Cheese and Wine Pairings when we teamed up with Whole Foods for the #MadeInFrance tasting. The pairing of Champagne with creamy St. Nuage cheese was one of our favorites!
Pairings from Wine Pairing Weekend Bloggers
The monthly Wine Pairing Weekend event (#winePW) for December 2014 focused on appetizers that pair well with sparkling wines. Jeff from foodwineclick hosted the event, and had the foresight to see that pairings for sparkling wine would be a useful topic for the holiday season! Below are the pairings the bloggers came up with, giving you a wide range of ideas for food that pairs well with sparkling wine. You also can pick up some ideas of bubbly you might like to try, from some good value finds up through some classic Champagne. The blog names are linked directly to their pairings for sparkling wine post.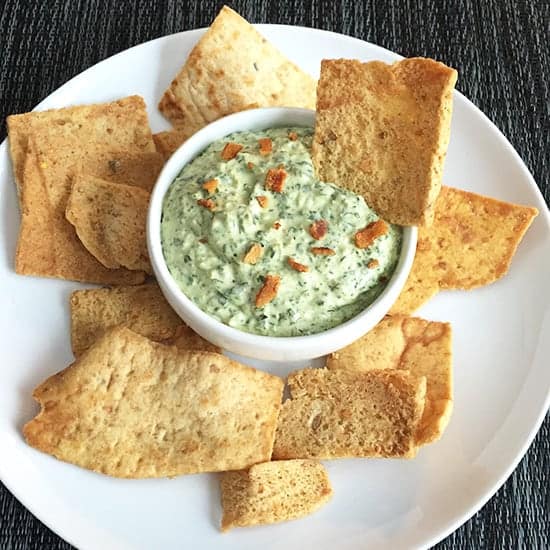 Bacon and Greens Dip with Bubbly by Cooking Chat
Piedmont Sparkling Nebbiolo & Pungent Anchovy Green Sauce by foodwineclick
Segura Viudas Aria Cava with Oysters and Spanish Tapas by Confessions of a Culinary Diva
Butterflied Spicy Prawns and Treveri Sparkling Wine by Wild 4 Washington Wine
A Seasonal Nibbles Duet + Pear Valley Vineyard's Frizzante Muscat by Culinary Adventures with Camilla
Appetizers served with a Sparkling Wine by A Day in the Life on the Farm
Cranberry Brie Biscuit Bites and Sparkling Muscat by Curious Cuisiniere
Moscato with Fresh Fruit Almond Cake and Zabaglione by Vino Travels — An Italian Wine Blog
Domaine Meriwether Sparkling Wine and Make Ahead Spanakopita by Tasting Pour
Wine and Dine: Anna de Cordoniu Brut NV and Herbed Parmesan Crisps by Grape Experiences
Italian Sparkling Wine: Bubbly & Bacon #winePW by Girls Gotta Drink
The Holidays Sparkle on #WinePW by Rockin Red Blog
Butternut and Bubbly by It's Okay to Eat the Cupcake
Smoked Salmon and Potato Chip Appetizer with Louis Roederer Champagne by ENOFYLZ
6 more pairings for sparkling wine
I know, 19 pairings for sparking wine may have been enough for you. But hey, I like round numbers, and had a few more ideas to share!
Prosecco with Pesto Sauvignon Blanc may be the classic pairing for my pesto recipe; but a Prosecco can also go nicely with pesto. Pesto crostini can be a nice app and work well with Prosecco or other bubbly.
Champagne with Fried Parsnips Ray and Lori from Pairings Wine & Food are always coming up with creating pairings. They started off a recent wine club gathering by serving Champagne with Fried Parsnips, and it was very tasty! This Food & Wine recipe looks similar to what they did.
Bubbly with Buttered Popcorn Along the same lines of Martin's potato chip appetizer, great pairings don't have to be a lot of work! Sparkling wine and popcorn go great together. You can pop your own or we've really been enjoying Angie's Artisan Boom Chicka Pop for a ready-to-eat popcorn lately.
Prosciutto and Figs I was going to simply recommend prosciutto as a pairing for bubbly, as it's so easy to add to a platter along with some cheese. But if you want to put in a little more effort, why not try putting together some Prosciutto Wrapped Figs, following the easy Food Network recipe? Go for bubbly with a bit of sweetness if you go with the figs and prosciutto. Since posting this earlier today, I came across this Prosciutto Wrapped Goat Cheese Stuffed Figs from Recipe Runner, and bet that would also be great with bubbly!
Spicy Red Pepper Dip Pinot Noir is the optimal pairing for the Muhamarra Spicy Red Pepper Dip I shared the other day, but we've also enjoyed this dip with a Prosecco. In general, dips and other apps with some spice can pair nicely with a sparkling wine.
Cheese and Sparkling Wine Of course, wine and cheese go together, and that certainly holds true for sparkling wine. Many cheeses can go well with bubbly. Sparkling wine can cut through the creaminess of cheeses like Brie and Camembert, but can also go with one of my favorites–Gruyere.
Bonus tip
I know, leftover bubbly is not typically a huge problem. But when it does, it's nice to be able to save some of those bubbles. This little gadget preserves the bubbles quite nicely for a day or two. With this at the ready, it's nice to be able to open some bubbly to have a glass before dinner, and have the rest ready for another day.
What are you pairing?
I know this list of 25+ pairings for sparkling wine just scratches the surface of good pairings for bubbly. What pairings do you like to serve for New Year's Eve, or any other time you pop a cork of sparkling wine? Drop a comment to let us know!