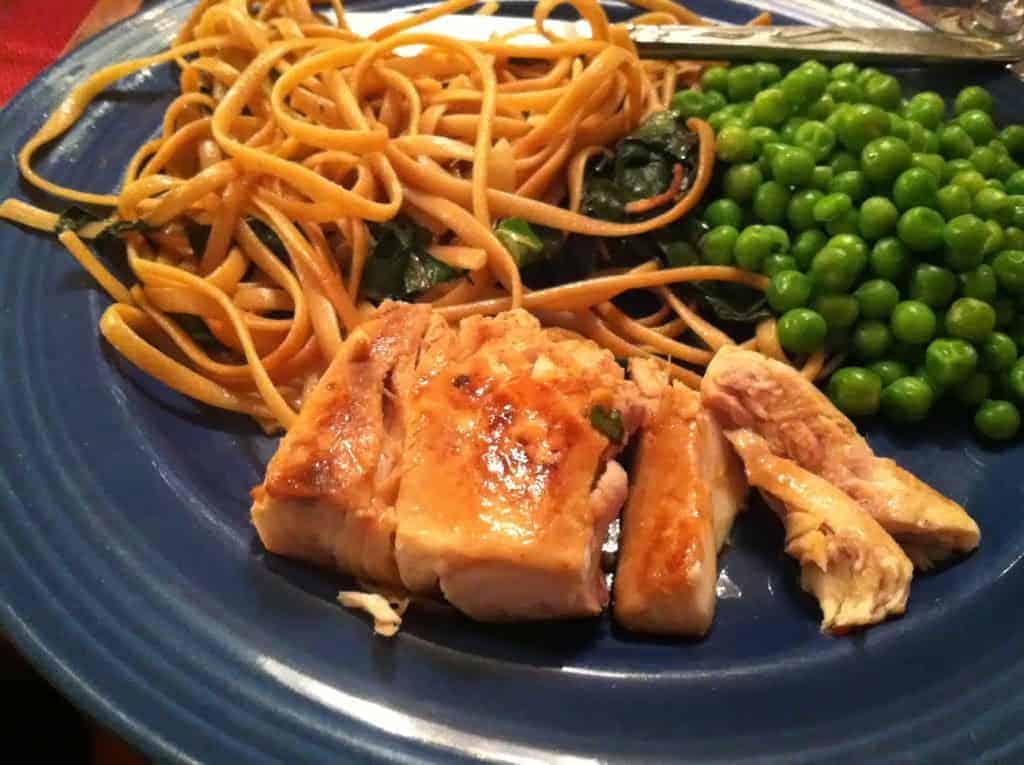 Mahi Mahi might sound a bit fancy for someone writing about tips for keeping the grocery shopping under budget. Don't worry, this post doesn't mean our saving plans are off track before January is done! This one actually ties into the theme in two ways…First, I had Mahi Mahi on my mind when I saw it included in the Whole Foods Market Woburn sale flyer for the week (which runs through Tuesday 1/21/14 and may be found at other Whole Foods in the area, too), which I typically get by checking out their Facebook page. Second, comparing price per pound of different fish and meat items can be a bit misleading. I got the Mahi Mahi on sale at $9.99/lb, but just needed a bit over 1/2 pound to feed the 3 of us. So the actual cost can wind up being less than something like a pork chop or steak that might have fat or bone that doesn't get eaten and thus weighs more. And point three–making your own marinade is very easy and is another way to save!
OK, enough of the budget talk, we're still focused on food that is tasty as well as affordable here. I decided I'd try cooking the Mahi Mahi in similar fashion to the way I've come to cook salmon, at least when it's not grilling season. The basic approach is derived from a salmon recipe in Barbara Lynch's Stir: Mixing It Up In The Italian Tradition, adapted for Mahi Mahi.
1/4 cup soy sauce (low sodium version preferred)
1/4 cup OJ
1 tsp brown rice vinegar
1 tsp sugar
1 clove garlic minced
pinch of dried ginger
1 scallion, chopped
10 ozs or so Mahi Mahi fillet
oil spray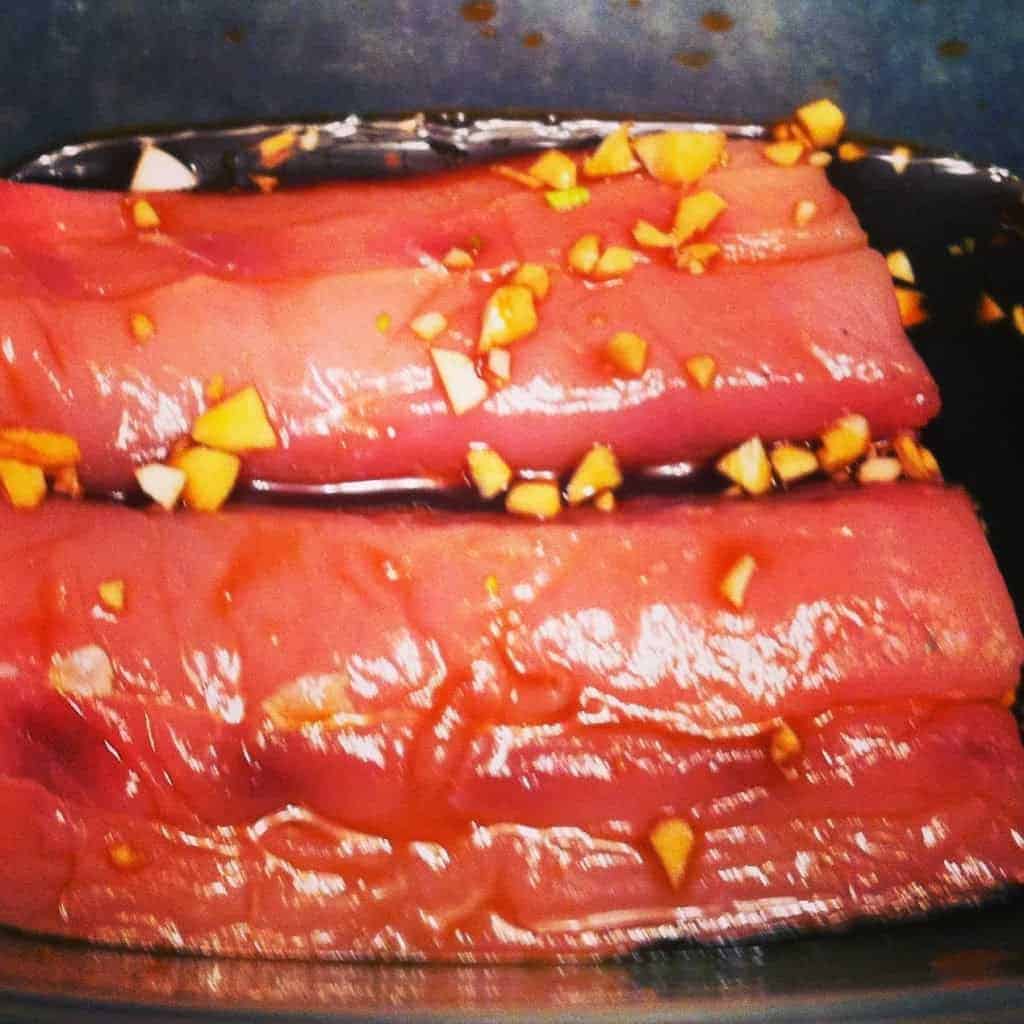 Mahi Mahi soaking up some tastiness!
Take the Mahi Mahi out of the fridge before you get ready to put the marinade together so it starts coming closer to room temperature. Combine the marinade ingredients, from the soy sauce through the scallion, in a mixing bowl. Rinse and pat dry the Mahi Mahi, then place it in a large bowl or plastic bag. Pour about 2/3 of the marinade over this fish. Set the remainder of the marinade aside. Turn the fish over gently a couple times so that it becomes well coated with the marinade. Let the fish marinade for 10 to 15 minutes before cooking. Unlike a marinade for something like steak tips, where the goal is to tenderize the meat over an extended period, you don't want to marinade fish like Mahi Mahi or salmon for long, or it will get too salty. A short soak in it gives it a nice flavor and leads to nice juicy fish.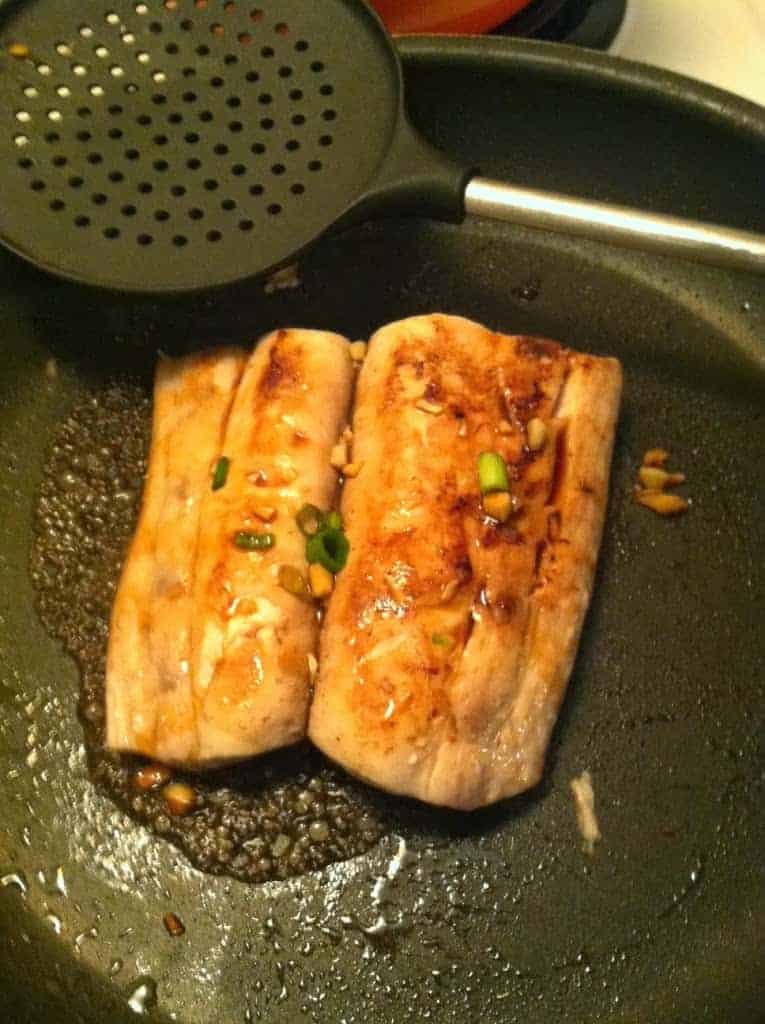 After the Mahi Mahi has marinaded for 10 minutes, spray a skillet with cooking oil and heat the pan on medium high. When the pan is good and hot, remove the Mahi Mahi from the marinade and gently shake off some of the excess marinade–but you'll want to keep some to cook in with the fish. Place the fish skin side down, and cook for 5 minutes without moving the fish. The skin will be getting nice and crispy underneath. After 5 minutes, use a spatula to turn the fish over.
Turn the fish back to the skin side one more time. Spoon a couple tablespoons of the reserved marinade over the fish after turning it, and let it cook in for about 2 minutes. At this point, gently cut open the fish at a thick spot to check for doneness. You want to get it so it has turned white throughout, but not overcooked. The actual time will depend on the thickness of your fillet. My times are based on having a portion that was about an inch plus thick at some spots. When the fish has reached this point of doneness, remove from the pan to a plate, and loosely tent with foil. Let it rest a couple of minutes, letting it cook a bit more. The skin will sometimes come off during the cooking process. If it doesn't, it can be easily pulled off with your fingers or a knife prior to serving.
Serve the Mahi Mahi, offering the reserved marinade* at the table. Ours didn't actually need more, having cooked in just the right amount. We used the marinade on our Asian style noodles, which we had leftover from the other night.
*Note: When I refer to putting "reserved marinade" on food at the table, this is marinade that was set aside before combining with the fish. The portion that the fish actually marinaded in gets discarded. You don't want to be serving liquid that marinaded raw fish or meat in terms of food safety.