Kale Pesto Pasta is a recipe we make very frequently here! Pasta tossed with zesty kale pesto can be a meal on its own, or a nice side dish for chicken or fish. If you're looking for the Cooking Chat kale pesto recipe for something else, you've come to the right place — just skip the parts about cooking the pasta!
Today we break down some tips for making kale pesto and provide some serving ideas and wine pairings. Disclosure: Some of the wines suggested were provided as a complimentary sample.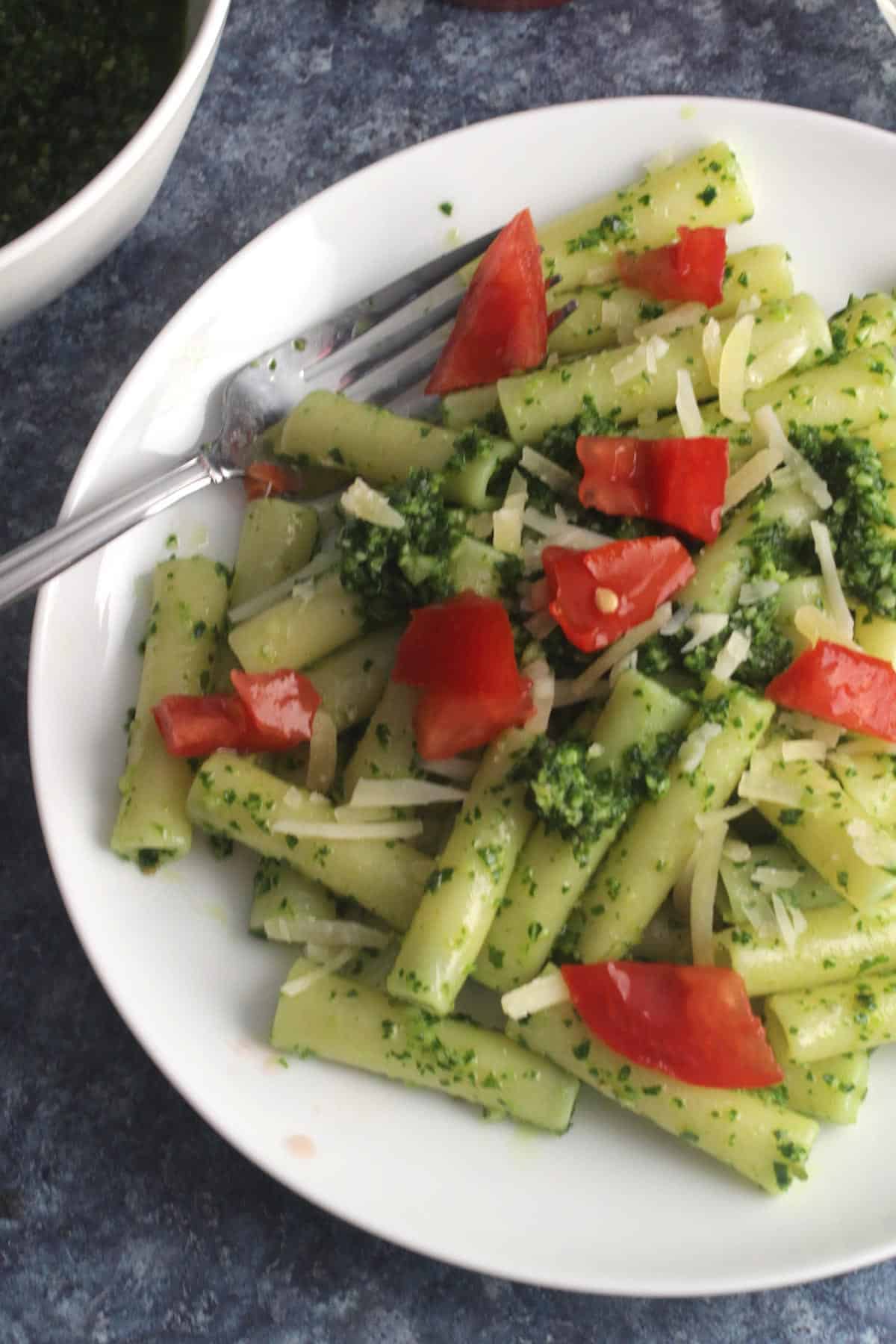 Kale pesto is one of the recipes we make the most in our house! Sure, I love classic basil pesto, but there are many reasons to go for kale pesto. One is that you can almost always find a good healthy bunch of kale in the produce section of your local grocery store, while good basil is much more seasonal. And of course, kale is packed with nutrition!
Nutrition is great, but we wouldn't be making kale pesto if we didn't love the taste! We break down the taste factors more in a minute.
In this recipe, we are talking about tossing kale pesto with pasta, but this sauce is very versatile. We love using kale pesto to add flavor to chicken and fish, and featuring it in a variety of appetizers, soups and more. For more ideas about what to do with kale pesto, we've got you covered with 15+ creative recipes.
Jump to:
What does kale pesto taste like?
There are a lot of ways to enjoy kale, but my kale pesto seemed like perhaps the best way to sway folks to the merits of the healthy green. The bitterness of kale is offset here by the saltiness of the cheese and the bite of the garlic, coming together for a flavorful raw pasta sauce.
We often top our kale pesto pasta with fresh tomatoes, if we have some available. Roasted broccoli also adds a depth of flavor to the dish that can be quite satisfying.
This basic kale recipe can be used for other tasty dishes like the Orzo Salad with Kale Pesto. For more ideas, check our collection of 15+ Ways to Use Kale Pesto.
Basically, if you like traditional basil pesto, I highly suspect you will like our kale pesto pasta too! I have made this countless times and shared with many people who just can't get enough of this kale pesto.
Tips for Making Kale Pesto
Use a food processor: Basil pesto is traditionally made with a mortar and pestle. For kale pesto, with the tougher leaves, you will definitely want to use a food processor or a blender.
Start with garlic: To make sure you get the garlic minced up, whir those garlic cloves in the food processor first before adding kale and other ingredients.
Hands on: You don't want to use the thick stem. I like to use my hands to tear the leaves from the stem, then add the leaves to colander for rinsing.
Pulse kale after adding the first two cups to add more room.
Drizzle in the olive oil followed by the cheese. Good quality Parmigiano or Pecorino Romano is important to the flavor of the kale pesto!
Nut free pesto or with nuts: We are nut free in our home due to food allergies. So I give a nut free version, featuring pumpkin seeds. But you can swap in walnuts or pine nuts if you like. Check out our Pesto Recipes Without Nuts for more nut free pesto ideas.
Add more evoo: After using the quantities given, add extra olive oil as necessary to get to the desired consistency. I like it to have enough liquid–a puree consistency, to mix well w pasta. During the batch I made for this recipe update, it seemed to dry at first. I think that happens when packing the kale in very densely into the cup. You may be able to see that from the photo.
Upsize the recipe: A big bunch of kale often generates more than 4 cups of kale. I often wind up doing 1.5 times the recipe given here, or even doubling it. But if you just want to make the amount given here and do have some extra kale on hand, try adding thin strips of the extra kale to a salad for some extra nutrition.
Using kale pesto
Immediately after draining the pasta, add a tablespoon of extra virgin olive oil, followed by 2 or 3 scoops of the kale pesto. I like to get the pasta coated when initially tossing it with the pesto, but not heavily covered. You can pass extra kale pesto at the table, so those looking for more strong flavor can add the amount they like.
The kale pesto mixes with pasta best when it is at room temperature. You can leave it out for an hour or so if you make the pesto ahead of cooking the pasta.
Kale pesto can be used for much more than pasta — see 15+ Ways to Use Kale Pesto for ideas.
How to store kale pesto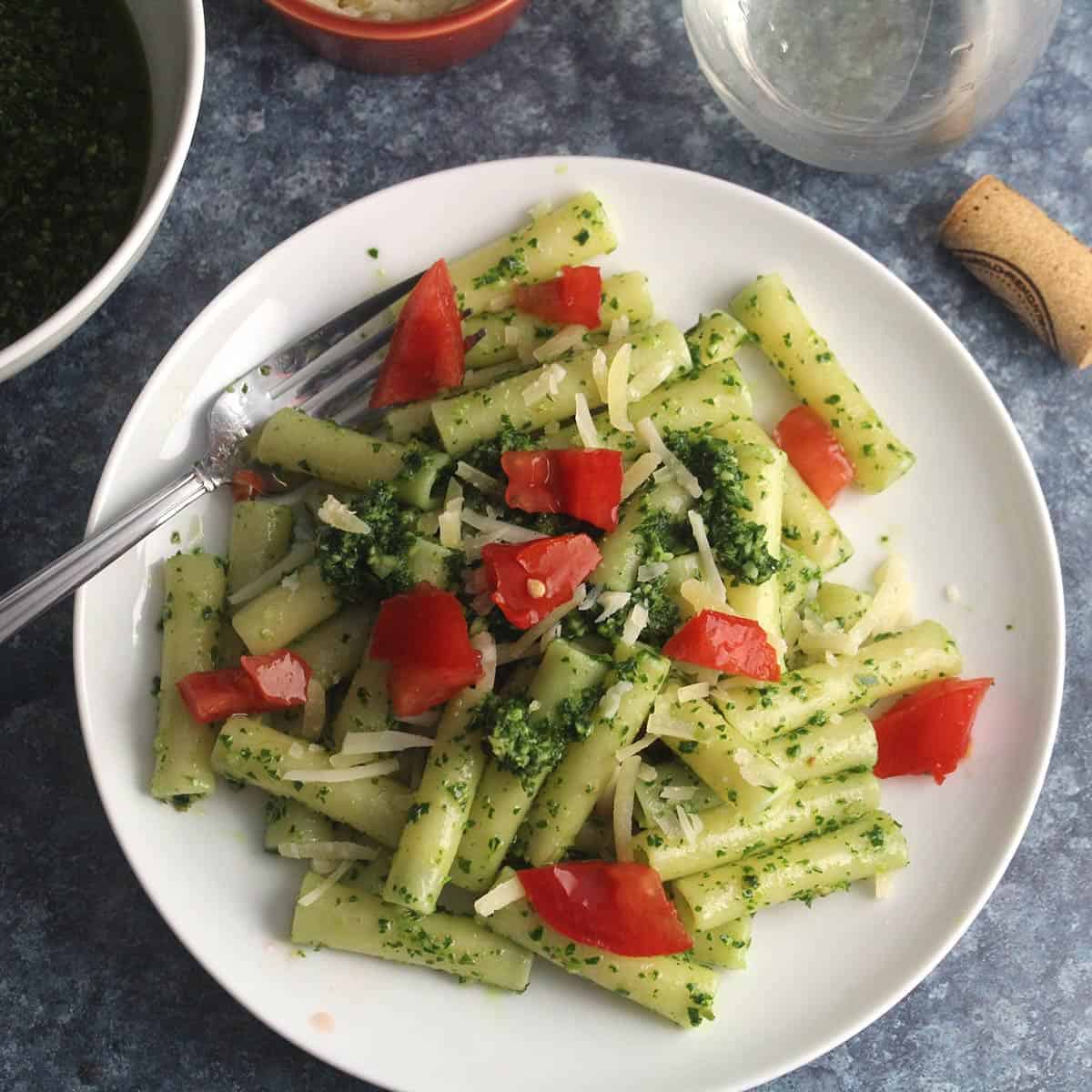 You are likely to have a bit more kale pesto than you need for 12 ounces or so of pasta. Store any leftover kale pesto in an air tight container in the refrigerator. The kale pesto keeps at least a week in the refrigerator, and can be good for up to ten days or so.
Take the kale pesto out of the refrigerator for 30 minutes or so before using so that it will mix better with the pasta.
Wine pairings
Wines that go with classic pesto, such as Sauvignon Blanc or Picpoul-de-Pinet can work with kale pesto too.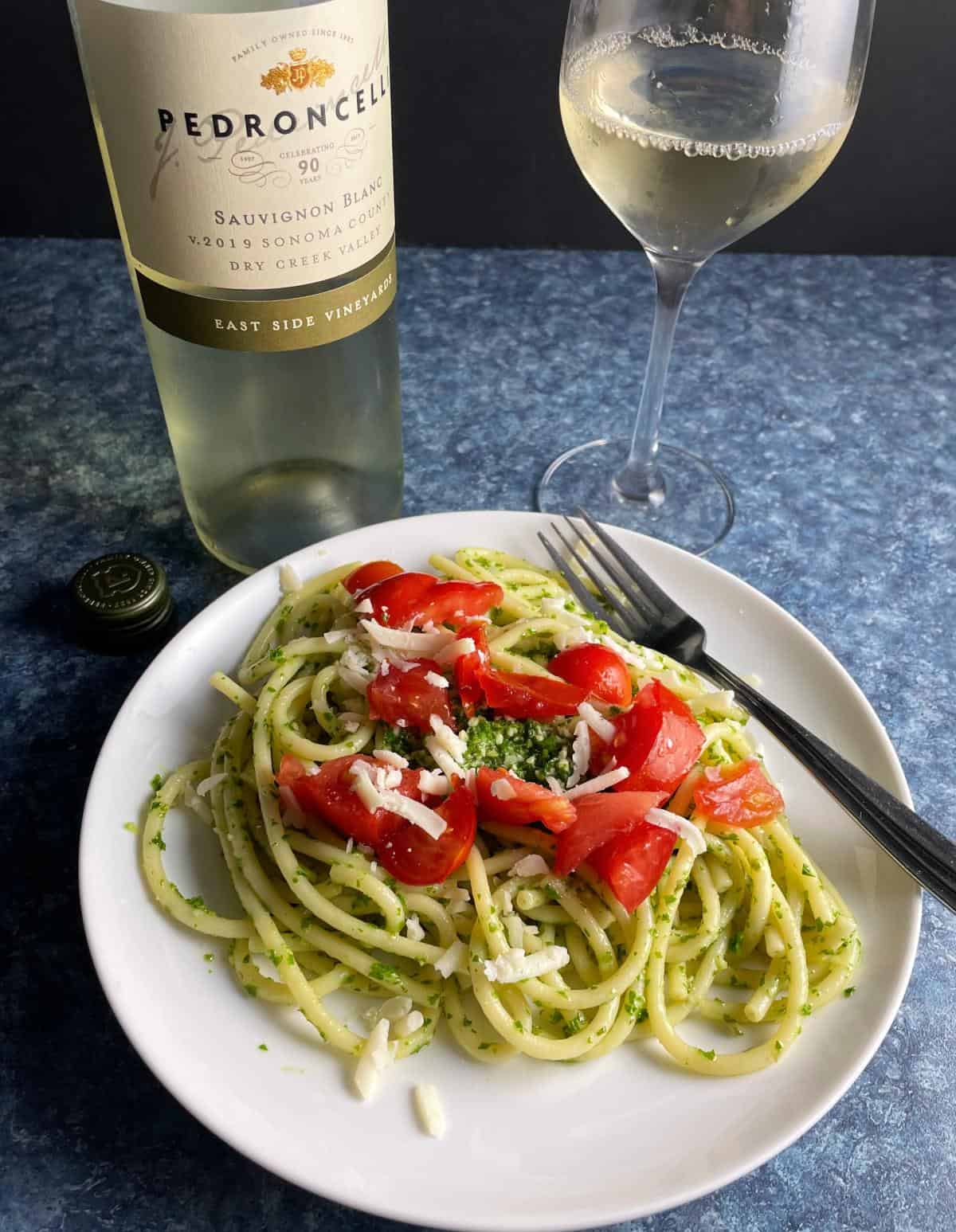 For our latest remake of this kale pesto pasta recipe, we went with the classic Sauv Blanc option. We opened the 2019 Pedroncelli Sonoma County Sauvignon Blanc (13.7% ABV) which was provided as a sample by the winery. I got notes of kiwi, keffir lime and other tropical fruit on this. Definitely a very good pairing for pesto!
If you're wondering about the pasta used in the photo above, we went with bucatini this time. Delicious topped with some fresh tomatoes!
This pasta with kale pesto recipe does pack a kick that you could try offsetting with a Riesling with a touch of sweetness or a Gewürztraminer.
As you might expect, many Italian white wines can pair well with kale pesto pasta, too. Go for a wine with some crispness to it. We recently had the kale pesto pasta with a white wine called Gavi, made from Cortese grapes from the Piedmont area. The San Pietro Gavi (12% ABV) has citrus fruit and good acidity, and is a solid choice for pairing with the kale pesto.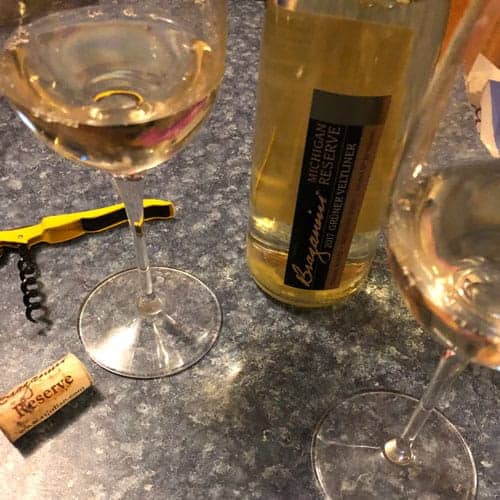 In 2019, we had a chance to try a the 2017 Braganini Reserve Grüner Veltliner ($19.99) from St. Julian, which has been producing quality wine in Michigan for over 95 years. The crisp lemon fruit and good acidity made this a good match! The wine was sent as a complimentary sample as part of a Wine Studio event. Visit our Exploring Michigan Wine article for more information on this under the radar US wine region.
Print
Recipe card
Kale Pesto Pasta
Kale pesto pasta recipe — healthy kale combined with cheese, garlic and olive oil for healthy, robust flavor. Skip the parts about cooking the pasta if you want to make our kale pesto for something else!
Author: Cooking Chat
Prep Time:

15 mins

Cook Time:

15 mins

Total Time:

30 mins

Yield:

6

servings

1

x
Category:

Entree

Method:

stove top

Cuisine:

Italian

Diet:

Vegetarian
For the kale pesto
3

garlic cloves

4 cups

kale, rinsed and thick stems removed

⅔ cup

extra virgin olive oil

½ cup

(or a tad more) grated pecorino romano or Parmigiano cheese

2 tbsp

pumpkin seeds, lightly toasted (see notes)
generous pinch red pepper flakes (optional)
salt and pepper to taste
For the pasta & topping
12

ozs pasta — we like linguine or ziti with kale pesto
chopped fresh tomatoes for topping (optional)
Instructions
Boil water: Begin boiling some water for pasta before you start making the pesto.
Mince the garlic: Add the garlic to a food processor and mince.
Add the kale to the food process, coarsely chopping to create enough room for the other ingredients.
Add the remaining ingredients —  add olive oil, cheese and pumpkin seeds and puree until it comes to a nice smooth consistency. Add salt and pepper to taste, and red pepper flakes, if using. Purée again to incorporate all the ingredients. Your kale pesto is ready to toss with pasta or any other use you have in mind!
Drain the pasta when it is cooked to your liking. Toss the pasta with enough pesto to coat it.
Plate the pasta, pass extra cheese and pesto at the table.
Notes
You can use walnuts or pine nuts instead of pumpkin seeds, if you aren't concerned about making a nut free dish.
See how to make kale pesto above for more tips.
Keywords: kale pesto, pasta with pesto, kale recipes, kale pesto recipe
Recipe Card powered by