We served a simple Pork Tenderloin with Onions recipe and a Canary Islands wine for the "New Wine for a New Year" themed wine pairing weekend event. The caramelized onions and pork goes great with red wine produced in volcanic soil.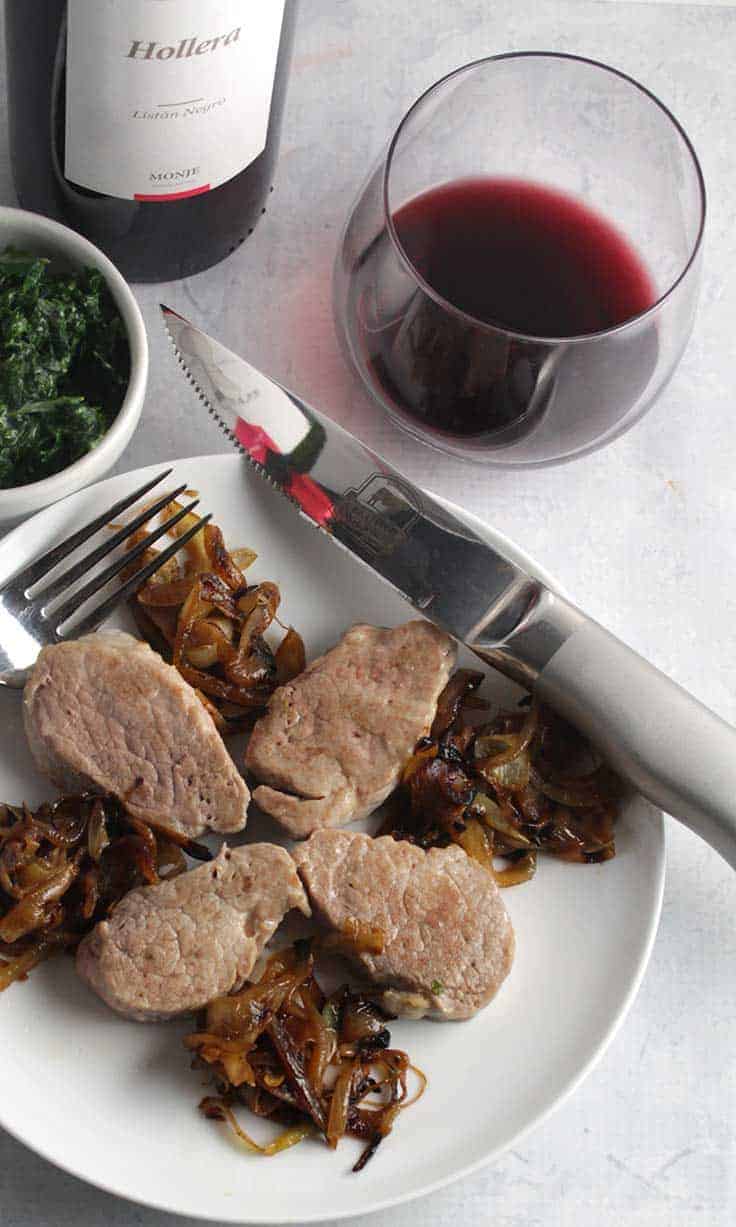 "New Wine for the New Year" is our theme for today's Wine Pairing Weekend event. Trying new wine is definitely an easy resolution for me to keep!
I love trying new wines. I've documented sampling over 200 wine grape varietals. In fact, I'm working on 300 now, though that is slower going. As you might suspect, trying so many wine grapes leads me to sample wines from a lot of regions that might be considered off the beaten path.
So there were a lot of contenders for me to choose from for this event. Earlier this week I tried a new varietal from Italy, a Grignolino, at the suggest of a #winePW friend. Then just last night we enjoyed a delicious red wine from Croatia made from Teran, a native grape varietal. Though both of those wines would fit today's theme, I decided to share a pairing with some Canary Islands wine.
Wine from the Canary Islands
I first had a chance to try wine from the Canary Islands back in the summer of 2016, when the local wine shop Pairings Wine & Food had a tasting with a lineup of 7 wines from the Canary Islands. I liked the whole lineup, but quickly became enamored with the 2015 Vinatigo Gual (appx. $22, 13% ABV) white wine. Steely on the nose, grapefruit and peach fruit. Stones and hazelnut on the finish. We enjoyed several bottles of wine made from the Gual grape over the course of the summer, and definitely recommend trying to track it down!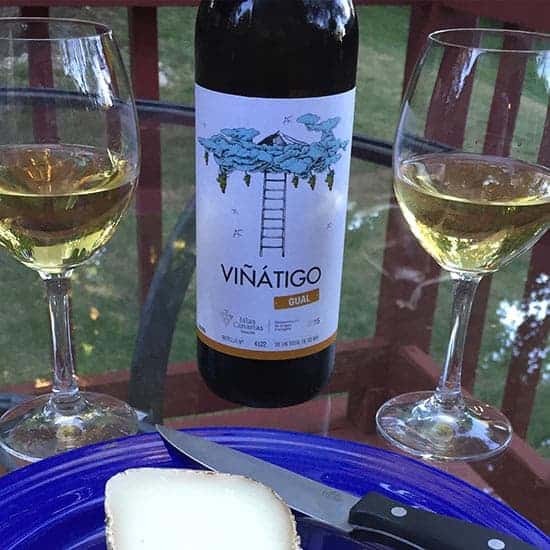 But I'm getting a bit ahead of myself! A geography reminder is in order: the Canary Islands are part of Spain, but are located 60 miles off the coast of Morocco. As I learned from Pairings Wine & Food co-founder Ray Schaefer, there are some extreme growing conditions on some of the islands, including volcanic soil and fierce winds. Ray also notes that the Canary Islands is one of the few wine growing areas that weren't struck by Phylloxera, thus the vines are planted on their own roots rather than being grafted onto rootstock.
The Gual white wine was definitely perfect for summer sipping. At that summer tasting, I also picked up a bottle of Monje Hollera Listan Negro, a red wine that I put aside for cooler weather. That is the Canary Islands wine I decided to feature today and pair with our pork tenderloin with onions. Let's pause the wine conversation for a moment to talk about our food pairing.
Inspiration from The Nordic Cookbook
I decided to double down on the "something new" concept and serve something from my new Nordic Cookbook along with the wine from the Canary Islands. No, I'm not going to try to tell you that Nordic food is often paired with wine from the Canary Islands!
I had the general idea that a pork dish would pair well with our bottle of Listan Negro. After Christmas I was enjoying thumbing through the Nordic Cookbook by Magnus Nilsson, with gorgeous pictures the talented chef took while traveling throughout the region. The cookbook has many dishes that are rather unusual to this American cook, but the pork tenderloin with onions looked like a simple entry point to the book. It also struck me as a great candidate to pair with the Listan Negro. I have made a few changes to the instructions, but the basic recipe is derived from the Nordic Cookbook.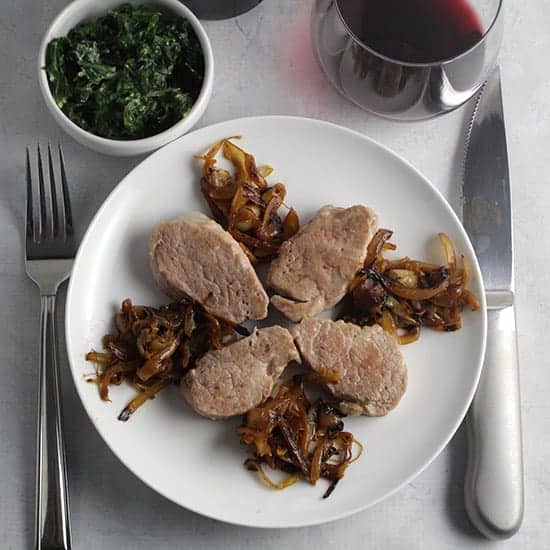 The pork tenderloin with onions recipe starts by slowly cooking yellow onions until they are deep brown and super sweet. Then pork medallions are quickly cooked on the stovetop, then finished in the oven on very low heat. I served some creamed kale, also from The Nordic Cookbook, as a side for our pork tenderloin with onions.
Canary Islands Wine Pairing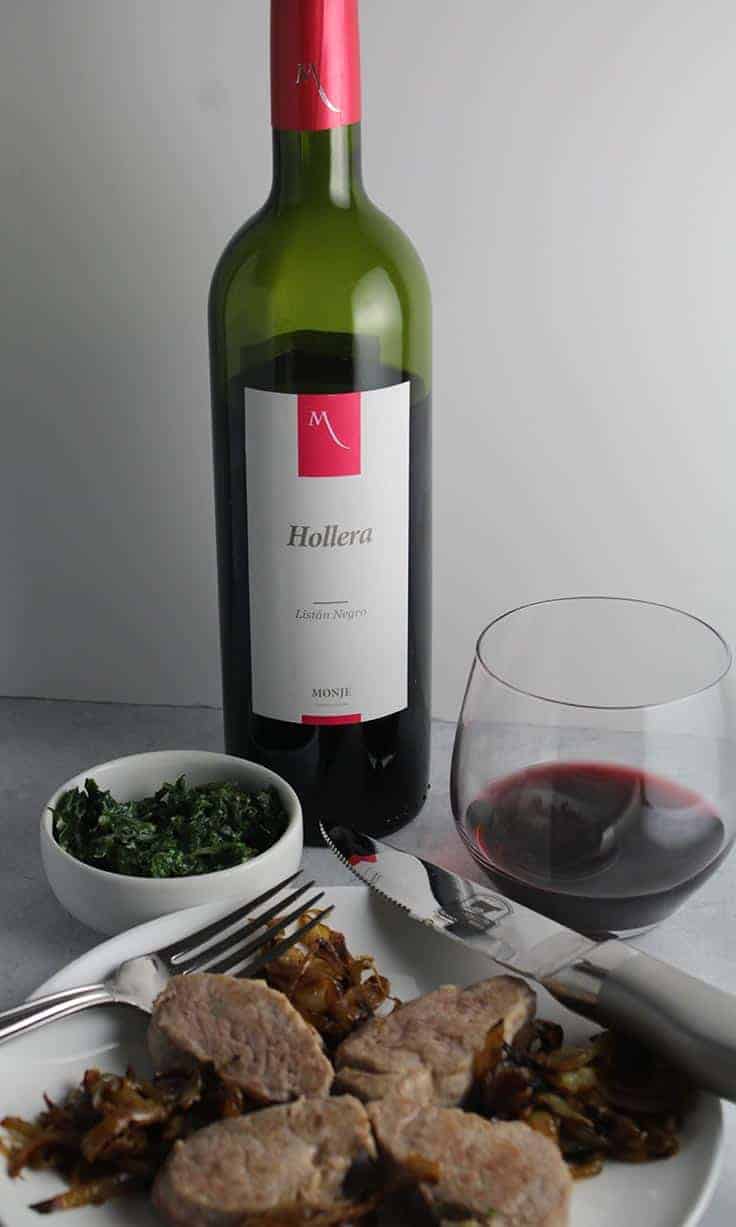 As I mentioned, I chose to open the 2013 Monje Hollera Listan Negro (appx. $17, 13% ABV) to serve with our pork tenderloin with onions. The Monje winery is located in El Sauzal, a town on the island of Tenerife. Monje has volcanic soils and views of the sea. The winery describes this as a "young red wine obtained through the fermentation of whole grape bunches". Listan Negro is a Spanish red grape variety widely planted in the Canary Islands, and is particularly prevalent on the island of Tenerife.
This light red wine has notes of plum and lavender on the nose. Silky smooth mouthfeel. I taste black cherry and a bit of charcoal. I sampled the wine before doing my background reading on the Canary Islands, and felt pretty sure that it was likely produced in volcanic soils, giving it the charcoal notes.
The body and flavors of the wine were perfect for our pork tenderloin with onions. The volcanic notes in the wine were perfect for the deeply caramelized onions, as some of the bits of onion had gotten a bit singed. I definitely give this pairing an "A", and it serves as a reminder that trying new things can yield delicious results!
Print
Recipe card
Pork Tenderloin with Onions
Pan seared pork tenderloin medallions get finished in the oven and topped with delicious caramelized sweet onions.
Prep Time:

10 mins

Cook Time:

40 mins

Total Time:

50 mins

Yield:

6

servings

1

x
Category:

Main

Cuisine:

Danish
3

medium yellow onions, thinly sliced

3.5 tbsp

butter, divided

2

pork tenderloins, about

1

lb each
salt and white pepper to taste
Instructions
Preheat oven to 200 degrees.
MAKE THE SWEET ONIONS: Heat 2.5 tablespoons of the butter in a heavy skillet on medium heat. Add the onions to the skillet along with a bit of salt. Stir occasionally, but not too much. Cook for approximately 30 minutes to get the onions to a nice deep brown color.
PREPARE THE PORK: As the onions get close to being ready, begin prepping the pork. Slice the pork tenderloin crosswise into medallions about 1 inch thick. Lay slices on work surface. Season with salt and white pepper.
Melt the remaining butter in a large skillet, preferably oven proof. Depending on size of your skillet and amount of pork, you may need two skillets or to cook in two batches.
When the butter has melted, add the pork medallions and cook for 3 minutes to brown one side. Turn the pork over, and cook for another 3 minutes.
Move the pork to the oven, and let rest at the low heat of 200 degrees for 10 minutes.
Check the pork for doneness after 10 minutes. Pork should be cooked to 145 degrees; pork tenderloin should still have some pink to be ender and moist. Put the pork back in the oven for a few more minutes to finish if needed.
When the pork is ready, plate several medallions and serve the onions over or alongside the pork. Enjoy!
Recipe Card powered by
New Wine for the New Year from #winePW Bloggers
Wine Predator wrote about New Year, New Wine: New Jersey? New Wine, New Grapes
On the second Saturday of every month, the Wine Pairing Weekend group explores a topic related to wine and food pairing. The #winePW event includes blog posts and a live Twitter chat at 11 a.m. Eastern Time. Tune in using the #winePW tag. Check out past and upcoming Wine Pairing Weekend events here. February's topic is "Wine and Comfort Food" hosted by Grape Experiences.