Today we share about some of the interesting wine grape varietals we have shared in our journey along the wine road less travelled! And of course, we have some good food pairings to suggest as well.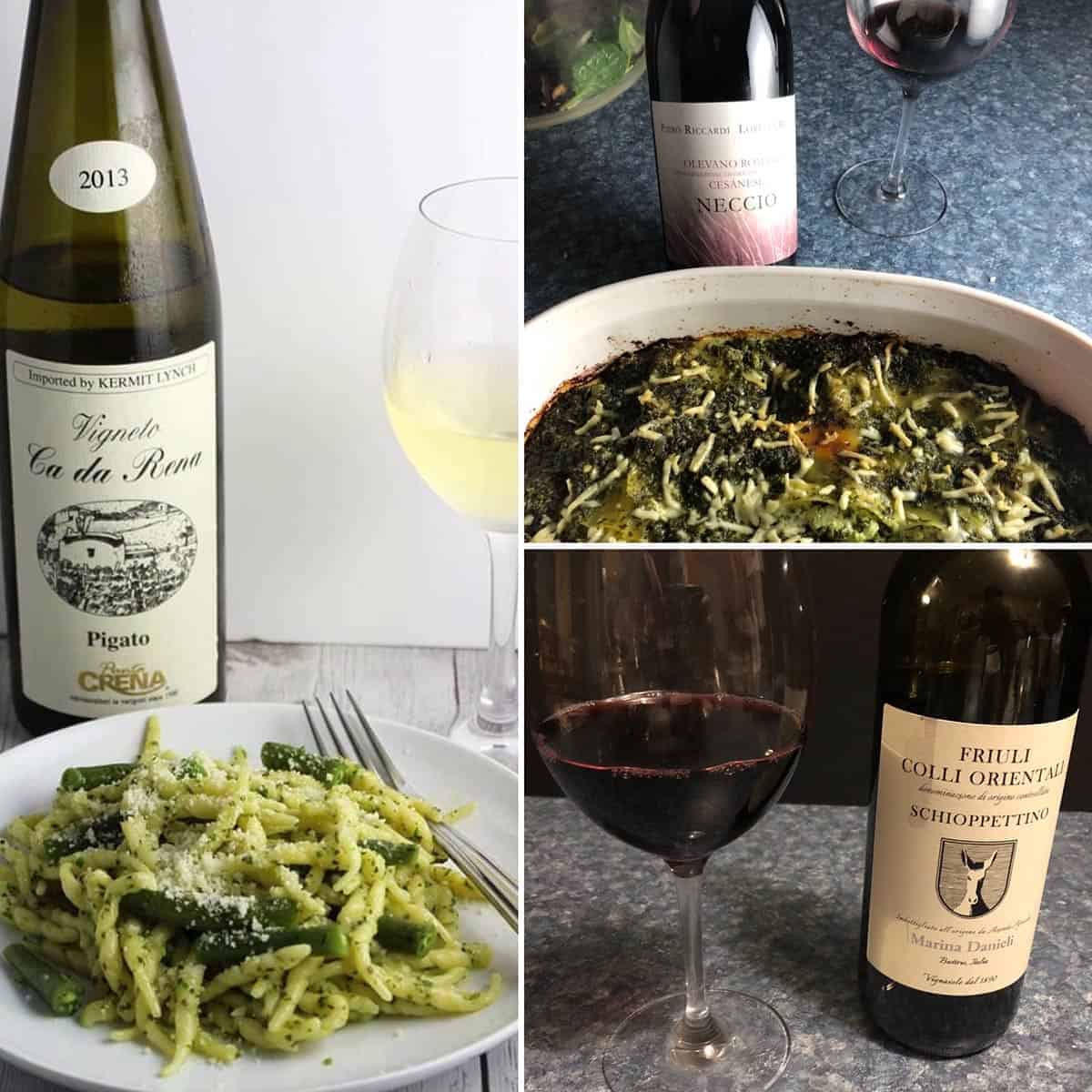 I'm very excited about today's Wine Pairing Weekend theme "Godforsaken Grapes". Thanks to Culinary Adventures with Camilla for hosting!
Godforsaken Grapes is a book by Jason Wilson where he explores under appreciated wine varietals around the world, and what we miss when 80% of the wine we drink comes from 20 grapes. I really enjoyed this book, as Jason's interests in interesting grape varietals matches my own. (Amazon affiliate link provided for the book)
Once I started taking a deeper dive into exploring and appreciating wine some dozen years ago, getting out of the habit of simply grabbing familiar varietals like Cabernet and Chardonnay came naturally to me. Trying interesting wines made from lesser known grape varietals opened up an amazing range of wine flavor profiles.
In addition, sampling new grapes often means going with smaller producers that are dedicated to producing grapes native to their region, following traditional methods honed over time. While seeking out Godforsaken Grapes doesn't lead to inexpensive wine per se, you can often high quality wines for a moderate price that would probably double if it were made with one of the "usual suspects". The Cesanase I'm talking about today is a great example of that!
Trying nearly 300 varietals at Pairings
My quest for interesting grapes got amped up by regular visits to the local wine shop, Pairings Wine & Food. The founders of the store, who recently retired, have a passion for seeking out high quality, small producers from around the world. They bring in a lot of interesting wines, and started a Century Club, whereby customers tracked the different grape varietals they sample.
I quickly got to 100 varietals sampled, then set my eyes on a more ambitious goal — documenting the sampling of 200 different wine grape varietals. Back in 2016, an Italian sparkling wine made from the Famosa grape was poured into my glass. Swirl, sip and of course, snap a photo, and I was in the Double Century Club!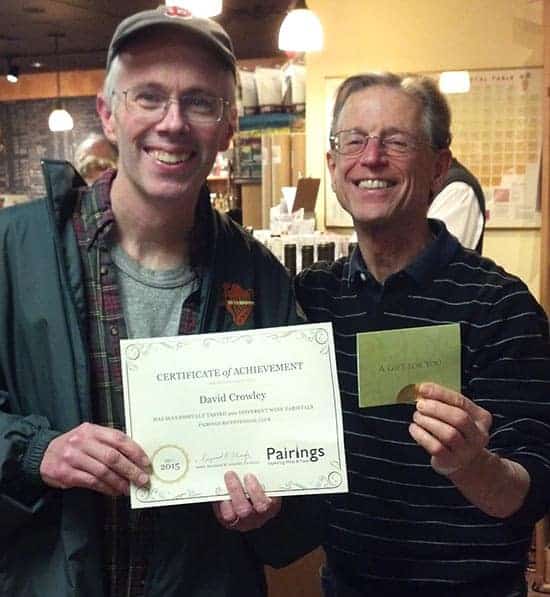 Update: After this initially went to press, the build up to 300 grapes took quite awhile. Read about the Italian grape that took us over the threshold, along with a new Pork Tenderloin Pasta recipe.
For today's event, I sampled two interesting wine grapes, Cesanase and Schioppettino, and tried them with my Kale Pesto Lasagna. I will share more about those grapes, then mention some of the other interesting grapes and related food pairings I've tried along the way.
About Cesanase Wine Grapes
Cesanase is a red wine grape varietal with long roots in the Lazio region around Rome. Cesanase may very well have been the red wine of choice for the ancient Roman feasts, although there's no solid evidence to confirm that speculation.
While Cesanase may have had been popular among Roman emperors, there are now only about 1,500 acres of the grape grown in Lazio.
This Wine Spectator article suggests Cesanase could be an up and coming grape; if the one we tried is any indication, I could certainly see that happening!
The Wine Folly article on the subject mentions a bitter quality in the Cesanase grape finish, which they say is similar to kale. Interestingly, I didn't get the bitterness, but I did choose to pair the wine with kale pesto lasagna!
Cesanase Pairings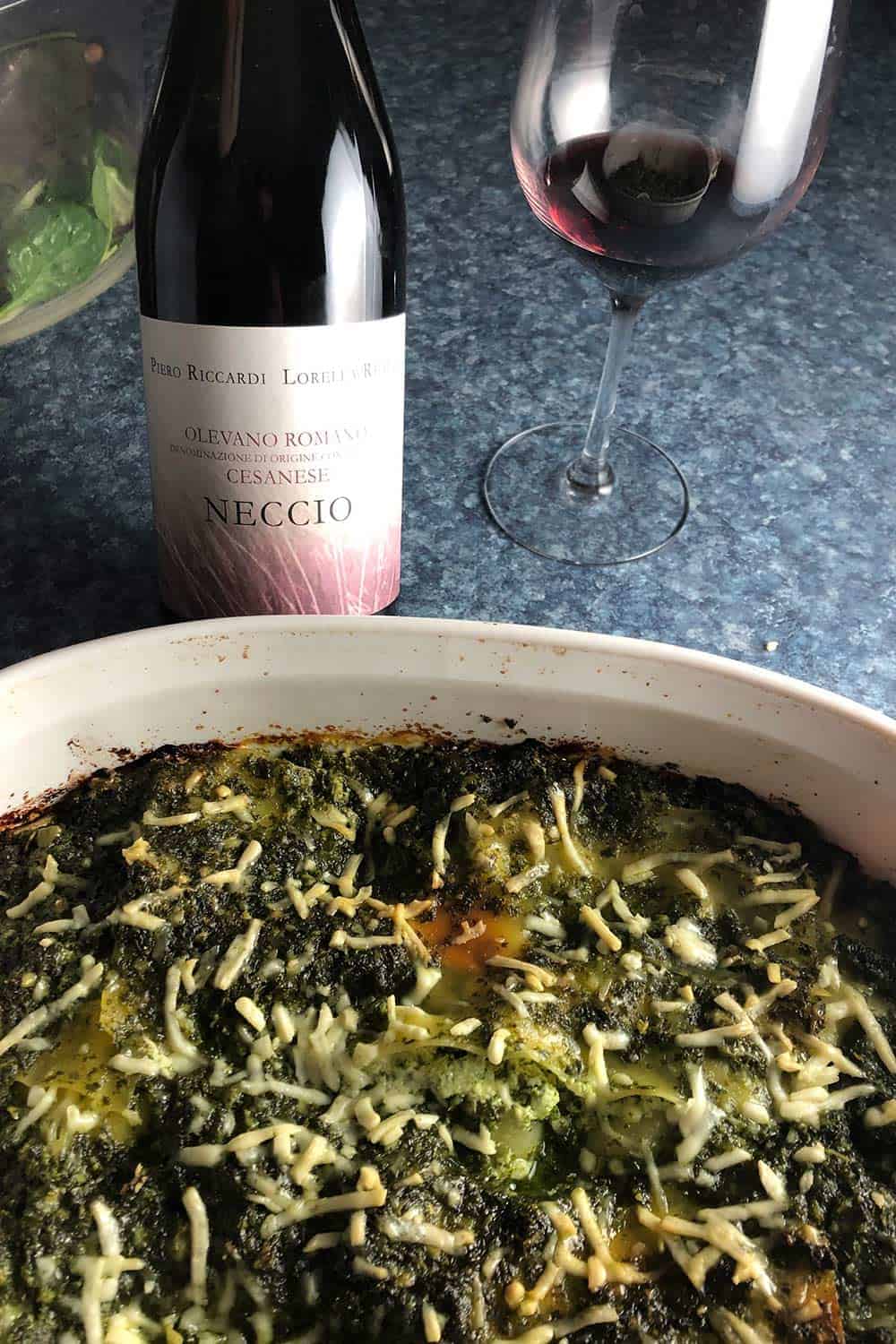 I was very impressed when I first sampled the 2016 Ricardi Reale Neccio Cesanase ($28, 14.5%) in a tasting lineup. Black pepper on the nose, raspberry fruit and a silky mouthfeel. A touch of vanilla on the finish. Reminds me a bit of a high quality Pinot.
Riccardi Reale is a small producer in the Olevano Romano countryside, located about 300 meters above sea level in Italy's Lazio region. They practice biodynamic agriculture. Under 200 cases of the 2016 Neccio Cesanase were produced, with grapes grown in volcanic soil. they also produce two other Cesanase wines, also with fairly small production.
Given that it made me think of Pinot, I thought that the Ricardi Reale Cesanase would be an interesting option to take along to Christmas dinner. Yep, sure enough, it went quite well with the eclectic range of tastes on our plate — turkey, ham, broccoli casserole and more.
Some 30 or so extended family members gather for the Christmas feast, so I definitely wanted to get another bottle of Cesanase to open at home where I could pay closer attention to it. Making our Kale Pesto Lasagna seemed to be the perfect occasion to open it!
I had previously paired more common wines with this lasagna–Dolcetto and Chianti most frequently–so it was fun to try the dish with an off the beaten path wine! The Cesanase is definitely a food friendly wine–it had nuanced taste profile to match the lively flavors of the kale pesto lasagna, and enough heft to stand up to the dish.
Schioppettino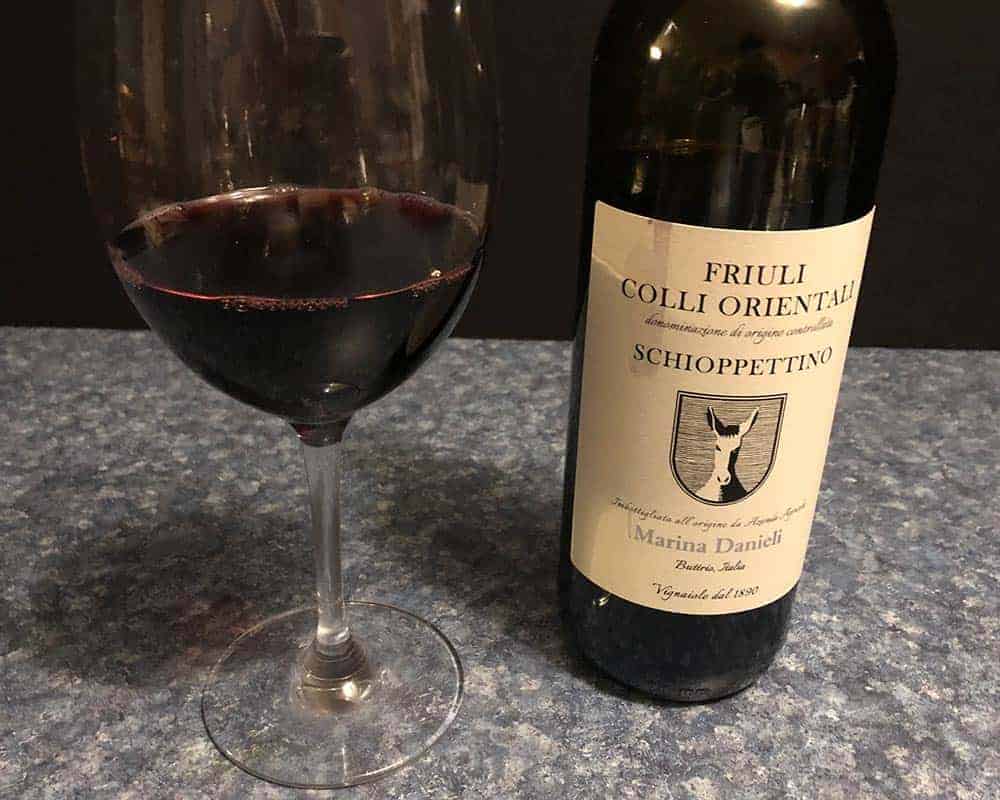 For the second "Godforsaken Grape" we sampled, a Schioppettino red wine, we travel north to Italy's Fruili region, located in the northeastern part of the country, bordering Austria and Slovenia. Schioppettino is native to the Friuili region, and mostly grown there and also in Slovenia. It is also known as Ribolla Nera.
I opened the 2017 Marina Danielli Fruili Colli Schioppettino (13% ABV) which is deep brick red in the glass. Rhubard on the nose, blackberry fruit and a bit of leather. The wine has a meaty quality to it, while still being light in the glass. Definitely a good wine. We did try it with the kale pesto lasagna but I would say I liked the Cesanase better with it.
The lightness of the Schioppettino suggest it could work well with poultry. Sure enough, checking my old posts here on Cooking Chat, I see I did successfully pair another Schioppettino with Herb Butter Roasted Chicken.
More Interesting Wine with Pairing Ideas
I was thinking about what insights I gleaned along the way to 200 wines that I might share in this post. The biggest take-away is there is a lot of interesting wine out there that tastes great and can often be great paired with your meal. Don't get me wrong, I love Riesling, Pinot Noir, Zinfandel and other usual suspects. But branching out will definitely enhance your enjoyment of the many nuanced flavors the world of wine has to offer.
To give you a little taste of the interesting and tasty pairings I enjoyed along the way, here are five interesting wines I tried along the way and the recipes I paired with them. All of these pairings scored an "A" from me, meaning the wine and food greatly enhanced each other.
For today's article on "Godforsaken Grapes", I updated the article I wrote when I reached the 200 varietals threshold. For that piece, I included some of my favorite pairings for some interesting wines that I sampled. For today, I've added a few newer pairings along with those that I shared back then.
Grilled Halibut with Cococciola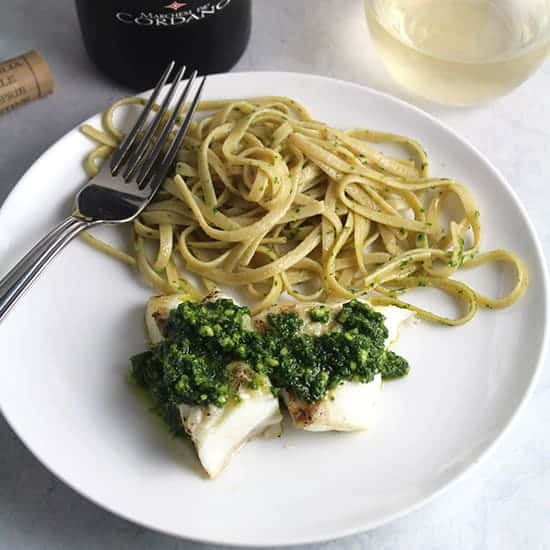 I first got to know the wine wine grape Cococciola while traveling in Abruzzo back in 2018. When our host at Marchesi De Cordano asked which of his wines I'd like to bring home, I picked this flavorful white wine. The Cococciola was great with Grilled Halibut!
Asiago Lemon Spaghetti with Malagousia
Spaghetti tossed with lemon and Asiago cheese is delicious paired with Malagousia, a Greek white wine.
Pigato with Ligurian Pesto Pasta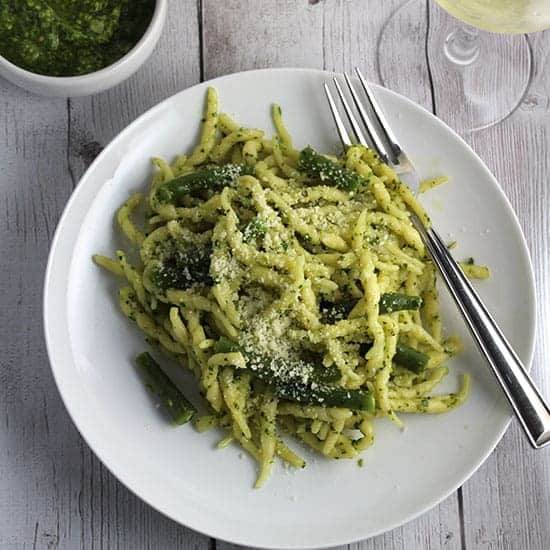 I could go on for quite some time on today's topic, but I have to stop adding more of my quirky wines and get this published! But I do have to share this pairing of the Pigato white wine grape with Ligurian Pesto Pasta, it is such a great pairing! Pigato is native to Liguria, the region around Genoa, as is the trofie pasta I tossed with the pesto. OK, I'm going to stop sharing new ideas and leave you with these pairings I shared previously:
Plavac Mali with Middle Eastern Chicken Orzo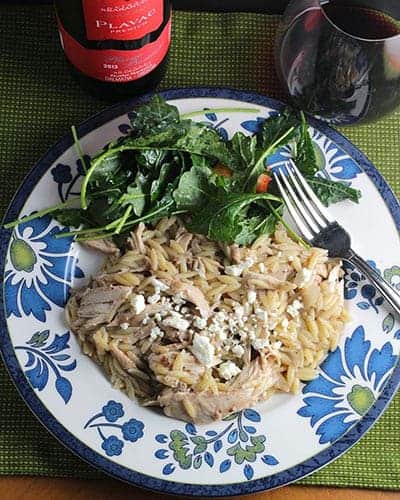 What, you haven't tried Plavac Mali? I hadn't until quite recently either. This one from Croatia nudged me very close to my goal of sampling 200 wine grape varietals. It drinks a bit like American Zinfandel, and I really like the bottle we paired with the Middle Eastern Chicken Orzo.
Prié Blanc with Ziti, Kale Pesto and Roasted Broccoli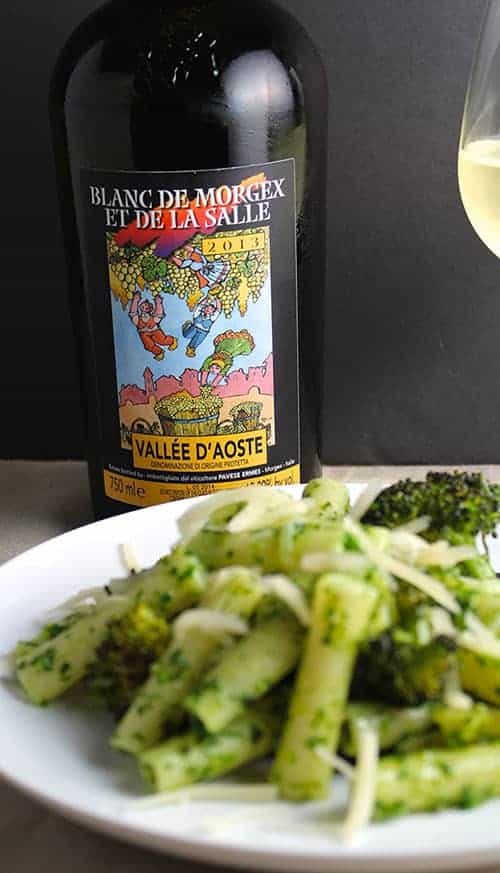 This white wine grape varietal native to the Valle d'Aosta region of Northern Italy is a great example of how trying interesting wine can also greatly enhance your meals. Here's how I describe this pairing: "nuttiness on the nose, lemon fruit with some tartness on the first taste. Eating it along with the pesto, which has a bit of kick, I also picked up some honey and kiwi on the wine, which cleansed the palate nicely. And that nutty quality worked perfectly with the roasted broccoli."
Touriga Nacional Blend with Portuguese Kale Soup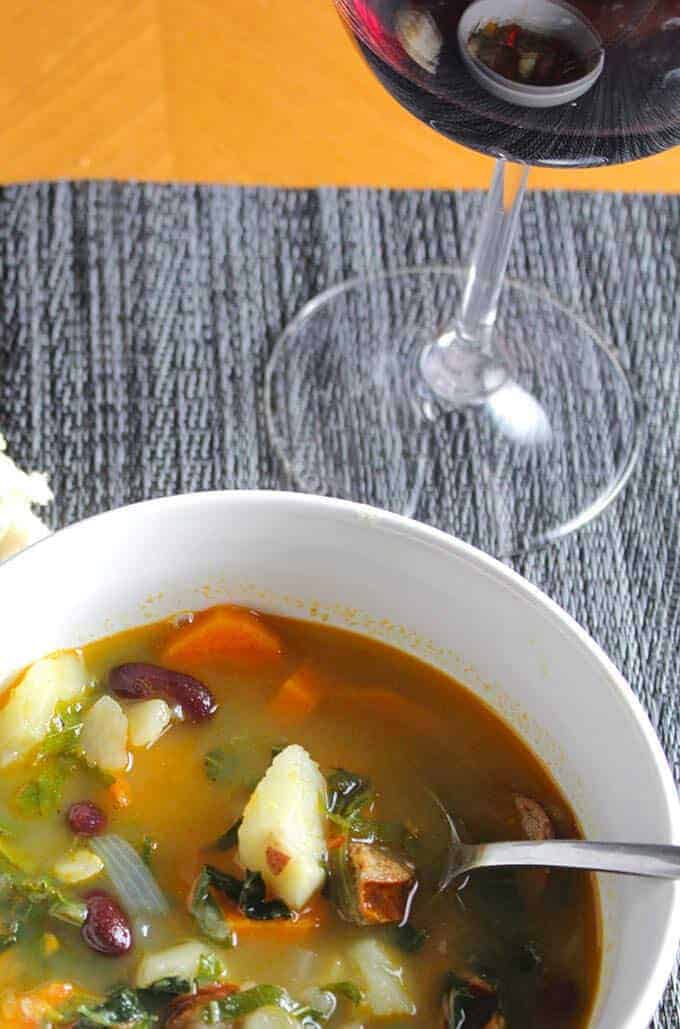 If you come across this post and decide you are going to try for the Century Club, a Portuguese red wine blend is a great place to start! I put Touriga Nacional in the lead in, but you are likely to pick up a few new interesting wine grapes if you start enjoying Portuguese wine. And what better food to have with Portuguese wine than the traditional favorite, Kale Soup?
Agiorgitiko with Greek Lamb Stew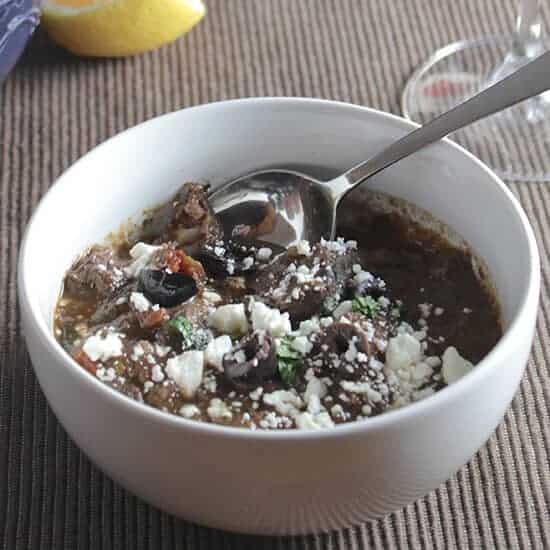 Ok, if you've had any Greek red wine, you've probably had Agiorgitiko. This pairing is a great example of the "what grows together, goes together" concept.
Centesimino with Bolognese Sauce and Crispy Prosciutto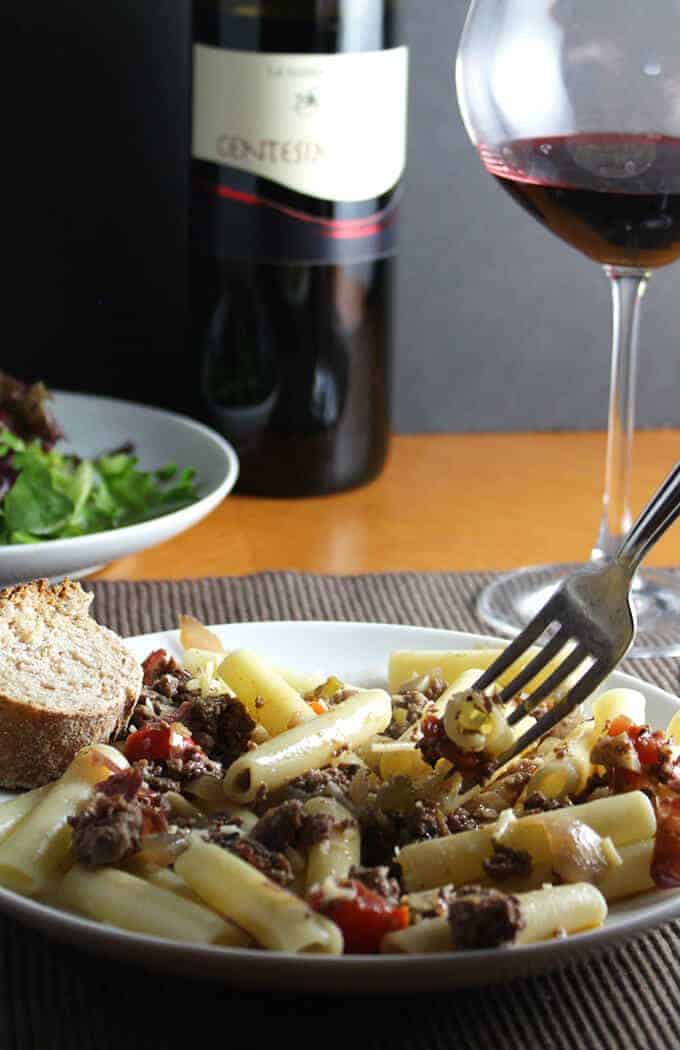 Centesimino is a wine grape raised by only a few producers in and around Emilia-Romagna in Italy. The medium bodied, well-structure Centesimino we tried made for a great pairing with our Bolognese sauce recipe.
That's just a small taste of the great pairings you can come up with to go with the many interesting wines that are out there to be tried! Branch out and try something new, and let me know what you find!
Wine Pairing Weekend Explores "Godforsaken Grapes"
But wait, there's more! Be sure to check out all the fun my #winePW friends have had with Godforsaken Grapes.
If you are reading this early enough and would like to join our conversation, we'll be using the hashtag #WinePW at 11 a.m. Easter time / 8 a.m. Pacific time on Saturday. Participating bloggers and others interested in the subject can connect via a live Twitter chat. It's a nice bring way to bring in others interested in the subject. Hope to see you there. Just be sure to use the hashtag so we can see your tweet.