During a recent trip to Minneapolis, we visited Red Robin, an allergy friendly restaurant chain. This article describes our visit with a focus on how the restaurant manages food allergy concerns.
We were looking for a spot to get a substantial lunch before heading to the Minneapolis Airport for our flight to Boston. Finding an allergy friendly restaurant on the road can be challenging, but the search function on the Allergy Eats website makes it easier. The website has a user generated set of listings and ratings, so it is only as good as the data people add to it. Fortunately, the Allergy Eats search for the Twin Cities yielded some promising choices.
We selected Red Robin Gourmet Burgers for our lunch. Red Robin got good ratings and positive reviews on Allergy Eats from people with similar allergies to our son's. He is allergic to eggs, nuts, dairy and sesame seeds. For this allergy friendly restaurant quest, we were joined by B's cousin who is also allergic to nuts.
Red Robin has a lively atmosphere; it was hopping when we entered for a weekday lunch. There is a bar seating option, but we skipped that seeing as the combined age of the boys with us falls a bit shy of 21. I'd describe the restaurant as a family friendly place with elements to appeal to both kids and adults.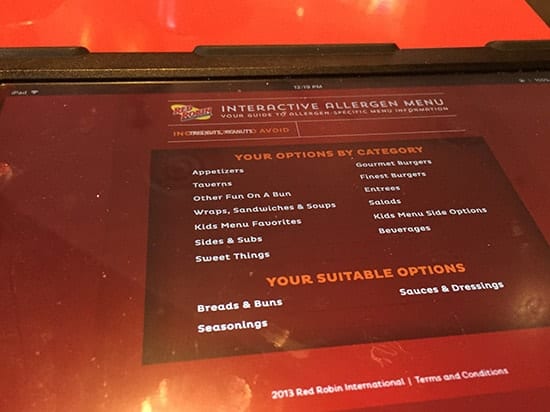 One featured that makes Red Robin an allergy friendly restaurant is the ability to sort the menu to show food choices that should be safe for your allergies. The server will bring you an iPad loaded with the menu, sortable by dishes that don't contain the allergens you are avoiding. You can also check out your allergy safe options before visiting, by starting at this page on the Red Robin website. 
While this search tool is a great feature, it only sorts by the 8 most common allergens, the ones that are required to be shown on food labels now in the US (milk, fish, shellfish, eggs, tree nuts, peanuts, wheat and soybean). Our guy is also allergic to sesame seeds, so the search tool has limitations for him and anyone else with a food allergy not among the big 8 allergens. Sesame seeds find there way onto and into a lot of burger buns, including some at Red Robin–though they do have other options.
An aside about sesame seeds on buns–doing away with sesame seed buns would certainly make a restaurant more allergy friendly. Though sesame seeds are not among the 8 required to be on labels, Dr. Robert Wood from Johns Hopkins School of Medicine says that allergies to sesame are on the rise, and it is probably now among the top 6 or 7 food allergies in the US.
Back to our visit to Red Robin Gourmet Burgers in Minneapolis. After we found items that were potentially safe for B via the iPad app, our server conferred with the cooks to confirm his order did not contain sesame seeds. He chose the chicken burger (basically a piece of grilled chicken in an allergy safe bun). He enjoyed that entree, and raved about the mandarin orange slices he had with it.
Another allergy friendly feature of Red Robin that we loved is that they prepare allergy free fries separate from the other fried items. French fries are off limits at many restaurants because they are prepared in the same fryer used to cook other foods that contain allergens. Great to have our guy get to enjoy some fries with his chicken burger! In addition to being allergy safe, they met with the approval of the discerning taste of both boys at our table. Not an easy feat, as they were just having a discussion before the food came about good fried versus not so good fries.
As I mentioned, Red Robin is well designed to please the grownups, too. There is a wide range of burgers to select from, and quite a few other options. I figured the restaurant's expertise is burgers, so I decided to focus on that section of the menu. I enjoyed the BBQ burger I got, along with a IPA from a local brewery.
A few more notes from our visit that make Red Robin an allergy friendly restaurant. They have a separate chute the cooks use for special orders that are ready for customers with food allergies. Such systems to avoid cross contamination are helpful.
The staff at Red Robin seemed generally aware of the importance of being careful about food allergies. One minor critique is that they seem to rely on the app to determine items that are safe, and our server seemed a bit thrown off by the additional allergy not addressed by the app. But she got help from a manager to help figure out what would be safe. They could perhaps to a bit more training with staff on some of the finer points of managing food allergies.
Overall we were pleased with the way staff at the Minneapolis Red Robin handled our food allergy concerns. Like any chain restaurant, your experience with staff at your local Red Robin may vary. For instance, I did note that one Allergy Eats user had a negative experience with the Red Robin staff in Fort Wayne, Indiana. Seeing that there are Red Robins pretty well distributed across the US, including a few here in Massachusetts, we will be sure to visit another one and report on how they do with the food allergies.
One final tip–you can probably expedite getting your meal to your table if you review the menu and allergy search function before visiting the restaurant. We went through a couple rounds of clarifying questions and checking on things that made things take a bit longer, which started making us a bit anxious toward the end as we had a plane to catch.
We enjoyed our visit, and based on our experience consider Red Robin an allergy friendly visit. We look forward to checking out another one again soon!