Juicy grilled ribeye topped with our Hatch Chile Avocado Salsa is a perfect late summer meal, when these special chile peppers from New Mexico are in season. Originally published in September of 2015, republishing it with some updates for Hatch Chile season 2016! Read ahead for details, or click here to jump down to the recipe.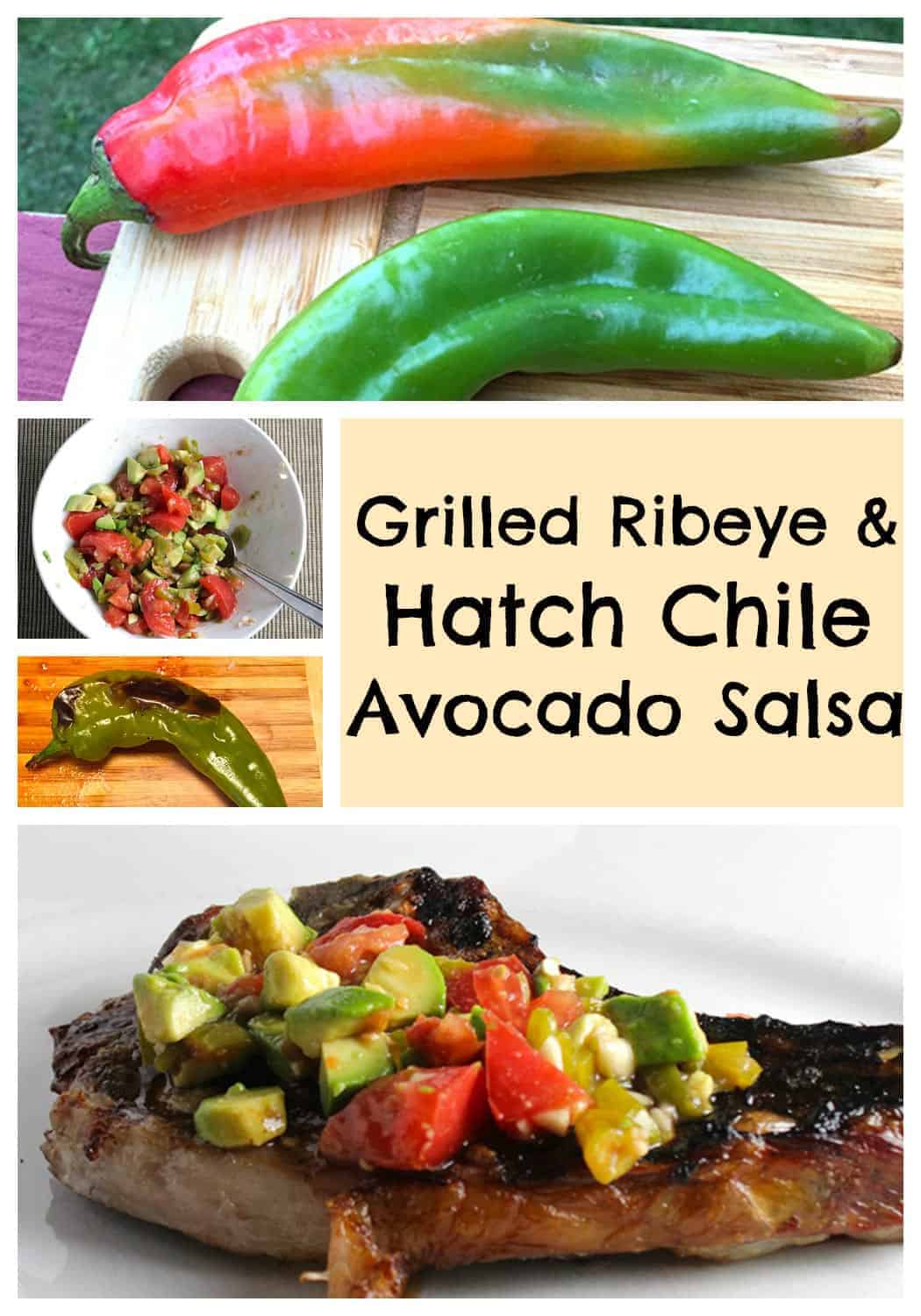 The conventional wisdom among food bloggers is to hold off on posting new recipes as people will be too busy savoring the final days of summer over this Labor Day Weekend.
But I wanted to share the Grilled Ribeye with Hatch Chile Avocado Salsa that we enjoyed last night today because you just might be looking for for something to grill up for this holiday. Or maybe you are trying to do a bit more grilling later in September.
Either way, I decided this savory steak topped with Hatch Chile Avocado Salsa was too good not to share today! If you're looking for more grilling inspiration, be sure to check out 59 Grilling Recipes for Labor Day Weekend. And if you like the idea of meat topped with a tasty salsa, you also need to try our delicious Pork Chops with Peach Salsa recipe.
New Mexico is known for its chile peppers, and Hatch chiles are one of the most well-known and sought after. As Preston points out in the comments below, Hatch chiles are not a type of chile but refers to chiles grown in the Hatch Valley. Hatch chiles are have a short season, typically harvested from August into early September…making it a great candidate for Labor Day grilling!
The Hatch chile tends to be medium spice levels, and takes on a great roasted spice quality when grilled. Smell them on the grill or when cooling in your house and you get an idea of how good its going to taste. More on the Hatch chile growing season can be found on the Hatch Chile Blog.
For more ideas on what to do with these special chiles from New Mexico, be sure to visit our collection of the Best Hatch Chile Recipes.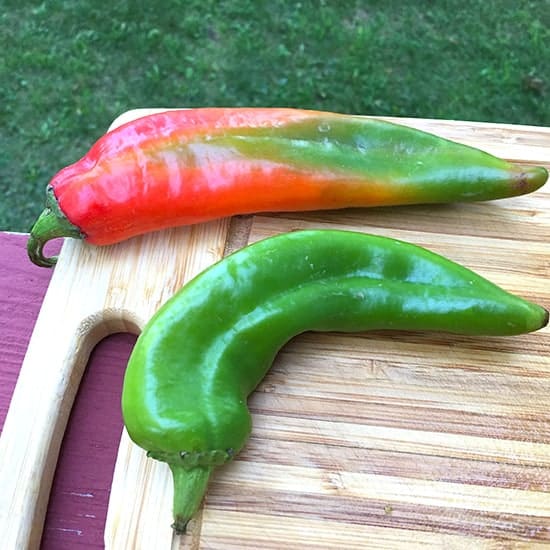 Hatch chile peppers come red or green. There's a tendency to say that the red are spicier, but the balance of reading I've done suggests this is not necessarily so. You can get some green ones with good kick too. The Hatch peppers I have used are generally in the medium spice range, but you can find them ranging from mild to very hot. And speaking of spice, I always thought the seeds were the spicy part of the chile until Preston straightened me out with his comment below. As described in this article, it is the pith and ribs that give the chile its spice.
The chile will grill up quickly, so stay close by to turn it every couple of minutes until the skin gets blistered and brown all over. (yes, my grill needs a good cleaning…we've had a good summer for grilling!)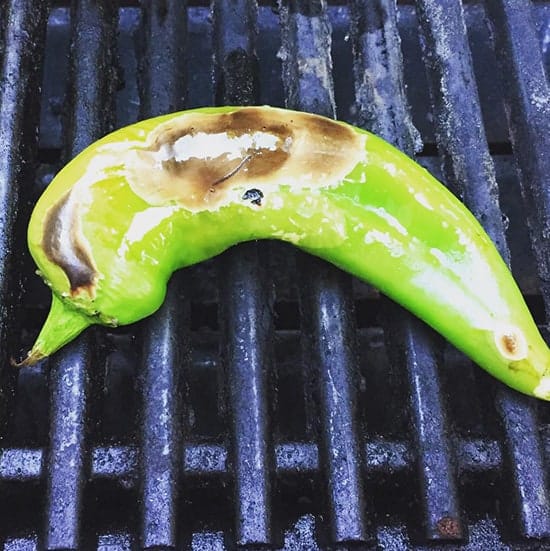 Let the grilled Hatch chile cool for a bit, then get it onto the cutting board to remove the skin.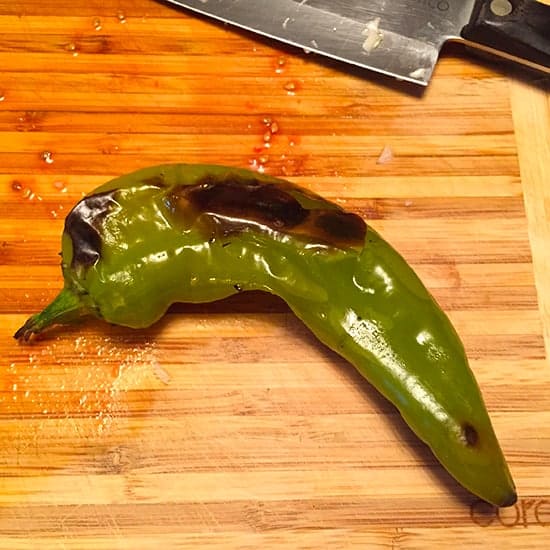 Use a sharp knife to cut slits in the chile pepper skin so that you can grab the skin and peel it off, leaving the cooked Hatch chile pepper flesh for you to chop up for the salsa.
Once you've got the chile pepper flesh chopped, you are ready to combine it with the other ingredients for your Hatch Chile Avocado Salsa!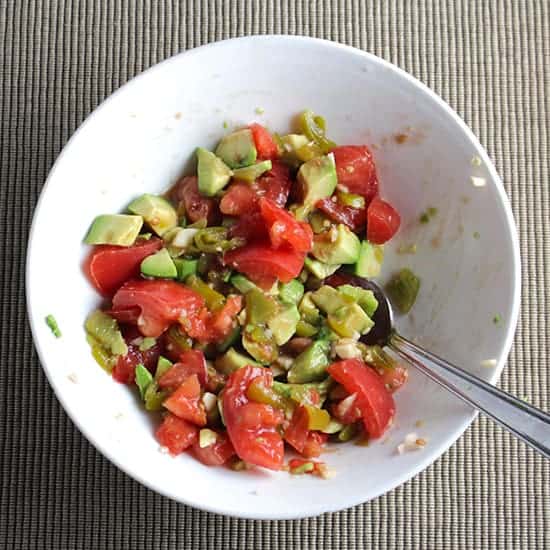 Once you have your salsa ready, it's time to grill up that ribeye steak! I used the bone-in ribeye for this dish, a nice thick steak. But you could use the boneless ribeye if you like, it will probably cook just a bit faster.
Spread a bit of the salsa to cover the steak, then pass additional salsa at the table for people to add more if they like. I'm guessing they will definitely grab that bowl once they taste the salsa! Enjoy this celebration of summer flavors while the season is still with us.
Print
Recipe card
Grilled Ribeye with Hatch Chile Avocado Salsa
Grilled Ribeye topped with deeply flavorful Hatch Chile Avocado Salsa for a special late summer meal.
Author: Cooking Chat
Prep Time:

15 mins

Cook Time:

20 mins

Total Time:

35 mins

Yield:

4

servings

1

x
Category:

Main

Cuisine:

American
1

Hatch chile

1

avocado, peeled and diced

1 cup

fresh tomato, diced

2

cloves garlic, minced
pinch salt

2

ribeye steaks (preferably bone-in)

1 tsp

cumin

1 tsp

salt

1 tsp

garlic powder
Instructions
Make the rub for the steak: combine the cumin, salt and garlic powder in a bowl.
Rub the spice blend on both sides of the steaks, and set aside at room temperature for about 20 minutes as you make the salsa.
Heat a grill on medium high.
Coat the Hatch chile with oil spray, and place on the grill, direct heat. Grill the chile, turning occasionally, until it is charred all over. This will take 5 to 8 minutes.
Remove the chile from heat and place on a plate to cool.
When the chile has cooled a bit, use a sharp knife to cut a slit in the chile lengthwise. Gradually peel off the charred skin, and set the skin aside. Chop the remaining Hatch chile pepper flesh.
Add the chopped chile to a bowl, and combine with the tomatoes, garlic, avocado and salt. Set salsa aside while you grill the steak.
Place the steaks on the grill, cover, and grill on medium high heat for 8 minutes. Turn the steaks over, and grill for another 7 minutes. The 15 minutes grilling time was good for medium rare steaks (steaks were about 1.5 inches thick). Adjust grilling time based on your grill heat, steak thickness and how you like your steak done.
When done, remove the steak to a platter. Spread a tablespoon or two of the salsa over the steak. Cut the steak into serving portions, and pass additional salsa at the table. Enjoy!
Keywords: grilled ribeye, Hatch chiles, avocado salsa
Recipe Card powered by