Roasted Asparagus and Mushrooms can be an excellent paired with red wine, making it a great side dish for steak and other meat. Read on for more details on how to make asparagus pair with red wine, and get our recipe for roasted asparagus.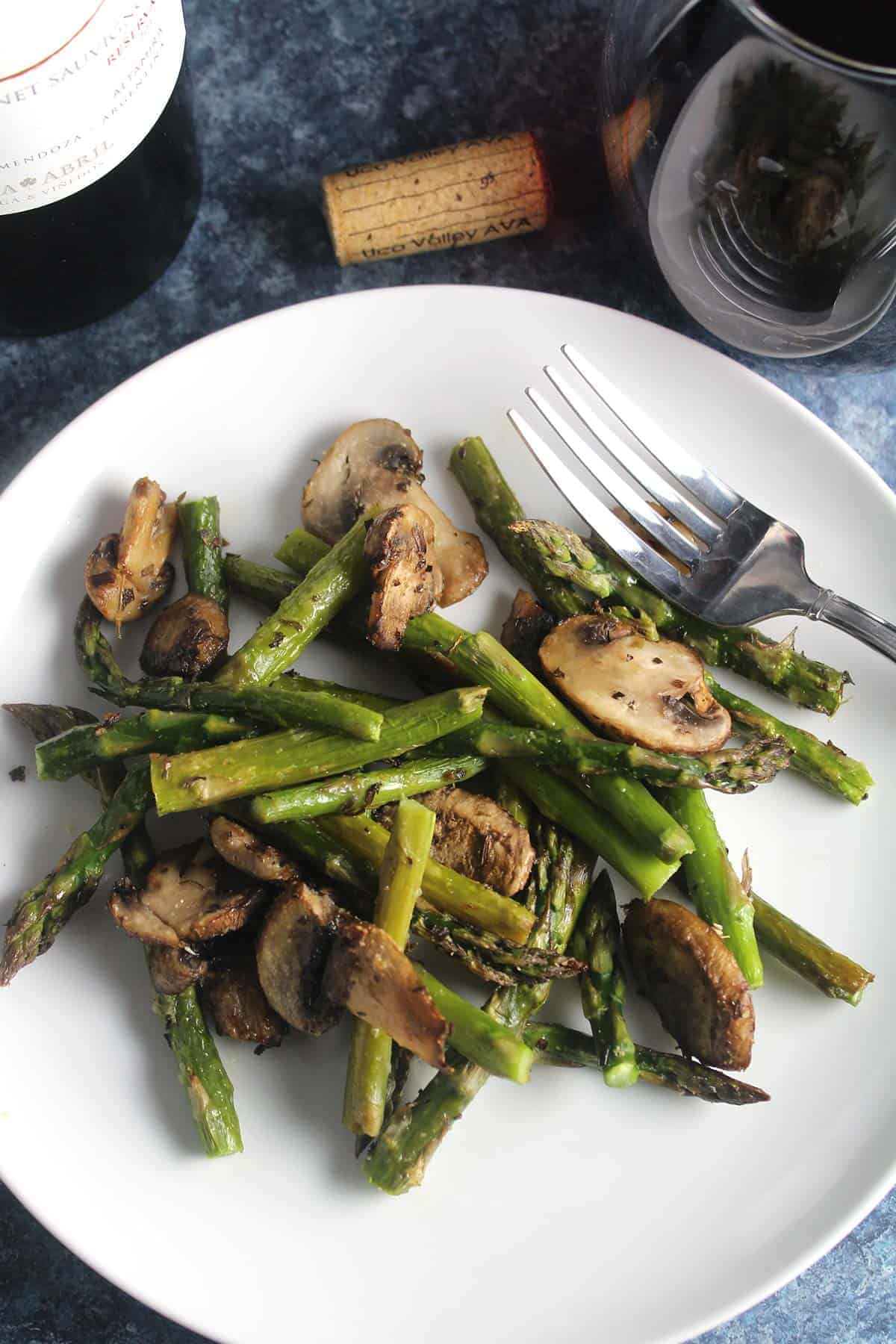 Can red wine pair with asparagus?
Asparagus is a notoriously difficult vegetable to pair with wine. When you do manage to pull off a wine pairing for asparagus, it's usually a white wine. But for the April Wine Pairing Weekend (#winePW) event, hosted by Wendy at A Day in the Life on the Farm, I managed to pair red wine with asparagus.
There are a few tricks that make this pairing work. First, I roast the asparagus, which changes the character of the veggie as it gets caramelized.
The asparagus gets roasted with mushrooms, which enhances the earthy aspect of the dish, which gives you a nice element that can bridge to the wine.
I also sprinkled a bit of wine-friendly Parmesan cheese on top. This preparation of the asparagus tees it up to work with a red wine, though there are some factors in picking the wine pairing I'll get to in a moment.
After coming up with this recipe back in 2015, I regularly roast asparagus when I want to serve it along with a red wine. For a version without the mushrooms, check out our Roasted Asparagus with Parmesan recipe. You can also use the roasted asparagus in a main course, as in our Roasted Asparagus and Mushrooms Pasta recipe.
You can also check out this "how to pair wine with asparagus" article for more insight on the topic.
Tips for making this recipe
This roasted asparagus with mushrooms is easy to put together. Here are some tips for making it, click here to jump down to the recipe for the full details.
Snap a few asparagus stalks in half to see where the woody stalk to discard ends and the good part begins, then chop the rest of the bunch to match.
Toss with mushrooms, olive oil and dried herbs, and roast.
The cooking time will very based on thickness of the asparagus. I like it thinner, but the bunches available when I was making this were on the thicker side, so roasting 18 minutes at 425 worked well.
More recently, I was making something that need to roast at 400 degrees. At the lower temperature, the asparagus took closer to 25 minutes to roast.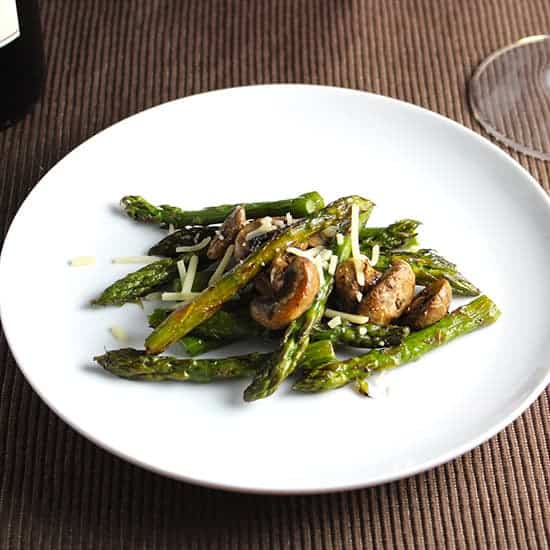 The wine pairing geek in me cringes when a restaurant serves up a steak with regular old steamed asparagus. The steak wants a big red wine, but that preparation of asparagus is going to make that a funky pairing. But my roasted asparagus and mushrooms works with red wine, so I served up with a steak. Now that's a pairing! Time to get to the wine details…
Wine Pairing for Roasted Asparagus
I originally paired the roasted asparagus with a red wine blend, described below.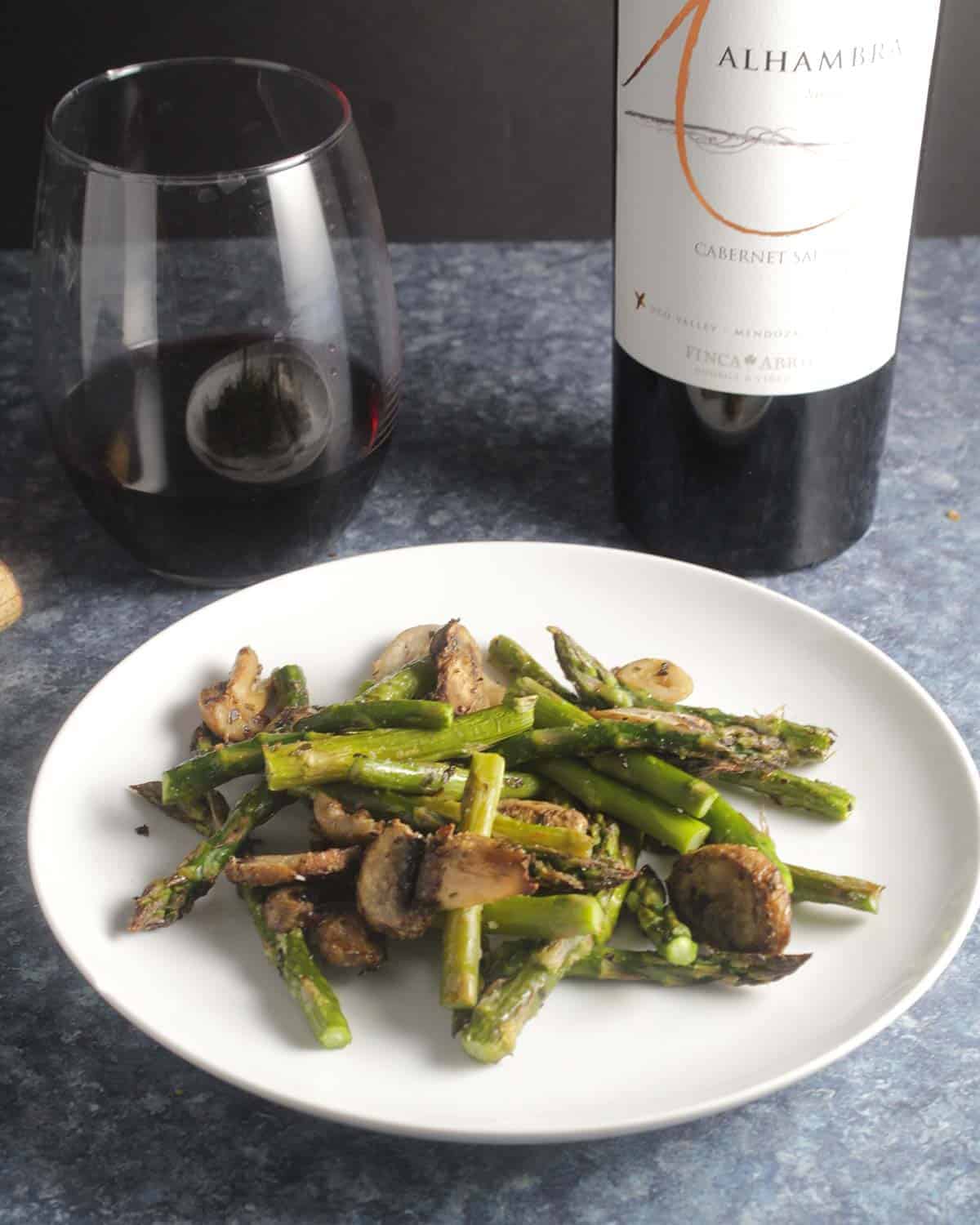 For our latest making of this recipe, we were serving the roasted asparagus and mushrooms with a simple roasted NY Strip Steak.
A simple, straight forward Cabernet Sauvignon seemed like a good option (see photo above). We opened the Alhambra Cabernet Sauvignon Reserva from Finca Abril in Argentina's Valle de Uco ($12). This is a good Cab for the price; fruit forward with moderate, well structured tannins. A good pairing for the steak as well as the roasted asparagus.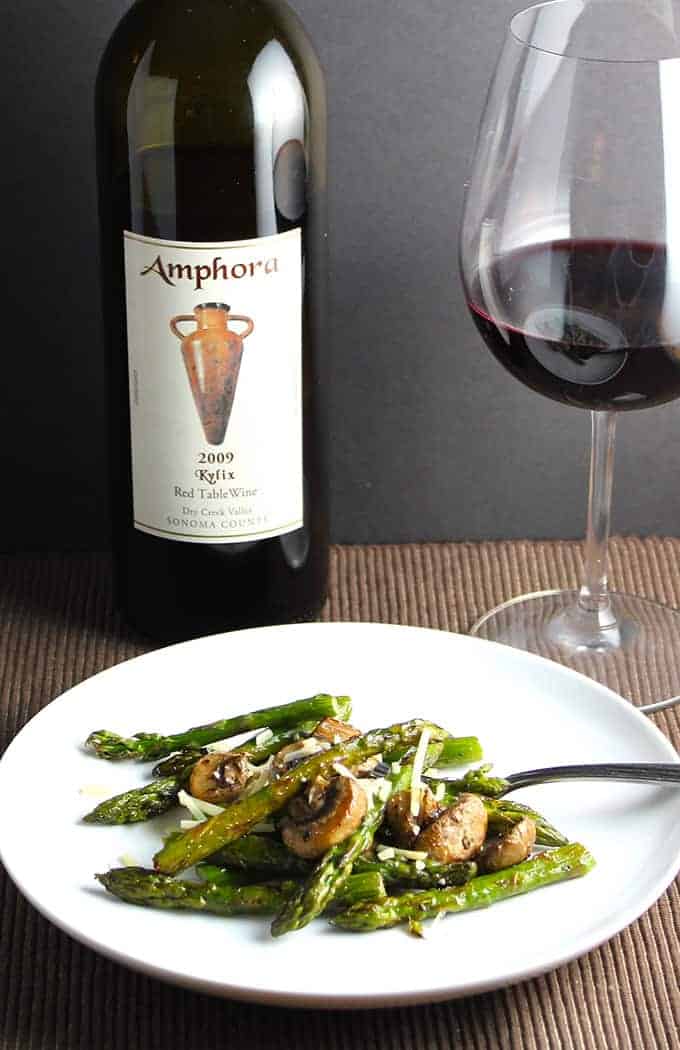 Yes, this roasted asparagus with mushrooms is red wine friendly, but you still need to pick a wine that isn't particularly tannic.
Given that I also had steak on the plate the first time I made the recipe, I wanted something at least medium bodied, but soft on the tannins.
I chose the 2009 Amphora Kylix red blend from Dry Creek in Sonoma County. It's comprised of 50% Cabernet Franc, 40% Malbec, 10% Petite Sirah. I'd previously enjoy several Zinfandels from Amphora, such as the one I served up with this rigatoni and sausage dish.
I get lavender on the nose of this wine, eucalyptus and berry taste. Nice velvety mouthfeel. The wine tasted sweeter and fruitier after a bite of the the roasted asparagus. It definitely worked when I first sampled the wine with just the veggies.
As you might suspect, the pairing was even better when I served it with dinner. Steak along with this roasted asparagus was definitely a great pairing with the Kylix!
Now having enjoyed zinfandels and this blend from Amphora, I would definitely encourage you to try their wines!
Update: The Kylix blend doesn't appear to be among the winery's current releases, but there other wines are worth checking out. Also the description of the blend might suggest some other wines to try.

Print
Recipe card
Roasted Asparagus and Mushrooms
Roasting asparagus along with mushrooms gives it an earthy quality. Makes for a good side dish with steak, and a friendlier pairing for red wine than steamed asparagus.
Author: Cooking Chat
Prep Time:

5 mins

Cook Time:

20 mins

Total Time:

25 mins

Yield:

3

servings

1

x
Category:

Side Dish

Method:

roasting

Cuisine:

American
1

bunch asparagus

1 cup

mushrooms, sliced

2 tbsp

extra virgin olive oil

½ tsp

garlic powder

¼

to

½

teaspoon dried tarragon (see notes)
salt and pepper to taste

¼ cup

grated Parmesan cheese (optional)
Instructions
Preheat oven to 425.
Prep the asparagus: remove the coarse woody stock, typically about the bottom half of the asparagus spear. Chop the remaining tip portions into 2 inch pieces. Add to a roasting pan.
Add the mushrooms to the pan, then toss the mushrooms and asparagus with the olive oil.
Add garlic powder, tarragon, salt and pepper. Stir to combine.
Roast the vegetables: Place the asparagus into the oven. Roast until the asparagus is tender and starting to brown. This will take 15 to 20 minutes, depending on how thick your asparagus is. At least 20 minutes is likely needed unless the asparagus is quite thin.
Remove pan from oven, sprinkle with the optional cheese. Serve along with a steak or other protein, and a glass of red wine!
Notes
½ teaspoon of tarragon does add a good amount of tarragon flavor. I like that, but if you aren't big tarragon fans I'd say scale back to ¼ tsp.
We have recently made this when cooking something else at 400 degrees. Simply increase the roasting time to 20 to 25 minutes.
Keywords: asparagus, roasted asparagus, asparagus and mushrooms, wine with asparagus
Recipe Card powered by
Just take a look at what this wonderful group has planned to meet this month's #winePW challenge. Spring veggies can work nicely with wine, see for yourself!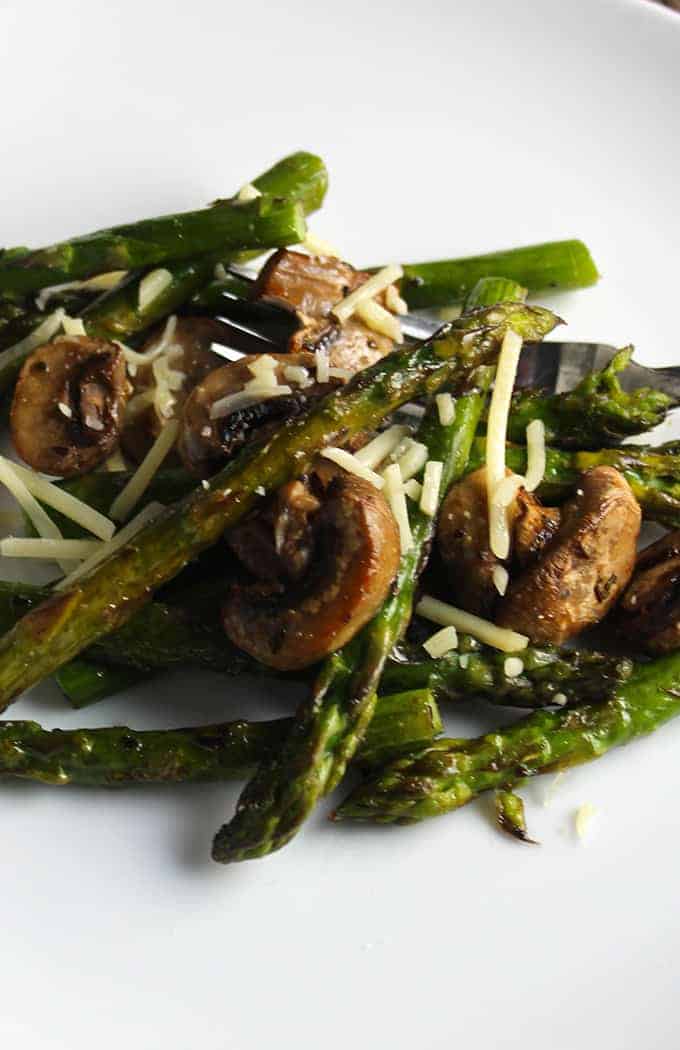 Roasted Asparagus with Parmesan recipe by Curious Cuisiniere
Spring-Kissed Seafood Chowder with Pelerin 2011 Les Tournesols by Cooking Adventures with Camilla
Wine and Dine: Las Lilas Vinho Verde 2013 and Chilled Cucumber with Mint Soup by Grape Experiences.
Creamy Mushroom Pasta with Spring Peas and Westrey Pinot Noir by Pull That Cork
Red Wine with Asparagus and Mushrooms by Cooking Chat
Spring Hopes: Asparagus and Rosé by Food Wine Click
Leap into Spring with Pasta Primavera by Vino Travels
Spring Fling with Greek Pizza and Wine by Confessions of a Culinary Diva
Spring Flavors with Hungarian Pinot Grigio by A Day in the Life on the Farm
Welcoming Spring with #WinePW by Rockin Red Blog
Winter's Hill Pinot Blanc and Warm Arugula, Bacon and Asparagus Salad by Tasting Pour
Roasted Halibut with Potatoes and Lemon and a Tablas Creek Cotes de Tablas by Enofylz Wine Blog
Beets and Wine Pairing by Girls Gotta Drink
If you are catching this post early enough, you can join our live Twitter Chat on Saturday, April 11, at 11 a.m. ET, via the Twitter hashtag #winePW. If you've come to us after April 11, consider joining us for #winePW 12 on Saturday, May 9.