Healthy Ground Turkey Bolognese Pasta gets a rich depth of flavor from porcini mushrooms. A delicious, lightened version of an Italian classic. Today we share the recipe with a red wine from Anna Maria Abbona, as part of the Italian Food, Wine and Travel blogging group.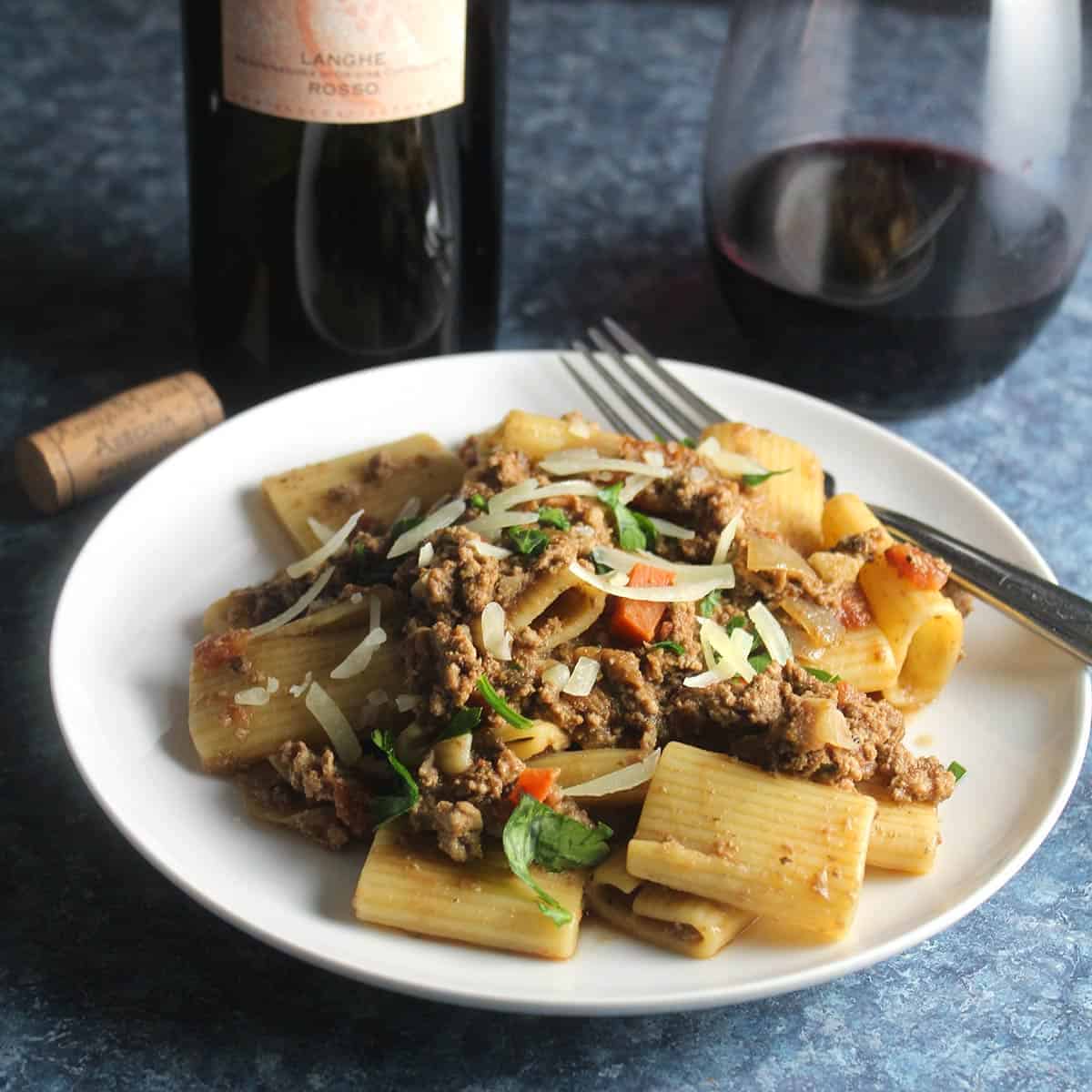 I love a good Italian meat sauce. There's nothing like the smell of long simmering meat, onions, tomatoes and garlic. Toss with some pasta and top with cheese and you have a great meal.
Our Turkey Bolognese sauce features porcini mushrooms to add a depth of flavor to the ground turkey that makes this sauce taste like it could have been made with beef. Don't get me wrong, we enjoy beef from time to time, but it's nice to have this healthy turkey bolognese pasta as an option, too.
A bolognese sauce definitely calls for a good bottle of Italian wine. So when I saw the #ItalianFWT group was focusing this month on women in the Italian wine industry, I thought this would be a great time to update this healthy bolognese recipe. For a similar recipe, check out this ground turkey pasta sauce with mushrooms.
Our pairing
This is the second year I've joined the #ItalianFWT theme focus on women in Italian wine. Last year I highlighted Elisabetta Fagiuoli, and paired her Vernaccia with our Tuscan Kale Pasta recipe.
It so happened Elisabetta was back in town recently, visiting Pairings Wine and Food.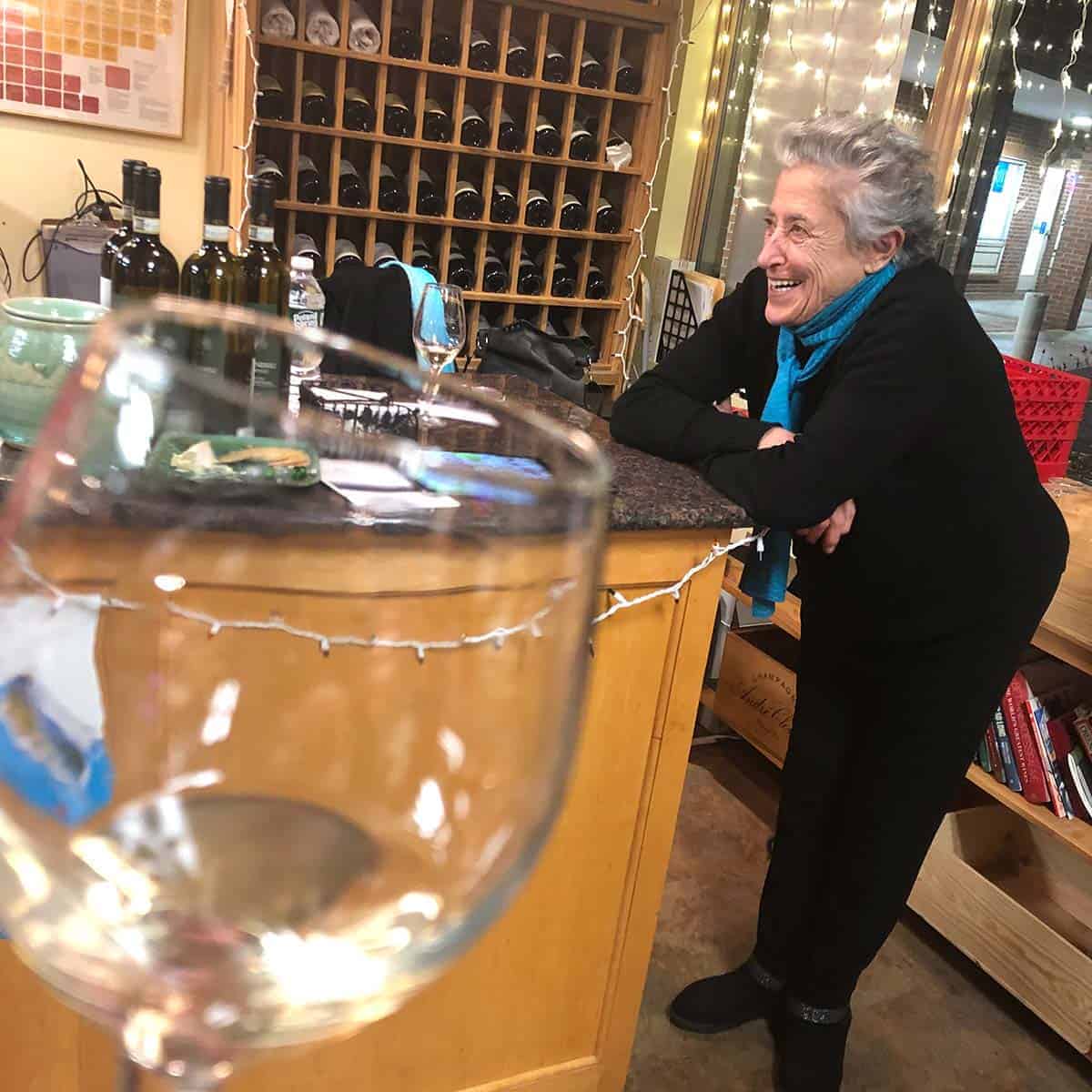 Her passion for her wine is infectious, and we had fun hearing her thoughts on wine and life as we sampled her lineup.
This year I decided to focus on another Pairings favorite, Anna Maria Abbona from the Piemonte region.
Although Anna Maria is probably best known for her excellent Dolcetto, I thought her Cado, a blend of 90% Barbera and 10% Dolcetto, would be a good match for the turkey bolognese meal.
Before I cover more about the wine and the woman behind it, let's talk a bit more about the food.
What is Turkey Bolognese?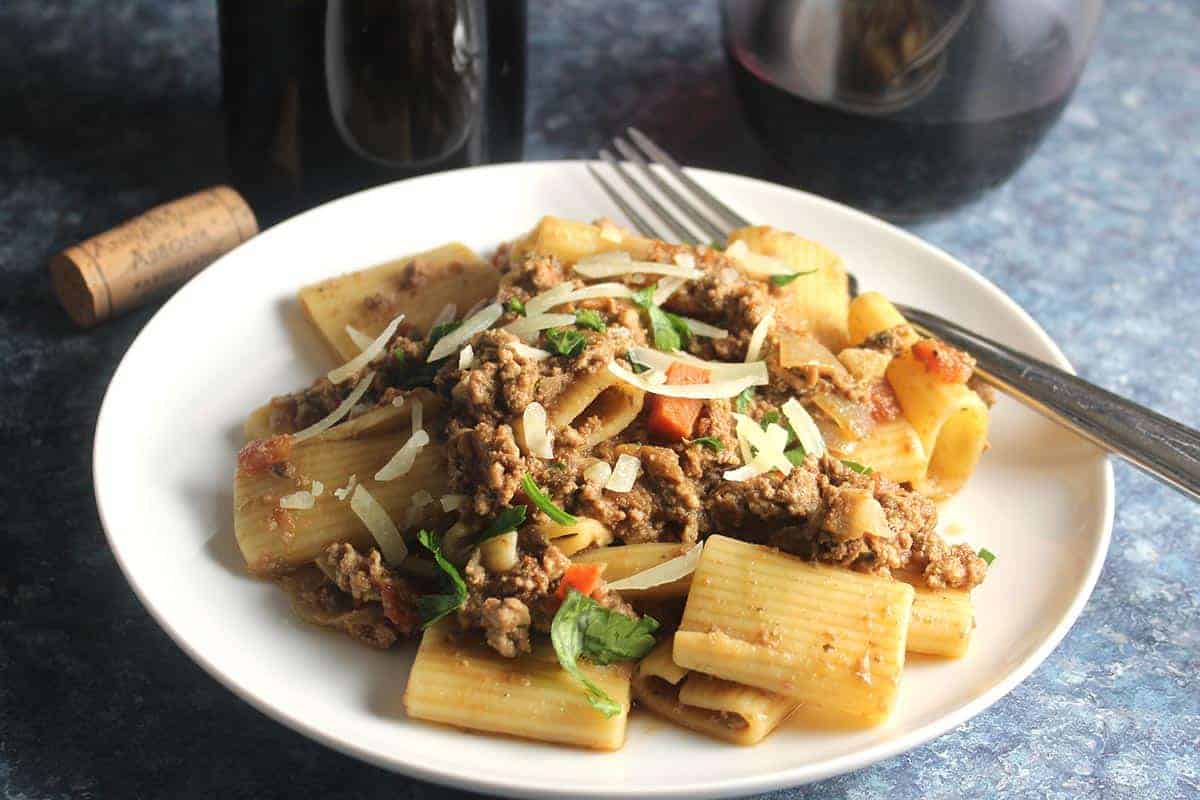 Bolognese sauce is a classic Italian meat sauce. Typically made with a combination of beef and other meats such as pork or veal, turkey bolognese sauce is a lightened version of the classic.
We use porcini mushrooms along with the ground turkey to give the sauce a depth of flavor with less calories and saturated fat.
How to make this recipe
As I mentioned, the porcini mushrooms are key to making this healthy yet rich turkey bolognese sauce. I buy dried porcini mushrooms (Amazon link provided) and reconstitute them by soaking the dried mushrooms in warm water. Save that soaking liquid! We add that into the sauce to further enhance the flavor of this turkey bolognese pasta.
The dried porcini mushrooms soak for 30 minutes, so you get that going first. Other than that step, this recipe is much like other Bolognese sauces.
You start by sautéing onions and garlic, then add the turkey. After the turkey browns a bit, you add the rest of the ingredients and let it simmer for a good hour or so. Head down to the recipe card for all the details!
Can you freeze Bolognese?
Yes, you can freeze Bolognese sauce. This recipe does make a lot of sauce; if you are only feeding a few people you might well want to freeze some for later.
Let the sauce cool before scooping it into a freezer bag. Squeeze out extra aid and seal, then put the sauce in the freezer.
Cheese doesn't freeze very well, so it is best to add the cheese later when you are using the sauce.
You can simply add the frozen sauce to a pan, and heat gradually with a cover on. But if you plan ahead, it is most efficient to move the frozen sauce from the freezer to the refrigerator a day before you plan to use it, to allow it to gradually thaw.
Turkey Bolognese with Barbera blend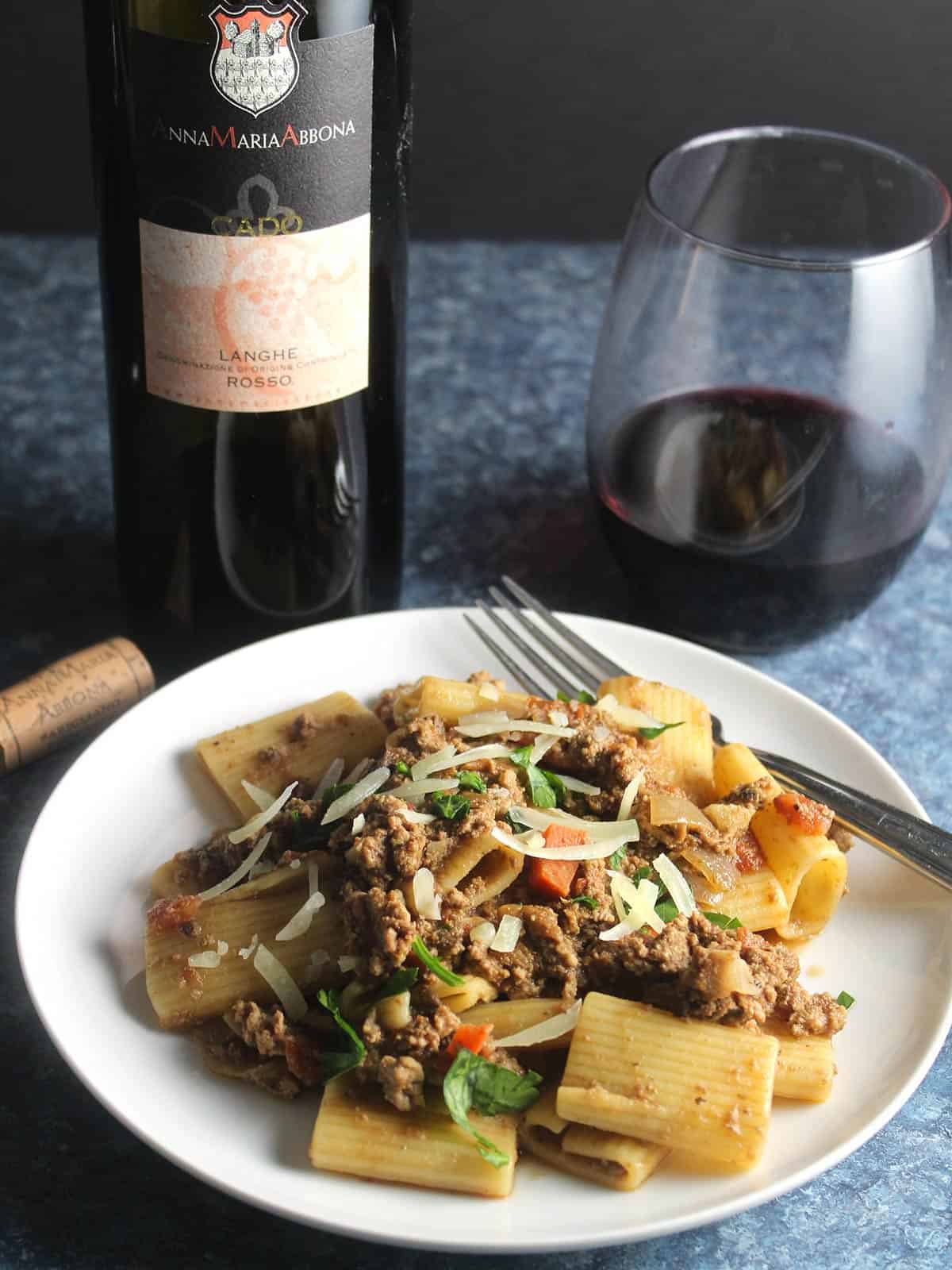 Barbera tends to have good acidity that makes it a good option for tomato based sauces. So although Anna Maria Abbona is particularly well known for their Dolcetto, I decided to go for the 2014 Anna Maria Abbona Cado Langhe Rosso ($30). The Cado is a blend of 90% Barbera and 10% Dolcetto from the Langhe region in Italy's Piedmont.
Here are our notes for the Cado:
Eye: Deep red in the glass.
Nose: Violets on the nose, a whiff of spring!
Body: Dense and chewy when first poured. Firm, well-structured tannins. Decanting is a good idea with this wine.
Palate: Raspberry fruit with notes of bark, slate and spices.
Pairing: As suspected, the Cado Barbera blend was a great match for the Turkey Bolognese with Porcini Mushrooms. In addition to the acidity and tannins working with the tomatoes, there's an earthiness that goes nicely with the mushrooms. This wine could definitely stand up to a more tradition beef based Bolognese sauce, too.
I tend to think of Barbera as a drink on the young side type wine, but the Cado shows that Barbera can produce a weighty, complex wine capable of some aging. This one could definitely age in the cellar for several years.
Anna Maria Abbona
Anna Maria Abbona has deep roots in wine, as she is the fourth generation to manage the small family winery near Dogliani, in the Langhe area of the Piedmont.
Anna owns the winery, which uses her name, along with her husband Franco Schellino.
Anna focuses on marketing, hosting guests in the tasting room, and other aspects of running the business. Franco, who also comes from a wine family, tends to the vines and making the wine.
As you can see from the photo, Anna enjoys hosting visitors who appreciate wine! She served a lunch of cheeses and salami, including some local selections, along with her wine.
Although Anna's family has been in the wine business for generations, she initially set out on a different path. But when her father was ready to pass on the winery, Anna was ready to return to her roots.
About the winery
I became acquainted with Anna Maria Abbona wines thanks to Lori and Ray Schaefer, who founded the local wine shop, Pairings Wine and Food. They have retired from the business, but the shop continues to carry several of Anna's wines,
Ray kindly shared photos and notes from their visit to the winery for me to use in this article.
The Anna Maria Abbona winery is located at a high point at the end of a road that provides a great view of the surrounding Langhe countryside. They grow hazelnuts and other crops along with the grapes.
The winery produces about 70,000 bottles per year, with a lineup of over a dozen different wines. Although most known for Dolcetto and Barbera, they do have a couple of white wine. One of those is made from Nascetta, a grape I've never come across before.
Anna also acquired property in Barolo fairly recently. Perhaps because they are newer to the area, their Barolo is a great value if you can find it!
The Anna Maria Abbona wines are made in sustainable fashion, exceeding the standards for organic production. The wines are very low in sulfates, which Anna says helps her enjoy the wine without headaches she gets from many other wines.
Initial wine pairing for the recipe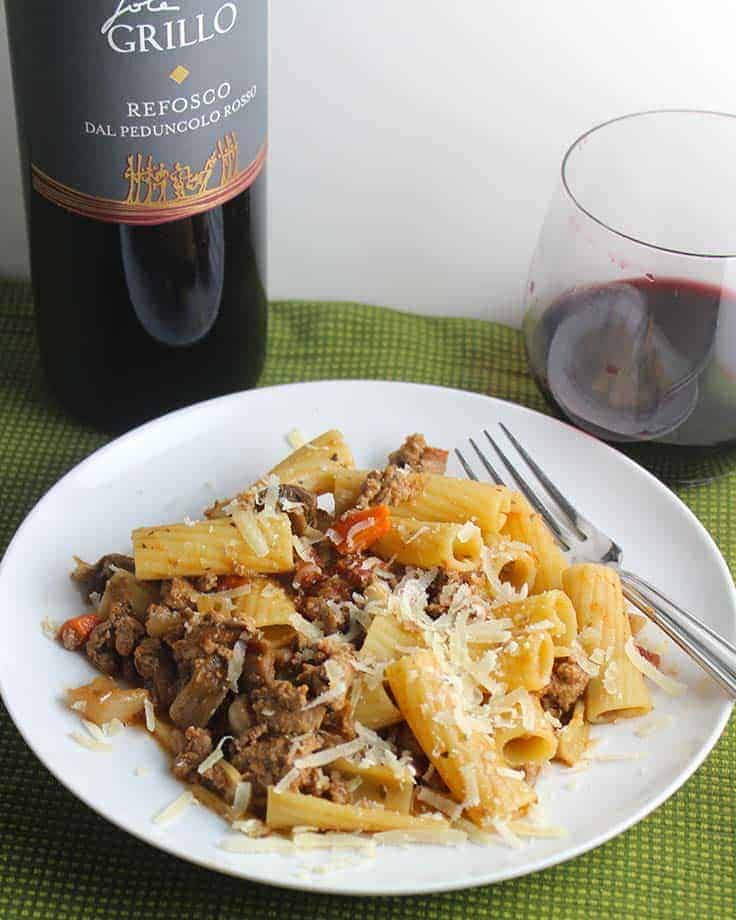 I went off the beaten path for our wine pairing the first time I made this ground turkey bolognese. I opened a 2013 Iole Grillo Refosco ($20, 14% ABV), a bold red wine from the Friuli region of Northeastern Italy. Refosco is the grape varietal in the wine.
I get sage brush on the nose, plush blackberry fruit and a touch of cinnamon. Notable tannins. This Refosco worked pretty well with our turkey bolognese sauce; it might go even better with a Tuscan Beef Stew.
I noted that a Chianti or Barbera would also be good pairing choices for this recipe; I kept than in mind when selecting Anna Maria Abbona's Cado for the remake!
One more pairing
The other night we reheated some leftover turkey bolognese we had in the freezer. We opened a bottle of 2018 Brando Cabernet Franc ($14, 12.5% ABV). Unusual to see Cab Franc from Italy, but this is a good bottle. Pairs well with the Bolognese!
Print
Recipe card
Ground Turkey Bolognese with Porcini Mushrooms
Ground turkey simmers with porcini mushrooms for a rich, healthy Bolognese sauce that is delicious tossed with pasta.
Author: Cooking Chat
Prep Time:

30 mins

Cook Time:

1 hr

Total Time:

1 hr 30 mins

Yield:

8

servings

1

x
Category:

main

Method:

sauce

Cuisine:

Italian
2

ozs dried porcini mushrooms

3 cups

water

2 tbsp

olive oil, divided

1

onion, chopped

1

carrot, peeled and chopped

4

cloves garlic, minced

2

lbs ground turkey

½ cup

red wine

28

ozs diced tomatoes

1 ½ cups

porcini soaking liquid

1

lb rigatoni or other short pasta shape
grated parmesan cheese for topping

1 tsp

basil

1 tsp

marjoram

½ tsp

oregano
Pinch fennel seed

1 tbsp

fresh parsley, chopped (optional)
Instructions
Soak the porcini: Heat the water in a pan. When it starts to boil, remove from stove and pour over the dried porcini in a bowl that can withstand the hot water. Let the porcini soak in the water for at least 30 minutes.
Drain porcini: Place a sieve over a bowl and line it with a wet paper towel. Pour the mushrooms into the sieve. Reserve the porcini soaking water. Rinse the mushrooms, then coarsely chop and set aside.
Sauté vegetables: Heat 1 tablespoon olive oil in a large pot on medium heat. Add the onion, and sauté for a few minutes until it begins to soften. Add the carrot, and cook for another 5 minutes.
Brown the turkey: Add the garlic, cook for another minute. Add another tablespoon olive oil, and gradually add the turkey, stirring occasionally. Cook for about 5 minutes to "brown" the turkey. Add the porcini mushrooms, and stir to combine.
Add liquid and other ingredients: Stir in the cooking wine, and cook for about 5 minutes until the wine has been mostly absorbed into the meat. Stir in the tomatoes and 2 cups reserved porcini liquid. Add the  basil, marjoram, fennel seed and oregano.
Simmer the sauce, uncovered, for at least 45 minutes. If you have time to let is simmer a bit longer, that further enhances the flavors.
Cook the pasta according to package instructions toward the end of the simmering time for the sauce. Drain the pasta, and toss with enough sauce to thoroughly coat the pasta. Keep the extra sauce warm on low heat.
Plate the pasta and top with a bit of additional sauce, if desired. Sprinkle a few bits of optional parsley on top for presentation. Pass the cheese at the table, and enjoy with a good Italian red wine.
Notes
This makes 8 servings, so if you aren't feeding a large family or entertaining you will probably have leftovers! You could reserve some of the sauce to reheat and toss with a fresh batch of pasta if you like.
The extra sauce referenced above can also be frozen and used with another batch of pasta later.
We say "brown" the turkey, but it doesn't truly turn brown like beef does. Rather, the outside starts turning white showing that it has started getting cooked.
Keywords: turkey bolognese, ground turkey recipes, healthy bolognese, bolognese with mushrooms
Recipe Card powered by
Italian Women in Wine with #ItalianFWT
Be sure to check out these articles about Italian women in wine!