This Savory Mashed Butternut Squash recipe features sweet squash balanced with savory ingredients — sage, garlic, Parmesan cheese and soy sauce. Excellent side dish for Thanksgiving or other holiday meals.
Thanksgiving is fast approaching!
I first shared this recipe back in 2020, figuring there were many people cooking Thanksgiving Dinner for the first time that year, looking for an easy recipe to add to the menu. I am coming back to update the recipe with a few new tips and ideas for this year's holiday season.
Jump to:
What makes this recipe work?
With a lot of dishes to prepare for a big feast like Thanksgiving, this is a simple recipe with a short list of ingredients. You can have this ready to serve in just over 30 minutes!
This recipe is a great alternative to mashed potatoes, with some definite health benefits from using butternut squash. Although you can certainly serve this mashed squash recipe along with the traditional potatoes like we did!
Although I am highlight this as a possible recipe for Thanksgiving, it's definitely easy enough to make as a side dish for a weeknight dinner.
We prepare our mashed butternut squash with savory ingredients like Parmesan cheese and sage. But you could add a bit of sweetness, too, with some maple syrup or brown sugar.
Ingredients
Here's an overview of the key ingredients you will need to make this savory mashed butternut squash recipe:
Butternut squash is of course an important ingredient for this recipe! We used a whole squash, but you could also buy a prepared butternut squash that has already been peeeled and chopped to make it even easier.
Butter adds to the savory aspects of the dish. We recommend using unsalted butter – about 4 tablespoons are needed.
Parmesan cheese is another great addition to the savoriness of the dish, also bringing some umami flavor.
Sage is a great herb to use in fall and winter cooking. I'd recommend using fresh sage if you can, but you can go with dried sage if needed.
Milk is used to help give the mashed squash a nice creamy consistency.
In addition, you will want to add salt and pepper to taste after mashing the squash.
What to serve with this recipe?
We served this mashed butternut squash along with our Herb Roasted Turkey Breast plus some mashed potatoes and cranberry sauce. And we had some peas on our plate, too, after taking the photo below!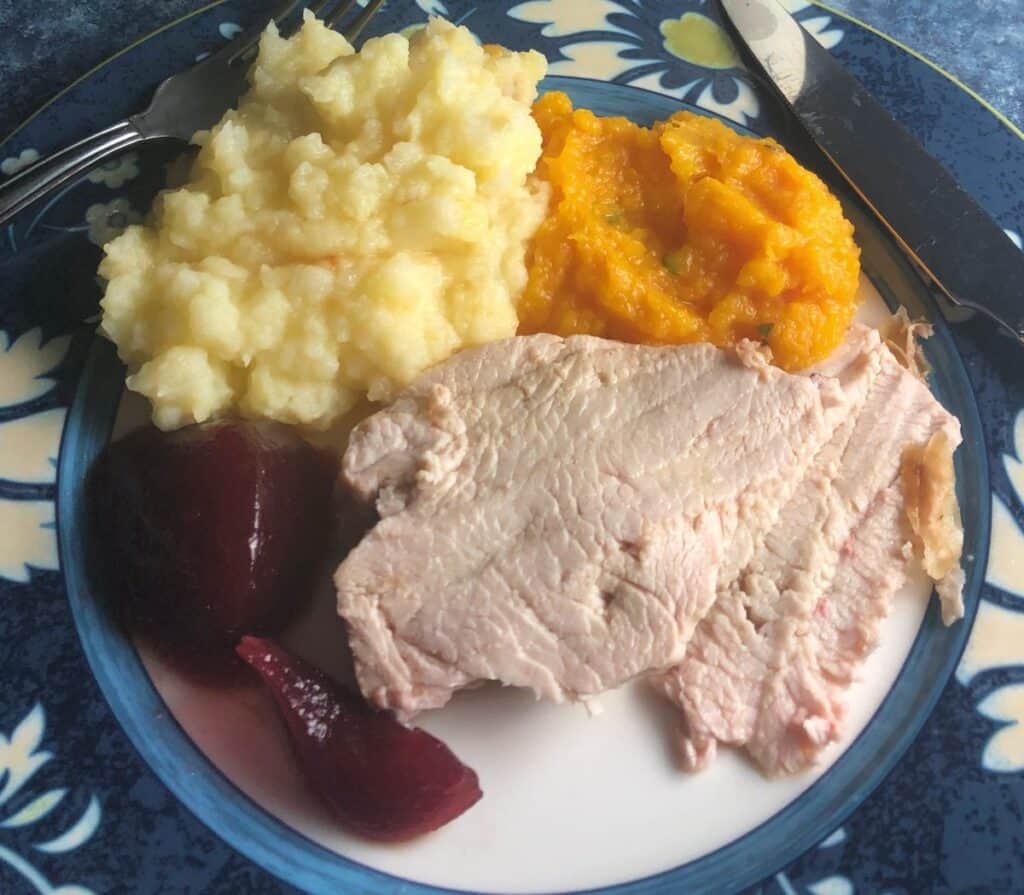 For more side dish ideas, check out our 23 Creative Thanksgiving Sides roundup.
If you're not serving this butternut squash for Thanksgiving, I bet it would also be a nice side for our Spoon Roast with Horseradish Cream or perhaps this roast pork tenderloin recipe.
Another great recipe for butternut squash around the holidays is this Leftover Butternut Squash Pasta with Turkey.
Recipe Tips
Here are a few tips for making this Mashed Butternut Squash. Head down to the recipe card for all of the details.
I used a whole butternut squash that needed to be peeled and chopped. You can get prepared squash at the store, but don't get it too far in advance. I find that the squash doesn't last more than a couple days after being peeled.
We used Earth Balance spread for the butter, a good option if you are avoiding dairy. Skip the milk or use a substitute for nondairy preparation.
If you have the squash ready ahead of other parts of the meal, add a little extra butter on top of the mashed squash. Cover the pan, and keep it warm on the stove. When ready to serve, stir in the melted butter on top of of the squash.
Mashed Butternut Squash FAQs
How do I choose a good butternut squash at the store?
Look for a squash that feels heavy for its size, with skin that isn't shiny, and is free from significant blemishes or soft spots.
Is butternut squash healthy?
Yes, butternut squash is a good source of antioxidants and fiber. Of course, use moderate amounts of butter to keep the healthy aspects of this recipe.
Do I need to peel the butternut squash?
Yes, peel the squash before cooking for this recipe. Use a good sharp vegetable peeler. An ice cream scooper can be used to remove the seeds. Note: when making roasted butternut squash, you can roast with the skin on and scoop out the flesh.
How to store leftover mashed butternut squash?
Store leftover mashed butternut squash in an airtight container in the refrigerator. It should keep for several days when properly stored.
Wine Pairing
For a side dish like this, I would be pairing more based on the main dish and other things on the table. This squash dish is pretty mild in flavor and doesn't need to be a big consideration in your pairing.
If you are having this with a basic turkey preparation, a Chenin Blanc is a good white wine option — a Vouvray from France is a nice choice. Pinot Noir is a solid option in red department.
Print
Recipe card
Savory Mashed Butternut Squash
Savory Mashed Butternut Squash features sweet squash balanced with savory ingredients — sage, garlic, Parmesan cheese and soy sauce. Excellent side dish for Thanksgiving or other holidays.
Author: Cooking Chat
Prep Time:

10 mins

Cook Time:

25 mins

Total Time:

35 mins

Yield:

5

servings

1

x
Category:

side dish

Method:

stove top

Cuisine:

American

Diet:

Vegetarian
5 cups

butternut squash, coarsely chopped

4 tbsp

butter

½ tsp

garlic powder

1

sage leaf, minced (or

½ tsp

dried sage leaf)
dash of soy sauce

1 tbsp

shredded Parmesan cheese

¼ cup

milk
Instructions
Boil a large pot of water
Prep the squash: Peel the butternut squash and chop the flesh. You can simply chop around the seeds as a short cut.
Add the squash to the boiling water. Boil until the squash is soft, easily pierced with a fork. This will take about 25 minutes.
Drain the squash when it has cooked to a nice soft texture. Put the drained squash back into the pan, and immediately and the butter and milk. Mash the squash with a potato masher and stir with a sturdy spoon.
Stir in the remaining ingredients – add the garlic powder, sage, soy sauce, Parmesan cheese and salt. Stir to combine thoroughly. Serve immediately, or cover to keep warm on the stove as you finish other parts of the meal.
Notes
You can use already prepared butternut squash as a shortcut in this recipe. However, don't by the fresh peeled and chopped butternut squash too far in advance (i.e. more than a day or two in advance). I find it doesn't keep long once peeled.
This recipe can easily be doubled — and leftovers can be used in other tasty recipes. Stay tuned!
Keywords: butternut squash, Thanksgiving side dish recipes, savory mashed butternut squash recipes, butternut squash for thanksgiving
Recipe Card powered by