Oven Roasted Pork Tenderloin with Mushrooms is a delicious meal that is a great choice if you're in the mood for easy elegance! We share two red wine pairings that we have enjoyed with this recipe. Disclosure: the Merlot wine discussed here was provided as a complimentary sample.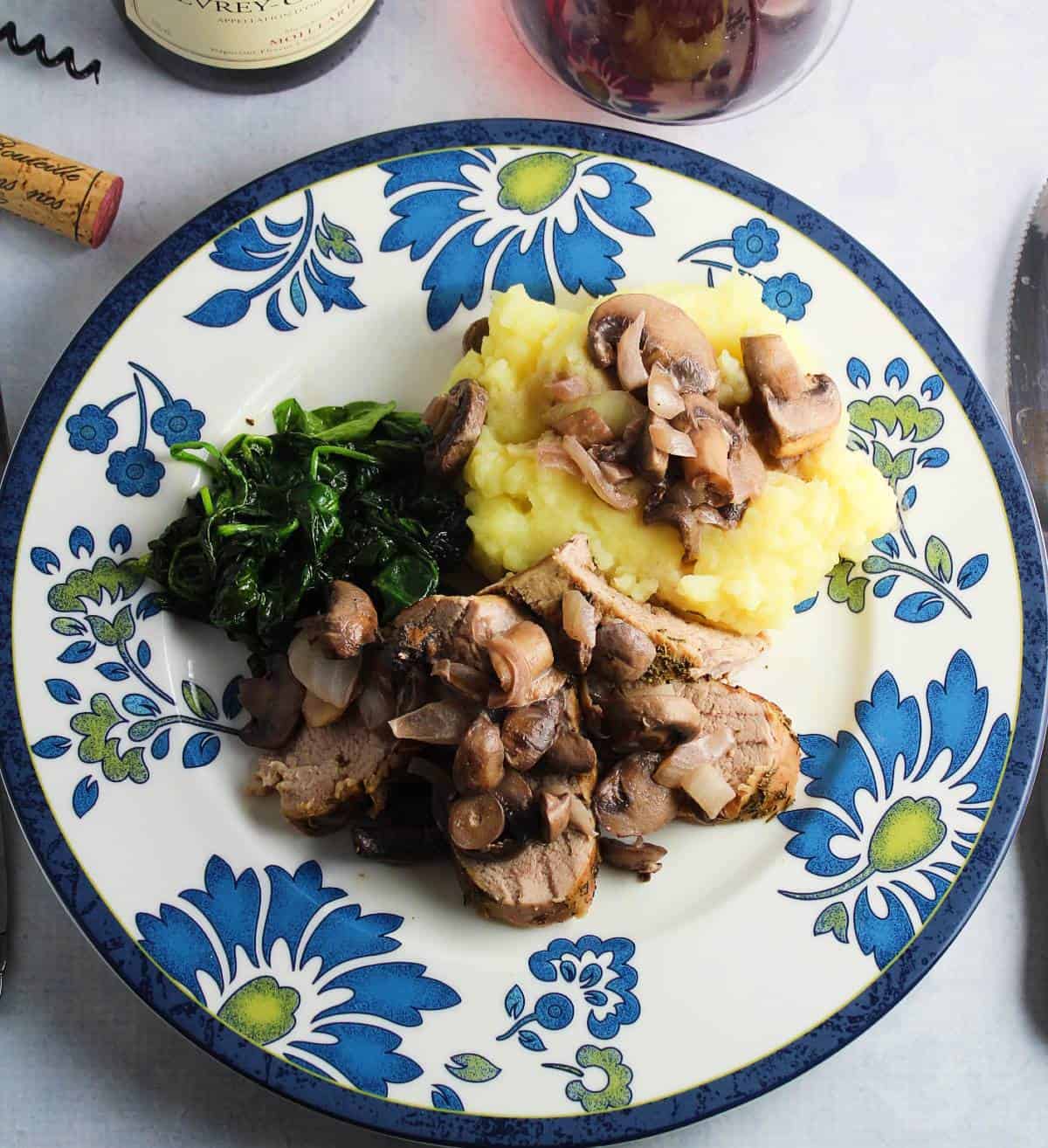 This pork tenderloin with mushrooms recipe was created with a special wine in mind. And our latest update of the recipe came as we were getting ready to observe MerlotMe month once again with our Wine Pairing Weekend friends.
Pork tenderloin is one of my favorite meats. Its delicate texture gives you the chance to vary the flavors you feature with it. Here we top the pork tenderloin with a creamy mushroom sauce that you can make as the pork roasts in the oven.
Mushrooms set up good pairings with a number of earthy wines. Pinot Noir based Burgundy is certainly a classic example. But Merlot is also on the list of wines that do well with mushrooms, and I like it with pork as well. So that was a natural to try with our pork tenderloin with mushrooms recipe.
We will get more into the wine details soon. First, let's cover some pointers about the recipe. You can also use the menu below to navigate to the section of interest.
Jump to:
Ingredients
Here are some pointers on the key ingredients you will need to make this recipe.
Pork tenderloin: First, if you are new to cooking with pork tenderloin, this is a long, relatively thin, boneless cut of pork.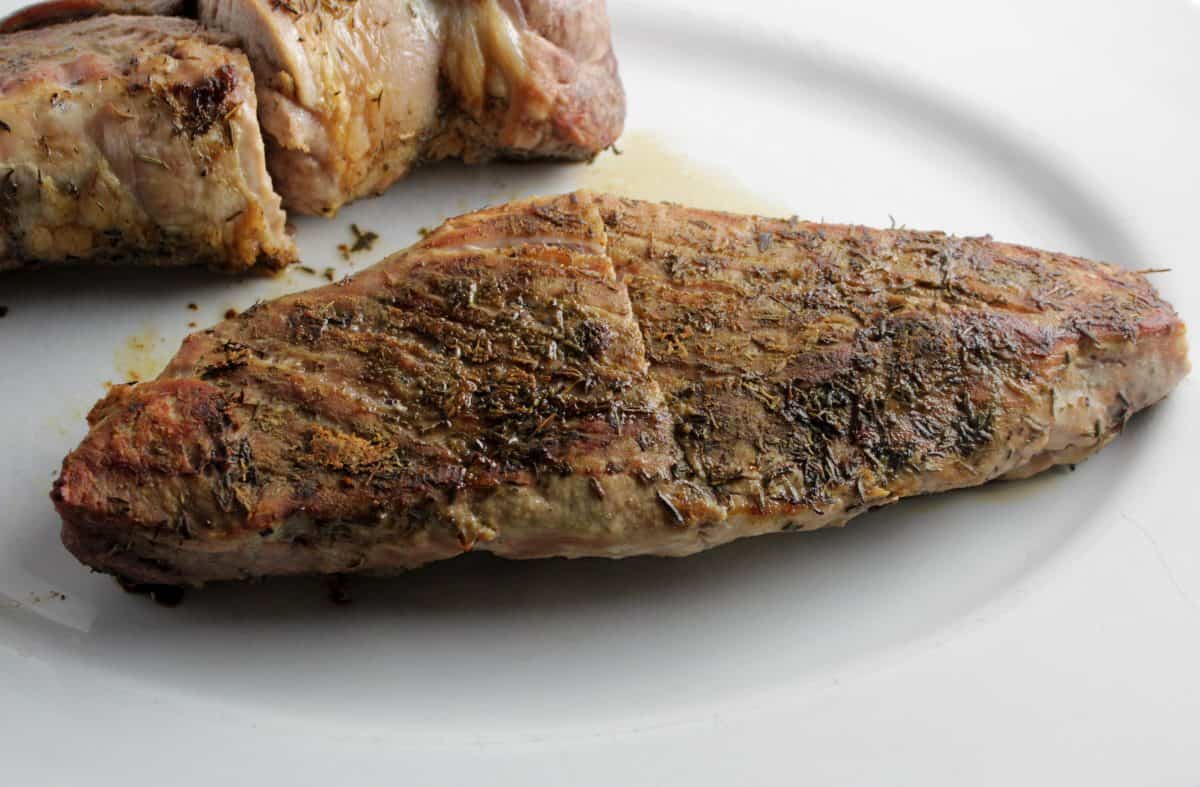 Although it may sound similar, pork loin or pork loin roast is an entirely different cut, and shouldn't be substituted for pork tenderloin in this recipe. More on the differences in this article.
The recipe calls for two pork tenderloins, about 2 ½ pounds. For our family of three, this generates a lot of leftovers! Sometimes I just get one pork tenderloin if want to avoid leftovers. If you do this, you can call back the mushroom sauce quantities, too; or just keep some of the extra creamy mushroom sauce on hand to add to something else — maybe a sandwich or some pasta.
Speaking of pasta, you might also like this pork tenderloin pasta recipe. And for another recipe with this cut, try our Asian Grilled Pork Tenderloin.
Mushrooms: I used a pack of pre-sliced button mushrooms the first time I made this recipe. Recently, I started with the same pack of mushrooms but add about half a cup of baby shiitake that I had on hand.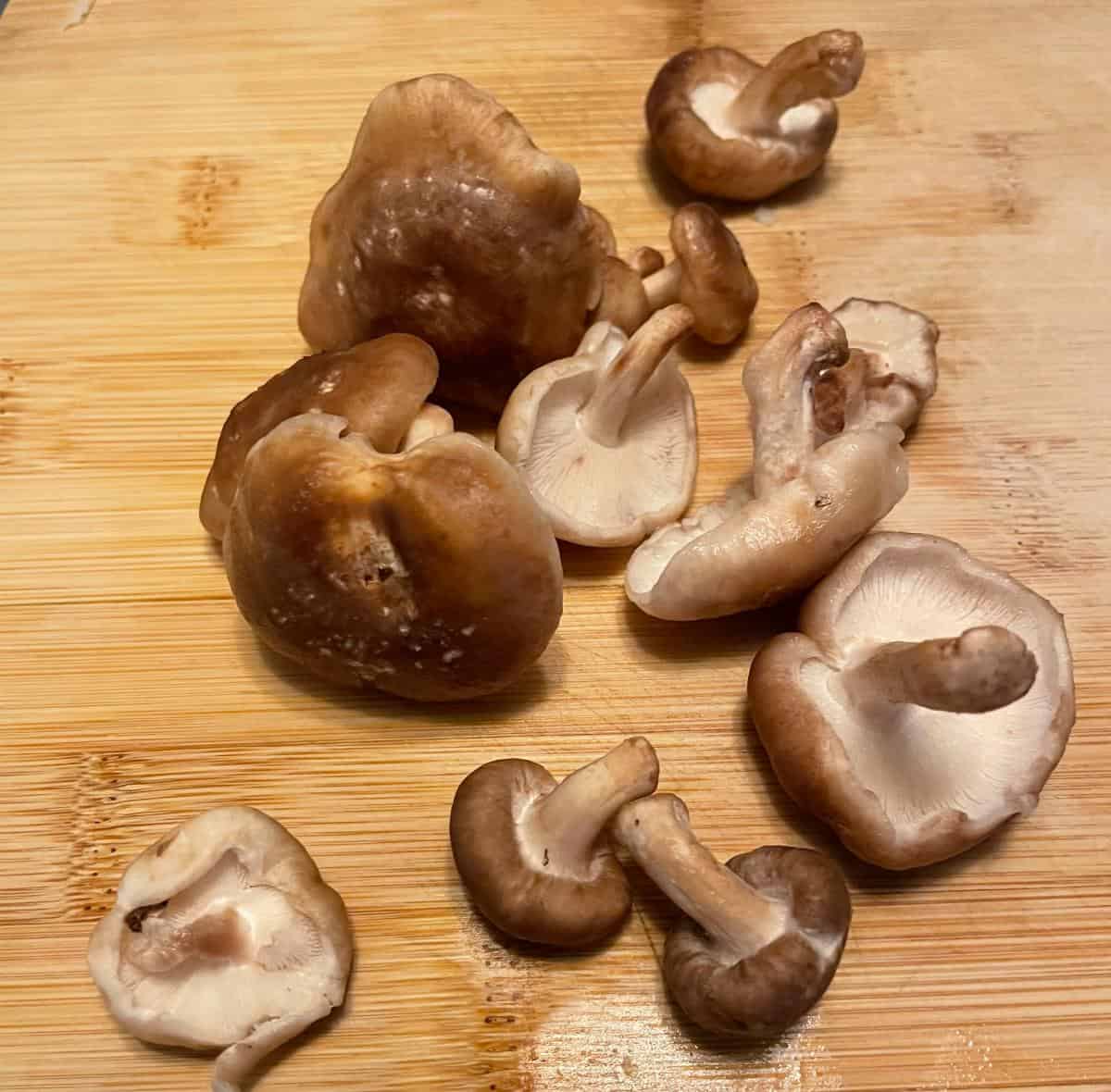 Mixing in some wild mushrooms is a nice way to add some additional depth of flavor.
Cream: I typically use heavy cream for this recipe. But recently I had crème fraîche on hand, and used 2 tablespoons of that in place of heavy cream. I sometimes will simply finish a mushroom sauce with just a tablespoon or so of butter. You get less of the creaminess there, bringing the mushroom flavors a bit more to the forefront.
Recipe tips and steps overview
Hear are some tips and an overview of the steps for making this roasted pork tenderloin recipe. Head down to the recipe card for all the details!
Preheat oven to 400 degrees convection setting or 425 conventional.
Make the rub: Start by putting together the garlic, thyme, salt and sage for the rub.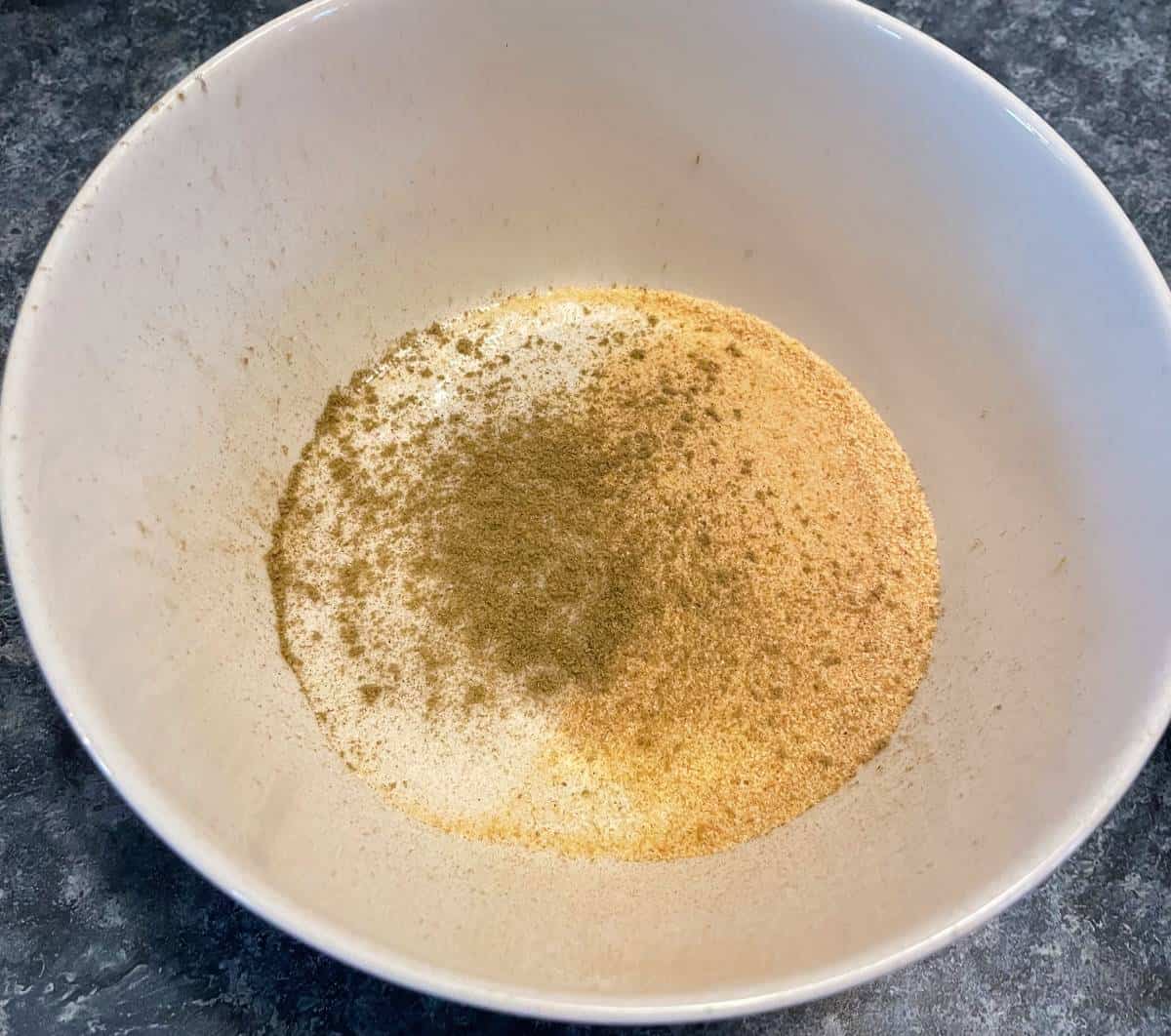 Apply the rub to the pork tenderloin on a work surface.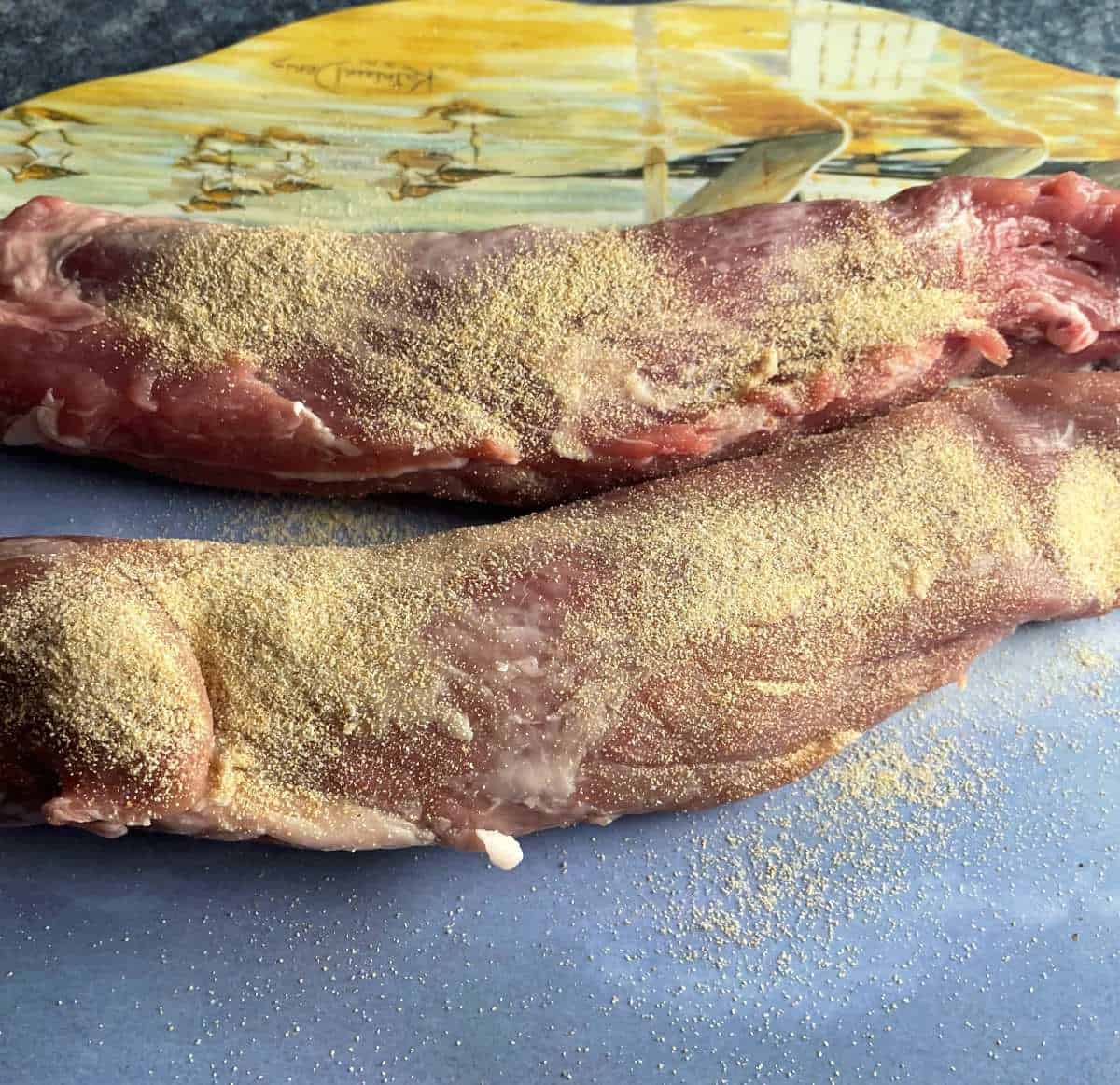 Roast the pork: After the pork has sat at room temperature with the spice rub for about 15 minutes, place it directly in a large roasting pan and roast for 20 to 25 minutes.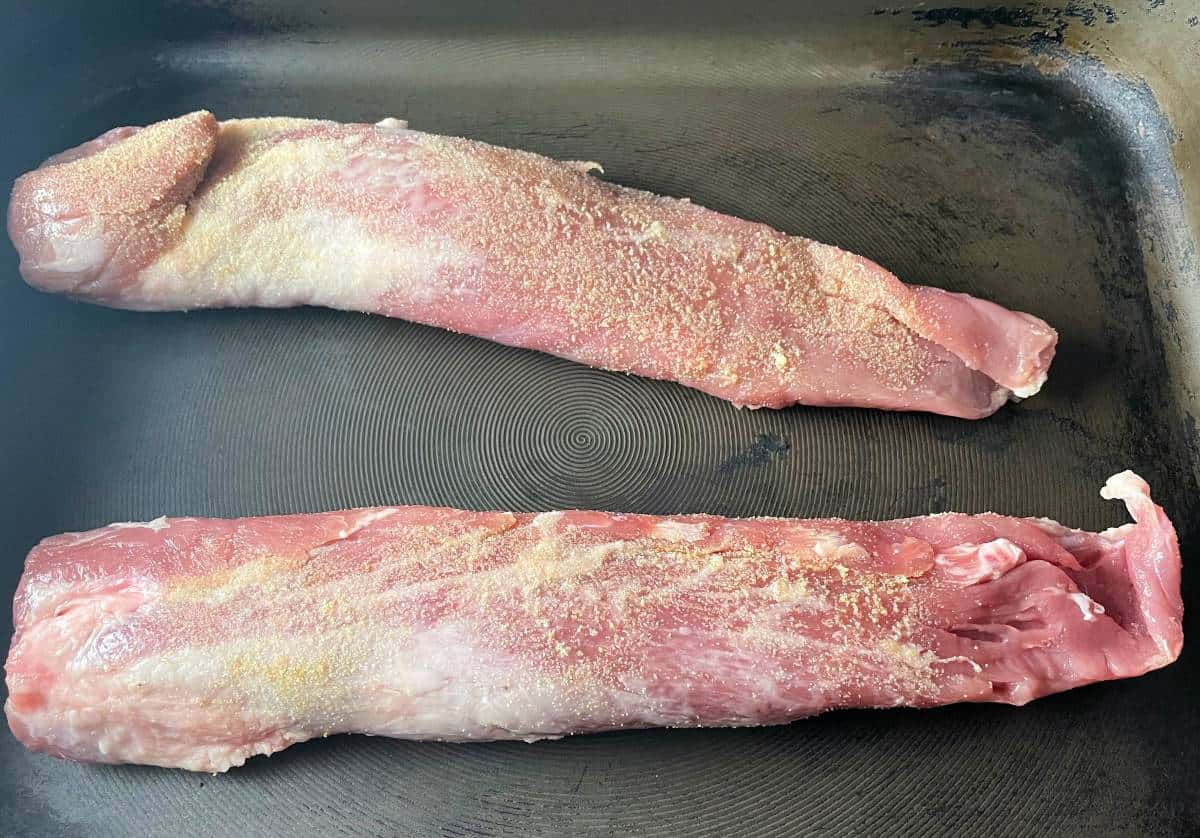 Make the mushroom sauce as the pork tenderloin roasts.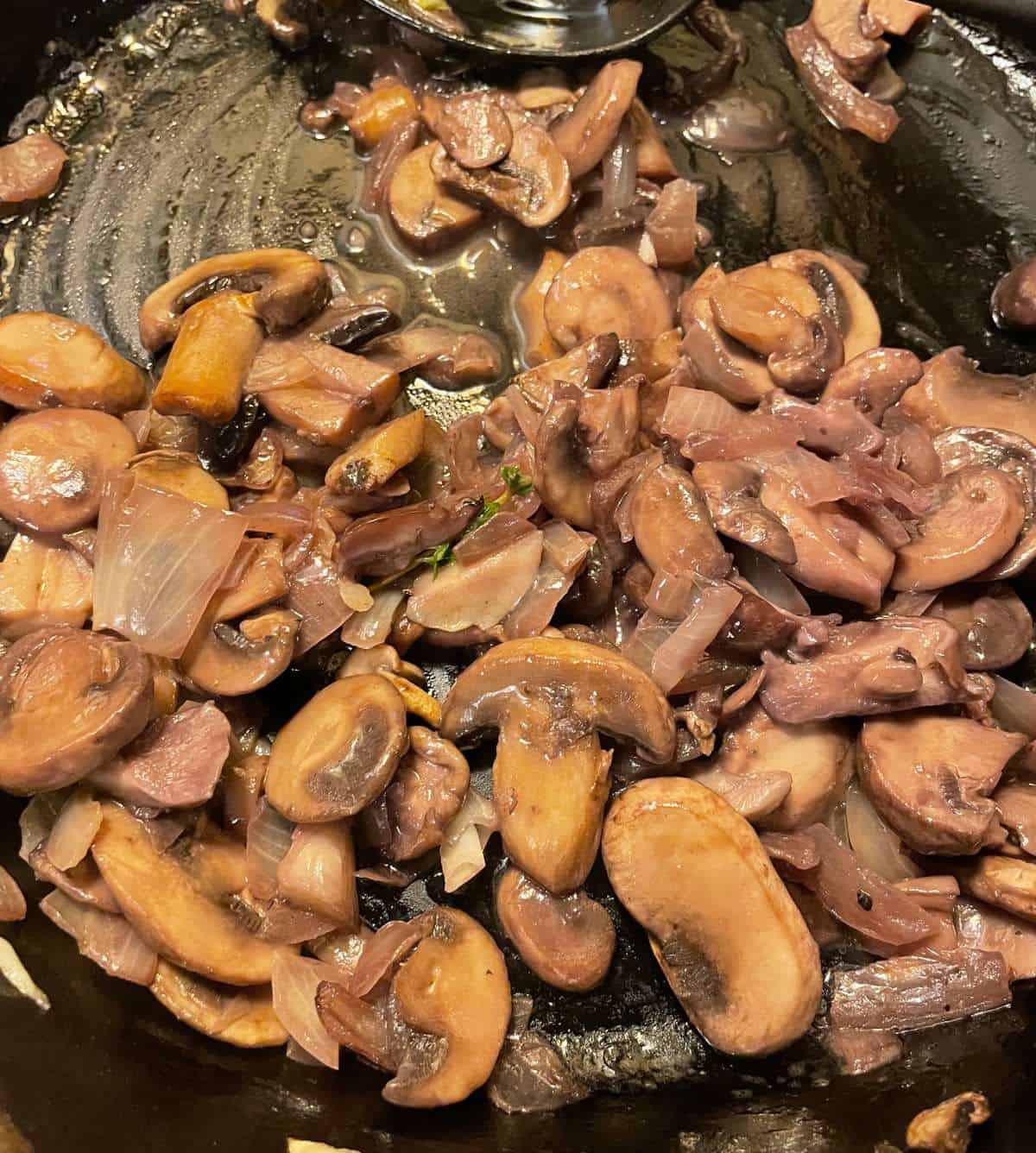 Add cream to finish the mushroom sauce. In the photo, we used crème fraîche, which melts in nicely with the mushrooms.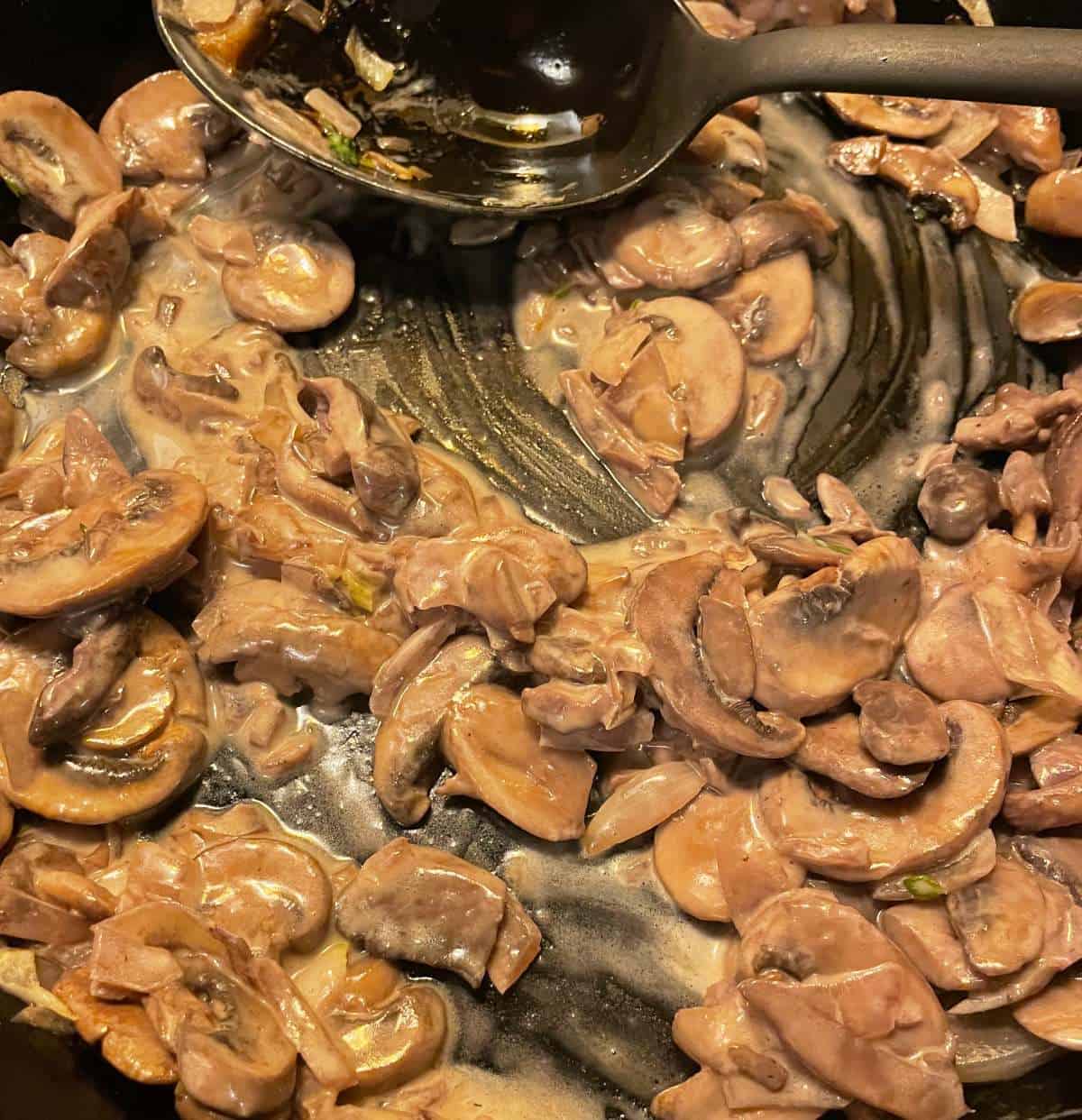 Finish the pork. The pork tenderloin will take about 20 to 25 minutes to roast. The internal temperature of the meat should be between 140 to 145 degrees to indicate doneness.
Let the pork rest for about 5 minutes after it is done roasting. Slice and serve topped with the mushroom sauce. Enjoy!
What to serve with this recipe
Here are some side dishes that would be great with this roasted pork tenderloin:
During our most recent remake of this pork tenderloin recipe, we served with with those sweet potatoes.
The first time we made this, we plated the pork along with some basic mashed potatoes along with a bit of the mushroom sauce. Another tasty use of those mushrooms!
Pork Tenderloin Wine Pairing
We have now enjoyed this pork tenderloin recipe with two fairly different wines, a Burgundy (Pinot Noir) and a Merlot. Both worked in their own ways. Let's break it down for you!
Merlot pairing
For many years now, we have joined our Wine Pairing Weekend friends in observing the month of October as "MerotMe" month. So I'm always on the lookout for good food pairings for Merlot.
Both mushrooms and pork go well with Merlot, so this pork tenderloin with mushrooms recipe was a natural to try. The question was, which Merlot to open?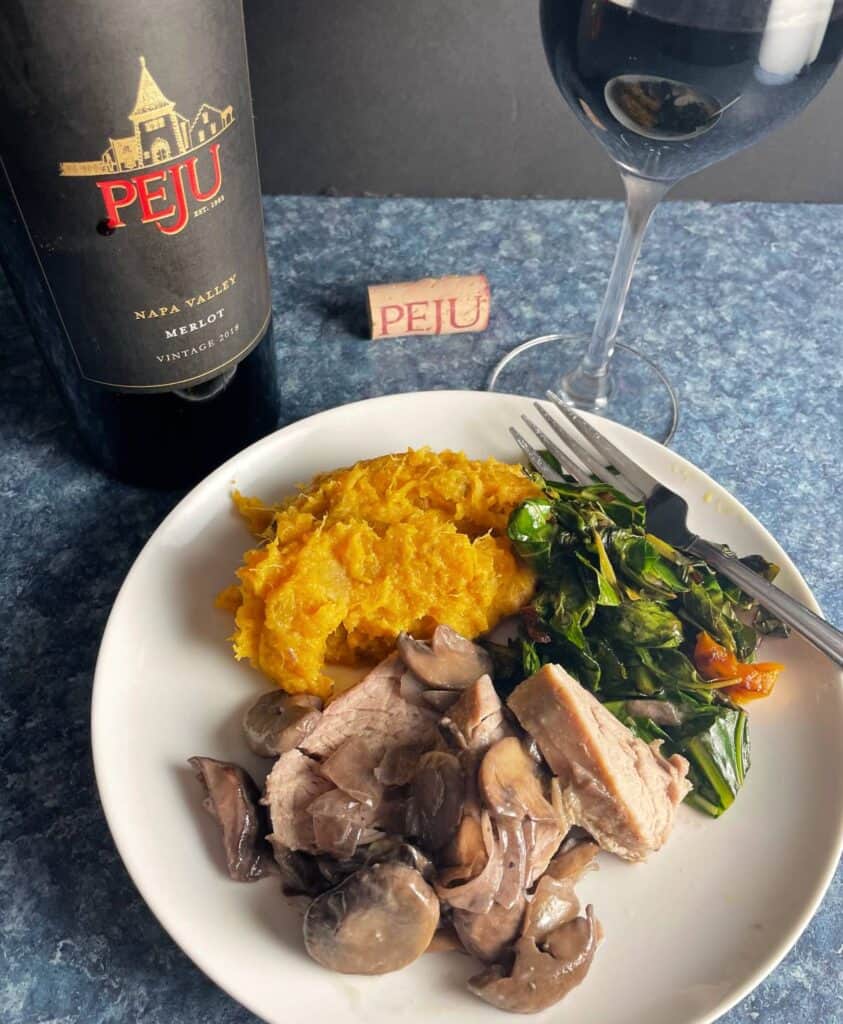 I decided to go with the 2018 Peju Nappa Valley Merlot ($51, 14.5% ABV), which was sent to me as a #MerlotMe month sample. I got big oak notes on the nose of the Peju along with notes of vanilla. On the palate, black cherry, raspberry and graphite. Well-structured tannins.
An enjoyable wine to sip on its own, and it complemented the flavors of the pork and mushrooms nicely. One reason I went for the Peju is that I had enjoyed a previous vintage of their Merlot with our Pork Tenderloin with Blackberry Merlot Sauce.
The 2018 Peju Merlot has 16% Cabernet Sauvignon and 4% Petit Verdot blended in with the Merlot.
Peju Winery is a family-owned winery founded in 1983 by Tony and Herta Peju. The business is now guided by their daughters, Ariana and Lisa.
Peju Winery is a certified Napa Green winery and vineyard, a sign of their commitment to farming sustainably.
Burgundy wine pairing
Open That Bottle Night (OTBN) is a special annual occasion for wine lovers, held the fourth Saturday in February. It's a night when we are urged to open a special bottle of wine that has been languishing too long in the cellar, waiting for a special occasion to be opened. OTBN becomes that occasion for many a good bottle of wine.
For OTBN 2016, I planned to open a bottle of red Burgundy that I tried at a wine club dinner two years ago. We tasted quite a few good wines that night, and my OTBN bottle was my favorite from the lineup. This bottle was very good when I tasted it originally, but it seemed like it would get even better with some time in the cellar. But two years seemed like long enough, and OTBN was a good excuse to open it.
The red Burgundy that was waiting in the wings for this occasion was the 2012 Moillard Gevrey-Chambertin Beau-Versant (13% ABV). The bottle is in the $60 range. Gevrey-Chambertin is a village in the Côte de Nuits wine making region of Burgundy.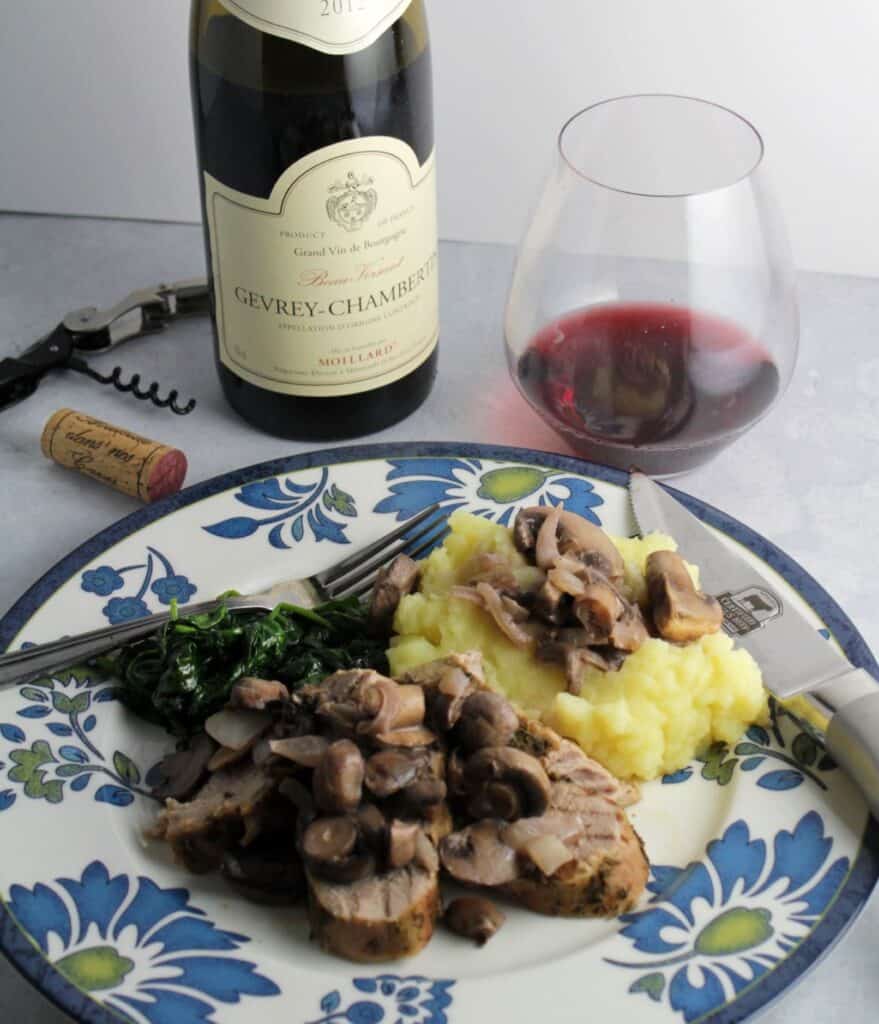 This Burgundy is 100% Pinot Noir, and is brick red in the glass. I got lilacs on the nose, and licorice was the first thing I tasted. Bright acidity, cherry fruit with vanilla notes. Smooth mouthfeel and a lingering finish.
The cherry fruit went nicely with our pork, and the smoothness of the wine was good with the mushroom sauce. I'd say pork tenderloin was definitely a good pairing for this Burgundy.
As much as I liked this pairing, I have to say my assessment of this bottle may have suffered from the buildup. It is certainly a very fine bottle, but intentionally putting something down for a couple years and open it for OTBN definitely raises expectations that the wine will be something amazing.
The was very good, and paired well with our food, but I've enjoyed other bottles just as much with recent meals. My conclusion: this was a good pairing, but I think I'll come back and make this pork tenderloin again and pair it with a simple Pinot I pick up at the shop that day. And the next nice bottle of Burgundy I buy might not last two years in the cellar!
Print
Recipe card
Pork Tenderloin with Mushrooms
Juicy oven roasted pork tenderloin topped with an easy and delicious creamy mushroom sauce makes an elegant meal, especially paired with  a good red wine.
Author: Cooking Chat
Prep Time:

10 mins

Cook Time:

25 mins

Total Time:

30 mins

Yield:

7

servings

1

x
Category:

Main

Method:

roasting & stove top

Cuisine:

French
For the pork:
2.5

lbs pork tenderloin (

2

pork tenderloins)

1 tbsp

garlic powder

1 tbsp

dried thyme

2 tsp

salt

1 tsp

dried sage
For the mushroom sauce
1 tablespoon

olive oil

10

ozs mushrooms

1

onion, chopped

¼ cup

dry red wine

½ teaspoon

dried thyme

¼ cup

cream
salt and pepper to taste
Instructions
Make the rub: combine the garlic powder, tablespoon of dried thyme, salt and sage in a small bowl.
Preheat the oven to 400 on the convection setting, if you have that option, or 425 conventional if you do not.
Prepare the pork: Lay the pork tenderloin out on a work surface, and spread the rub over the pork. Rub it into the meat, and let sit for about 15 minutes at room temperature.
Roast the pork: Place the pork into a roasting pan, and put in the preheated oven.
Start the mushroom sauce: Make the mushroom sauce as the pork roasts, which takes about 20 to 25 minutes. Heat the olive oil in a skillet on medium heat then add the onions. Cook for about 5 minutes until they begin to soften.
Add the mushrooms, and cook for 5 minutes or so, until the mushrooms begin to sweat. Add the red wine and the ½ teaspoon of thyme. Simmer until the wine is mostly absorbed, about 5 more minutes.
Stir in the cream to finish the mushroom sauce, and add salt and pepper to taste. When the cream starts to bubble, lower the sauce pan to very low, to keep warm for the pork.
Finish roasting the pork: The pork should take about 20 to 25 minutes to roast to doneness, though you should check it a few minutes before hand to avoid over cooking. Pork tenderloin should still have a little pink showing, with the internal temperature registering between 140 and 145 degrees when you remove it from the oven. Set aside to rest for about 5 minutes.
Serve: Slice the pork, and serve topped with the mushroom cream sauce. Enjoy with a good glass of red wine!
Notes
Adjusting number of servings: I used two tenderloins for this recipe, which is a good amount for 6 or 7 people, or if you want leftovers. You can easily make 1 tenderloin and half the rest of the recipe for a smaller group.
Mushrooms: We typically use basic button mushrooms for this recipe. But we have tried adding about half cup small shiitakes to the 10 ounces of basic mushrooms and that was good. So feel free to experiment with a variety of mushrooms.
Cream: We typically use ¼ cup heavy cream, but recently used 2 tablespoons of créme fraîche, and that worked well too.
Keywords: pork tenderloin with mushrooms and red wine, creamy mushroom sauce for pork tenderloin, roasted pork tenderloin recipes
Recipe Card powered by
More special wine pairings
Be sure to check out all the tasty 2016 Open That Bottle Night Wine Pairings from #winePW!
Culinary Adventure with Camilla posted "Dracaena's Cabernet Franc with Steak au Poivre et Thé"
Curious Cuisiniere is pairing "Teriyaki Salmon and Pinot Noir"
Dracaena Wines shared "When Will Some Day Be? Open That Bottle Now"
Tasting Pour is posting "Steak Diane and Bell Cab Sauvignon"
Rockin Red Blog is sharing "Open That Bottle Night with a Beautiful Italian"
Pull That Cork blogged about "Wine, Friends and Food: Our OTBN and #winePW Evening"
L'Occasion is sharing "Wines of Les Baux-de-Provence to Enjoy with Steak Frites"
foodwineclick posted "Are You Kidding Me? Rosé for OTBN?"
The Armchair Sommelier shared "OTBN: A Pipe, a Port, and a Pudding"
ENOFYLZ Wine Blog brings us An Italian-Themed #OTBN
Cooking Chat posted "Pork Tenderloin with Mushrooms and a Burgundy" You are here!