Shelburne Vineyard is producing high quality wine in Vermont, using grapes well-suited for the cold climate. This article covers our weekend trip to visit the winery, including the wines we sampled and some of the other things we did in the area, which is just south of Burlington, Vermont, on Lake Champlain.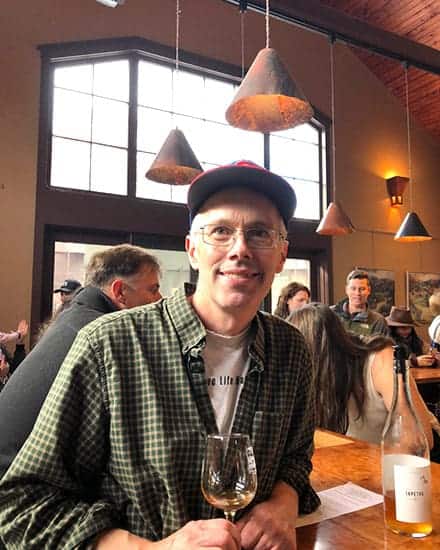 The Wine Studio program is a fun way to learn about interesting wines from around the world. Earlier this year, I was surprised to see them featuring a Vermont winery, practically in my back yard (at least compared to the usual far away wine destinations like California, Italy, France, etc.)
Shelburne Vineyard came up again wine I was visiting Westport Rivers Winery in Southeastern Massachusetts. When I was praising Westport for what they are doing here in New England, one of the Westport assistant winemakers asked if I had visited Shelburne Vineyard.
Two mentions of a winery within a reasonable drive of the Boston area definitely put Shelburne Vineyard as a place to visit soon.
Planning a visit to Shelburne Vineyard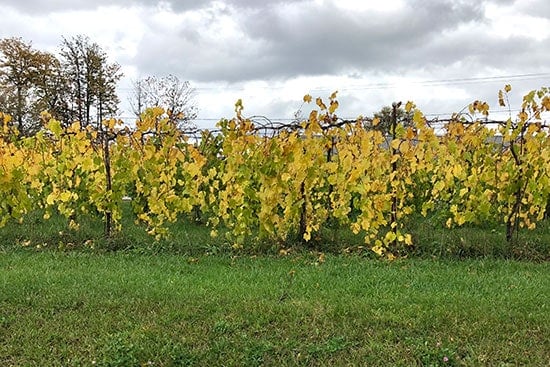 October certainly seemed like a great time to visit a winery just outside of Burlington, Vermont. The drive up to Shelburne Vineyard would give us a chance to enjoy some peak foliage on the drive across the state of Vermont.
My first tip on visiting Shelburne Vineyard– plan ahead if you want to visit during foliage season! We were originally thinking of visiting on Columbus Day Weekend, but didn't start looking at hotel options until a couple of weeks out. Pretty much everything was booked, so we decided to plan for the following weekend.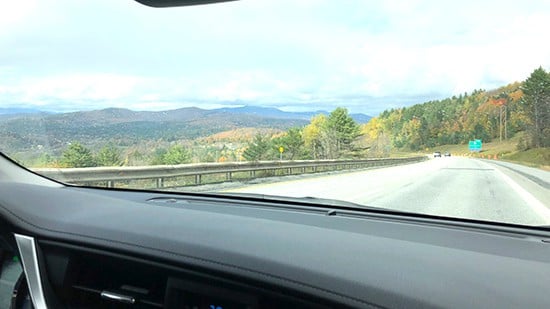 We were looking to keep our costs down, so stayed at the Quality Inn Shelburne. It met our basic needs, and had an indoor pool our son enjoyed. There seem to be a good number of quaint inns near Shelburne Vineyard if you are willing to spend more.
Leaving the hotel, we passed through the quaint Shelburne village, then re-emerged into rolling hills and open space. Views of the Green Mountains and gorgeous fall foliage around us, with the rugged Adirondacks further in the distance across Lake Champlain.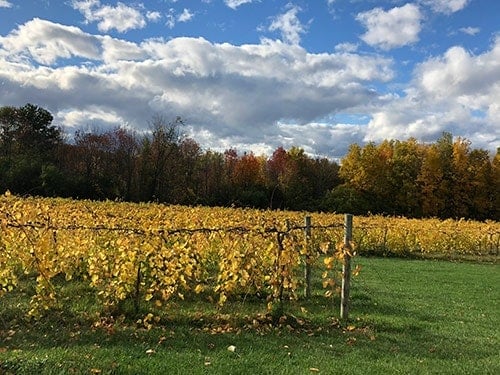 We pulled into the lot for Shelburne Vineyard, and could see a lot of people had similar plans for this chilly fall afternoon! All around the winery, we could see the grape vines taking on their golden brown post-harvest hue.
The tasting room is spacious and has a lively atmosphere — sort of an upscale rustic feel, like you are in a large ski chalet.
Shelburne Vineyard is open for tastings 7 days a week, year-round. For $8, you can taste a flight of Shelburne Vineyard wines. There is also a $17 cheese and wine pairing option; we just focused on the wine. Details on the tasting options can be found on the Shelburne website.
Shelburne Vineyard Wines
I had a chance to interview winemaker Ethan Joseph shortly after my visit, so I'm going to cover more about some of the winemaking details in a separate post to follow soon. Here I'll give a brief synopsis of the Shelburne Vineyard wines we have sampled.
Shelburne Vineyard produced its first commercial vintage in 2000, building on founder Ken Albert's backyard grape growing experience during his time as an IBM engineer.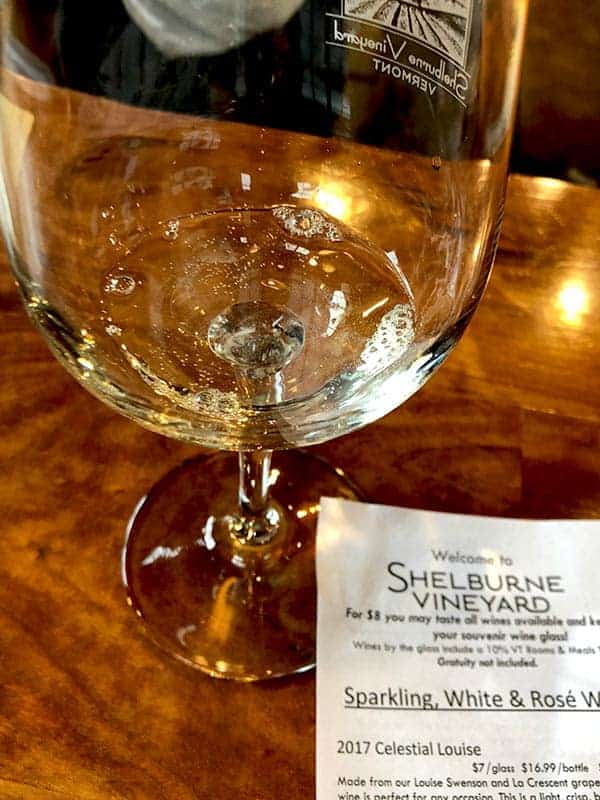 The short story about Shelburne Vineyard wines is that they have found success with grapes specially suited for the cold northern climate one finds in Vermont. They are not grape varietals we are used to drinking, so visiting Shelburne Vineyard you get a chance to sample some interesting wines with unique flavor profiles.
2017 Celestial Louise ($18, 12% ABV) We started with a glass of the sparkling wine made from Louise Swenson grapes. Made in a Brut style, this dry bubbly was a good start to our tasting! From the wine's tech sheet, I learned that the "finished wine was carbonated and bottled under pressure at Artesano Meadery."
2017 Cayuga White ($15, 11.5% ABV) is made primarily from the Cayuga grape, with a bit of Riesling and Chardonnay blended into it. I really like this white, I get peach fruit, underlying minerality and a bit of sweetness on the finish (it is listed as semi-dry). We brought a bottle of the Cayuga to Thanksgiving and it worked pretty well.
2017 Lake View White Blend of Cayuga and Gewurztraminer with a bit of Chardonnay, fruity and a touch of sweetness.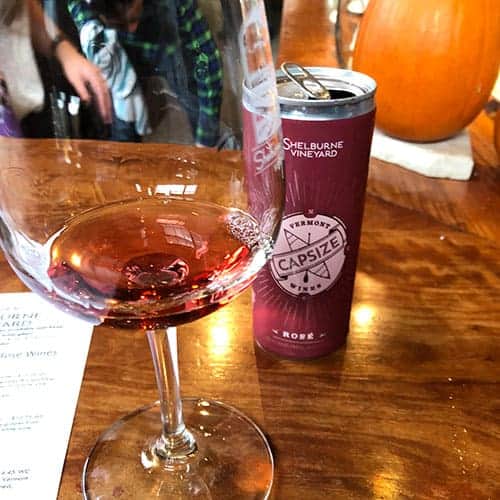 Capsize Rosé ($16, 13% ABV) This dry rosé comes in cans–making it the perfect picnic wine! We haven't had too many picnics lately, so the four pack of Capsize is still waiting in our cellar.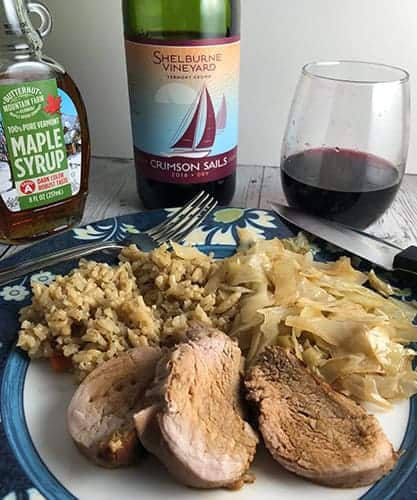 2016 Crimson Sails ($17) is a blend of northern climate grapes Marquette and Petite Pearl. Aged in stainless steel, this wine is fruit forward–I get blackberry–with plenty of substance. Reminds me a bit of a Gamary (Beaujolais). Paired very well with our Maple Pork Tenderloin recipe.
2016 Marquette Reserve ($30) Made with Marquette, the Shelburne Vineyard's primary red grape, this reserve Shelburne Vineyard wine ages 18 months sur lie in oak barrels. The wine has structure and elegance you might expect from a good French wine, with its own unique flavor profile coming from the Marquette grape. We have a bottle waiting to pair soon with a good, meat-centric meal.
Across the board, I was impressed with the range of high quality wines made at Shelburne Vineyard, using grapes particularly well-suited for the cold Vermont climate. I look forward to trying more of their wines!
Things to do around Shelburne
So we were making a visit to Shelburne Vineyard part of a fall weekend getaway to Vermont. The drive itself from Boston to Shelburne was beautiful in mid-October, taking the northwesterly I89 route across Vermont. I'm sure the mountains would provide great scenery at other times of year.
To stay with the sampling adult beverages theme, Fiddlehead Brewing Company is located directly across the street from Shelburne Vineyard. I've enjoyed their beer a few times at restaurants around us, so we stopped in to grab a pack of their IPA.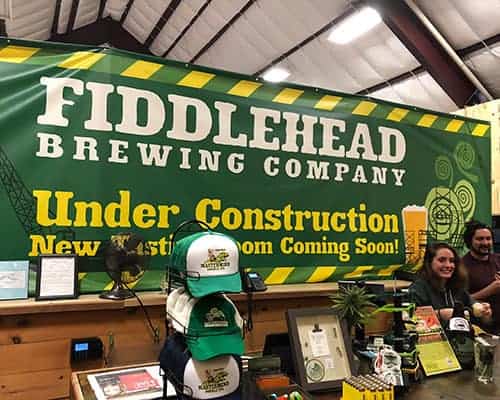 When I stopped into Fiddlehead on a Saturday afternoon, there was quite the scrum of thirsty folks waiting around the small bar for a pour.  They are in the process of renovating their tasting room, and their soon should be a more comfortable setting to sample their beer.
Our visit to Shelburne was a family trip, so for dinner we were looking for a restaurant that would work for our 13 year old son's tastes as well as his multiple food allergies. The allergy piece always requires some advanced planning.
After researching several options, we headed to The Bearded Frog restaurant in the main Shelburne village area. We were pleased with the choice! They were able to prepare the steak frites to be allergy safe for our guy, and he gave it a thumbs up. I had a trout dish that was pretty good; although some local wine options would have been nice!
We were eager to get a hike in on our trip to Vermont. We were looking for a moderate hike that we could do on our way home to the Boston area. Mt. Philo State Park provided to be a good choice, just about ten minutes south of where we were staying in Shelburne.
Although Mt. Philo is just a 968 foot high peak, it provides great views of Lake Champlain, the Green Mountains and the Adirondacks across the lake, after a hike of under an hour. Perfect for a quick visit to Vermont!
The next time we head to visit Shelburne Vineyard, I'd say we need to make it a three day weekend! We didn't have a chance to head to Burlington, which I understand has a lot of culture and entertainment to offer. Burlington is just to the north of Shelburne, so you could easily stay in Burlington while visiting Shelburne Vineyard.
After getting my first taste of Vermont wine at Shelburne Vineyard, I'm eager to sample more wines from this beautiful region so close to where we live. Learn more about making wine in Vermont via our interview with Shelburne Vineyard's winemaker!