Easy Boneless Baked Pork Ribs recipe, with barbecue sauce flavor, comes together in just over 30 minutes. Recipe uses loin cut country style pork ribs. We have two good wine pairing ideas for this recipe. Disclosure: Some of wine described in this article was provided as a complimentary sample from the winery. This post also contains affiliate links.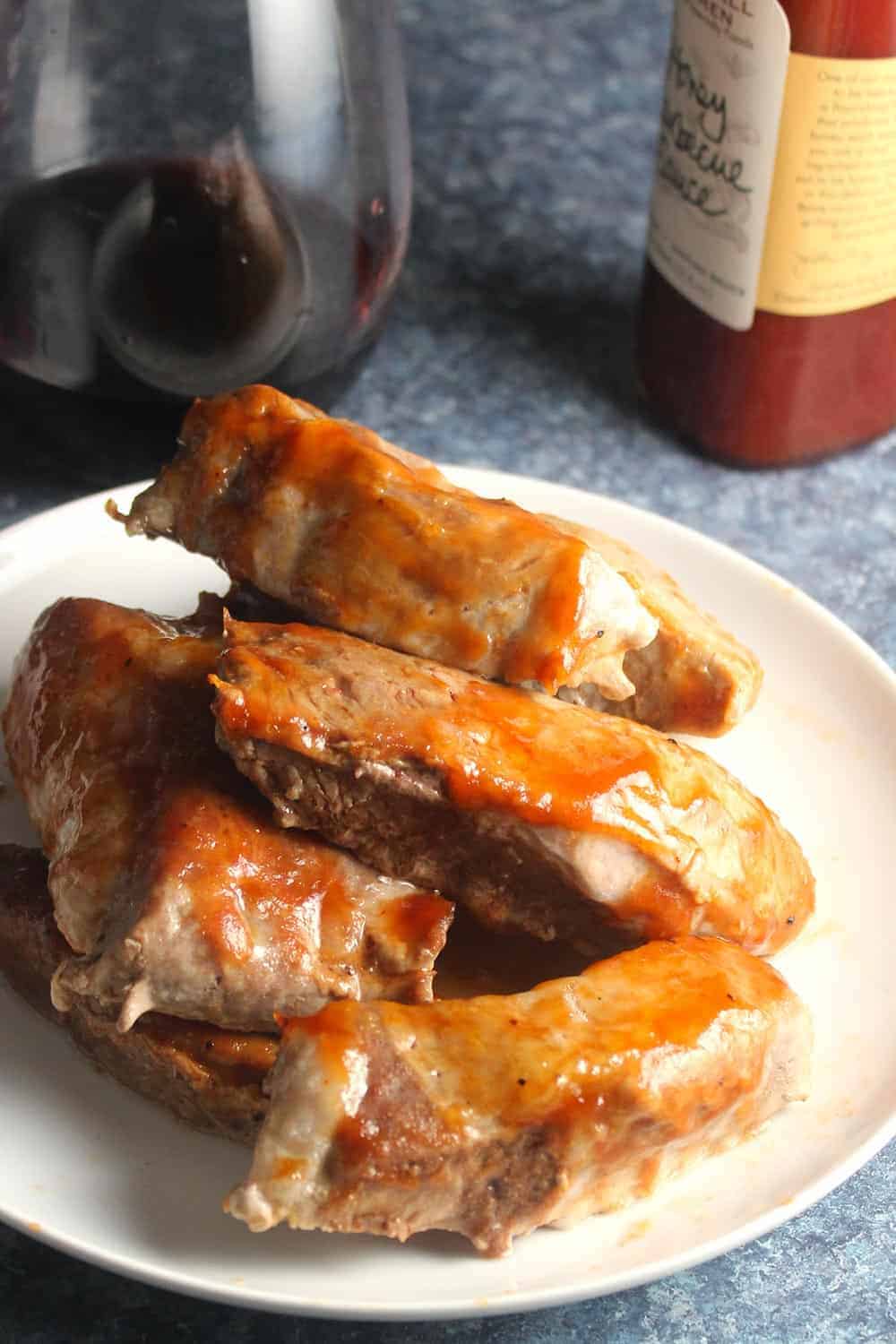 This might be my first two ingredient recipe on Cooking Chat! Ok, technically four ingredients counting a bit of olive oil and pinch of salt.
All it takes to put this boneless baked pork ribs recipe together is some ribs and your favorite barbecue sauce! Want another easy meat recipe you can make in the oven? Try our BBQ Baked Steak Tips!
Our son loves BBQ ribs — he looks forward to ordering them at Canobie Lake Park every year. Oh, yes, and with braces, the boneless ribs are definitely the way to go! So back in October 2018 I got on the project to make BBQ flavored ribs at home. I have come back through with an update in January 2020 after making the ribs again recently.
What kind of ribs to use for this recipe?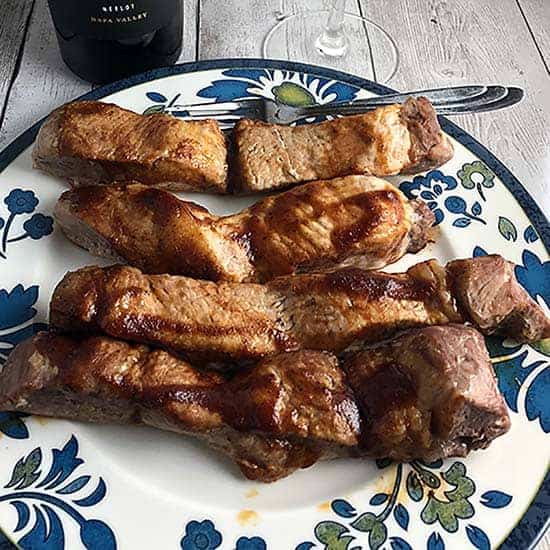 While the ingredients are simple, there are some things to get straight when you are looking to make boneless baked pork ribs.
Boneless pork loin ribs: If you want to know how to cook boneless pork ribs in the oven fast, the key is what type of pork ribs you buy. We use boneless country style ribs from to pork loin (shown above), a leaner cut that cooks pretty quickly.
Pork shoulder ribs: Country style pork ribs cut from the pork shoulder will take longer to cook as this is a tougher piece of meat that requires slow cooking over a longer period of time. Here is a recipe from Baking Mischief you can follow for slowly cooked pork ribs from the shoulder.
If you aren't sure which kind of ribs you are getting, ask your butcher for clarification. They were helpful at Whole Foods clarifying what I was getting and the approximate cooking time involved.
Making Boneless Pork Ribs in the Oven
Here are a few tips for making baked boneless pork ribs; click here to jump down to the recipe for the full details.
As I mentioned above, first make sure you are using boneless ribs from the pork loin for this recipe timing to work right for you!
I was pretty sure that when I first made this recipe, the meat I bought was already cut into the individual strips of boneless ribs. When I got the ribs for a recent remake of the recipe, the individual rib pieces were still joined together. So I started by cutting the ribs into individual strips so the cooking time I used initially would work.
Place the pieces of boneless pork rib into a baking dish, and brush with the olive oil and sprinkle with a bit of salt.
Bake in the oven for 15 minutes, then remove to brush the ribs with barbecue sauce.
Full size ribs will be done in 30 minutes of total cooking time. But if you have some that are smaller, like we did in our recent batch, check at 25 minutes total cooking time (10 minutes after adding the bbq sauce). The small pieces might be ready to come out at this point –i.e. they are cooked through, reading 145 degrees with a meat thermometer.
Barbecue Sauce for Pork Ribs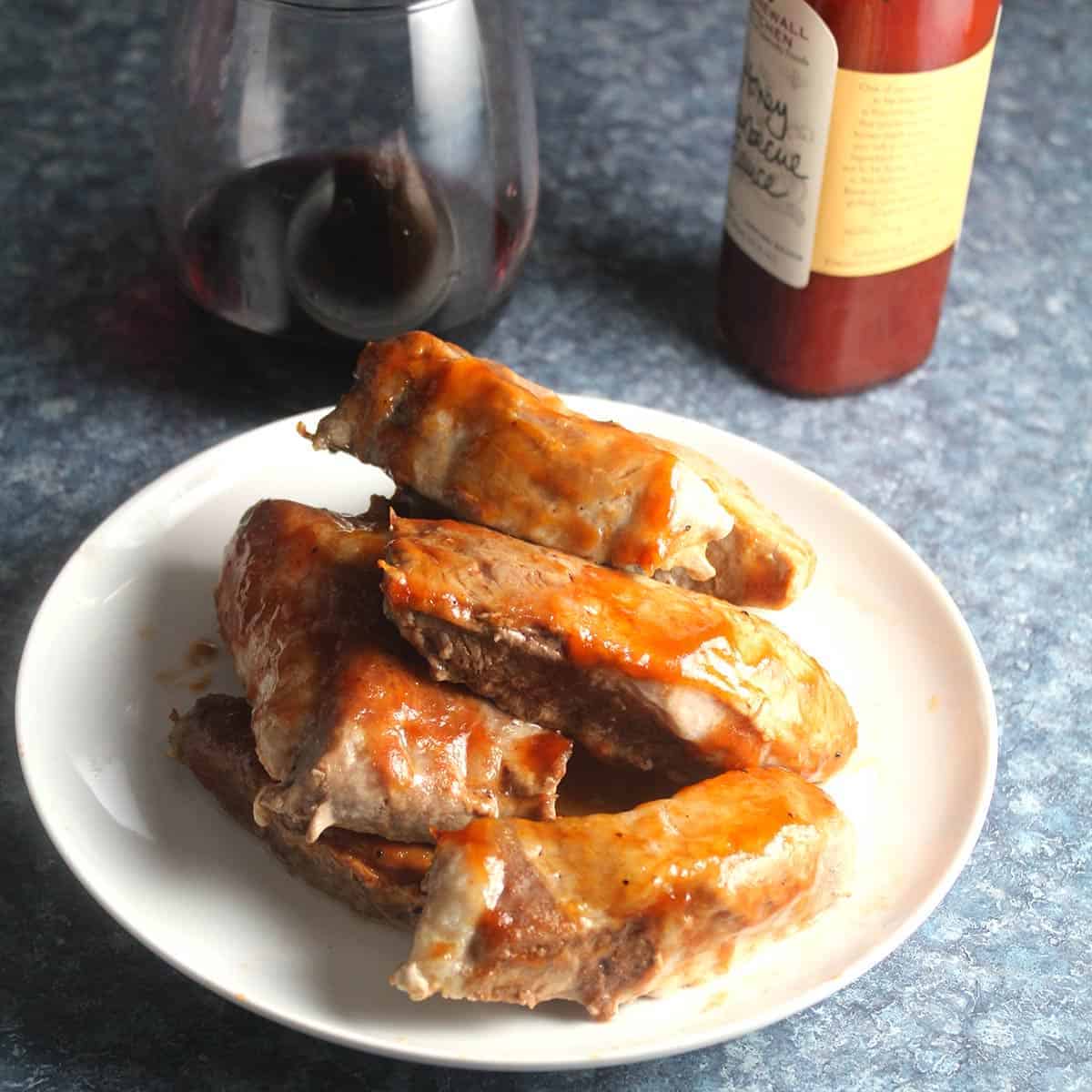 Part of what makes the recipe so easy is using store bought barbecue sauce. That is not usually the way I roll here–often I am putting together my own sauce to get the barbecue flavor, as in this BBQ baked steak tips recipe.
But sometimes it's nice to get a jumpstart in your cooking by grabbing something from the store. For the most recent batch of pork ribs, I used the Stonewall Kitchen Honey Barbecue Sauce. (Amazon affiliate link provided). The ribs with the more reddish orange color use that sauce.
The initial version of these ribs used Denny Mike's sauce — the ones with the darker brownish color. You can search here on Amazon for other BBQ sauces that you can have delivered to your doorstep.
Wine Pairing for Baked Pork Ribs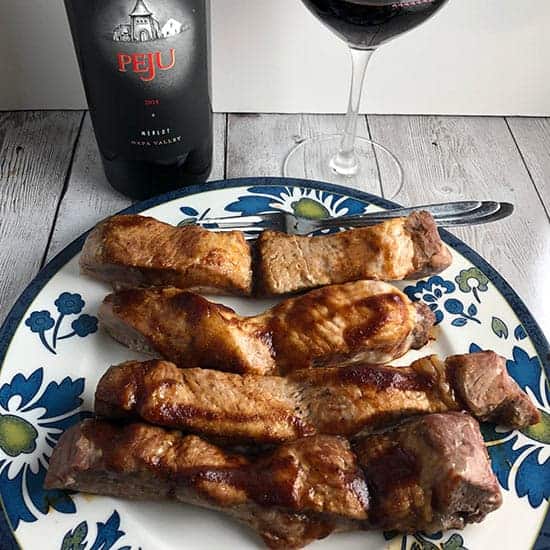 I definitely was planning to open one of the Merlots we had on hand to go with the baked pork ribs when I first made this recipe. I decided to go with the 2014 Peju Napa Valley Merlot ($42, 15.3% ABV), in part because I thought this BBQ flavored meat dish would stand up to the relatively higher alcohol content of this Napa Merlot. The Peju Merlot was sent as a complimentary sample as part of #MerlotMe month 2018.
The Peju Merlot has raspberry on the nose, and cherry fruit and notes of vanilla on the palate. There's an elegance on the finish of this Merlot, and I really wouldn't have guessed that the ABV was over 15%.
The Peju Merlot is a pleasure to sip on its own, and also pairs very well with the baked pork ribs. The tannins and structure help it stand up to the meat, and there are enough subtle spice and herb notes to play along nicely with the BBQ sauce. An excellent pairing!
Peju reports the 2014 growing season featured excellent growing conditions, and the quality of the fruit definitely comes forth in this Merlot.
This Merlot is comprised of 97% Merlot, 2% Petite Verdot and 1% Cabernet Sauvignon. The wine is aged for 18 months, 60% French Oak and 40% American, 40% new oak.
Peju is based in the Rutherford district of Napa Valley. The Peju Merlot comes from the certified organic Rutherford vineyard, and the sustainably farmed Persephone Ranch.
For more on the winery, visit the Peju website.
Another good Merlot I tried recently is the 2018 Bargetto Central Coast Merlot, which I got from a recent California Wine Club shipment. I've just recently joined that wine club, more to come on that soon.
For more Merlot pairing ideas, visit our Merlot Food Pairings article.
A Marquette from Vermont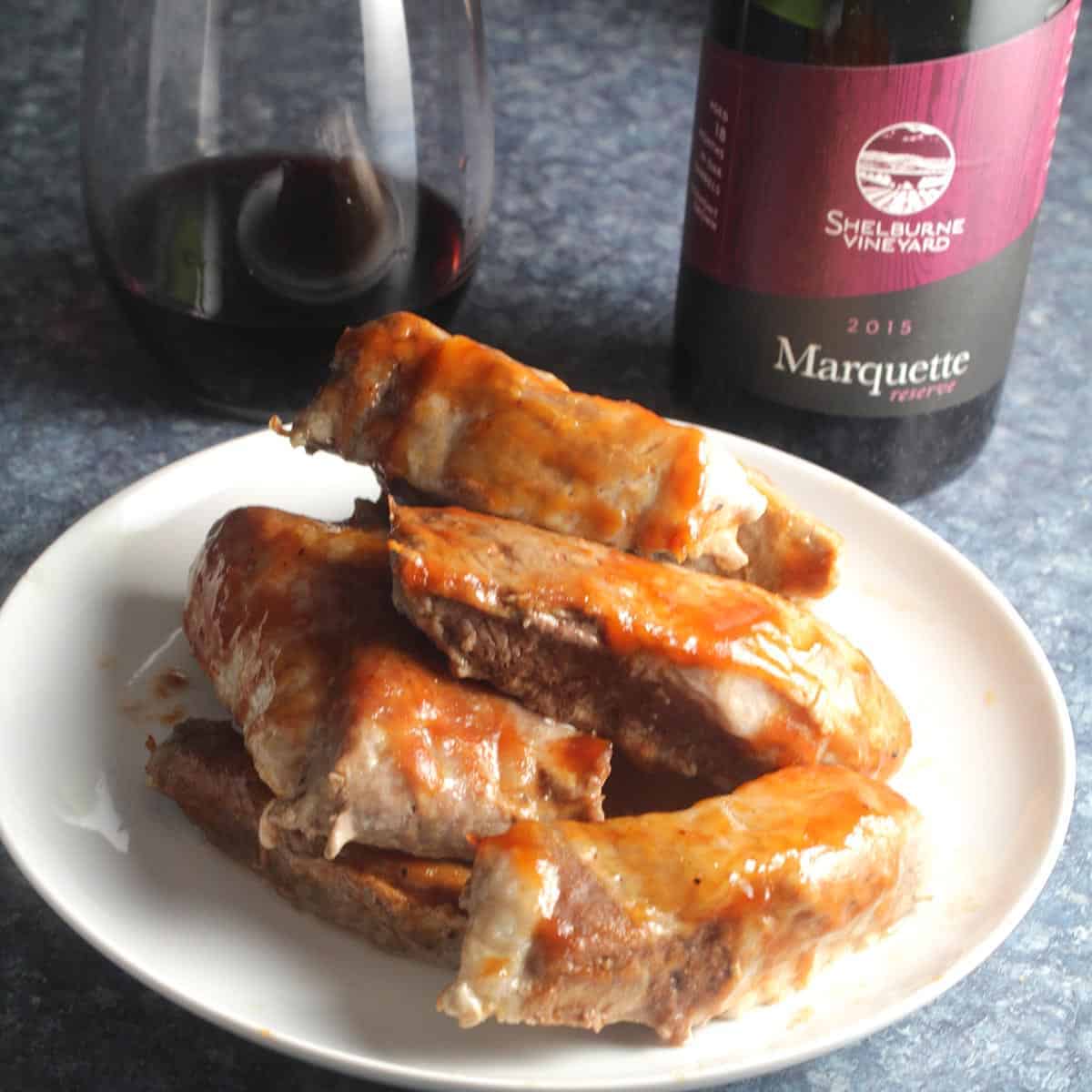 For our recent remake, I decided to open the 2015 Shelburne Vineyard Marquette Reserve ($30, 14.5% ABV) that we got during a 2018 visit to this Vermont winery.
This big red wine is deep brick red in the glass. I get cedar on the nose, boysenberry and black cherry on the palate with notes of caramel. The wine seems to have evolved nicely in the year it spent in our cellar, showing depth and complexity. Another excellent choice for the pork ribs.

Print
Boneless Baked Pork Ribs Recipe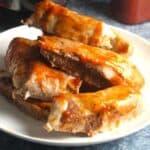 An easy recipe for boneless baked pork ribs, using country style ribs cut from the pork loin. Cooks quickly with your favorite barbecue sauce, and is delicious with a good glass of red wine.
Author: Cooking Chat
Prep Time:

5 mins

Cook Time:

30 mins

Total Time:

35 mins

Yield:

5

servings

1

x
Category:

Main

Method:

baking

Cuisine:

American
Scale
Ingredients
1 1/2

lbs country style loin cut pork ribs

1 tbsp

extra virgin olive oil
pinch of salt

1/4 cup

of your favorite barbecue sauce, plus extra for serving
Instructions
Preheat oven to 350 degrees.
Rinse and pat dry the pork ribs. Place the ribs in a baking dish. Brush the ribs with olive oil and sprinkle the salt over the ribs. Let the ribs sit at room temperature for about 5 minutes.
Place ribs in the oven to bake. After 15 minutes, remove the ribs, and brush with the barbecue sauce. Return to the oven and bake for another 15 minutes.
After minutes total baking time, the pork ribs should be done. Remove from oven, and check for doneness.
Plate the ribs and serve with a good glass of Merlot! Pass extra BBQ sauce at the table.
Notes
This quick cooking boneless ribs recipe uses country style pork ribs cut from the pork loin. If you are using country style ribs from the pork shoulder, you will want to cook much differently–significantly longer cooking time and lower heat.
Full size ribs will be done in 30 minutes of total cooking time. But if you have some that are smaller, like we did in our recent batch, check at 25 minutes total cooking time (10 minutes after adding the bbq sauce). The small pieces might be ready to come out at this point –i.e. they are cooked through, reading 145 degrees with a meat thermometer.
Keywords: ribs, pork ribs, country style ribs, boneless pork ribs, Merlot
Recipe Card powered by