Today we explore making wine in Vermont, based on an interview with Shelburne Vineyard's winemaker. There is some interesting, good quality wine being made in Vermont; learn more about it and try some for yourself!
Yes, I was surprised to hear there there was a winery in Vermont making high quality wines. But sure enough, last year Shelburne Vineyard was featured in a Wine Studio program, which features top vineyards from around the world. Vermont is a reasonable drive from the Boston area, so I needed to learn more.
We visited Shelburne Vineyard, just outside of Burlington, this past fall. I was impressed with the quality of their wine lineup. The names of the grape varietals featured in the wine — Cayuga, Louise Swenson and Marquette, was intriguing.
Shortly after our visit, I had a chance to interview Shelburne Vineyard's winemaker to to learn more about the winery and the challenges of making wine in Vermont.
Ethan Joseph first began working at Shelburne Vineyard as a part-time job while studying at the University of Vermont. When the grant funding his first post-college job ended, it was natural for Ethan to gravitate back to Shelburne Vineyard. He started working full-time at the vineyard in 2008. After working closely with winery founder Ken Albert few years, Ethan moved into the head winemaker role for Shelburne Vineyard.
Talking with Ethan was a fun way to learn more about making wine in Vermont and navigating the challenges presented by a cold climate.
Cool Climate vs. Cold Climate Wines
The first vines were planted in Shelburne Vineyard in 1998. They started planting Riesling and Vidal Blanc grapes. Riesling is a good example of a grape that can thrive in a cool climate such as Germany's Mosel region. But talking to Ethan I started to get a better appreciation for what it takes to grow wine grapes in a cold region.
I always figured the key limiting factors for growing wine grapes in cooler regions would be that the fruit might freeze, or simply that there was a shorter growing season.
The short growing season is a consideration for Vermont wines, but Ethan explained that the big factor is that many varietal grape vines can get "zapped" due to the extreme cold. For instance, Riesling vines can get damaged when the temperatures get between -10 and -13 degrees Fahrenheit.
Readers from wine regions in California or other such warm climates might have trouble wrapping their minds around -10 degree temps. But much of Vermont will get below that threshold during cold winter nights.
Shelburne Vineyard is located right on Lake Champlain, which does moderate the temperatures a bit, particularly when the long, deep lake doesn't freeze over. The last few winters have been relatively mild, so Shelburne has benefited from that lake effect. But when the lake does freeze, all bets are off and it can be as cold as the rest of the Green Mountain State.
Grapes Suited For Vermont
While there is still about half an acre of Riesling grapes growing at Shelburne Vineyard, they realized they would need to go in a different direction to successfully produce good wine in their region. Shelburne Vineyard became an early adopter of cold climate hybrid grapes.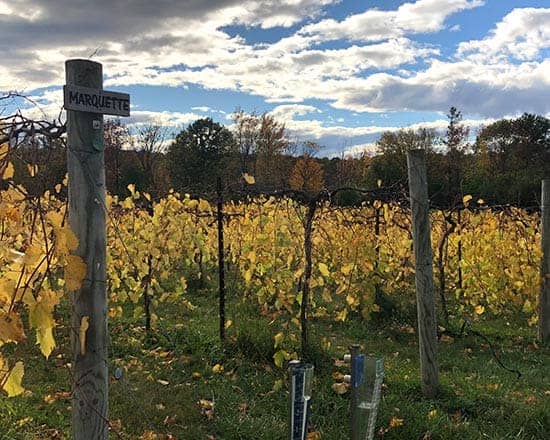 Marquette was the first "cold hardy" grape that Shelburne Vineyard planted with some notable success. This hybrid with Pinot Noir as its "grandfather" was released in 2006. Shelburne Vineyard was an early adopter, planting Marquette that very first year with potted vines from Chris Granstrom of what is now Lincoln Peak Vineyard. Chris was working closely with the University of Minnesota to propagate the cold climate varieties.
Shelburne Vineyard's first Marquette vintage was 2008. As the University Minnesota's page about the grape notes, Shelburne Vineyard won "best of show" at the 2010 International Cold Climate Wine Competition, so clearly Marquette was a great match for Vermont climate.
The Marquette grape has high sugar and moderate acidity, making it relatively to easy to manage in the winery. Ethan explained that Shelburne Vineyard is generally aging the Marquette in oak. They started out using mostly new oak, now are aged oak and a limited amount of new oak (10 to 12%).
Shelburne Vineyard's makes their Marquette in different styles. Blended with Petite Pearl in the Crimson Sails blend, the red wine is fruit forward and medium bodied. We paired the Crimson Sails with Maple Pork Tenderloin, and enjoyed the results!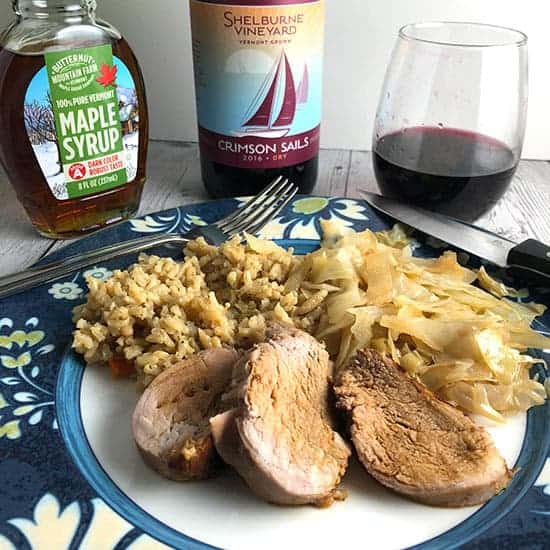 The Marquette Reserve ages in oak for 18 months, making a full bodied wine that seems suited for a roast or beef stew. I have a bottle waiting in our cellar for such a cooking project!
Most of the white grapes grown at Shelburne Vineyard were also unfamiliar to me. When I saw "Louise Swenson" on the tasting sheet, I thought it must be the name of someone associated with the winery. Then I came to realize Louise Swenson is the name of another cold climate grape, named after the wife of the grape breeder that developed it. Some backstory on Elmer Swenson and this grape can be found in this article. This grape is used in the Celestial Louise sparkling wine we sampled during our visit.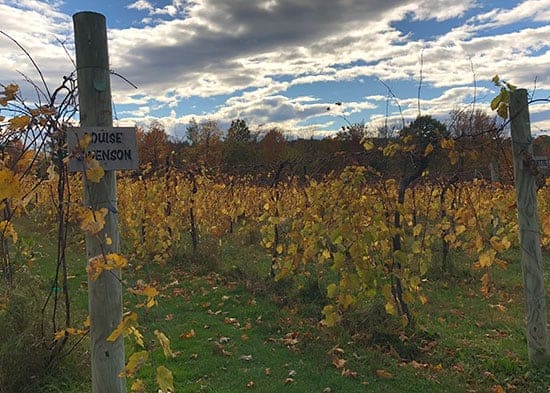 I also really enjoyed the Shelburne Vineyard white blends such as the Cayuga White that use the cold climate Cayuga grape along with some more familiar suspects like Riesling and Chardonnay.
Ethan's Iapetus Project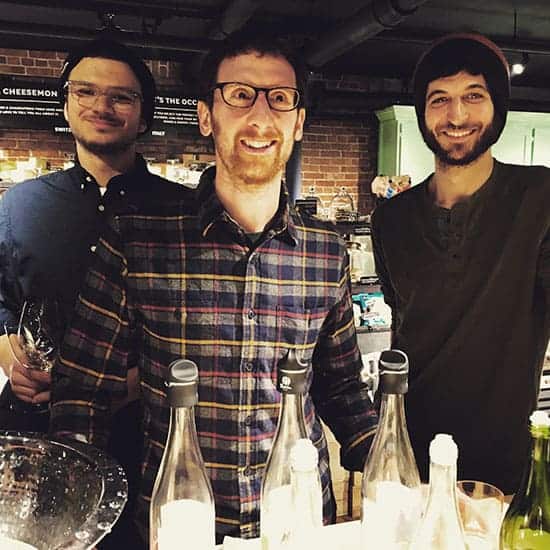 Recently Ethan has been developing Iapetus as a new wine label that gives him a chance to experiment with winemaking techniques and to get more involved in the business side of wine. Iapetus is a "production" of Shelburne Vineyards.
Iapetus takes its name from an ancient ocean that once covered present day Champlain Valley. With the Iapetus project, Ethan aims to explore wine's relation to place and history. Check out the "Ethos" section of the Iapetus website for more on his philosophy of wine.
Local yeast is used in making the Iapetus wines. I had a chance to try the Tectonic orange style wine made using a spontaneous ferment with 100% La Crescent grapes. Skins are left on for 55 days to create the unique orange wine.
The Tectonic is definitely a wine to sip slowly and consider its complex flavors. After hearing one of Ethan's favorite pairings is the Tectonic with pistachios and charcuterie, I'm definitely going to have to order another bottle to test out that pairing!
I also sampled the Iapetus Subduction made with 100% Marquette grapes and spontaneous fermentation. Using the local yeast helps bring forth the local Vermont terroir.
Ethan is planning a somewhat wider distribution of Iapetus compared to the Shelburne Vineyard label wines. I was glad to hear Iapetus will soon be coming to Massachusetts! He is also exploring options for bringing it into shops in New York. Meanwhile, the Iapetus can be shipped to a good number of states.
What's New This Year?
To wrap up, I asked Ethan what he is excited about for the upcoming year. Let's close out this article by hearing directly from him:
What are you looking forward to in 2019, Ethan?
The 2018 Figure 1 pet nat, which will be released in spring of 2019 is awesome and I'm excited about that. Also looking forward to the release of a collaboration with some folks down in Rhode Island, RI grown organic Vidal Blanc made in VT. And lastly, I think hybrids are going to gain much wider acceptance and appreciation. It's about time!