In 2011, we had the chance to visit Shinn Estate Vineyards in Long Island, New York. They make some of the better wine I've had produced in the Northeast, in a beautiful rural setting. Worth a visit, or if you can't make it there, try ordering a few of their wines online.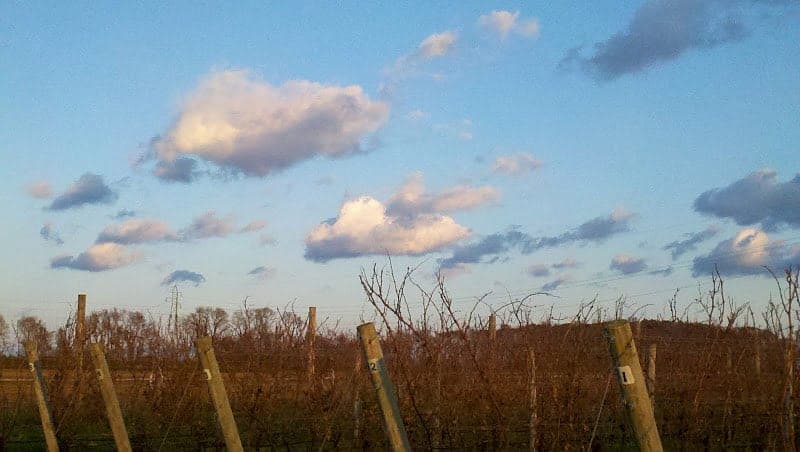 I need to get into the countryside more! I wanted to pull over and take pictures every time I saw a vine, tractor, or anything else bucolic in the fading fall light. But we were also eager to try another Long Island winery, Shinn Estate Vineyards, before getting onto the rehearsal dinner for the wedding that brought us there. Onward to our destination.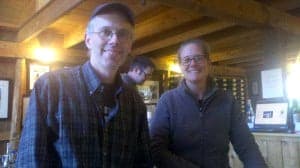 Shinn Estate Vineyards is a bit off the main drag, but our smart phone's GPS proved a reliable guide through the pretty countryside. And we were very glad to have found it! The cozy tasting room, with its rugged barn loft  design, was very comfortable for us two tired travelers to settle into. They have quite an array of wines to choose from their tasting menu; so I will focus on the ones I enjoyed enough to warrant a purchase. To the right, I'm with Barbara Shinn, who nicely paused from her busy day to chat with us about their winery.
I loved the 2010 First Fruit Sauvignon Blanc ($22)! Clean, ethereal lemon taste, with a touch of minerality and along finish. I look forward to serving this with my pesto soon! They make an everyday Red Blend ($16), well-balanced with plum fruit and a bit of spice. It's a blend of Syrah, Merlot and Petit Verdot; but if I had blind tasted it I might have guessed zin. Definitely a good value at the price. Now I'm a bit biased toward the next one; as I'm sipping the 2008 Estate Merlot ($26) as I write. I thought I was opening the $16 bottle, being mid-week and all, but oh well…nice treat! I get chocolate, blackberry and a bit of oak in this substantial but easy drinking red.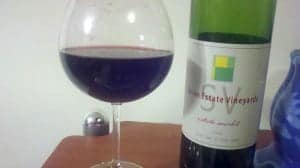 We finished with the 2009 9 Barrels Estate Reserve Merlot ($42). In many respects, a similar flavor profile to the Estate Merlot, but I got more vanilla and this one, and noted it's super long finish. Definitely some aging potential on this one.
Barbara shared a bit about the backstory of the winery. Her husband, David Page, is a chef, and they previously owned a restaurant in New York City. As fun as it must be to cook for hard-charging Wall Street types, I can't argue too much about the lifestyle choice they have made moving to this beautiful spot and making great wine!
I came to Long Island wine country a bit skeptical about the quality of wine that could be produced here in the northeast. But Barbara explained how the cool nights and proximity to the coast produce great growing conditions; and what I sampled at Shinn Estate Vineyards confirmed that! Also impressive is their ability to produce these top quality wines at prices that are good values. Though I liked a number of the wines at our first stop, they wouldn't stack up well against comparably prices wines from say, France or Italy. But I felt Shinn Estate Vineyards offers very good value for the price, and we happily set off for the wedding with some good wine in our trunk. But I had to take one more picture first…