Delicious nut free pesto makes use of pumpkin seeds instead of pine nuts so that those avoiding nuts can enjoy pesto on pasta, chicken or fish. Read on for details about making nut free pesto and some of our favorite ways to use it, or click here to jump down to the recipe.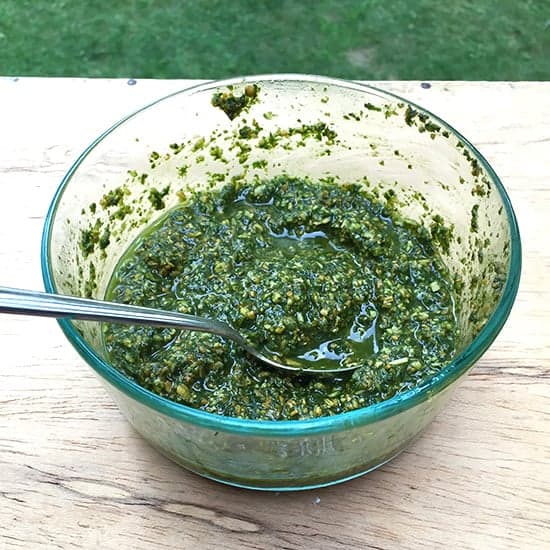 Fresh basil is rolling in from farms and gardens now, and there's nothing like pesto to make use of this aromatic herb. But if you or someone in your house has a nut allergy, you might be avoiding pesto knowing that it is typically made with pine nuts, or sometimes walnuts. Well, today I'm going to share how to make nut free pesto that tastes great on pasta and in many other dishes.
Our son is allergic to peanuts and tree nuts. For some time after his allergy diagnosis, I continued to make pesto the typical way with pine nuts, just taking care to keep it away from B and carefully wash everything. However, the more we learned about the potential dangers of cross-contamination, we decided to go completely nut-free in our house to be on the safe side.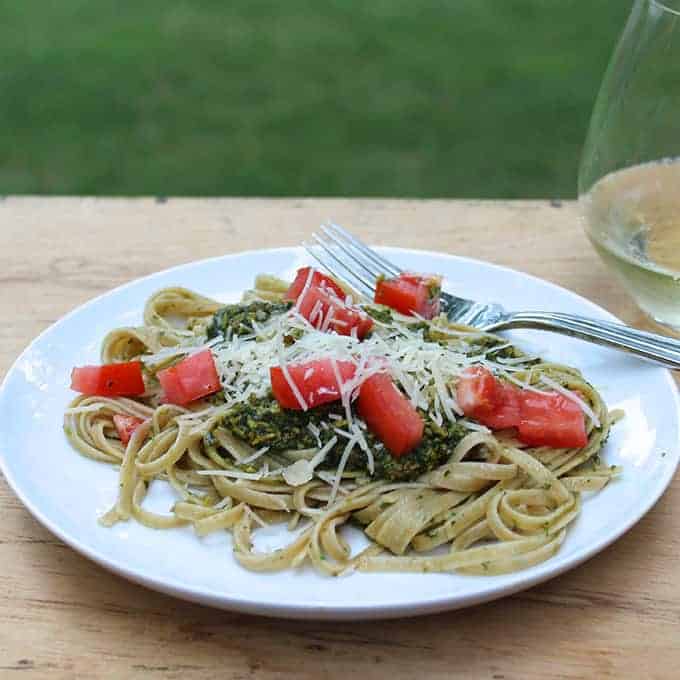 Pesto is one of my favorite foods, not using pine nuts to make pesto was probably the toughest thing for me about having no nuts in the house. Of course, for safety it was worth it.
Making nut free pesto by simply omitting the nuts doesn't really get the right flavor. I realized I needed something to lend the pesto sauce that nutty flavor, without the nuts. I'd already switch to using toasted pumpkin seeds instead of almonds on top of salads, so decided to give that a try. Bingo! Lightly toasted pumpkin seeds in place of pine nuts makes a great tasting pesto. You'd be hard pressed to discern the difference from the typical recipe.
A few cautionary notes before getting on to the recipe details. Though seeds can be safe for nut allergy folks, pumpkin seeds might come with a label caution that it "may contain nuts" or "is produced in a facility that also processes nuts". So read those labels carefully and find pumpkin seeds that are produced in a safe manner. The bite of the garlic in this pesto is a bit much for our 10 year old's palate, so he doesn't actually eat the pesto. Thus we're a bit less concerned about scrutinizing our pumpkin seed labels; but we take comfort knowing there aren't going to be any stray pine nuts somehow getting into B's food here.
The other word of caution is regarding cooking for a visitor with a nut allergy. If you use nuts in your home but are entertaining someone with a nut allergy, take care to avoid cross contamination. Make sure everything you are using to serve has been washed carefully, preferably with a dish washer. Let the visitor know the details of what you have prepared, and have ingredient labels ready to show them. If they decide they are more comfortable skipping an item you have prepared, please don't take offense. Those with food allergies need to be very careful about what they eat, and shouldn't feel pressured to eat something they aren't confident will be safe for them.
A final cautionary note: I write this nut free pesto recipe post as a home cook and father of a boy with multiple food allergies. I am not a doctor or a nutritionist. Anyone dealing with food allergies should definitely be working with medical professionals, and doing their own research to come up with a food safety plan for you and your family.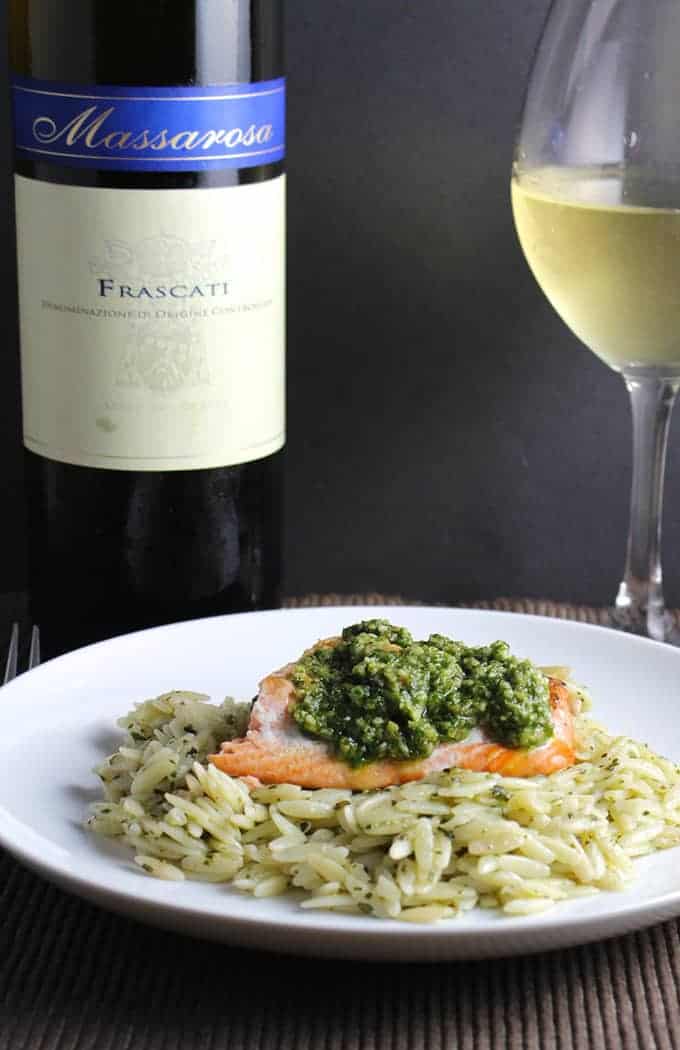 Wine pairing: Don't know about you, but I'm ready for a glass of wine after these scary food allergy warnings! Sauvignon Blanc is a classic wine to serve with pesto, and you can't go wrong there. But many crisp white wines can work nicely. I like to go to Italy for pesto pairings, one recent example is the Frascati paired with Orzo, Salmon and Pesto. Or you could try a crisp Portuguese white wine, such as the 2014 Monte Das Talhas Vinho Regional Alentajano ($10, 13.5% alcohol) we enjoyed the other night with leftover pesto. Picpoul de Pinet is another crisp white wine that goes very well with pesto–I especially like the Saint-Peyre Picpoul-De-Pinet (about $10) from the Languedoc. When pesto gets baked or served with something savory, a red wine can also worked. See for instance this Baked Chicken with Pesto and and Penne, which we enjoyed with a red blend.
Prep and serving notes for Nut Free Pesto
You'll find many recipes on Cooking Chat that incorporate pesto. You can scroll through the pesto recipes at this link. You will find a number of those links involve kale pesto. You can make nut free pesto by using the pumpkin seed instead of pine nuts in any of those recipes, including the kale pesto.
But when the basil is fresh, there's nothing like simply tossing it with some pasta, then topping it with some fresh diced tomatoes. When that simple pasta with pesto is on the menu, I like to toss the hot drained pasta with a couple tablespoons of nut free pesto and a dash of olive oil to get a light coating of pesto on the pasta. Then pass a bowl of pesto at the table so people can add the amount of extra pesto they would like. And then enjoy it with a glass of Sauvignon Blanc or crisp Italian white. Cheers!
A few more of my favorite ways to enjoy our nut free pesto recipe include: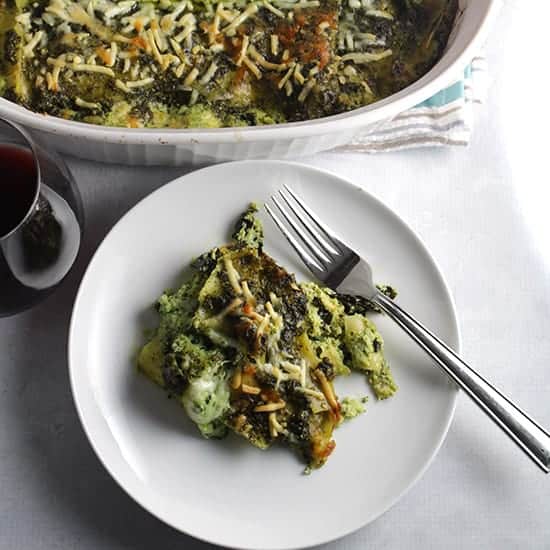 Print
Nut-Free Pesto
Pumpkin seeds take the place of pine nuts to make this nut-free pesto recipe something that can be enjoyed by people with nut allergies.
Author: Cooking Chat
Prep Time:

10 mins

Total Time:

10 mins

Yield:

8

servings

1

x
Category:

Sauce

Method:

food processor

Cuisine:

Italian

Diet:

Vegetarian
2 cups

fresh basil leaves, rinsed and tightly packed

4

cloves garlic

¾ cup

extra virgin olive oil

¾ cup

Pecorino or Parmesan cheese

2 tbsp

pumpkin seeds, lightly toasted
Instructions
Put the basil into a food processor, and give it a quick whir to begin chopping the basil and make room for the other ingredients.
Add the garlic, and hit the food processor button again to get the cloves chopped up with the basil.
Add the oil and the cheese, and then puree to get everything well combined. Add the toasted pumpkin seeds, and give the food processor a whirl to get the seeds incorporated into the pesto.
Open the food processor, scrape the sides to get bits of garlic and basil that haven't been incorporated, then give the processor a final whir. You have nut-free pesto ready to serve with pasta or to use in other recipes.
Keywords: nut free pesto, pesto sauce
Recipe Card powered by