Making chicken stock is a great way to use leftover roast chicken, and sets you up to make some delicious Hearty Chicken Stew shown below. We break down the steps for making chicken stock in this post.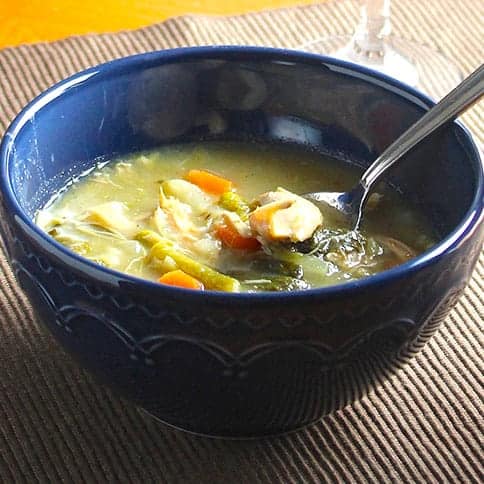 I did take a few photos while making the stock. However, I think you're more likely to make it seeing the end product rather than the process photos.  Being able to turn leftovers from roast chicken into stock is a frugal kitchen essential.
The starting point for making stock is roasting a chicken the night before. I often use this roast chicken recipe from Food & Wine,  which has a nice little sauce that created some extra I put into the stock. Roast Chicken with Portobello Mushrooms is another favorite recipe of mine. But use your favorite roast chicken recipe; just try to get one that's big enough that you'll have some leftover. I started with a whole chicken that was 4.25 pounds to serve three people, and the yielded just the right amount of leftovers.
When you've finished your meal on night 1, it's time to get to work on making chicken stock. Pick as much chicken meat from the bone as you can without driving yourself batty (having a bit still on there just adds flavor). Set that meat aside in a container for the next night. Discard as much skin as you can without troubling yourself. Some skin left for flavor is fine, but healthwise, it is best to dispatch with much of the skin.
Place the remaining chicken carcass, with bits of the meat and skin left, into a large pot. If you roasted the chicken with flavorful items like lemon and thyme, as called for in the recipe I followed; go ahead and leave that in for more flavor. In fact, if you don't have something like that in the original recipe, adding herbs you have on hand such as a few thyme or rosemary sprigs is a good idea. I poured the remaining jus from the roast chicken recipe into the pot as well for some extra taste.
If you're a night owl, you can do the next step after dinner. Not me! I put the pot with the chicken bones into the fridge and continue with making chicken stock the next day. The stock is really pretty easy from here. Just fill the pot up with enough water to just cover the carcass (probably about 10 cups or so) and bring to a boil. Then let it simmer, stirring  occasionally, for a good 3 to 4 hours.
After you've simmered it enough, set a another pan or a bowl in the sink, and set a colander inside the pan (if you have one with a finer mesh, you'll get less bits and pieces in your stock. Pour the pan of liquid and chicken into the pan, with the colander catching the chicken bones, meat, etc. Set the liquid aside to cool a bit before covering and putting it in the fridge.
Let the chicken cool a bit, then pick through what remains in the colander for bits of meat that you can add to the chicken you'd previously pulled off. When you're satisfied with that you have gotten what you can, discard the remaining bones and put the chicken you are using into the fridge. I usually have stock to make my chicken stew and to freeze some for later use. Initially I put it into the fridge to be ready for immediate use, then freeze what I don't use right away.
Now that you have made chicken stock, you are ready to make some Hearty Chicken Stew!