A little work upfront, then you can have this Slow Cooker Turkey Chili cooking all day with no effort. Topped with avocados for an easy healthy and tasty dinner! We often make this recipe to enjoy for a couple nights at home. But the Slow Cooker Turkey Chili with Avocado also makes a perfect make ahead dinner party recipe, so we are updating for today's Sunday Supper event. Read on for more details and photos or click here to jump down to the recipe.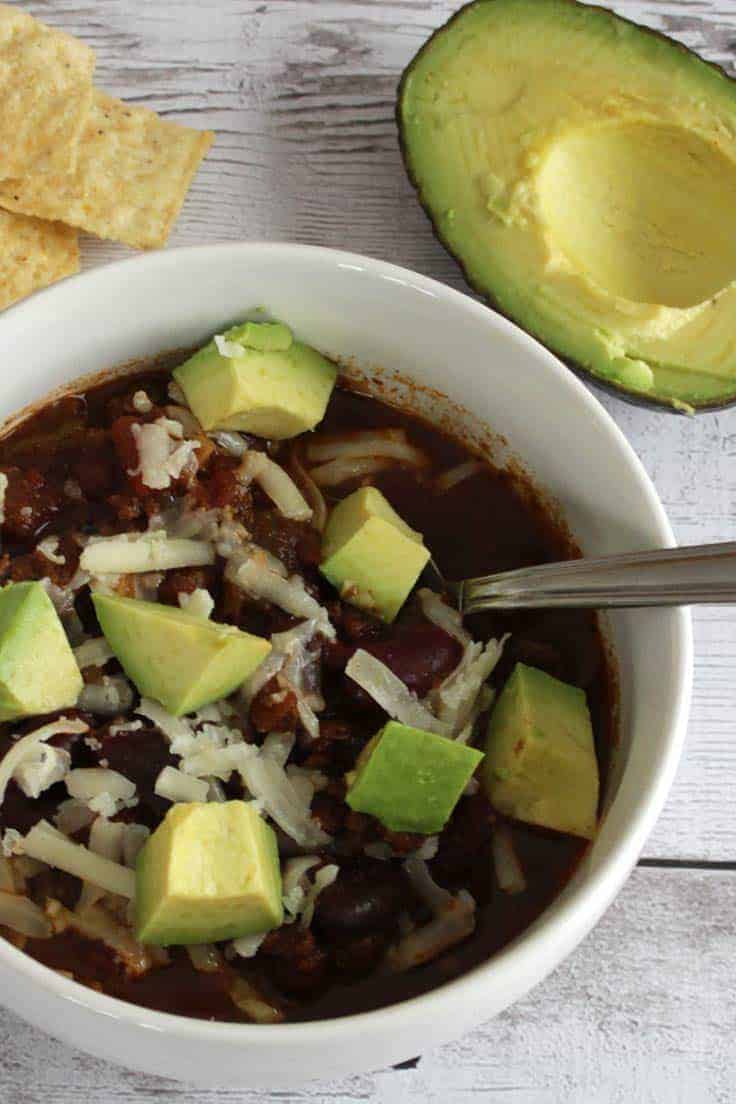 You gotta love having a few good slow cooker recipes waiting in the wings for a busy week. This Slow Cooker Turkey Chili with Avocado is definitely on our short list here of go to recipes, and if you give it a try, I think you will become a regular in your house, too. But you will also want to share this easy and tasty recipe with friends, and add it to your make ahead dinner party recipe repertoire!
This slow cooker turkey chili recipe just takes about 30 minutes of time when you need to be around. Half of that time is chopping some onions, peppers and garlic, the balance you are stirring the onions and turkey in the skillet. Then you transfer the turkey and onions to the slow cooker, add the rest of the ingredients (except the avocado and cheese) and set the slow cooker, and forget it. I like to make this on a Sunday when I'll be busy during the late afternoon, when I typically start cooking. You can get it going before you go to work in the morning for a weeknight meal, too.
This turkey chili recipe has health advantages, too. Substituting turkey for beef decreases the fat content a bit. Topping the chili with avocado adds nutrition, and I find the flavor of the avocado means I don't need to use sour cream, and less cheese than I typically would use to top chili.
Healthy is good, but it's got to taste great, too! This slow cooker turkey chili is very flavorful, but I wouldn't describe it as "hot". Medium spice would probably be a more apt description of this recipe.
Make Ahead Dinner Party Recipe: Slow Cooker Turkey Chili
The same recipes that make for great make ahead meals at home can also be deployed as great make head dinner party recipe options. That is definitely true for this Slow Cooker Turkey Chili!
To bring this turkey chili to a dinner party, prepare the recipe following the instructions below — but don't slice those avocados at home! As you know if you've ever had leftover avocado, the fruit turns brown quickly once it is exposed to the air.
Start making this chili in the morning, getting the limited prep out of the way. Let the chili cook throughout the day as you go about your business. If the chili is done in advance of your party, keep the chili in slow cooker on the warm setting until party time.
Depending on how your slow cooker works, you might want to crank it up to high again for about 30 minutes prior to serving.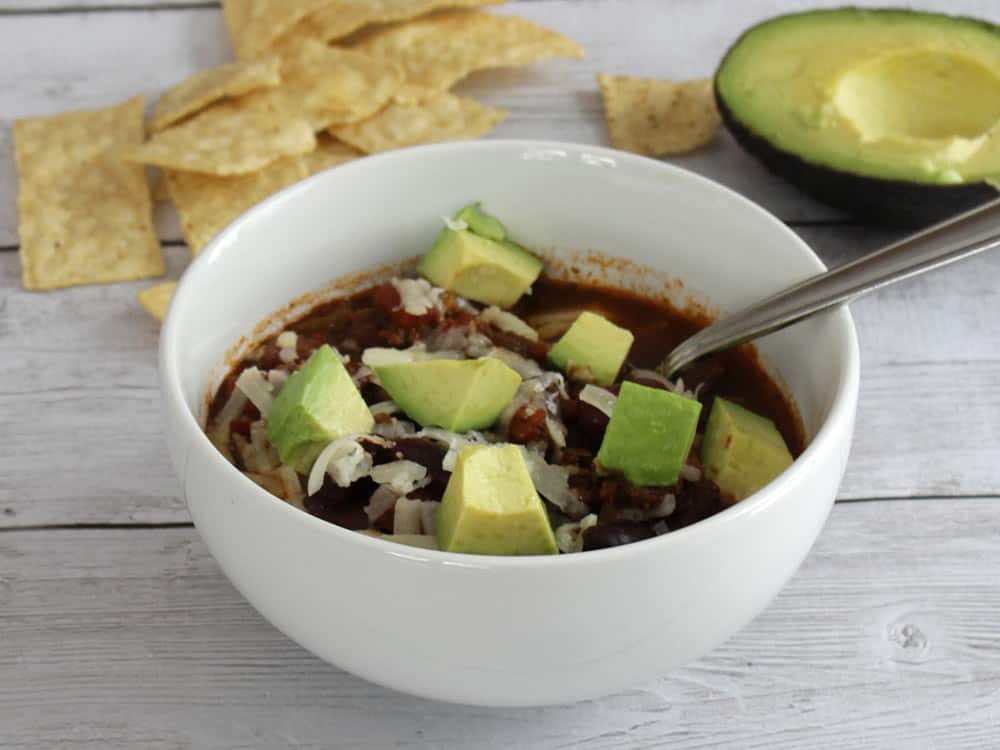 I suggest serving this turkey right from the slow cooker to keep it warm. When you are just about ready to eat, slice up that avocado and place it by the slow cooker to make it easy to add the avocado topping.
The avocado topping enhances the visual appeal of this slow cooker turkey chili. This is also a healthy recipe for people who are looking to adhere to their New Year's resolutions while gathering to watch football or other occasions in the new year.
Looking for another delicious meal to make in your slow cooker and take to a dinner party? Try our Chanterelle Beef Stew or perhaps the Slow Cooker Irish Lamb Stew!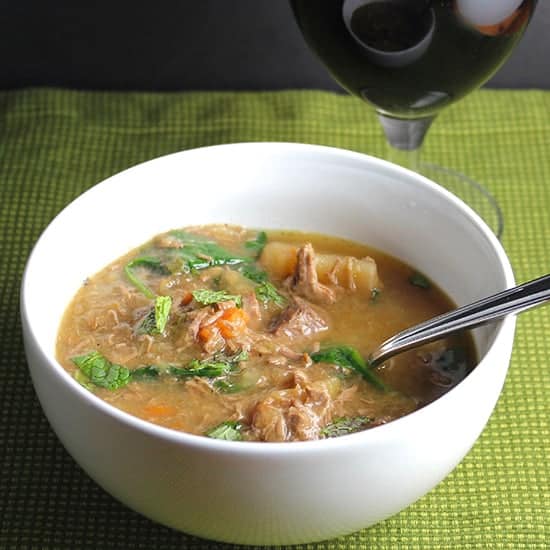 Wine Pairing for Slow Cooker Turkey Chili
Sure, you can enjoy this turkey chili recipe with a beer, but we often like to have wine with our chili. As I alluded to, this is possible in part because the chili is not super hot…I would be more inclined to go with beer with the 5 alarm style chili. But the moderate, complex spice in this dish pairs nicely with a Syrah, or you could also go with a Zinfandel here. We reviewed a Syrah wine pairing for our stove top turkey chili in this post, if you want a specific wine pairing idea. Another option is to try the versatile Gamay grape from Beaujolais as I did another time I made this chili.
Print
Recipe card
Slow Cooker Turkey Chili with Avocado
Easy to make slow cooker turkey chili is flavorful, and topped off with avocado for extra taste and nutrition.
Author: Cooking Chat
Prep Time:

10 mins

Cook Time:

7 hours 45 mins

Total Time:

7 hours 55 mins

Yield:

8

servings

1

x
Category:

Main

Cuisine:

Tex Mex
1 tbsp

olive oil

2

onions, chopped

7

cloves garlic, minced

2

large jalapeno peppers, seeds removed and flesh finely chopped

1

serrano pepper, seeds removed and flesh finely chopped

32

ozs diced tomatoes

1 tbsp

tomato paste

2

lbs ground turkey

2

14 oz cans kidney beans, drained and rinsed

2 tsp

cumin

2 tsp

coriander

2 tsp

paprika

½ tsp

cinnamon

1 tsp

dried oregano

2

avocados, peeled and diced (don't slice open that avocado until a few minutes prior to serving!)
optional shredded cheese for topping
Instructions
Heat the olive oil in a large skillet on medium heat. Add the onions, cook until they begin to soften, about 5 minutes.
Add the turkey to the skillet. Cook for about 10 minutes, stirring occasionally, until the turkey meat begins to brown. Add the garlic toward the end of this browning time.
Transfer the turkey and onions to a slow cooker. Add the remaining ingredients, except for the avocado and the cheese, to the slow cooker: peppers, tomato paste, kidney beans, and dried spices. Stir to combine the ingredients.
Cover the slow cooker, and cook on low for 7.5 hours.
When the cooking time is done, serve the chili in bowls, topped with the chopped avocado and cheese if you are using it. Enjoy!
Recipe Card powered by
Tools to use for Slow Cooker Turkey Chili
Don't have a slow cooker yet? You'll need it for Slow Cooker Turkey Chili! We have enjoyed our Crock-Pot, so sharing an Amazon affiliate link below and earlier in the post to the latest version of the model we have. If you don't have a slow cooker, or don't have enough time for this recipe today, you can get our stove top turkey chili recipe here.