Slow Cooker Irish Lamb Stew recipe with tender meat and Irish vegetables cooks slowly throughout the day with no effort. Enjoy it for a wintry supper with your family, and keep this Irish stew in mind for St. Patrick's Day! Read on for more details on our Irish lamb stew recipe along with pairing suggestions, or click here to jump down to the recipe.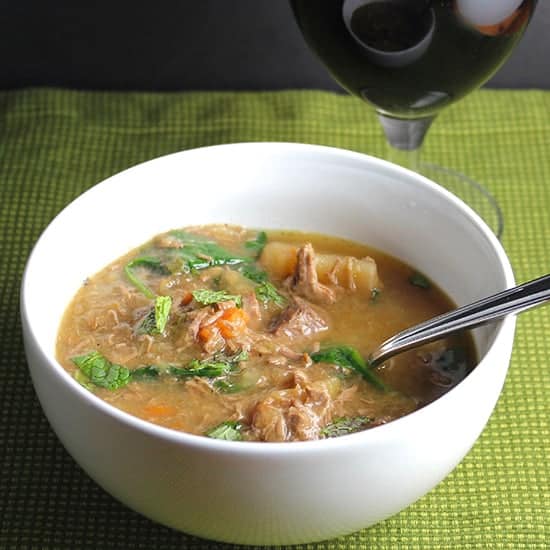 I love to cook food that draws upon cuisines from around the world, with a particular fondness for Italian and Indian food.
But sometimes I like to lean into my Irish roots, and make something featuring a simple combination of meat, potatoes and vegetables.
This Slow Cooker Irish Lamb Stew is definitely a classic! In fact, lamb doesn't even technically need to be in the title, as "traditional Irish stew" generally is made with lamb or mutton.
For a lighter Irish recipe, try our Irish Vegetable Soup. And another good soup recipe for St. Patrick's Day is our Irish Potato Soup recipe with Bacon and Cabbage.
Jump to:
What makes this recipe work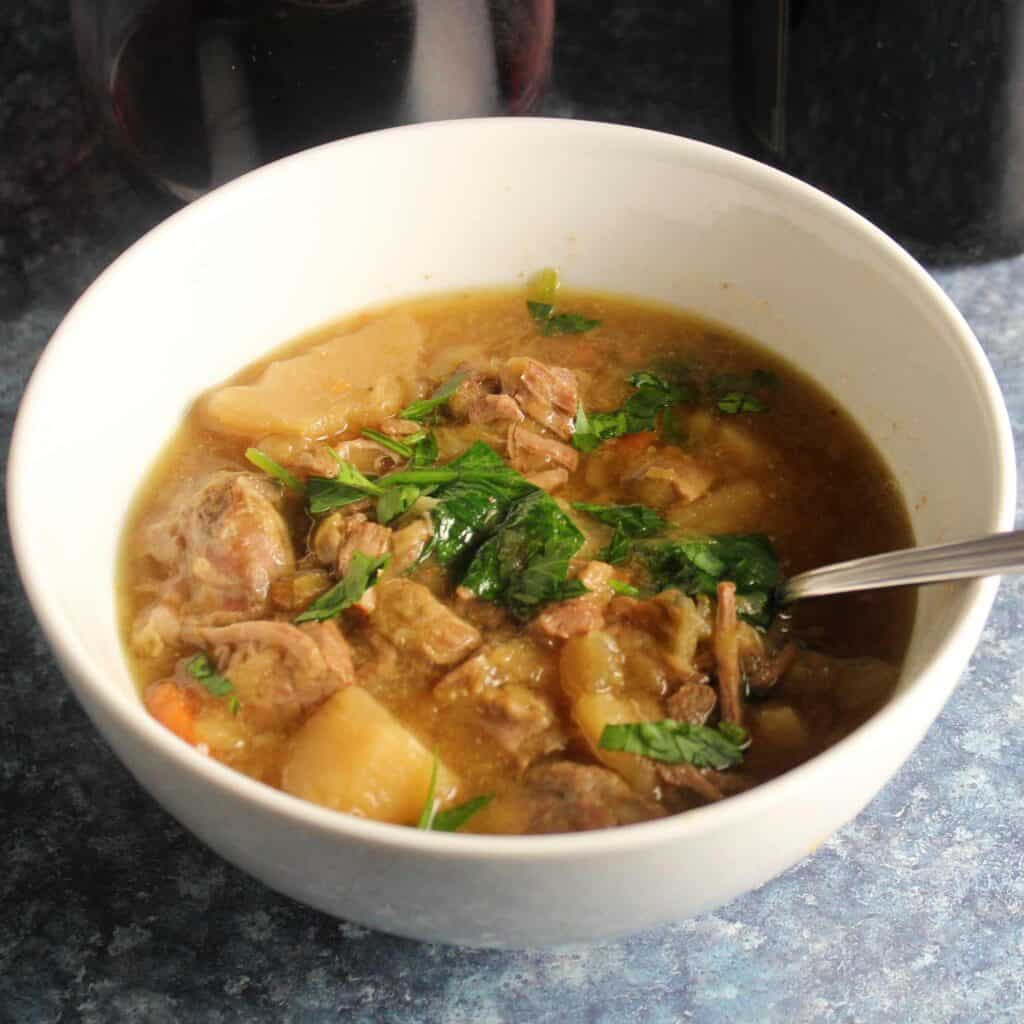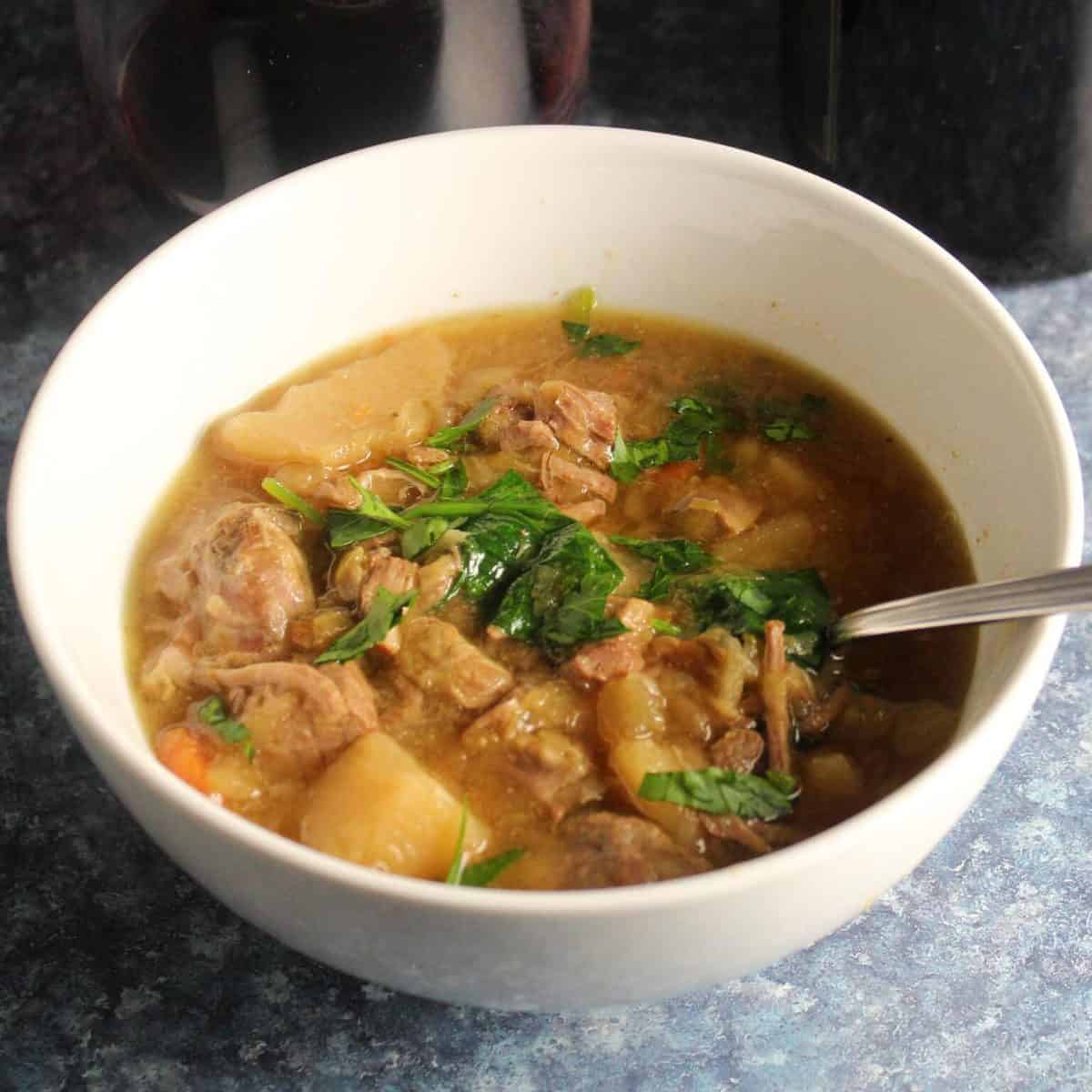 Tender meat and nutritious veggies slowly cook together for a great meal. This Slow Cooker Irish Lamb Stew is a great choice for any winter supper. But you should also keep our Irish stew recipe in mind for St. Patrick's Day. I have served this before instead of the traditional corned beef and cabbage.
If you want some other idea's for St. Patrick's Day, be sure to check out our Real Irish Food article.
How do you make Irish stew in a slow cooker?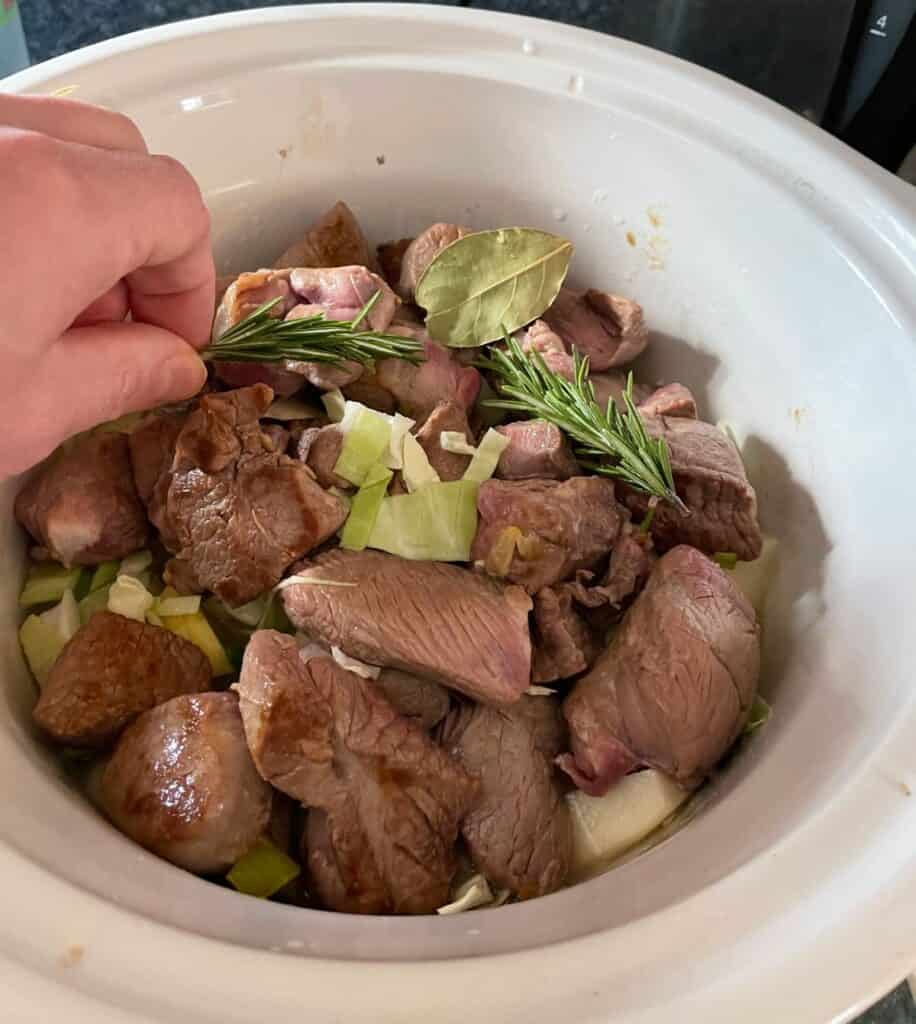 I first made an Irish stew based on a recipe from Irish Country Cooking. The original recipe was quickly cooked on the stove top. I adapted it for the slow cooker with great results. You can start this in the morning for your supper, and enjoy the lamb that is just falling apart in the stew by night time.
Using the slow cooker for your Sunday Supper can be a great option when you have a busy afternoon that doesn't leave much time for cooking. Do your supper prep after breakfast, and get this Irish Lamb Stew going in the slow cooker as you enjoy family time in the afternoon.
This strategy can also be a great option if there is a big football game to watch on Sunday afternoon! You can also start this evening and let it cook over night to be ready for the next day.
Recipe tips
This slow cooker Irish lamb stew recipe couldn't be much simpler. Many of my stew recipes start with an overnight marinade, but this Irish stew recipe doesn't require it.
Just get the veggies sautéed, add them to the crockpot, topped by the potatoes. Then brown the lamb, add it to the crockpot along with the stock and water, rosemary and set the timer. Go about your business, and you'll have a good hearty meal waiting for you!
The last time we made this stew, I added a bit of Tuscan herb olive oil, and that was a delicious flavor boost! We've gotten our flavored evoo from the local (north of Boston) Branch Olive Oil Co., but I included an Amazon link above in case you want to order some.
FAQ about Irish Stew
What part of lamb is best for stew?
Your butcher might have some meat labelled as lamb stew meat. If not, boneless lamb shoulder or leg of lamb can be cut into stew sized pieces.

Can you put raw lamb in a slow cooker?
Technically it is OK to put raw lamb in a slow cooker from a safety perspective. But the flavor definitely benefits from browning first! I would encourage you to take the time to brown the lamb for this recipe. Sometimes I skip this step with leaner proteins like chicken breast or ground turkey, but not in a stew.
What to serve with Irish stew?
This Irish lamb stew is definitely a meal on its own! You could serve it with some good bread (we cover beverages later!). To keep it authentic, try some Irish soda bread or maybe some brown bread. I included some links to Irish bread recipes that look good, I haven't tried them.
How to keep and reheat leftover stew?
This stew keeps for several days in the refrigerator, stored in an airtight container. Like many stews, this gets even better when reheated for another meal! I like to slowly reheat the stew in a large pan for best results. If you have a bit of leftover veggies, pasta or grains from another meal, throw them into the stew, too!
Related recipes
If you like this lamb stew recipe, be sure to check out these recipes:
Drinks to serve with this stew

A pint of a good Irish stout is the the natural pairing choice for this Irish stew. If you are making this Slow Cooker Irish Lamb Stew for St. Patrick's Day, an Irish stout such as Guinness is certainly my recommended pairing. But as you might suspect, I have tested our Irish lamb stew with wine pairings, too!
Wine pairings
Syrah is a natural pairing for lamb, and I have tested both a 100% Syrah and Grenache / Syrah / Mourvedre (GSM) blends with good results.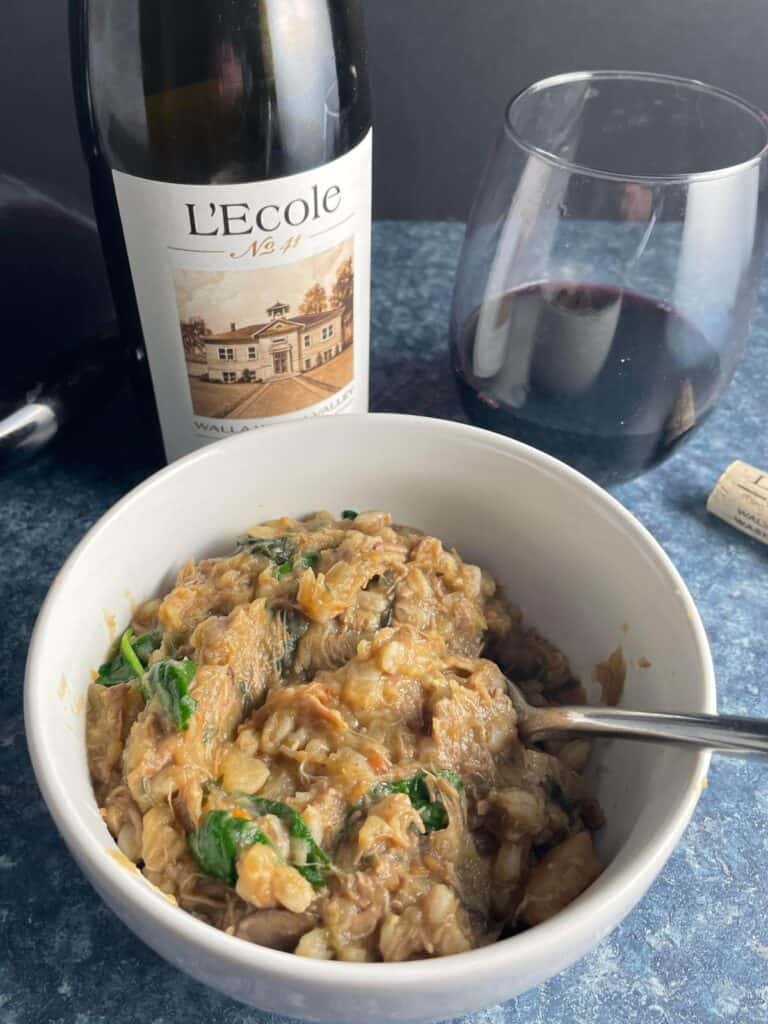 I'm going to lead by talking about an excellent bottle we opened recently to go with a batch of leftover Irish stew. The 2018 L'Ecole No. 41 Walla Walla Valley Syrah ($36, 15 % ABV) is a big red wine from Seven Hills Vineyard, well-suited for stew. I get pine and sage brush on the nose. On the palate, bright cherry fruit and notes of white pepper. This young wine opened up nicely with a little time in the decanter.
The 2018 L'Ecole Syrah is a new release, sent to me as a complimentary sample. The wine is made from 100% Syrah grapes. L'Ecole's Walla Walla vineyards, including Ferguson, are certified sustainable and salmon safe. You can learn more about their sustainability programs here.
We have also enjoyed the L'Ecole Syrah with our Easy Grilled Steak Tips recipe.
It so happened that I also tried a Washington GSM blend with the same recent batch of stew.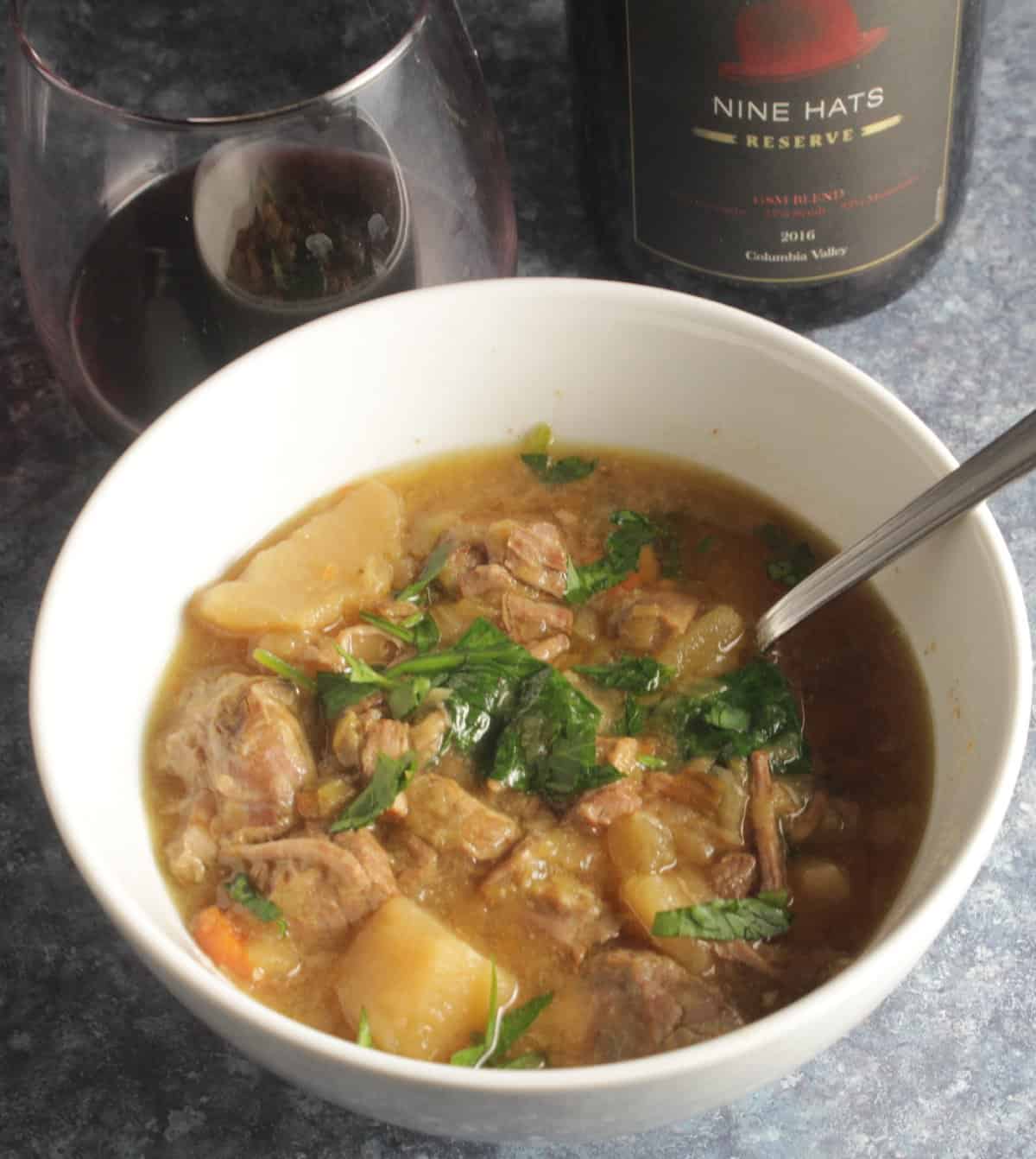 The 2016 Nine Hats Reserve ($40, 15.1% ABV)is a blend of roughly equal parts Grenache, Syrah and Mourvedre (GSM). I get boysenberry and black pepper on the palate, pleasant mouthfeel. Another good option for the Irish lamb stew.
I got the Nine Hats Reserve through the California Wine Club Pacific Northwest program (affiliate link provided). You can read more about my experience with the California Wine Club here.
Previously, I have enjoyed this stew with some good Rhone blends, which is also typically a GSM combination.
So whether you go for Guinness, Old World or US red wine, you are sure to enjoy this hearty Irish Lamb Stew with the beverage of your choice. Sláinte!
Print
Recipe card
Slow Cooker Irish Lamb Stew
Slow Cooker Irish Lamb Stew with tender meat and Irish vegetables for St. Patrick's Day or any chilly night you want a hearty meal.
Author: Cooking Chat
Prep Time:

15 mins

Cook Time:

9 hours 15 mins

Total Time:

9 hours 30 mins

Yield:

6

servings

1

x
Category:

Stew

Method:

slow cooker

Cuisine:

Irish
2 tbsp

olive oil, divided

1

onion, chopped

1

carrot, chopped

1

leek, white and light green part, chopped

3 ½ cups

cabbage, chopped

2

large russet potatoes, peeled and chopped

1 ½

lbs lamb stew meat

4 cups

chicken stock

2 cups

water

2

sprigs rosemary
bay leaf

1 cup

baby spinach leaves

1 tbsp

mint leaves, finely minced (or substitute parsley here)
Instructions
Sauté veggies: Heat 1 tablespoon olive oil in a large skillet. Add the onions, cook for a few minutes, then add the carrots and leek. Cook for about 5 more minutes until the veggies begin to soften. Transfer these veggies into the slow cooker, and add the potatoes and cabbage in a layer on top of the sautéed vegetables.
 Brown the lamb: Return the skillet to the stove, heat the remaining olive on medium. Add the lamb. Salt and pepper the lamb to taste, then cook for 5 minutes on one side to brown. Turn the lamb over, brown the other side for another 5 minutes.
Add lamb to slow cooker: Transfer the lamb to the slow cooker. Pour in the chicken stock and the water, then add the sprigs of rosemary and bay leaf.
Slow cooking time: Cook in the slow cooker for 1 hour on high, 8 hours on low. When cooked, stir in the baby spinach leaves for some nice green color.
Serve hot, topped with a touch of fresh mint, along with a pint or glass of hearty red wine. Sláinte!
Notes
If you want to use a bit more lamb than called for, as I did recently, add an extra quarter cup or so of broth.
Substitute parsley for mint if you like. Mint is a classic herb for lamb, but during a recent remake of the stew I had parsley for something else, and used it instead of buying mint. Worked well.
Keywords: lamb stew, Irish recipes, slow cooker lamb stew
Recipe Card powered by

Sunday Supper Recipes
Super Sunday Entrees
This recipe was originally published as part of a Sunday Supper event. Here are the recipes that were part of the event, for more dinner inspiration!
Sweet Sunday Desserts