Slow Cooker Irish Lamb Stew recipe with tender meat and Irish vegetables cooks slowly throughout the day with no effort. Enjoy it for a wintry Sunday Supper with your family, and keep this Irish stew in mind for St. Patrick's Day! Read on for more details on our Irish lamb stew recipe and the virtues of Sunday Suppers, or click here to jump down to the recipe.

The Sunday Supper Tradition
Today I am joining with fellow bloggers to celebrate the virtues of gathering to enjoy Sunday Supper with our families, as we celebrate #SundaySupper month. Sunday Supper has been a family tradition with me since I was a kid. No matter the temperature outside, you could always count on a good roast beef cooked up by my grandmother, plenty to serve any of the extended family for friends that arrived for dinner.
If we didn't head into Boston to Nana's, we were sure to have a family supper at home on Sunday. That was usually preceded by a family outing of some sort — a nature walk, a visit to an historical site or some other destination that had us pack into the family vehicle.
We have continued the Sunday Supper theme in our home. If there's not a meal with the extended family to head to, late Sunday afternoon I will get into cooking mode. On Sunday I will typically do enough cooking to set us up for some family meals during the busy work week, as well as a good Sunday Supper to enjoy that evening.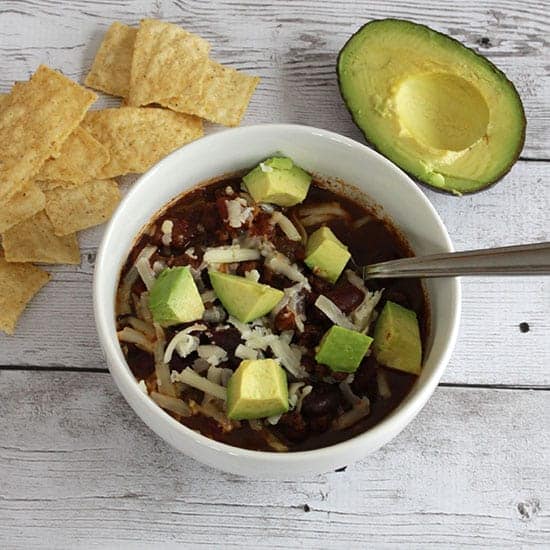 Some of my favorite make-aheads I prep on Sunday are kale pesto which can be used for a quick pasta meal or to top chicken and fish; slow cooker turkey chili shown above that gets topped with avocado later; and making some grilled chicken that can be used for sandwiches.
Prioritizing the family meal through Sunday Supper gets your week off to a good start, and you are likely to keep rolling with those family meals as the busy week gets going. If you are with us on the benefits of getting together for #SundaySupper, please check out the #SundaySupper website to learn more and consider taking the #SundaySupper pledge?
Irish Lamb Stew for Sunday Supper — or St. Patrick's Day!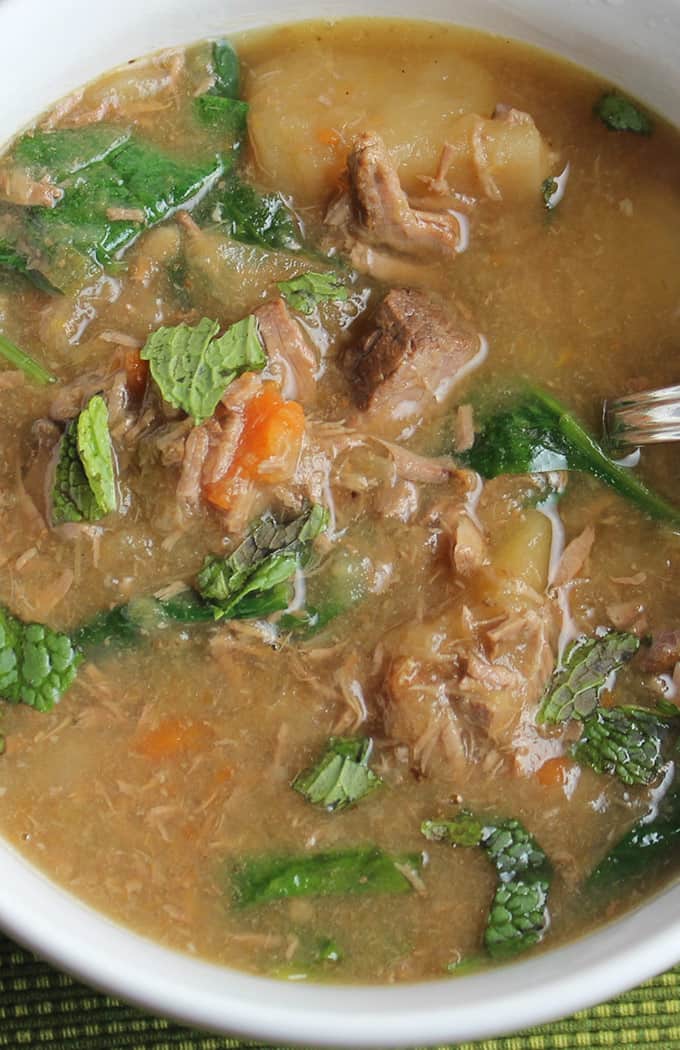 So, what recipe to share for this special day marking #SundaySupper month? I definitely think back to my Nana's Sunday dinners when thinking of my cooking roots, particularly as it relates to cooking to bring family together. Her go to family meal was roast beef, as I mentioned. I have definitely picked up on that, and make a very popular Spoon Roast with Horseradish Cream.
My Nana was 100% Irish, both in ancestry and her focus on basic meat and potato recipes. She also loved her afternoon tea with milk and sugar, very Irish. So an Irish recipe seemed to be the thing for today's Sunday Supper!
I thought this would be a great time to update and re-share my Slow Cooker Irish Lamb Stew recipe. We are in the midst of a frigid spell here in New England, that a hearty Irish stew like ours is just the thing to take the edge off the cold.
Tender meat and nutritious veggies slowly cook together for a great meal. This Slow Cooker Irish Lamb Stew is a great choice for any winter Sunday Supper. But you should also keep our Irish stew recipe in mind for St. Patrick's Day. I have served this before instead of the traditional corned beef and cabbage. If you want some other idea's for St. Patrick's Day, be sure to check out our Real Irish Food article.
How do you make Irish stew in a slow cooker?
I first made an Irish stew based on a recipe from Irish Country Cooking. The original recipe was quickly cooked on the stove top. I adapted it for the slow cooker with great results. You can start this in the morning for your supper, and enjoy the lamb that is just falling apart in the stew by night time.
Using the slow cooker for your Sunday Supper can be a great option when you have a busy afternoon that doesn't leave much time for cooking. Do your supper prep after breakfast, and get this Irish Lamb Stew going in the slow cooker as you enjoy family time in the afternoon. That strategy can also be a great option if there is a big football game to watch on Sunday afternoon! You can also start this evening and let it cook over night to be ready for the next day.
This slow cooker Irish lamb stew recipe couldn't be much simpler. Many of my stew recipes start with an overnight marinade, but this Irish stew recipe doesn't require it. Just get the veggies sautéed, add them to the crockpot, topped by the potatoes. Then brown the lamb, add it to the crockpot along with the stock and water, rosemary and set the timer. Go about your business, and you'll have a good hearty meal waiting for you!
Your butcher might have some meat labelled as lamb stew meat. If not, boneless lamb shoulder or leg of lamb can be cut into stew sized pieces.
Looking for more easy lamb stew recipes? Try our Greek Lamb Stew!
Pairings for Irish Lamb Stew
A pint of a good Irish stout is the the natural pairing choice for this Irish stew. If you are making this Slow Cooker Irish Lamb Stew for St. Patrick's Day, an Irish stout is certainly my recommended pairing. But I have also tested our Irish lamb stew with wine pairings, and have found a good red Rhone blend works. That is typically a Grenache / Syrah blend, if you would prefer a New World style wine. Either way, you are sure to enjoy this hearty Irish Lamb Stew with the beverage of your choice. Sláinte!
Print
Slow Cooker Irish Lamb Stew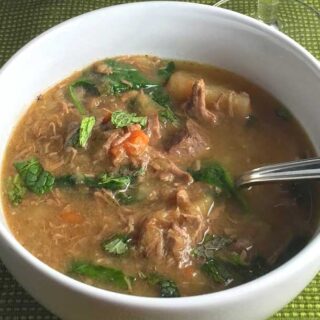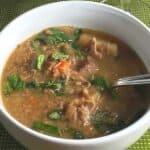 Slow Cooker Irish Lamb Stew with tender meat and Irish vegetables for St. Patrick's Day or any chilly night you want a hearty meal.
Author: Cooking Chat
Prep Time:

15 mins

Cook Time:

8 hours 15 mins

Total Time:

8 hours 30 mins

Yield:

6

servings

1

x
Category:

Stew

Method:

slow cooker

Cuisine:

Irish
Scale
Ingredients
2 tbsp

olive oil

1

onion, chopped

1

carrot, chopped

1

leek, white and light green part, chopped

3 ½ cups

cabbage, chopped

2

large russet potatoes, peeled and chopped

1 ½

lbs lamb stew meat

4 cups

chicken stock

2 cups

water

2

sprigs rosemary
bay leaf

1 cup

baby spinach leaves

1 tbsp

mint leaves, finely minced
Instructions
Heat 1 tablespoon olive oil in a large skillet. Add the onions, cook for a few minutes, then add the carrots and leek. Cook for about 5 more minutes until the veggies begin to soften. Transfer these veggies into the slow cooker, and add the potatoes and cabbage in a layer on top of the sauteed vegetables.
Return the skillet to the stove, heat the remaining olive on medium. Add the lamb. Salt and pepper the lamb to taste, then cook for 5 minutes on one side to brown. Turn the lamb over, brown the other side for another 5 minutes.
Transfer the lamb to the slow cooker. Pour in the chicken stock and the water, then add the sprigs of rosemary and bay leaf.
Cook in the slow cooker for 1 hour on high, 8 hours on low. When cooked, stir in the baby spinach leaves for some nice green color.
Serve hot, topped with a touch of fresh mint, along with a pint or glass of hearty red wine. Sláinte!
Keywords: lamb stew, Irish recipes, slow cooker lamb stew
Recipe Card powered by
Sunday Supper Recipes
Super Sunday Entrees
Sweet Sunday Desserts