We cooked a South African Chicken on the grill and served with the traditional side dish "chakalaka", to enjoy along with a bottle of Chenin Blanc. Allow 3 to 4 hours for the chicken to marinate before quickly grilling it. Disclosure: We received the wine as a complimentary sample from Wines of South Africa.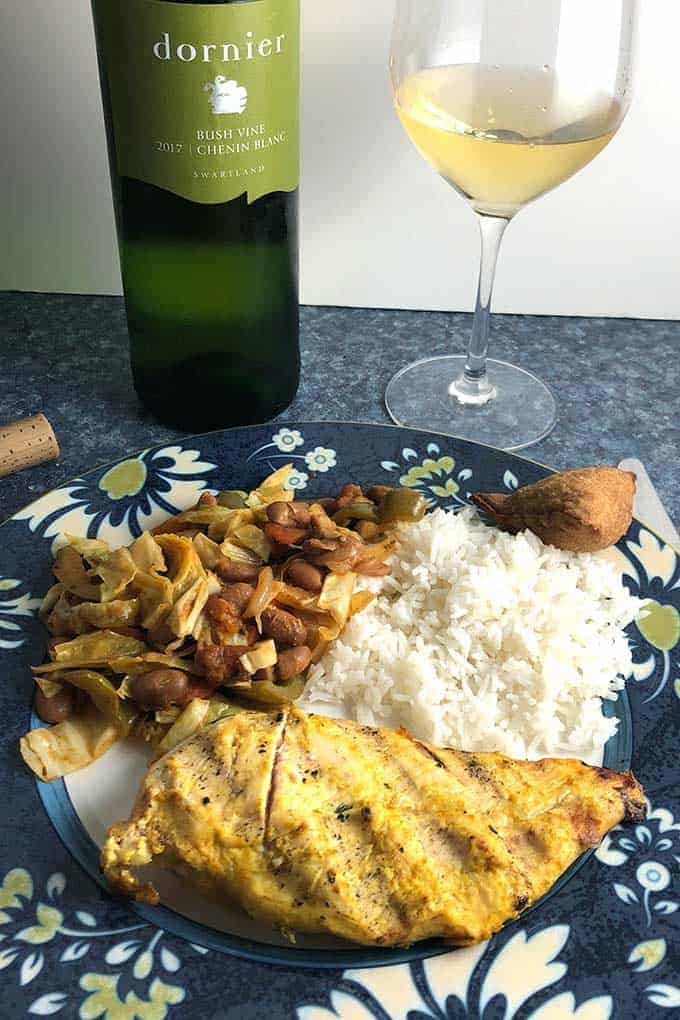 I eagerly raised my hand when Jen from Vino Travels mentioned that there was an opportunity to sample some Chenin Blanc from South Africa. I've had a few that I'd like, but don't know a lot about South African wine in general. Always enjoy the opportunity to learn more!
When the bottle arrived from South African producer Dornier, the question became, what to pair with this Chenin Blanc from South Africa?
Pairing Menu for South African Chenin Blanc
Thinking about South African food, I recalled quite a few years back making a South African curried chicken recipe. South Africa is one of those countries at a geographic crossroads that bring many diverse influences to its cuisine.
Cape Malay cuisine brings together traditions of Malaysia, Indonesia and East Africa, in the Western Cape of South Africa. That's the style of curry I made before, and I thought something along those lines would work with the Chenin Blanc.
The night I planned to open our Dornier Chenin Blanc, I was more in the mood for grilling outside than a long simmering curry dish. So I though about making some South African chicken on the grill, inspired by the Cape Malay flavors.
Making South African inspired chicken
I made a yogurt based marinade filled with those South African curry flavors–fresh ginger, coriander, turmeric and cinnamon.
The chicken marinates for 3 to 4 hours, resulting in a juicy, flavorful chicken. I used chicken breast fillets, so it is key to monitor them closely to avoid overcooking.
Before mixing the marinade with the chicken, you pull out a couple of tablespoons of the yogurt / spice mixture to use as a flavor boost topping the chicken.
Boom! Chakalaka on our South African plate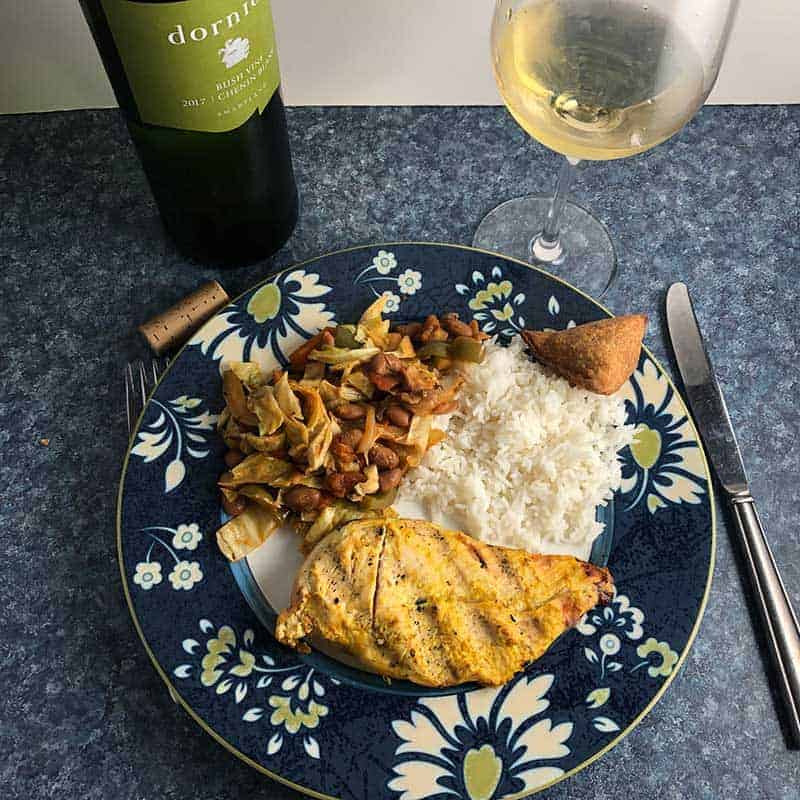 My chicken recipe is more "South African inspired" than an authentic recipe. That's often the way I roll.
But as a side dish, I decided to make chakalaka, a traditional South African side dish featuring cabbage, beans and plenty of spices.
I pretty much followed this chakalaka recipe from Immaculate Bites, with the notable adjusting down of cayenne pepper from 1 teaspoon to about ¼ teaspoon. And it still packed plenty of heat! But kept it within the range of being enjoyable with the wine…which is of course a priority for us!
This chakalaka dish is definitely a good side to add some nutritious veggies along with your grilled meats. I served it warm, but chakalaka is often served cold, so keep it in mind as a make ahead / bring along side for summer gatherings.
We also served the chicken and chakalaka with some rice and vegetable samosas.
Dornier Chenin Blanc
As I mentioned we had a chance to sample the 2017 Dornier Chenin Blanc (14% ABV). I really liked this South African white wine! Very well made Chenin Blanc. Let's break down the tasting notes:
Color: Classic light golden hue.
Nose: Lemon peel on the nose.
Body: Medium to full bodied. Steely mouthfeel.
Palate:

Bright peach fruit along with touch of honey, underlying minerality.

Pairing: Definitely works well with the grilled South African chicken. The medium+ body makes it a good weight for the chicken, and there's enough complexity in the flavor profile to match the spice blend in the marinade. The wine goes better with the chicken, but the honey notes I mention make it a decent pairing for the chakalaka too. As long as you don't do the full teaspoon of cayenne version!
I also noted the complexity of the Dornier Chenin Blanc. The wine is aged in a combination of stainless steel and oak barrels, contributing to that interesting flavor profile.
Dornier Chenin Blanc is sourced from grapes grown in "bush vine" vineyards in the Swartland. Bush vines are untrellised grape vines that grow thick and low to the ground, with the canopy providing some relief from the strong sunlight.
The Swartland is a large wine producing area north of Cape Town. The Dornier winery is located in Stellenbosch, with a striking modern winery set by a rugged mountain backdrop.
The winery was founded in the 1990s by the artist Christoph Dornier, and has subsequently been taken over by his children. In addition to the Chenin Blanc, Dornier produces a wide array of reds featuring Bordeaux grapes like Cabernet Sauvignon and Merlot, as well as a Pinotage.
For another tasty Chenin Blanc pairing, check out the Ground Turkey Enchiladas we served with a good bottle from Mexico.
Print
Recipe card
Grilled South African Chicken
Chicken marinated in yogurt and South African spices grilled for a flavorful, juicy chicken.
Author: Cooking Chat
Prep Time:

10 mins active, 3 hours marinade

Cook Time:

12 mins

Total Time:

3 hours 22 mins (including marinating)

Yield:

8

servings

1

x
Category:

main

Method:

grilling

Cuisine:

South African
For the marinade
1 ½ cups

plain yogurt

1 tsp

fresh ginger

1 tsp

garlic powder

1 tsp

turmeric

½ tsp

coriander

½ tsp

cinnamon

½ tsp

salt

1 tbsp

extra virgin olive oil

1 tbsp

orange juice
Instructions
In a medium bowl, combine all the marinade ingredients, yogurt through orange juice.
Scoop out 3 tablespoons of the marinade, and place in a container to use as a topping. Refrigerate this portion of the yogurt spice mixture.
Place the chicken in a sealable plastic bag. Add the remaining marinade to the bag, and seal. Gradually toss the chicken around in the marinade bag until it is well coated.
Place the chicken in the refrigerator to marinate for 3 to 4 hours.
Preheat a grill to medium high, leaving the back burner off if you have a gas grill. Take the chicken out of the refrigerator as the grill heats up.
When the grill is ready, shake the excess marinade off, then place the chicken on the direct heat portion of the grill. Grill the chicken on one side for 5 minutes, then flip the chicken to grill toward the back of the grill for another 6 minutes. Check the chicken for doneness–chicken should be 165 degrees internal temperature when done. Put the chicken back on the grill for a few more minutes if it isn't done after the first 11 minutes of grilling, and remove when done.
Place the chicken on a platter. We typically cut the chicken fillets in half, and start each person with that portion. Pass the extra yogurt mixture at the table so people can add a bit of it as a topping for their chicken. Enjoy with chakalaka and South African Chenin Blanc for the full South African dining experience!
Notes
Important food safety note: never use remaining marinade that had contact with meat as a topping, unless it has been heated to a safe temperature for at least 10 minutes. That is why we set aside some of the yogurt / spice mixture prior to introducing the chicken.
Chicken grilling time will depend on size of the chicken breast.
We used coconut mild yogurt but you can use whatever plain yogurt you like.
Keywords: South African Chicken, yogurt spice marinade for chicken, food to serve with Chenin Blanc
Recipe Card powered by
More South African Wine Pairings from Wine Pairing Weekend
Take a look below at all the great ideas for food pairings with your South African wine. We'd love for you to join our chat on Saturday June 8 at 11 am EDT. Just look for #WinePW on Twitter and join in!
And for another South African pairing from Cooking Chat, check out Turmeric Spiced Steak and South African Wine Pairings.