This month with the French Winophiles we focused on picking cheese to serve with French wine. We started with two bottles, a Pomerol red wine and a rosé from Coteaux du Vendômois. Disclosure: the wines discussed in this article were provided as complimentary samples.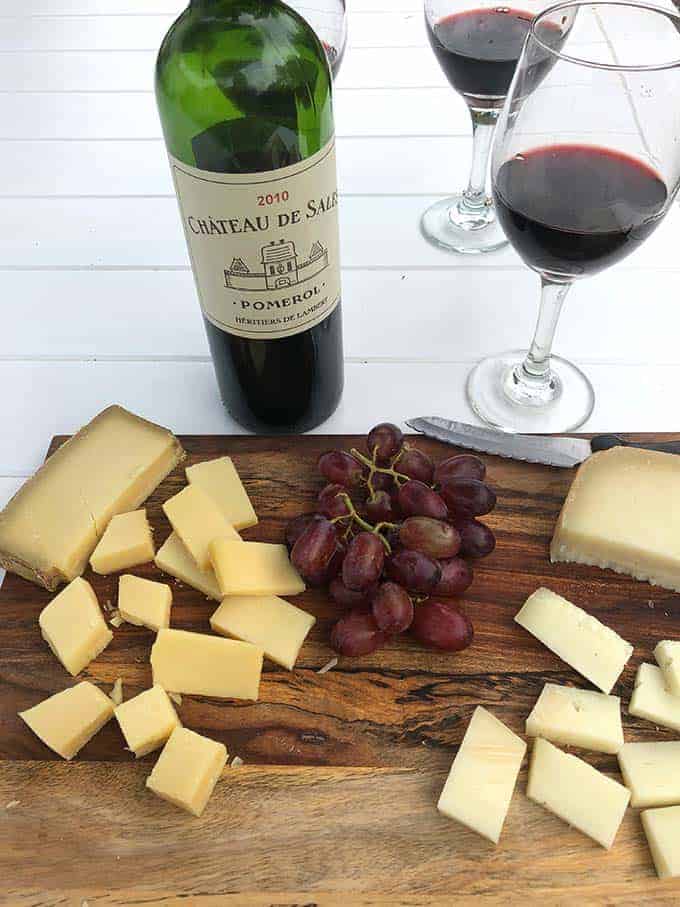 We had a fun assignment this month, "picking cheese to serve with French wine", for the Winophiles event hosted by Martin at Enofylz Wine Blog.
The overall topic is pretty broad, but we had two bottles for which we needed pairings, a red Pomerol and a rosé from Coteaux due Vendômois. Pomerol reds tend to be bold, Merlot dominated Bordeaux blends.
When I plan food and wine pairings, I tend to be focusing on creating a good match between the entree and the wine. Sometimes cheese is used in the dish, and that can enhance the wine pairing. And I'm always happy to nibble on some cheese while enjoying a glass of wine.
Focusing on a cheese selection to serve with some good French wine isn't something I've done very often. We did have a chance to test out a variety of French wine and cheese pairings for a past Winophiles event, so I did have that experience to draw upon.
Picking Cheese to Serve with Our French Wine
I probably should have started with some background reading to help inform our cheese picks to go with the wines we had. But we needed to bring some cheese to a recent gathering, so I figured it would be the perfect time to test out some pairings for the Pomerol.
Fellow Winophile Jeff from foodwineclick had seen my tweet about finding cheese pairings for this month's wines and suggested "I'd go with firmer cheese w/ Pomerol (yum by the way!), like Comte or Ossau Iraty".
They had a Comte available at our local Whole Foods, so I grabbed that. They didn't have an Ossau Iraty, so I chatted with the cheesemonger there about alternatives for the Pomerol, and he pointed me in the direction of of a similar sheep's milk cheese from the Basque region.
I did circle back to do some research to inform the pairings we tasted. Wine Folly's Six Tips on Pairing Wine and Cheese leads off with "pair wines and cheeses with equal intensity". That tip definitely seemed to underly the recommendations for the Pomerol.
Finding a pairing for the rosé
I tend to think about serving a rosé with olives and/or some charcuterie, if I'm not pairing it with an entrée. My inclination said a lighter cheese would be the way to go with a rosé, perhaps a goat cheese.
I asked Elizabeth, a cheese expert at Pairings Wine & food, and she agreed about a goat cheese. Chatting about a 2nd cheese to try, we concluded it would be worth trying a brie, too.
Cheeses Paired with Pomerol
OK, it's time to talk about how those cheese picks for French wine worked!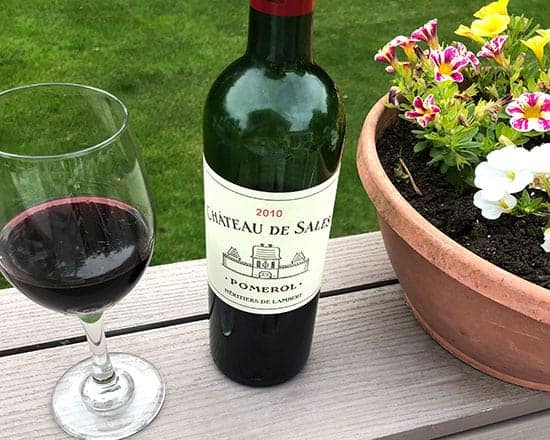 The 2010 Chateau de Sales Pomerol ($38, 14% ABV) is a bold, dry red wine. I get berries and currants on the palate, and well integrated tannins for a pleasant finish. In a fairly typical blend for the Pomerol appellation, this red wine is a blend of Merlot (82.5%), Cabernet Franc (12.5%) and Cabernet Sauvignon (5%). 95% of the wine is aged in one to three year old oak barrels, 5% in new oak.
The Agour Mendia cheese that was suggested is apparently quite similar to the Ossau Iraty that Jeff had suggested. The Mendia is a Basque sheep's milk cheese that is in the words of The Wine and Cheese Cask "more balanced, with enough sharpness to counter the mellow grassy notes and the richness of the sheep's milk."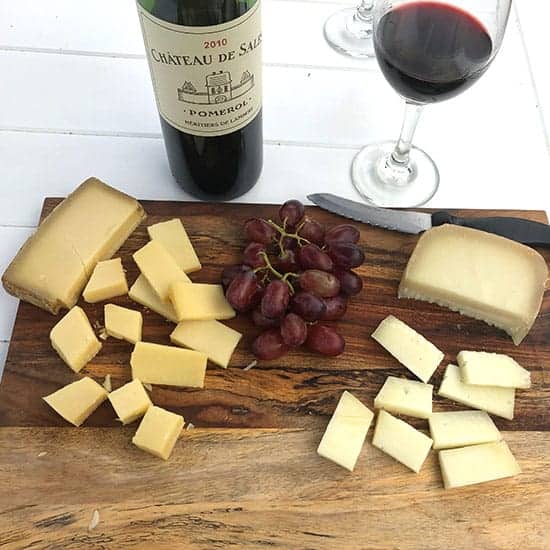 The Comte we had was a bit stronger than the Mendia. Initially I found myself saying I liked the Comte better with the Pomerol, as I liked its bold flavor. Then my brother in-law Doug commented that the Comte was perhaps a bit too strong for the wine, and the Mendia might be a better companion for enjoying with the wine.
I tasted both pairings again, and saw some wisdom in Doug's observation. I'm going to say this one is too close to all! You will have to get yourself a bottle of this Pomerol from Chateau de Sales and the cheeses to try with it, and let me know which pairing you like best.
Cheese Picks for Coteaux du Vendômois Rosé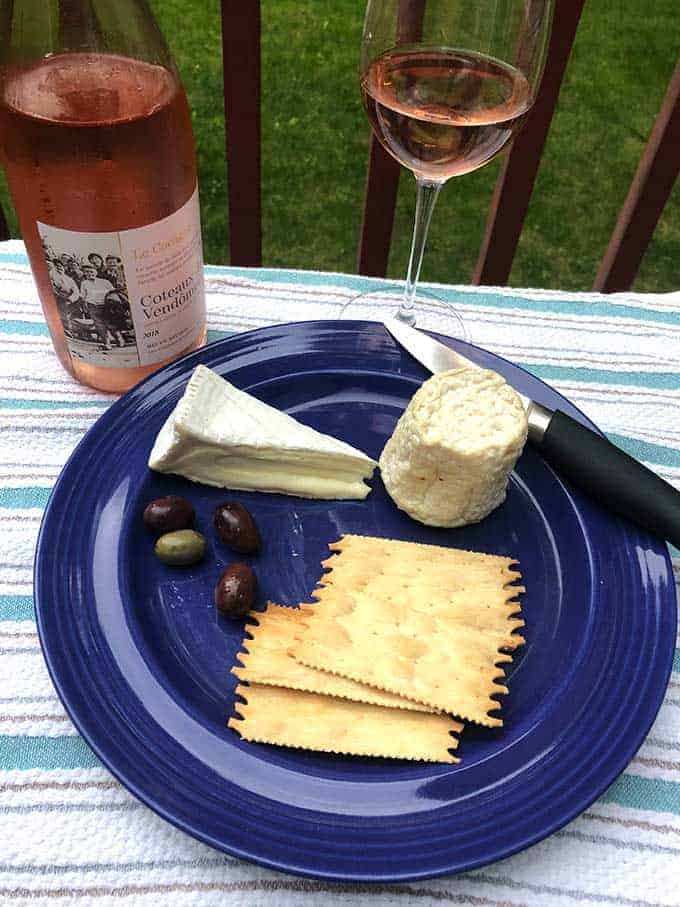 2018 Le Cocagne Gris Coteaux du Vendômois Rosé ($11, 14%) is medium pink in glass. Light floral nose, with melon fruit and some notes of salinity. The wine is made from 100% Pineau d'Aunis grapes, and is aged on lees for a few months. Pineau d'Aunis is a red wine grape grown mostly in the Loir Valley region, and is also known as Chenin Noir.
First we tried the rosé with Le Chabichou d'Antan goat cheese from Bourgogne. The goat cheese is creamy, with a subtle flavor. There is some acidity to the rosé, which helps refresh the palate after a bite of the creamy cheese.
The brie was creamy and bit more flavorful than the goat cheese, but still on the mild side.
Overall, I thought the cheese pairings for the Coteaux du Vendômois Rosé were reasonably good, I would put them in the B/B+ range. There's something about the goat cheese that makes me rank it slightly ahead of the Brie. I'd still prefer olives or maybe a tapenade pairing with this rosé, and would be curious to try the Brie with a nice white Burgundy.
About Coteaux du Vendômois
The Coteaux du Vendômois appellation in has an interesting history, going back to King Henri IV placing a royal order for some of the regions wine back in the year 1000. Future leaders apparently didn't value the wine as much, as farmers in the region were encouraged to switch to grain crops after World War II. This dropped the hectares under production to 500 at the time and has further dropped to about 150 today.
When I first saw the Coteaux du Vendômois being described as being in the "Loir" Valley, I thought an English translation had dropped the e by mistake. However, the Loir is actually a tributary of the Loire River, placing the Coteaux du Vendômois appellation a bit north of the better known Loire. Coteaux du Vendômois extends over 28 communes in the loops of the Loir region, between Vendôme and Montoire.
Today's Featured Producers
Chateau de Sales is the only Bordeaux property to be passed from one generation to the next since the 15th century. Today Chateau de Sales is jointly owned by 14 cousins, who are committed to keeping up the tradition of high quality wines produced under family management. There are 47.6 hectares of vines under production on the 90 hectare estate.
Les Vignerons du Vendômois is a cooperative winery, representing 75% of the Coteaux du Vendômois appellation. The vines sourced for the cooperative are grown on plateaus and hillsides on soils composed of Turonian limestone surmounted by flint clay. Vinification is done in stainless steel tanks with temperature control.
More French Wine and Cheese Pairings
Be sure to check out all the other articles about French wine and cheese pairings from my fellow Winophiles! And if you read this in time, join our live Twitter chat at 11 a.m. Eastern time by tuning into the #winophiles hashtag.
And you might also like these other posts from Cooking Chat