Turmeric Spiced Steak is a flavorful recipe for juicy grilled steak. We served it with a Pinotage red wine from South Africa. We also enjoyed that Pinotage with some South African cured beef called biltong. Read along for the food and wine pairing details, or or click here to jump down to the recipe.

I haven't gravitated toward South African wines very often, so I was ready to do some experimenting when Sarah suggested focusing on the region for this month's Wine Pairing Weekend event.
White wine made from Chenin Blanc is what I have had the most from South Africa, and have enjoyed a number of bottles over the years. Pinotage is what has deterred me from trying more South African wine. The first few times I tried this distinctive red wine from South Africa I was turned off by a meaty characteristic that I said tasted like zebra. Given that I haven't eaten zebra, this tasting note was clearly influenced by knowledge of the wine's origins.
Being open minded, I have tried Pinotage a few times recently at Pairings Wine & Food, and started warming up to it a bit. I decided to focus on pairings with Pinotage for our #winePW exploration of South African wines. We started out by pairing biltong with Pinotage, followed by serving the wine with our Turmeric Spiced Steak recipe.
Biltong and Pinotage Pairing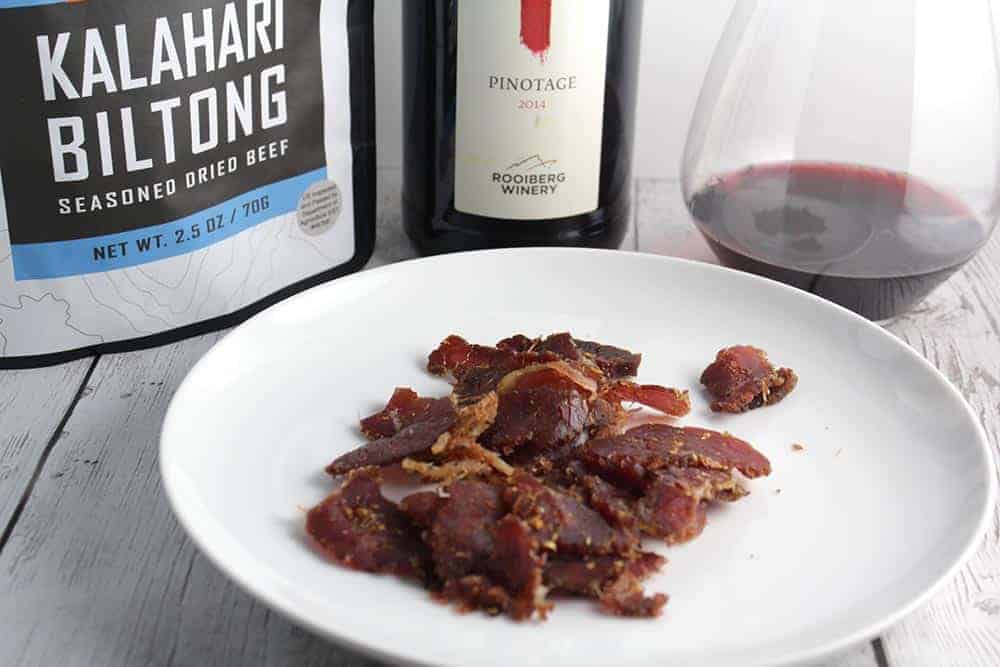 I had never heard of biltong until I met one of the founders of Kalahari Biltong offering samples at Pairings. When this South African meat snack was described as a cross between beef jerky and prosciutto, I was up for trying it based on the mention of the latter. I really liked the flavors, enhanced by a bold red wine pairing. I enjoyed hearing about how the co-founders discovered biltong during a trip to South Africa to compete in an Ironman and Ultra Marathon. I also appreciated the simplicity of the snack, just good beef along with five other natural ingredients.
As you might suspect, the meat and spices of the biltong paired very well with the 2014 Rooiberg Winery Pinotage. More details on the wine follow below.
Turmeric Spiced Steak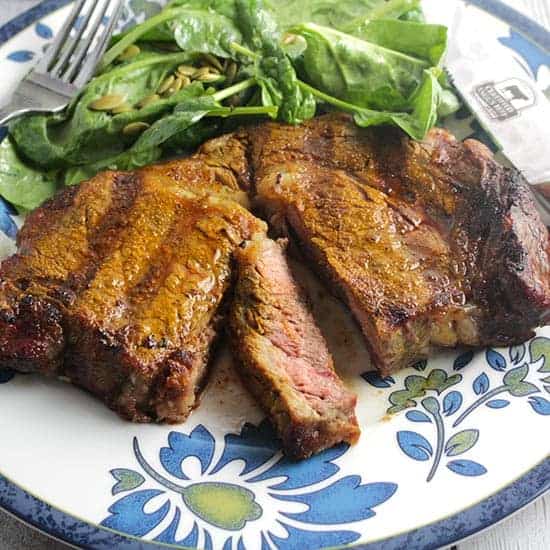 I have a go to spice rub for steak made with garlic powder and cumin, but you've got to mix it up sometimes! When I started thinking about pairings to go with Pinotage, I recalled some South African foods feature various curries. This got me thinking about Indian food, and my intention to come up with some new recipes featuring turmeric.
You might already know turmeric is a popular ingredient these days, but may well also be saying, "What is turmeric?". Turmeric is a bright yellow powder obtained from turmeric plants, which is in the ginger family. Turmeric has long been thought to have anti-inflammatory qualities, and now has been suggested as being helpful for a number of different health reasons, summarized in this article. If you're ready to go order some ground turmeric, here's my Amazon affiliate link.
I think of turmeric in curries and other Indian dishes, and primarily either for chicken or vegetarian recipes. But I suspected it would add some good flavor to our grilled ribeye steak, and combined it with coriander, garlic and salt. If you want to try to get some turmeric into your diet, our Turmeric Spiced Steak recipe is a good place to start! Of course, ribeye has plenty of flavor on it's own, but the turmeric does add some notable yet nuanced peppery spice to the meat.
You could certainly use this rub with other cuts of steak such as NY strip steak or sirloin. I suspect it would be good on a pork chop, too!
Pinotage Wine Pairing for Turmeric Spiced Steak
As mentioned earlier, I opened a bottle of 2014 Rooiberg Winery Pinotage ($12, 14% ABV) for to pair with our Turmeric Spiced Steak. I got underbrush and sage on the nose. Plum fruit and cinnamon notes, also some leather. A meaty wine, with a nice smooth finish. This Pinotage definitely has the heft to stand up to the steak, and the leather and cinnamon spice played along nicely with the turmeric spice. Definitely a good pairing for the turmeric spiced steak recipe, and also very good with the biltong. This wine is a great value at around $12/bottle, and I will be getting it again.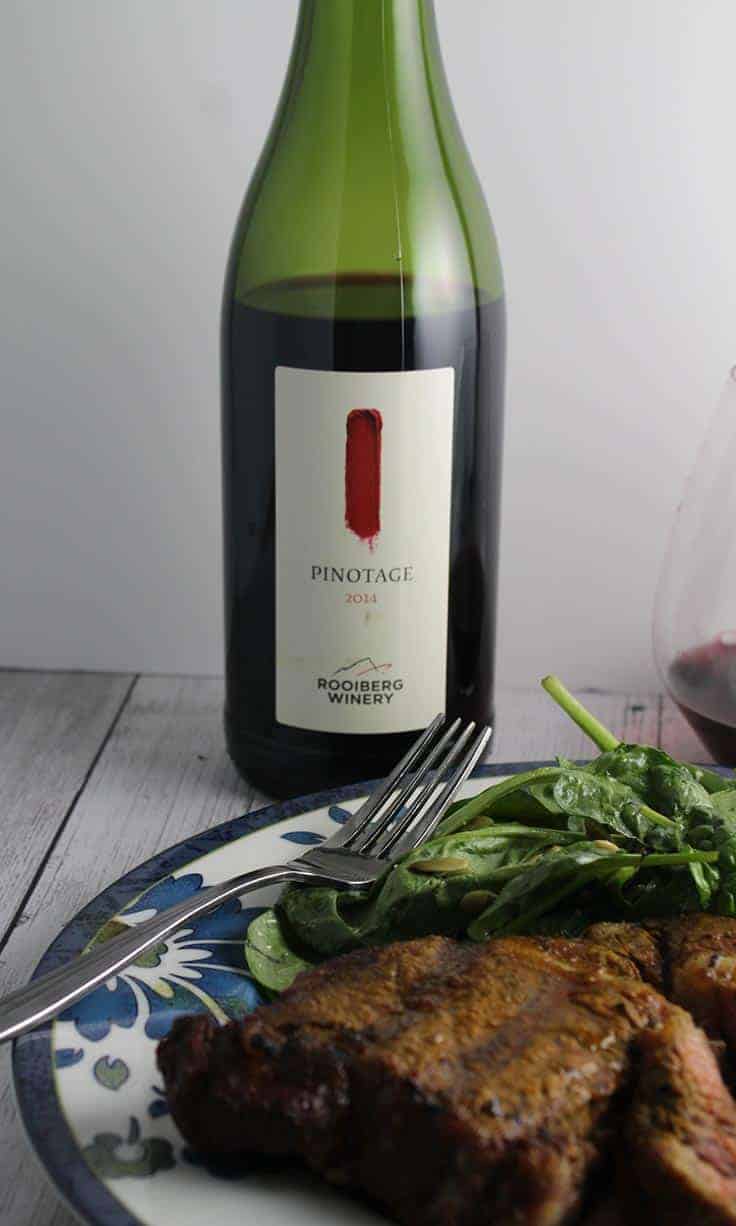 Rooiberg Winery is located near Rooiberg Mountain, in the Robertson Wine Valley. I know very little about South Africa's wine regions, but can tell you that the Robertson Wine Valley is in the Southwestern part of South Africa.

Print
Recipe card
Turmeric Spiced Steak
Turmeric spice rub flavors juicy grilled ribeye steak.
Author: Cooking Chat
Prep Time:

5 mins

Cook Time:

14 mins

Total Time:

19 mins

Yield:

4

servings

1

x
Category:

Main

Method:

grilling

Cuisine:

Grilling
½ tsp

turmeric

¾ tsp

coriander

1 tsp

garlic

1 tsp

salt

2

ribeye steaks, about 28 ozs total (or other cuts such as NY strip steak or sirloin)
Instructions
Combine turmeric, coriander, garlic and salt in a bowl.
Sprinkle some of the rub over the steaks, and rub into the meat. Turn over, and repeat. Let the steaks sit at room temperature with the rub for about 15 minutes.
Preheat a grill to medium high. Spray the grill with oil spray. Place the steaks on the grill, and cook with the grill covered for 7 minutes. Turn the steaks over, and cook for another 7 minutes.
Check the steaks for doneness after 14 minutes total grilling time, which is roughly how long it should take to get the steaks done medium rare. Adjust grilling times based on steak thickness and your preferences.
Slice the steak, serve and enjoy!
Keywords: turmeric spiced steak, grilled steak recipes
Recipe Card powered by
South African Wine Pairings
Here is a look at the wines and pairings the Wine Pairing Weekend group explored this month!
Coming Up for #WinePW
Our September #winePW theme will be "Grüner Veltliner Pairings," on September 10th, 2016. The event will be hosted by Martin at ENOFYLZ Wine Blog, so keep an eye out for details!
For a list of past and upcoming #winePW event, visit the Wine Pairing Weekend calendar. We'd love to have you online with us!