I don't get to New York City too often, so after spending the day at the TechMunch conference it was fun to meet up with a college roommate and one of his friends from grad school. As we enjoyed a pint at a rooftop bar with a nice view of the city skyline, we began to consider our dinner options.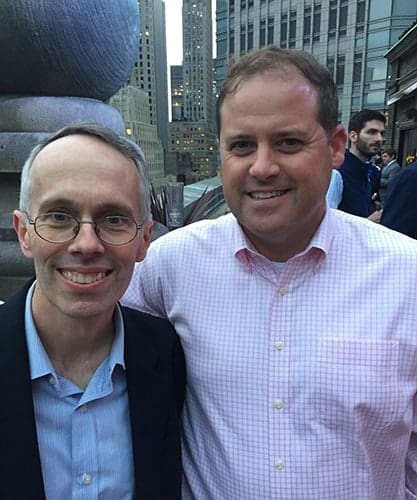 My friend Jim had just closed on a house the day before, plus I was pretty pleased to have just finished up my first cookbook. So we were in the mood for a special meal. New York City has plenty of choices to offer of course, but Jim quickly honed in on Ai Fiori, extolling the virtues of Chef/Owner Michael White. We were not disappointed with the recommendation! I can definitely recommend Ai Fiori as a good choice for a special meal in New York City.
Located within the Langham Place Hotel on 5th Avenue, Ai Fiori has a luxurious, chic feel. We started with a glass of very nice Prosecco at the bar as we waited for our table. Checking back at the menu online, I believe that was the Prosecco di Valdobbiadene Extra Dry we enjoyed, with a dry and nutty character. The bar area was busy on the Thursday night, but not overly crowded. Overall, the restaurant was buzzing with activity yet the noise level was restrained enough to allow for easy conversation.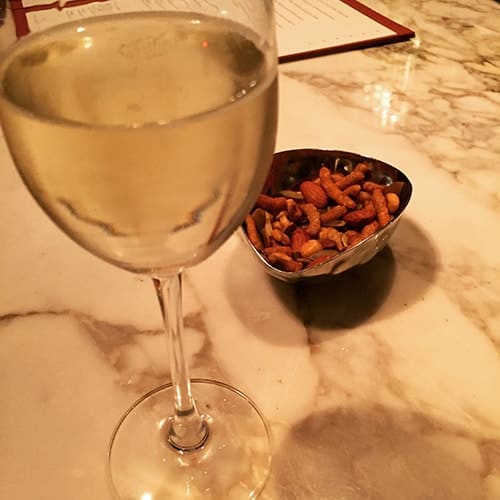 We didn't have to wait too long for a table–Jim had called in about 30 minutes before we headed over the the restaurant. As we settled into our seats and reviewed the menu, we quickly landed on the four course prix fixe menu as the way to go. For $97, you get to pick one item from each of the major sections of the menu: appetizers, pasta or risotto, meat or fish, and dessert. There are modest supplements for a few items. I would definitely recommend going for this prix fixe option if you have a chance to visit Ai Fiori.
A tasty little amuse-bouche came out while we were waiting for our starters. I'm not sure exactly it was but I enjoyed it! It presented nicely, here's the photo, perhaps you can guess what's in it?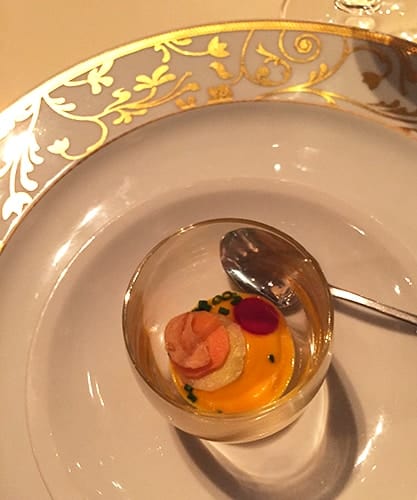 I started with the Crudo di Dentice, which red snapper crudo, garlic crema, crispy shallots and trout roe. Crudo is a raw fish preparation common in Spanish and Italian coastal towns. Thus, it is keeping with Ai Fiori's focus on cuisine from the Italian Riviera. Though I'm not a huge fan of sushi or other raw fish preparations, the tender fish and roe went very nicely with the garlic and shallot flavors. Definitely a tasty start to the meal!
The server was very attentive to the wine selection process. I aimed to use my knowledge of somewhat off the beaten path grape varietals to find some good but relatively modest pairings for us. I ordered us a bottle of the Montenidoli Vernaccia di San Gimignano "Fiore". The Vernaccia was crisp and refreshing to sip as we considered our food options, and it paired very well with the seafood starters.
I was excited to get to the next course, as Chef White is known for great pasta dishes…and you don't have to spend too much time on this blog to figure out that I love pasta! I chose the agnolotti, a short filled pasta shape a bit like a ravioli. This agnolotti was filled with braised veal and prepared with parmesan, leeks, pine nuts and "black truffle sugo". Yes, it was this last ingredient with the black truffle mention that had me pick this dish out of many tasty pasta offerings. The black truffle sauce added a luxurious depth to the pasta, and made me a very happy diner. I'd have to say this was my favorite course!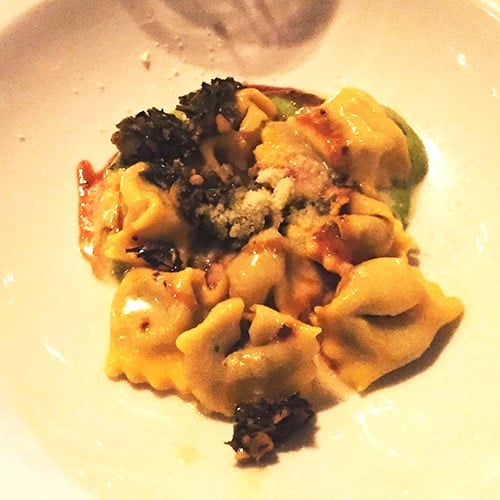 My friends had mentioned wanting a big Italian red wine for the latter courses. But after the bottle of Vernaccia, I gravitated toward a lighter red selection (lighter compared to a Brunello!) that would pair with our pastas. The 2011 Dolcetto d'Alba "Rossana" fit the bill nicely. I find Dolcettos can be a nice pairing for pastas, and also can have a enough substance to go with meat. So this bottle was definitely a winner for the meat and fish filled pastas we'd selected. As it turned out, we were still working on the bottle when our meat course rolled out. Though this bottle wouldn't be described as a "big red", it did stand up reasonably well to our meat course.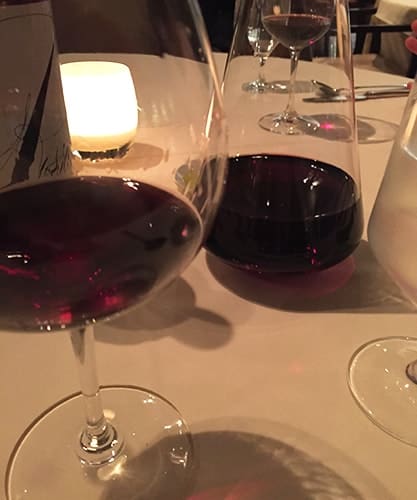 Speaking of the meat course, I went for pork tenderloin served with a pureed potatoes, fennel and crispy pork belly. Lots of great flavor! Pork can easily get overcooked, but this was done just right to keep the juicy flavor that was enhanced by the supporting cast ingredients. Pork two ways on my plate is usually going to lead to good results! I'm not sure how the Dolcetto worked for my friends' meat choices, but the medium bodied red was definitely a fine companion for the pork.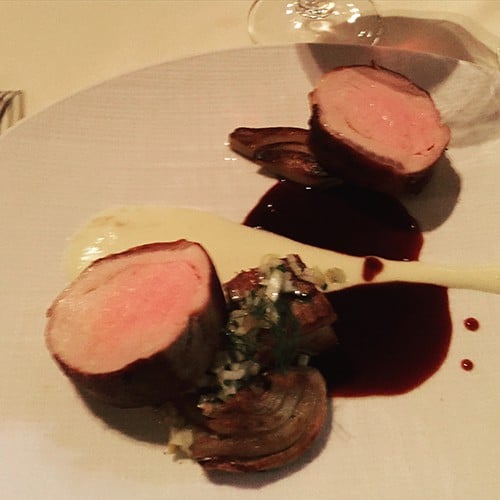 I am more a fan of savory than sweet, so I finished up with a cheese course. It was good, but after the other three courses I can't say I had a big appetite for a cheese plate. Next time I might go for the sweet choice. By the end of a long day and three courses, I did not study the wine list as carefully for a final bottle as I did for the first two. I simply asked if they had a Sauternes, which as you might suspect led to a very enjoyable wine but also inflated our final bill a bit!
Of course, there are many options when choosing a restaurant for a special meal in New York City. As an infrequent visitor, I am certainly not one to provide comprehensive guidance. But I can vouch for Ai Fiori as being one good choice for a great meal in NYC!