Our Super Easy Spicy Green Onion Dip recipe only takes 10 minutes to whip together, thus earning its name. Sour cream, garlic and cayenne pepper combine with the green onions for a ton of flavor. This is one of our family favorites, and probably our most made appetizer.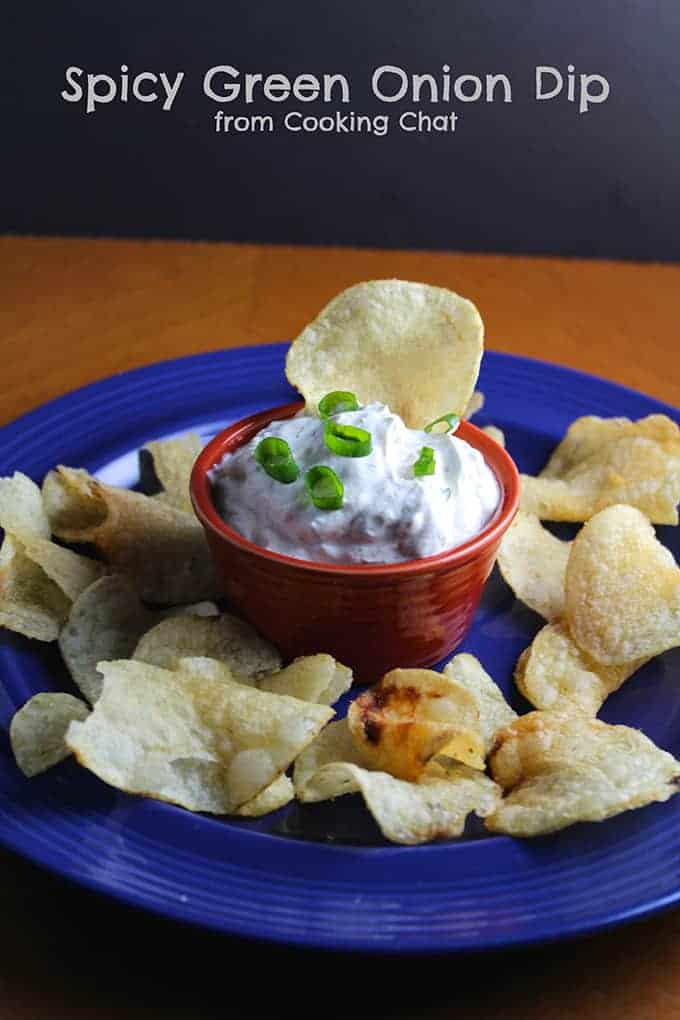 If this dip weren't so good, my family would be pretty tired of it now. Seems like any time I need to bring an appetizer for an extended family gathering, I'm making this Super Easy Spicy Green Onion Dip.
This dip is so fast and easy to make, I can whip it up in 10 minutes, making it perfect for busy times. When visiting to watch a big game or celebrate a holiday, I often will quickly make this old standby, then bring something different along with it. The majority of my extended family and friends like some spice, so they are always quick to dive into the green onion dip when I set it out.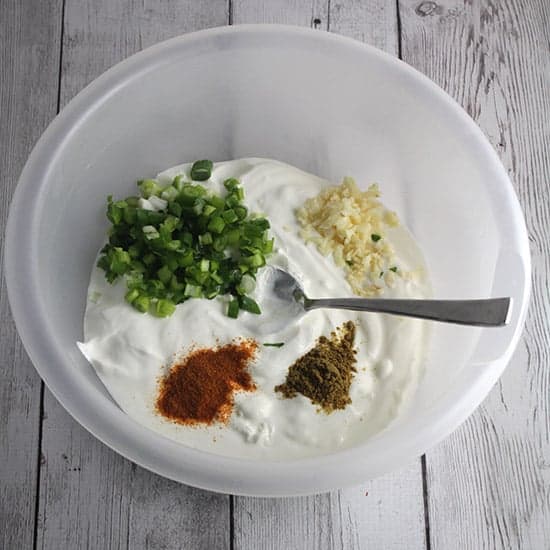 Just be sure to everyone has a beverage ready when they sample this spicy green onion dip! I'll have some tips on what to pour in a minute.
For Christmas, I've gotten in the habit of bringing this Spicy Red Pepper Dip along with the green onion dip. Other times, I might whip up something new. This Roasted Beet Dip with Fennel and Garlic is a new creation that was a big hit; another good veggie based option is this Roasted Asparagus Dip.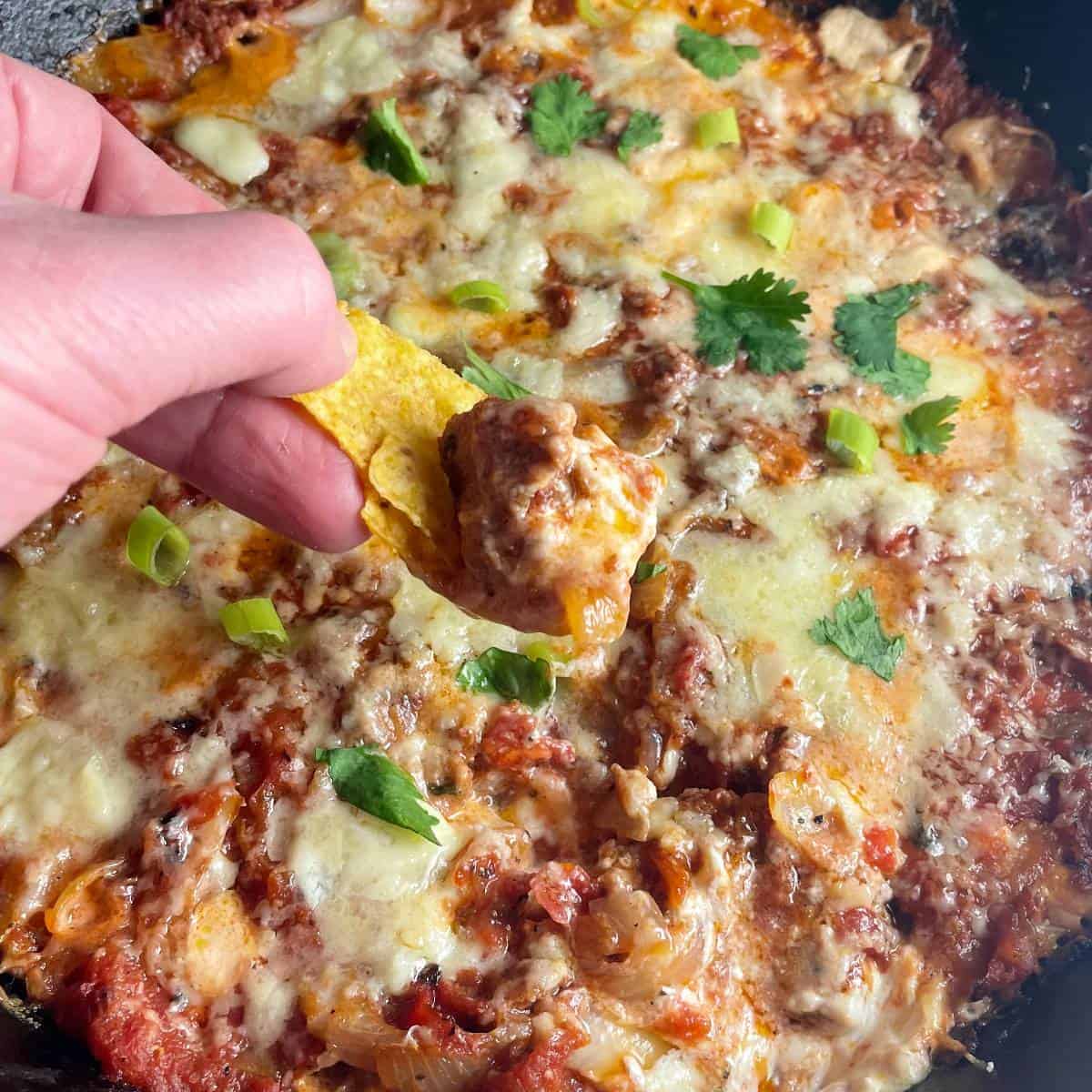 One more recipe to check out that was a holiday hit — our spicy chorizo dip!
I got the basic idea for this from a cookbook I have since misplaced. I've tweaked the recipe over time, and landed on this combination which seems to be just the right amount of spice for our tastes. You can experiment for yourself to see how much kick you want. The cayenne is the key variable that you can turn up or down slightly to change the heat.
Give this Spicy Green Onion Dip a try soon (some nibbling while watching the big game next Sunday, perhaps?), and I suspect it will soon be a regular part of your recipe rotation, too!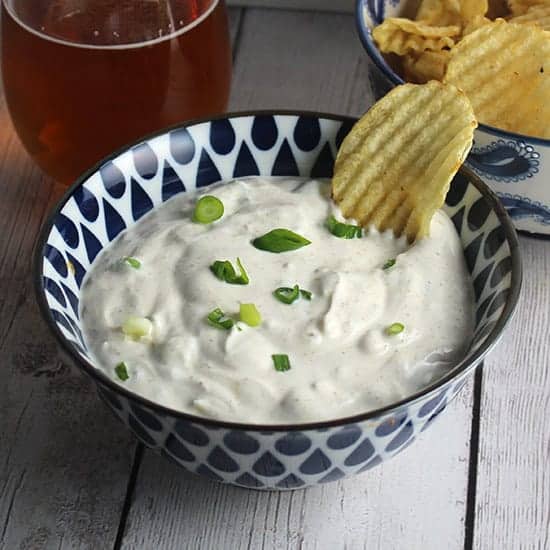 This is a great game day recipe, too. For more ideas along these lines, check out our 12 Super Recipes for Game Day. And be sure to try our Easy Mexican Dip soon, too!
Make ahead
You can make this dip a day ahead of when you want to enjoy it. The green dip is best enjoyed with a couple days of making it.
After a day or two, the dip needs to be stirred up again to get a good consistency.
How long does this dip keep?
This spicy green onion dip with sour cream can last up to 7 to 10 days in the refrigerator. Give the leftover dip a good stir before serving it to reincorporate any liquid that has separated out from the dip.
Pairings for this recipe
As I said, you will definitely want to have a beverage ready when you sample the green onion dip! An IPA style beer is my go to option for something with a pretty good amount of spice like this. We have plenty of great IPAs made here in New England you can pour while you cheer on the 5 time champions! (sorry, couldn't resist that plug!).
If you do want to try wine with this dip, go with something with a bit of sweetness and spice, like a Gewürztraminer. We have enjoyed the spicy green onion dip with a glass of Moscato Giallo, a light Italian white wine with notes of white pepper, kiwi and honey.
During a 2020 remake, we sipped some sparkling rosé along with the dip and that worked.
Another wine pairing idea for this dip is to try it with a Sweet Bordeaux wine. Linda tested this out and gives it a thumbs up in her article about pairings for Sweet Bordeaux.
Another strategy I've employed with a glass of Pinot in hand at a party is to take a bite or two of our spicy dip, then have a bite of cheese or something mild before you go back to the wine. I'm going to call that a wine pairing #protip, keeping with the football theme!

Print
Recipe card
Spicy Green Onion Dip
Spicy Green Onion Dip is simple to whip up for your next gathering, and is sure to please those that like a little spice!
Author: Cooking Chat
Prep Time:

10 mins

Total Time:

10 mins

Yield:

10

servings

1

x
Category:

Appetizer

Cuisine:

American
16

ozs sour cream — low fat recommended

3

cloves garlic, finely minced

¼ cup

green onions (also known as scallion), finely chopped
tbsp cilantro, chopped

½ tsp

cumin

⅓ tsp

cayenne pepper
salt to taste
chips and/or raw vegetables for serving.
Instructions
Combine all the ingredients from sour cream through cumin in a mixing bowl.
Stir in the cayenne, making sure that it is thoroughly combined and spread throughout the dip. If you want to moderate the spice level, you could start by adding ¼ teaspoon of cayenne and tasting the spice levels, then add a bit more if you want to kick up the spice.
Serve the dip with potato chips for dipping, and make sure people have a drink ready when they start eating it!
Notes
I recommend low fat sour cream to keep the calories down a bit. The flavor really comes from the garlic and spices, so I really don't notice the difference using low fat sour cream.
You can skip the cilantro if you don't have it handy. I've made it without it a number of times, but if you like cilantro it is a nice addition. Adds some bright flavors to the dish.
I usually serve the dish with potato chips but you could use raw veggies for a healthier options.
Nutrition info is for the dip alone, doesn't include the chips.
Keywords: appetizers, dips, green onion dip, spicy apps
Recipe Card powered by