This Roasted Asparagus Dip recipe is bursting with the taste of spring! Fresh tarragon and a generous squeeze of lemon juice adds to the fresh flavor, along with roasted garlic and asparagus. Originally published in 2017, updated in 2022 with new tips, photos and wine pairing. Disclosure: One of the recommended wine pairings was provided as a complimentary sample.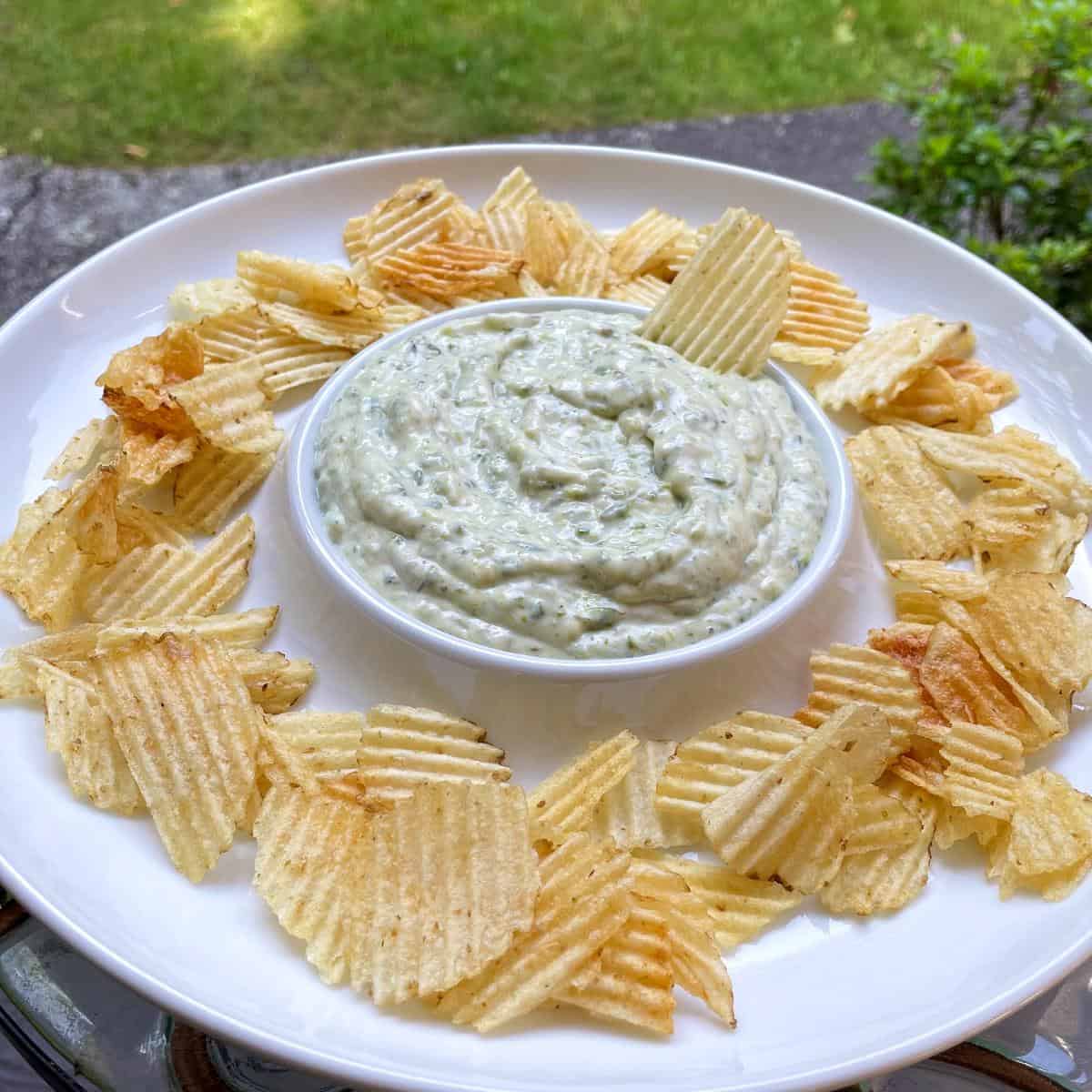 "This tastes like a burst of spring," was one way this roasted asparagus dip was described when I shared it at a family gathering this weekend.
Asparagus is definitely a harbinger of spring, so I can see where that comment was coming from. Adding fresh tarragon and a generous squeeze of lemon to the roasted asparagus dip further enhances the spring flavors.
Low-fat yogurt serves as the base for this dip, lending a lightness to the dip which is welcomed this time of year.
We enjoyed the roasted asparagus dip with potato chips, but you could also use chopped raw veggies or pita chips with good results.
Jump to:
Ingredients
Here are some notes on the essential ingredients for this baked asparagus dip recipe. Head down to the recipe card for all the details, including quantities.
Fresh asparagus is of course an essential ingredient for asparagus dip! I like to use fresh, local asparagus when it is in season, which is mid to late spring here in New England. I suppose you could try frozen or canned asparagus when fresh asparagus isn't in season. Let me know if you try that!
Fresh tarragon brings great fresh flavor to the dip recipe. I don't recommend swapping in dried tarragon. I would suggest trying another fresh herb if you can't get tarragon — chives, basil or parsley come to mind.
Basil: I did use dried basil in this recipe, to complement the fresh tarragon. If you have fresh basil available, I would definitely use that! But you don't need to buy it just for this recipe.
Plain Yogurt: I have made this asparagus dip with both low fat and regular plain yogurt. Both work well, so whatever you prefer should work. Using yogurt makes this lighter than dips made with cream cheese or sour cream.
Garlic: Roasting garlic adds a rich, nuanced flavor to the recipe. The recipe calls for roasting 1 head of garlic. However, roasting garlic is a great way to use up portions of garlic heads that you have on hand. For our latest remake, we used two partial heads of garlic to get the 1 tablespoon you need.
When roasting garlic, I sometimes like to double or even triple the portion I am using, then I have extra roasted garlic. Extra roasted garlic can be spread on bread, added to salad dressings, or used for recipes like our Roasted Beet Dip with Fennel and Garlic.
Fresh lemon: Fresh squeezed lemon juice add bright citrus flavor to the dish. You could try adding a bit of the lemon zest, too, if you like.
Recipe steps overview
Below is a visual overview of the roasted asparagus dip recipe. Head on down to the recipe card for more details.
Prep the roasted garlic. Preheat the oven to 400 degrees. Place a head of garlic on a cutting board, and cut a bit of the bottom root end off as shown below.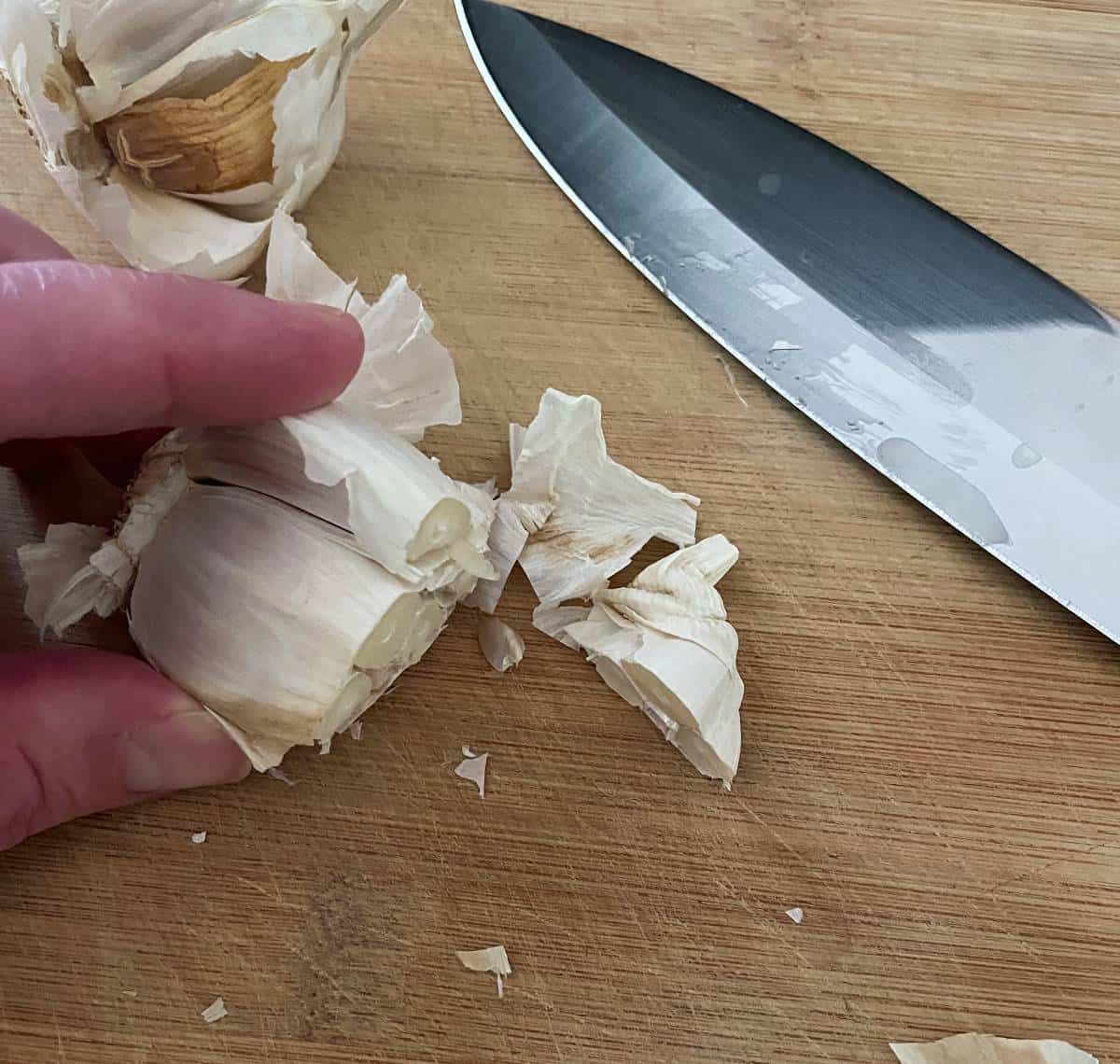 Place the head of garlic on a sheet of aluminum foil, and pour a tablespoon of extra virgin olive oil over the garlic.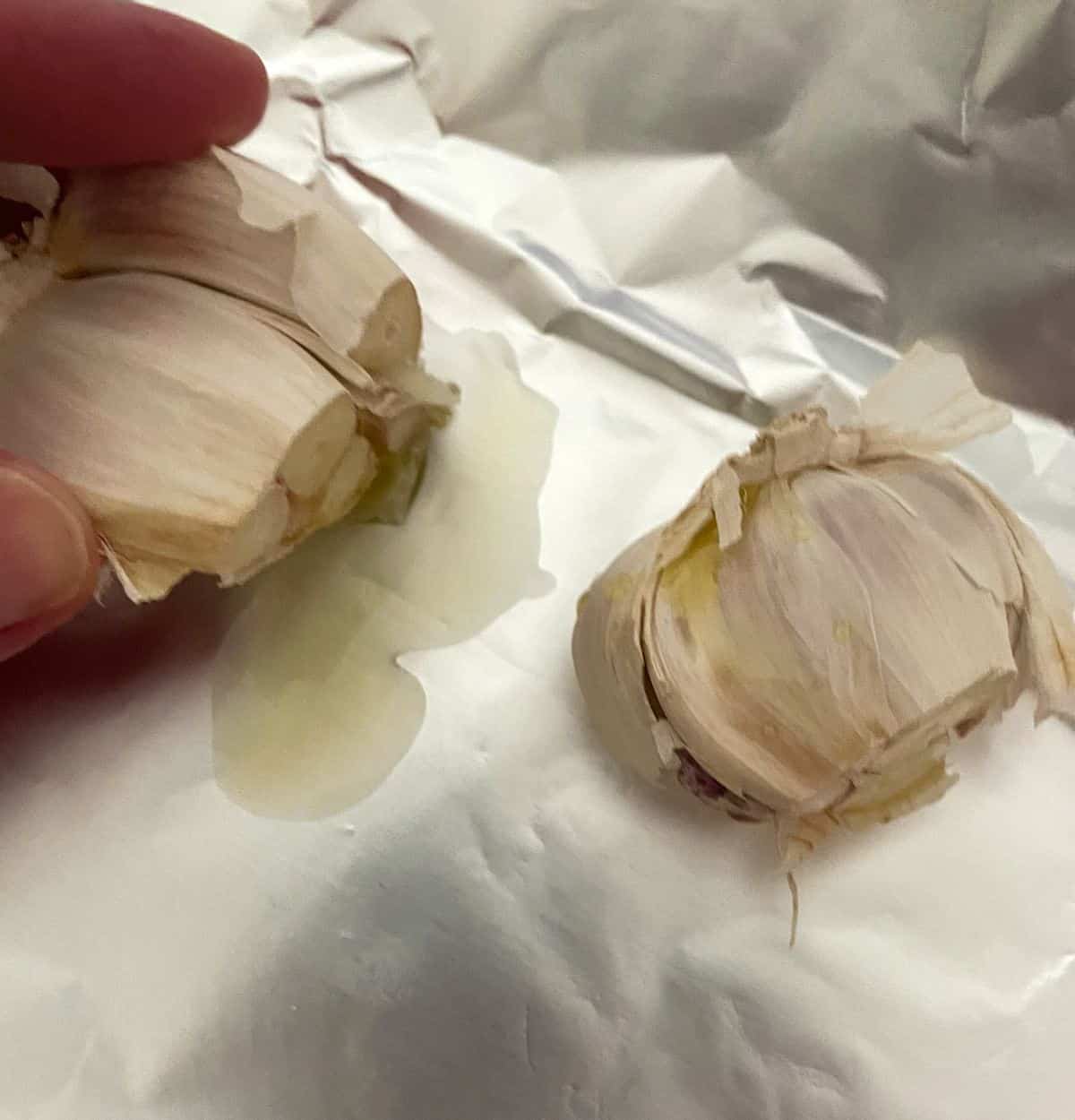 Wrap the aluminum foil around the garlic, and place it in the preheated oven. The garlic will take about 40 to 45 minutes to roast, which is longer than the asparagus. So placing it in the oven prior to starting to prepare the asparagus is a good strategy.
Note: For the above photos, I had two partially used heads of garlic rather than one whole one as mentioned in the recipe card.
Prep the asparagus as the garlic begins roasting. Remove the woody portion of the asparagus stock, roughly the bottom third.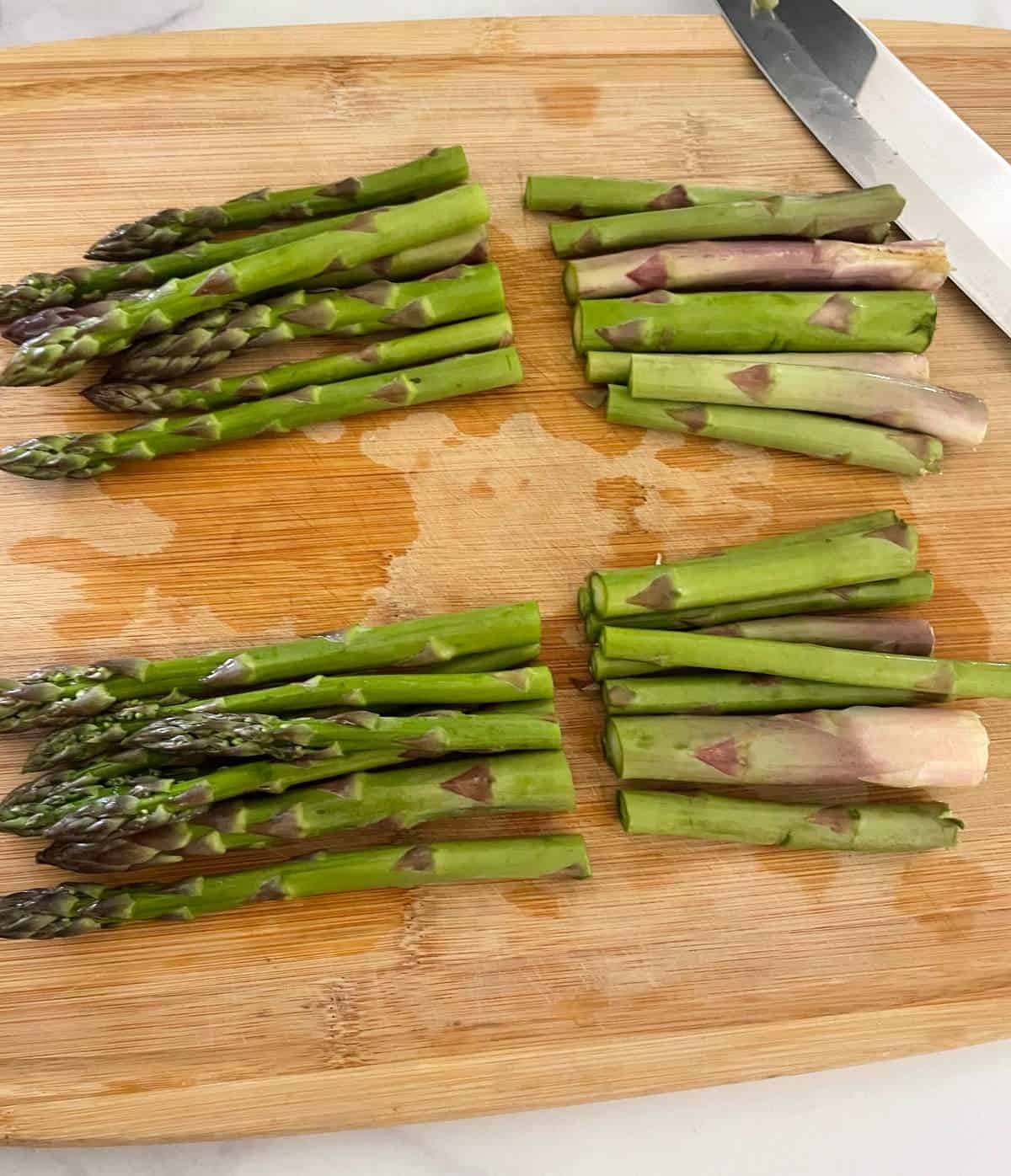 Hold the asparagus at each end and snap it to show how much of your asparagus is good–the portion that snaps off with the tip is the part to keep. Do that for a couple stalks and then chop the rest in similar fashion.
Chop the portion of the asparagus spears that you are using in half, then spread the asparagus out in a baking dish.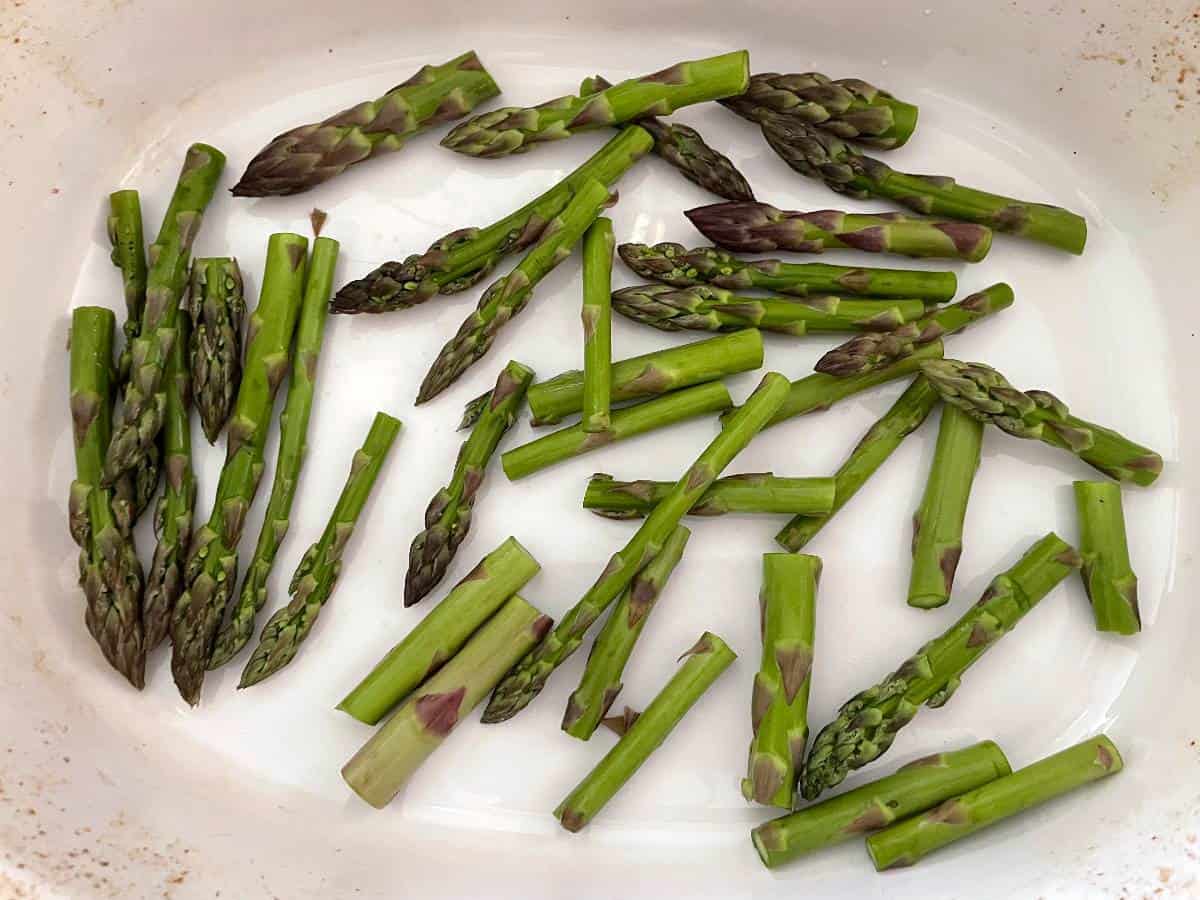 Toss the asparagus with one tablespoon olive oil, plus salt and pepper to taste. Place the asparagus in the oven and roast 25 to 35 minutes. You want the asparagus to get brown and tender, but not burnt.
Remove from the oven when done and set it aside to mix into the dip.
Make the dip. You will need your food processor for this. In case you need one, here's an Amazon link to an updated version of the Cuisinart food processor that has been getting a workout in our kitchen for many years. You could try a blender if you don't have a food processor.
Add the yogurt to the food processor to get the roasted asparagus dip going. Next goes the asparagus and scallion, if using.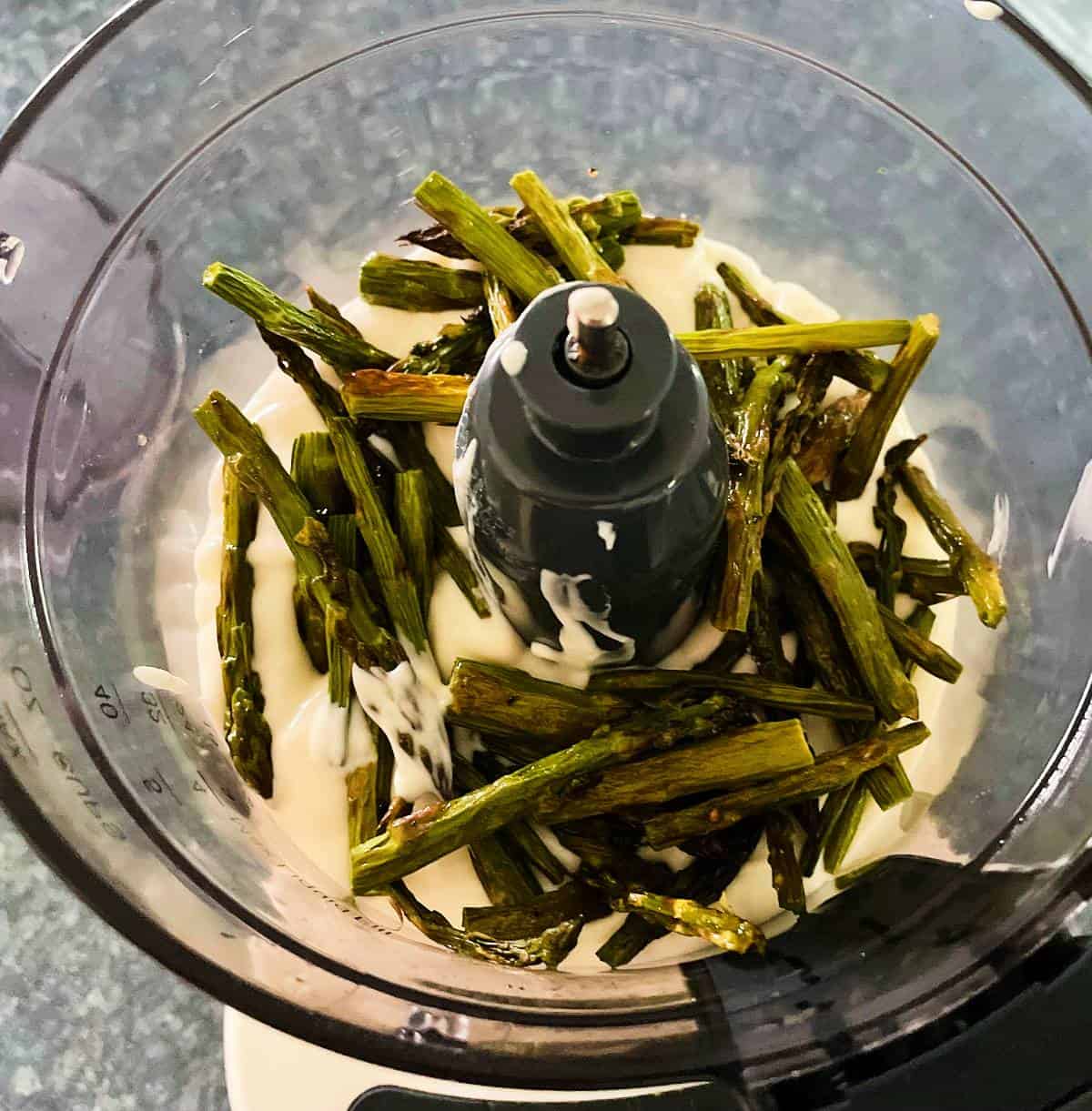 Pulse the food processor to make a purée of asparagus and yogurt.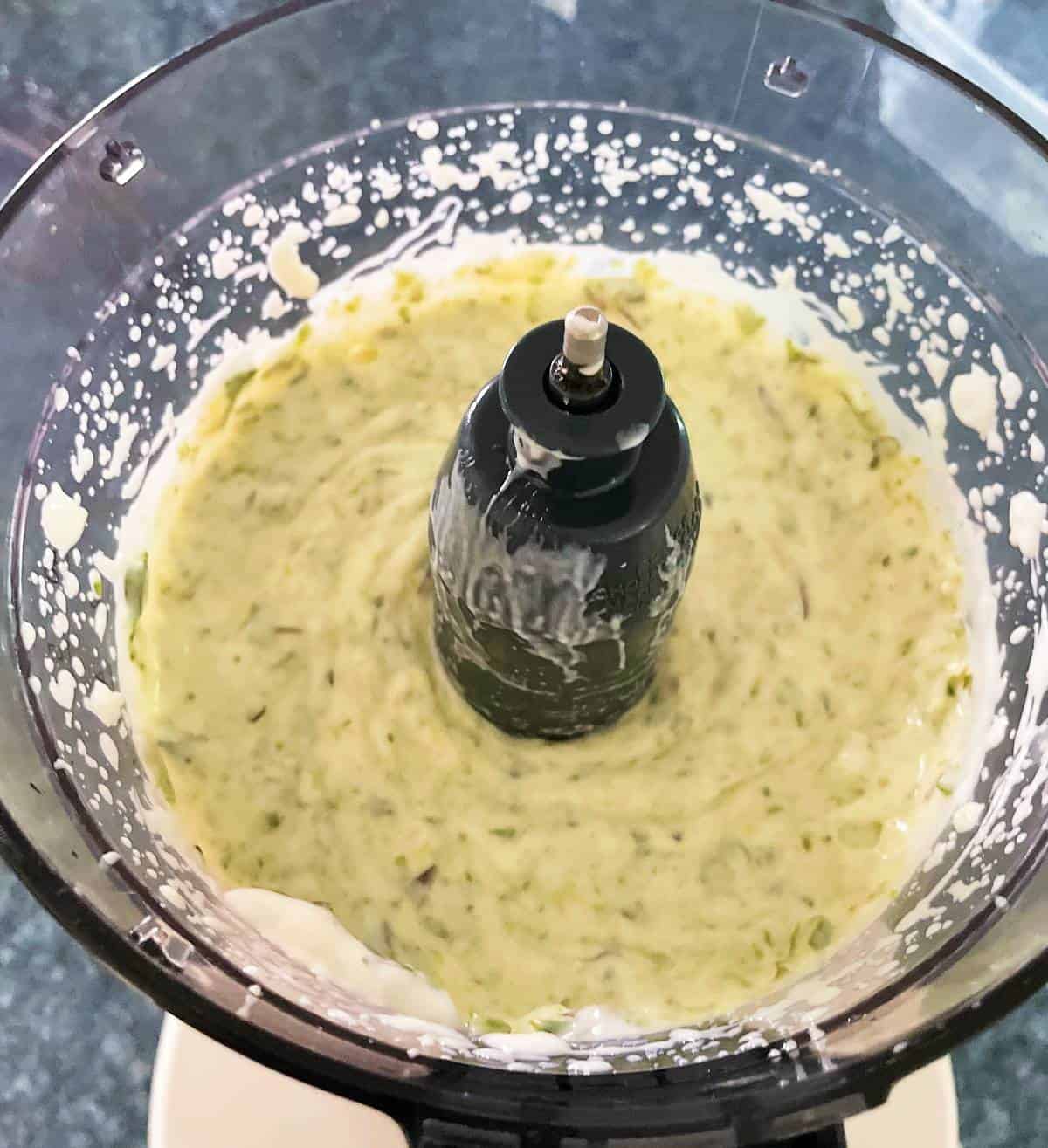 Squeeze out the roasted garlic so that you have a least 1 tablespoon worth of the garlic to add to the food processor.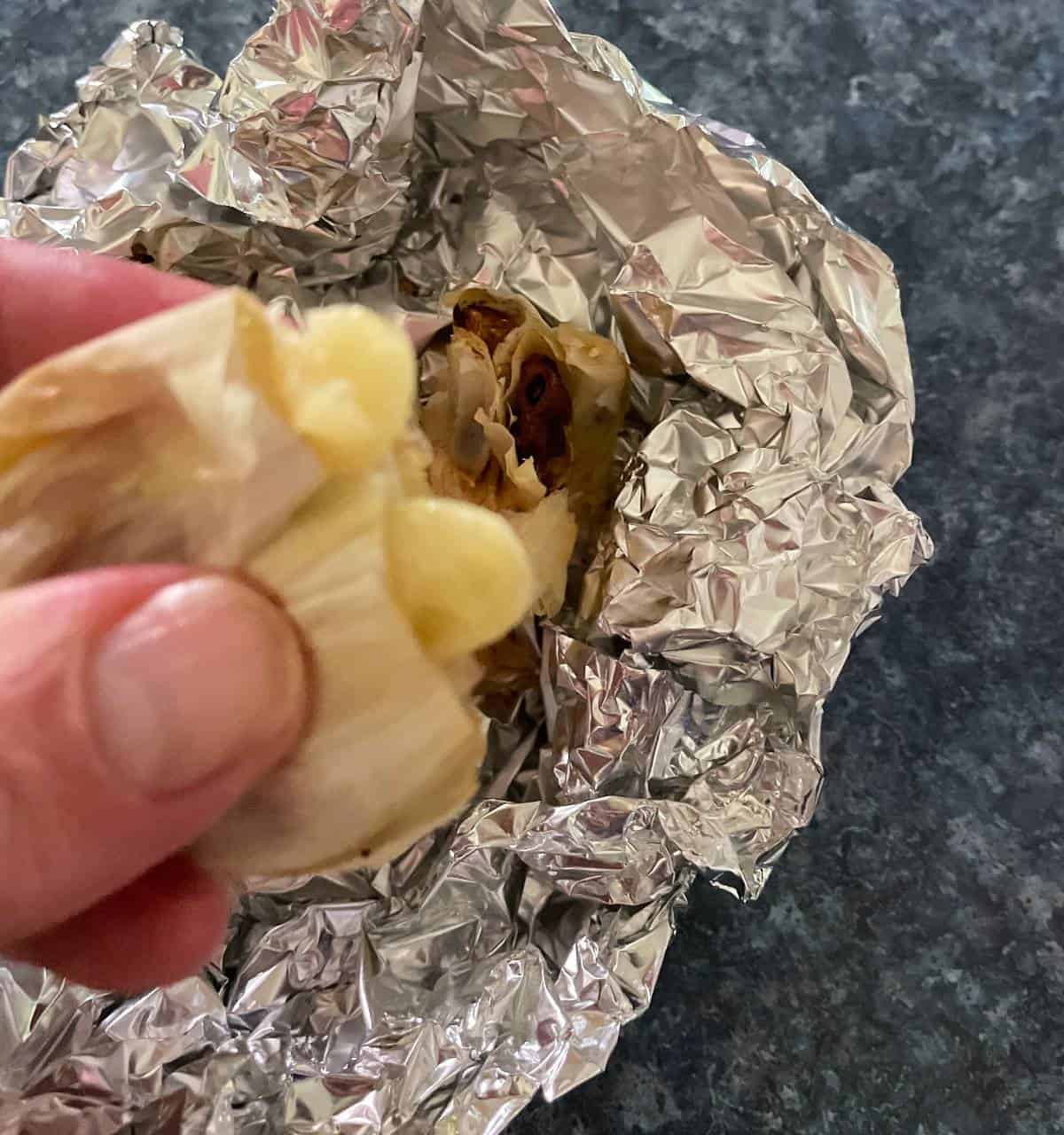 Typically one whole head of garlic roasted will use generate a bit more than a tablespoon. Reserve the remainder for another use — roasted garlic can be a good addition to a salad dressing or pasta sauce!
Add the roasted garlic to the food processor along with remaining ingredients– fresh tarragon, lemon juice, Parmesan cheese, ground black pepper, and dried basil.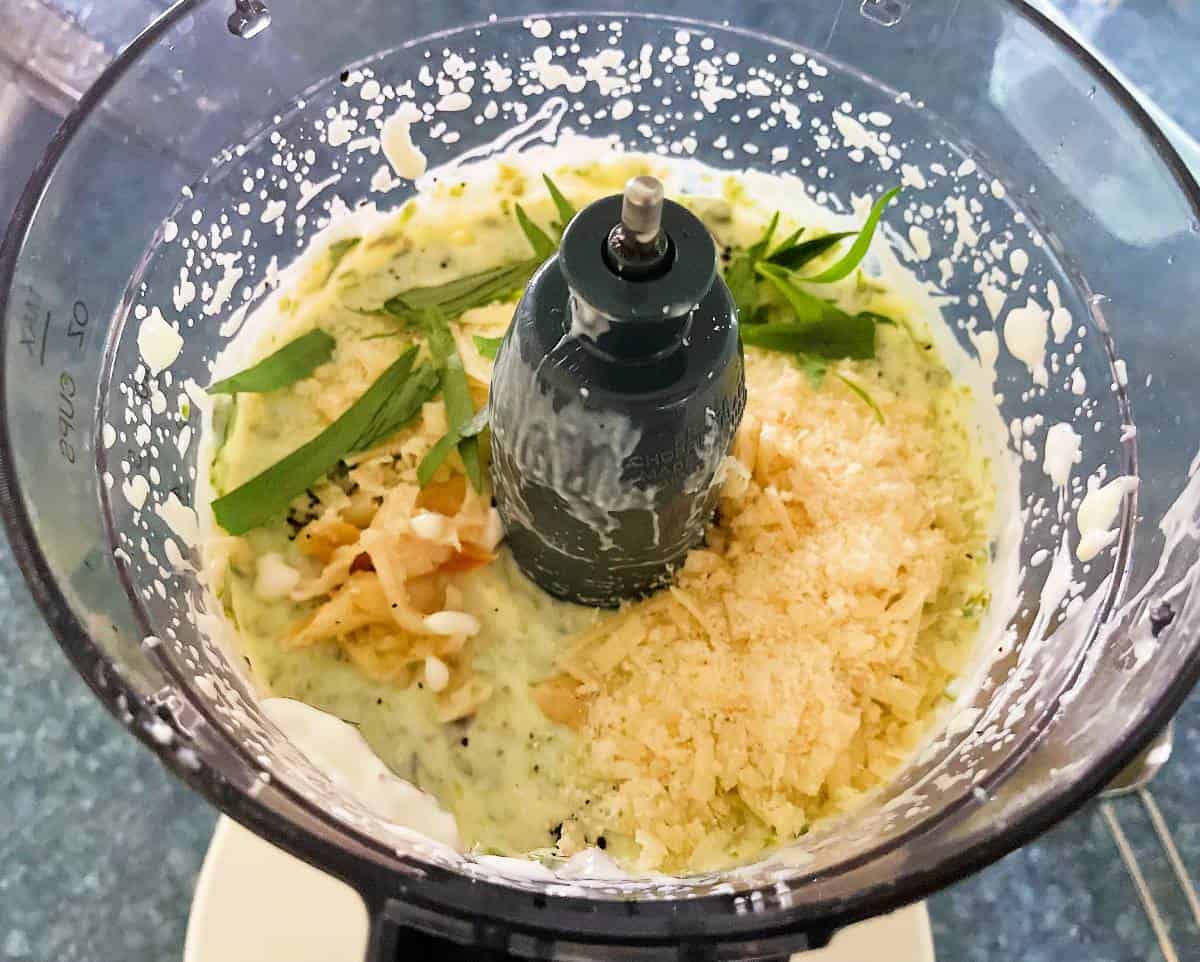 During a recent remaking, I also added about half a teaspoon of gochuchang sriracha for a bit of extra kick.
Purée all of the additional ingredients so that they all get combined into one consistent mix. Your asparagus dip is ready to serve!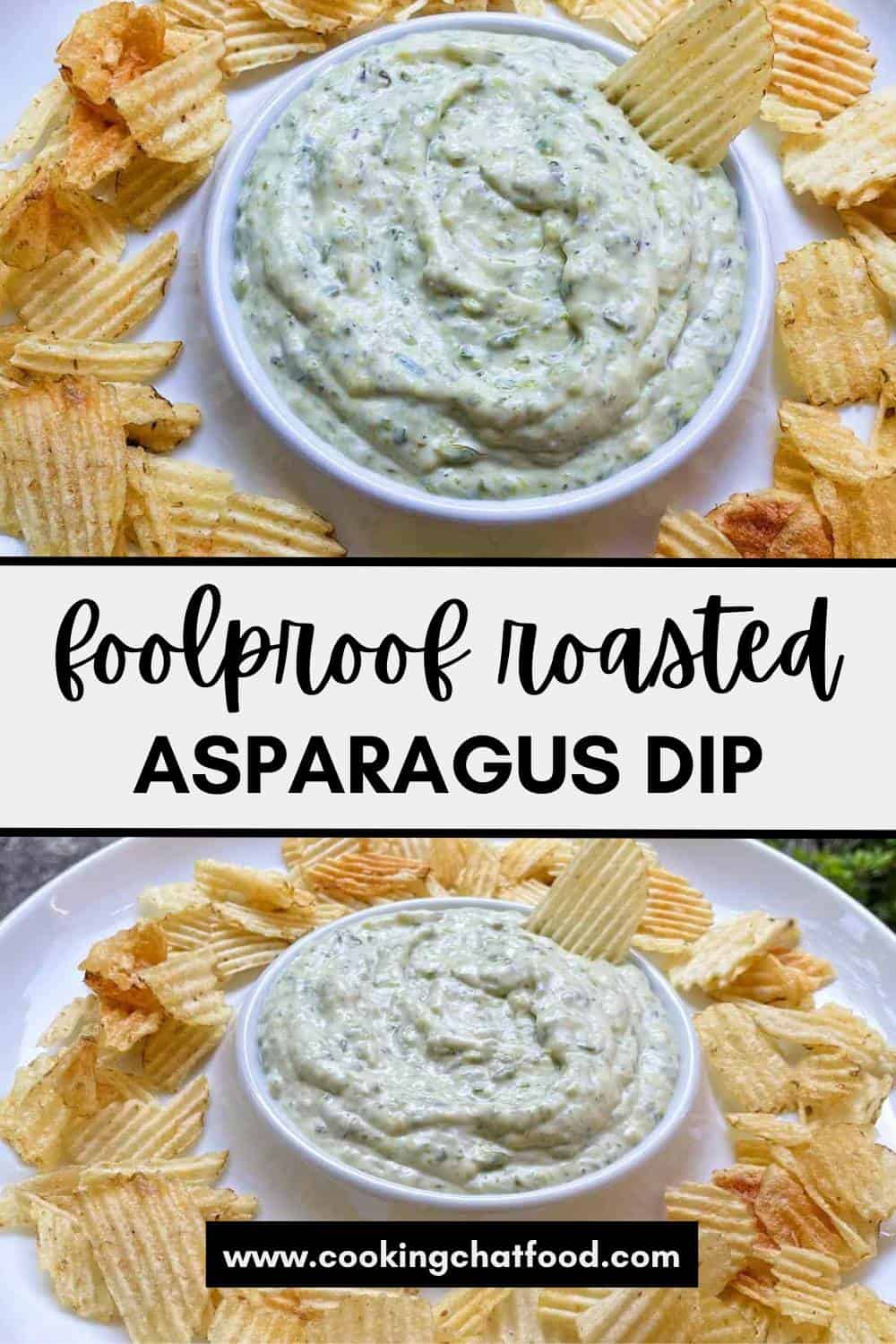 What to serve with asparagus dip?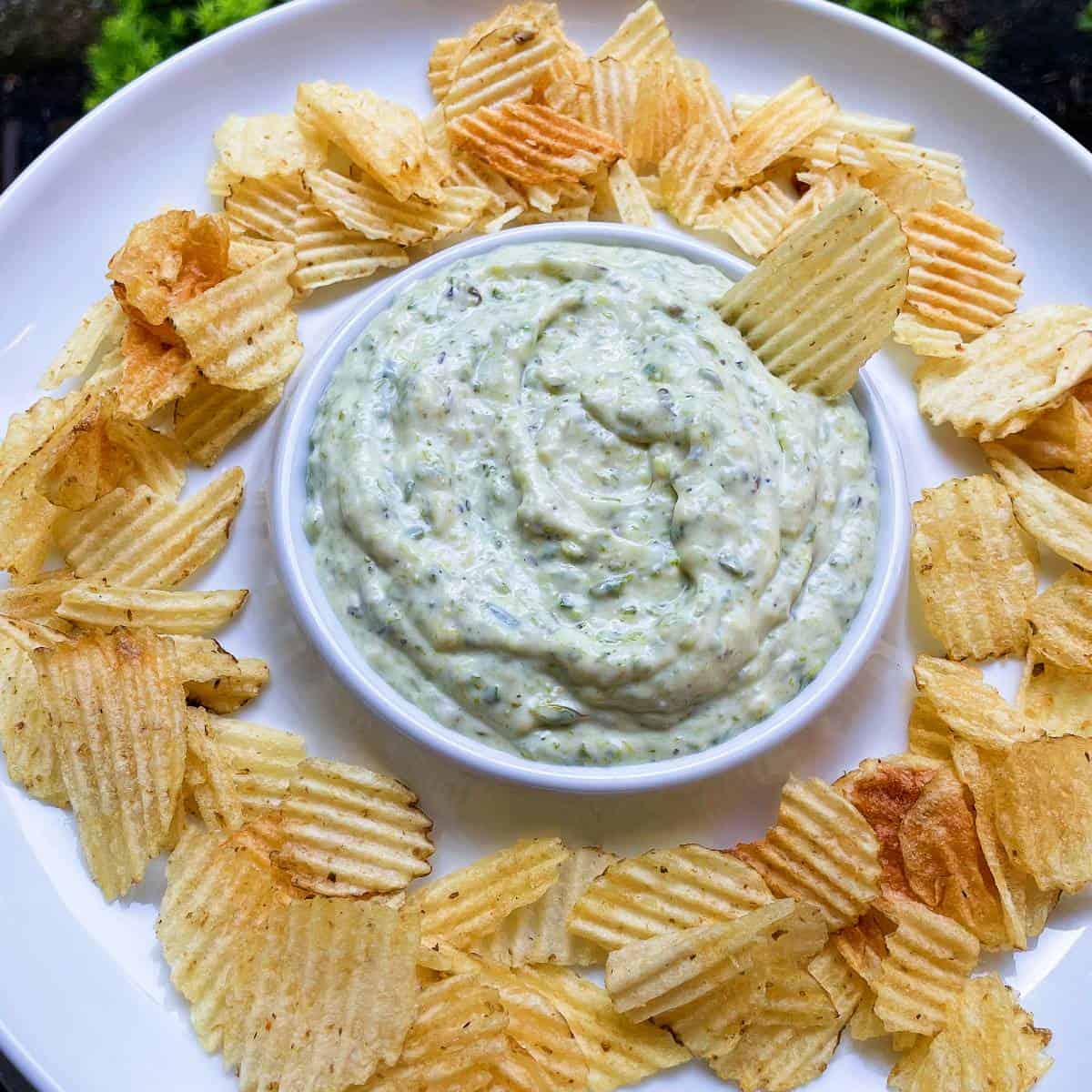 My default option is to serve this asparagus dip with potato chips. We have also tried it with tortilla chips and pita chips, and both work well. Cut raw vegetables such as bell peppers or carrots would certainly be a healthy choice!
More asparagus recipes
Want some more ideas for the fresh asparagus? Here are some of our best asparagus recipes!
Pairings for asparagus dip
In our original post, there was a passing reference to Pinot Grigio as a wine pairing for this asparagus dip. For our recent remake, we had a chance to focus more on a pairing idea for you!
We had a bottle of San Angelo Pinot Grigio (12.5% ABV) as part of some Banfi wine samples we were provided. I had opened this wine to pair with a new Andouille sausage pasta recipe (stay tuned!), and decided to try it with our asparagus dip, too.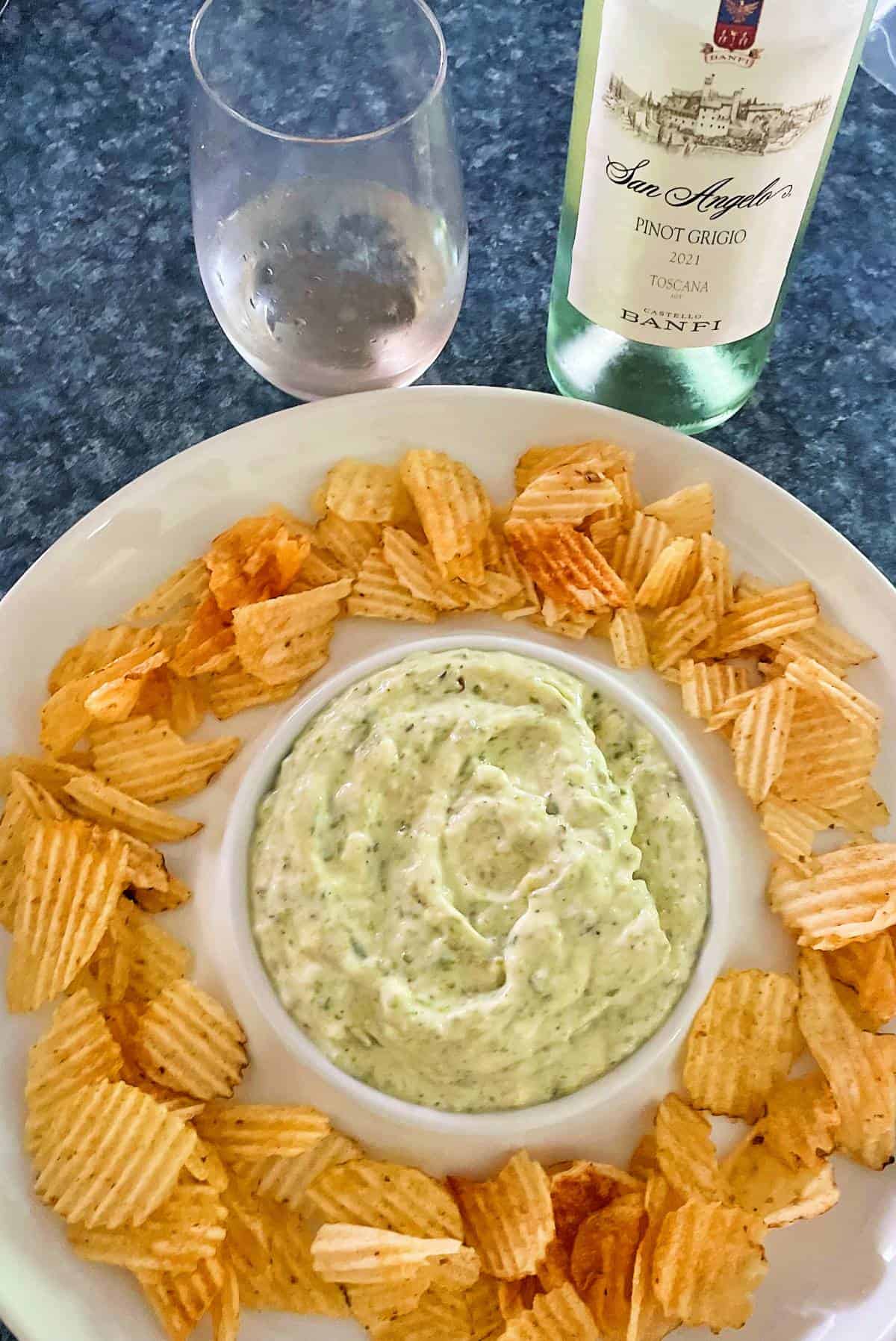 This Pinot Grigio from Tuscany has a bright, hibiscus nose. On the palate, hone and peach, with a bit of lemon notes. This light, refreshing wine, with the citrus notes, made an excellent pairing for the asparagus dip! I definitely recommend giving it a try!
The San Angelo Pinot Grigio is made from 100% Pinot Grigio grapes, from Montalcino in Southern Tuscany. In addition to pairing well with this dip, I'd say it would make a great "summer sipper"!
One idea I have for next time is to try a sparkling wine with this asparagus dip. If you beat me to it and give it a try, let me know how it goes!
Beer pairing
We have also tested this dip with a beer pairing.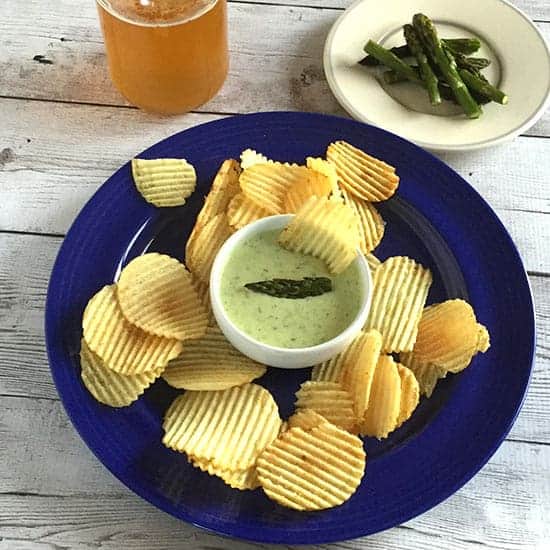 I first sampled a Hopscape beer from Sam Adams with the roasted asparagus dip. This beer is described as a "wheat ale brewed with West Coast hops". There's a citrus element to this beer that works well with the lemon in the dip. I would say any similar style beer, light with some citrus, should pair nicely with this dip.

Print
Recipe card
Roasted Asparagus Dip
Roasted asparagus and garlic blended with yogurt, tarragon and lemon for a dip bursting with spring flavor.
Author: Cooking Chat
Prep Time:

10 mins

Cook Time:

40 mins

Total Time:

50 mins

Yield:

8

servings

1

x
Category:

Appetizer

Method:

roasting + food processor

Cuisine:

American

Diet:

Vegetarian
1

bunch asparagus

1

head of garlic for roasting

2 tbsp

olive oil

1

scallion, green and light green portion (optional)

2 cups

plain yogurt (low fat or regular both work)
Generous grinds of black pepper

⅓ cup

grated parmesan cheese

1 tbsp

fresh lemon juice

¼ tsp

salt

1 tsp

fresh tarragon

½ tsp

dried basil (or a few leaves fresh basil if you have it)
potato chips and/or chopped vegetables for serving

½ teaspoon

of gochuchang sriracha (optional)
Instructions
Preheat oven to 400 degrees.
Cut the root end off the head of garlic, exposing the bottom of the garlic cloves. Drizzle exposed cloves with 1 tablespoon of the olive oil.
Wrap the garlic in aluminum foil, then put in oven. Roast until garlic is starting to brown and getting very soft, 40 to 45 minutes. Set aside to cool when done roasting.
Prep the asparagus as the garlic begins roasting. Chop off the bottom third of the asparagus stalks, and discard this woody portion. Chop the remaining spears in half.
Add the chopped asparagus to a roasting pan. Toss with 1 tablespoon of the olive oil. Add salt and pepper to taste.
Place the asparagus in the oven and roast for 25 to 35 minutes (check after 25 minutes). The asparagus should be tender and starting to brown when it is done. Remove from oven to cool.
To make the dip, scoop the yogurt into a food processor. Add the asparagus and scallion, if using, puree to combine.
Squeeze the garlic out of 6 cloves of the head of roasted garlic, reserving the rest for another use. Add the garlic to the food processor, along with the remaining ingredients–parmesan cheese, generous grinds of black pepper, lemon juice, salt, tarragon, basil and sriracha, if using. Puree to combine.
Scoop the dip into a serving bowl. Serve with chips and/or chopped vegetables.
Notes
The length of asparagus roasting time will depend on the thickness of the asparagus. Very thin asparagus should be checked sooner, after about 20 minutes.
We initially called for 1 scallion in this recipe, but it comes out fine without it. If you have scallions on hand, go ahead and use it, but I don't recommend purchasing scallions just for this recipe.
Nutrition information is just for the dip, doesn't include the chips used for dipping.  
Keywords: baked asparagus dip, asparagus dip, roasted asparagus dip
Recipe Card powered by