Strip Roast is a very tender and flavorful cut to use for roast beef. Top with our simple red wine sauce for a delicious family meal. I developed this recipe in conjunction with a social media campaign sponsored by Certified Angus Beef® Brand in conjunction with a social media campaign through Sunday Supper LLC. All opinions are my own.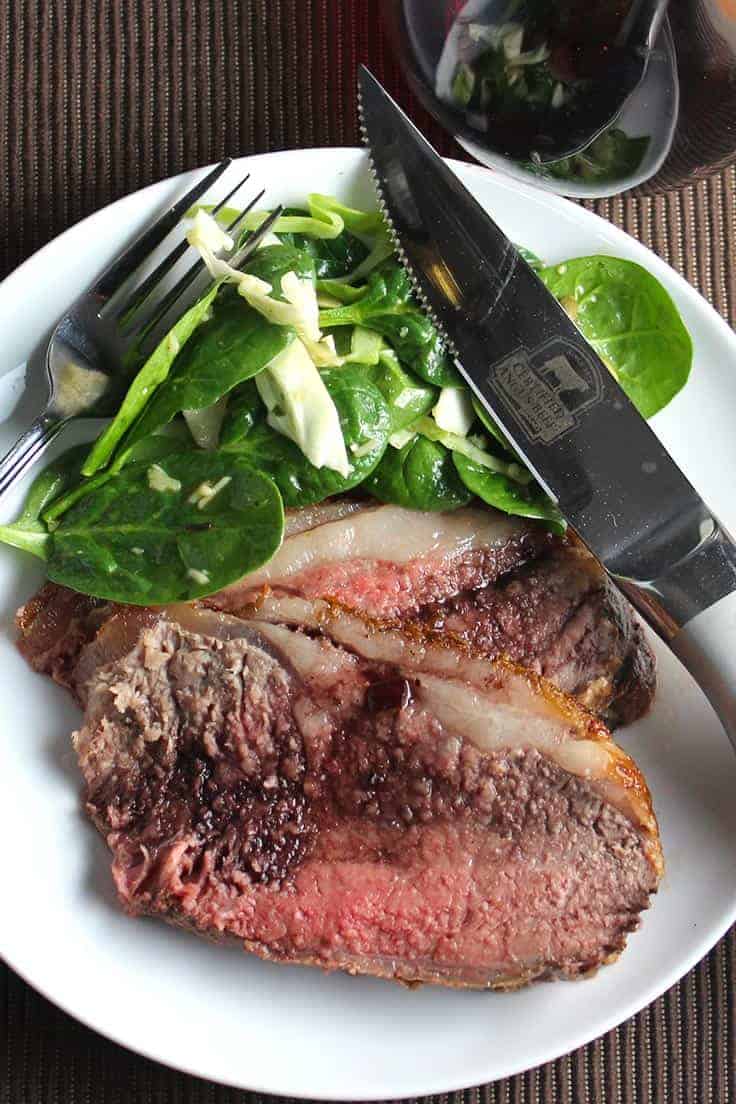 I've been focusing lately on how wonderful a good roast beef can be for a special holiday meal. Sticking with that theme, today I share a simple and very tasty Strip Roast with Red Wine Sauce recipe.
For awhile, when we had the taste for a roast beef I had focused on spoon roast, made from a sirloin roast. I was comfortable with the cooking times and methods described in my popular Spoon Roast with Horseradish Cream recipe. Then I learned about the #RoastPerfect app from Certified Angus Beef®, which makes it easy to pick a cut for your roast, determine how much you need for your family, and guides you through the cooking times. I was ready to branch out, and did so by making Spiced Ribeye Roast with Caramelized Onions.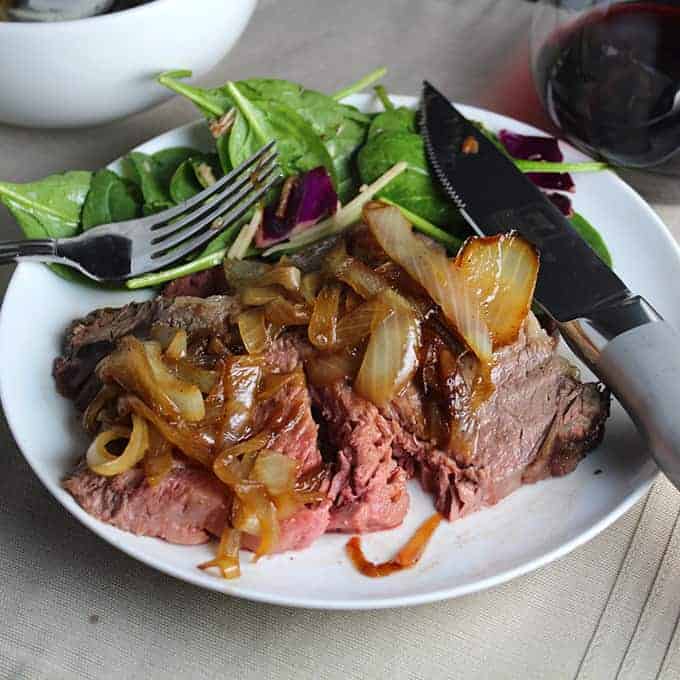 That roast was delicious, and I was ready to try another cut. I had learned via the #RoastPerfect app that a nearby Roche Bros. Supermarket carries Certified Angus Beef®, and found the butchers there very helpful in choosing and prepping the right roast. That should come as no surprise, as I learned Roche Bros. originally opened as a meat market in Roslindale in 1952. Though Roche Bros. has branched out, they certainly continue to maintain a focus on serving their customers high quality meats such as Certified Angus Beef®.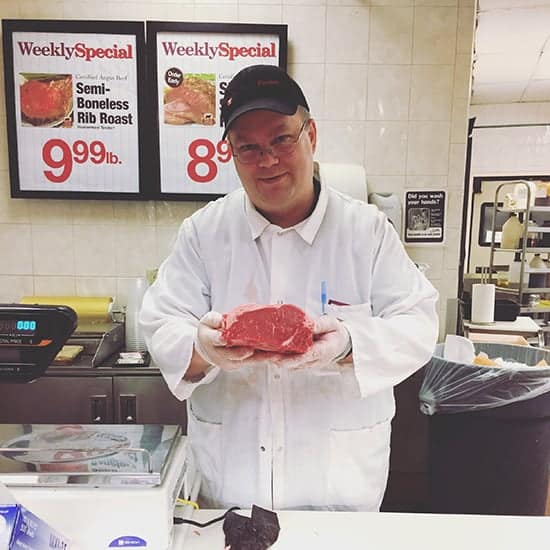 I saw that Certified Angus Beef® cuts on sale this weekend, so I headed out to chat with the butcher and make a selection. We love NY strip steaks, so I was inclined to think we'd like strip roast. I also saw from the app that a smaller strip roast would cook up a bit faster than some of the other roasts, which fit nicely into our busy pre-Christmas weekend schedule. The butchers encourage me to try it, noting it was a flavorful cut that didn't need much more than a bit of salt and pepper for flavor.
Keeping the advice in mind to let the great quality beef shine without much adornment, I prepared a simple strip roast rub with garlic powder, salt and thyme. Sticking with the simple theme, I made a red wine sauce flavored with shallots and garlic, which enhanced the strip roast's natural flavors.
The beauty of a roast is you can do a simple preparation, get it in the oven and manage the timing with the #RoastPerfect app. Go ahead, wrap some Christmas presents while you wait for your delicious beef to be ready! Or maybe you'd like to serve this Strip Roast with Red Wine Sauce for your Christmas dinner…in which case I hope you already wrapped those presents! The strip roast can be a nice choice for a holiday meal for a modest sized group of 6 to 8. Just use the #RoastPerfect app to adjust the quantity and cooking times for your group size.
I was about to skip saying it, because it seems obvious…but I should tell, this tender and flavorful strip roast came out cooked just right, and it was delicious! If you haven't tried strip roast yet, you've got to give it a try.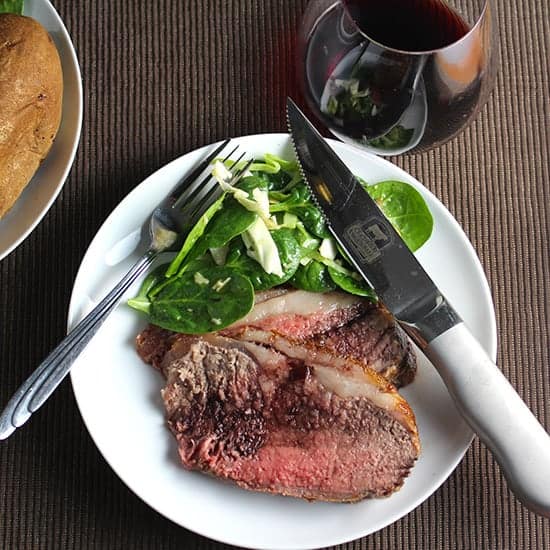 Wondering what to serve with your strip roast? Check out our collection of 40+ of the Best Side Dishes for Roast Beef!
Wine Pairing
Cabernet Sauvignon is a natural choice for a roast beef. I was excited to open the bottle of 2005 Sullivan Vineyards Napa Valley Cabernet Sauvignon ($60, 14.2% ABV) that I had enjoyed during a tasting earlier in the month, and featured in my December Wine Picks. The wine was decent, but a bit disappointing in that I didn't like it as much as I did at the tasting. I wonder if our bottle was slightly compromised, as the cork wasn't in great shape. Other bottles I've had that I think would be great with this include the Halter Ranch Cabernet Sauvignon that I paired with our Spoon Roast or the 2010 Chateau Patache d'Aux Cru Bourgeois ($26, 13% ABV) also in our December Wine Picks.
Strip Roast Cooking Note
As I mentioned, the #RoastPerfect app is very helpful in managing cooking times. That said, you still want to check your beef for doneness as cooking times vary based on your oven and size of your roast. I needed about 10 minutes more than the projected cooking time, which is why I show the range of time. The thermometer should read 135 degrees internal temperature for medium rare.
Print
Strip Roast with Red Wine Sauce
Flavorful strip roast beef cooked just right with a a simple rub and topped with a red wine sauce for a simple yet elegant meal.
Author: Cooking Chat
Prep Time:

15 mins

Cook Time:

90 mins

Total Time:

1 hour 45 mins

Yield:

6

serving

1

x
Category:

Main

Cuisine:

American
3

lb strip roast

2 tsp

garlic powder

2 tsp

salt

1 tsp

thyme

1 tbsp

butter

3 cups

red wine (including

½ cup

port if you have it)

1

shallot, minced

1

garlic clove, minced

½ tsp

thyme
Instructions
Preheat the oven to 450 degrees.
Make the rub: combine the garlic powder, salt and 1 teaspoon of the thyme in a small bowl.
Place the strip roast on a work surface. Spread the rub all over the beef. Leave the roast out for 20 to 30 minutes to let the rub absorb and bring the roast closer to room temperature.
When the roast is ready to cook, place the roast on a roasting rack in a roasting pan, fat side up. Place the roast in the 450 degree oven, and roast at that high heat for 15 minutes. This high heat will sear the beef.
Drop the temperature to 325 degrees, and roast for 55 to 65 minutes. Check the roast for doneness at 100 minutes, using a meat thermometer. The roast should be 135 degrees internal temperate for medium rare. Adjust cooking times upward for a larger roast or more doneness. The Roast Perfect app at http://www.certifiedangusbeef.com/ can help calculate the adjustment.
As the roast nears the end of the cooking time, make the red wine sauce. Melt the butter in a sauce pan on medium heat. Add the shallot, cook for 5 minutes. Add the garlic cook for one minute more.
Pour the wine into the sauce pan, bring to a boil. Reduce heat to a steady simmer for 10 minutes to reduce the wine.
Pour the sauce through a sieve into a bowl. Pour the sauce back into the pan, and keep warm on low heat.
When the beef is cooked to your liking, place it on a platter to rest for 10 to 15 minutes.
Pour the accumulated juices from the roasting pan and platter into the sauce pan. Raise the heat, stir to incorporate the meat juice into the sauce.
After the beef has rested, slice and plate the beef, topped it with a tablespoon or so of the red wine sauce. Enjoy!
Recipe Card powered by