Last Updated on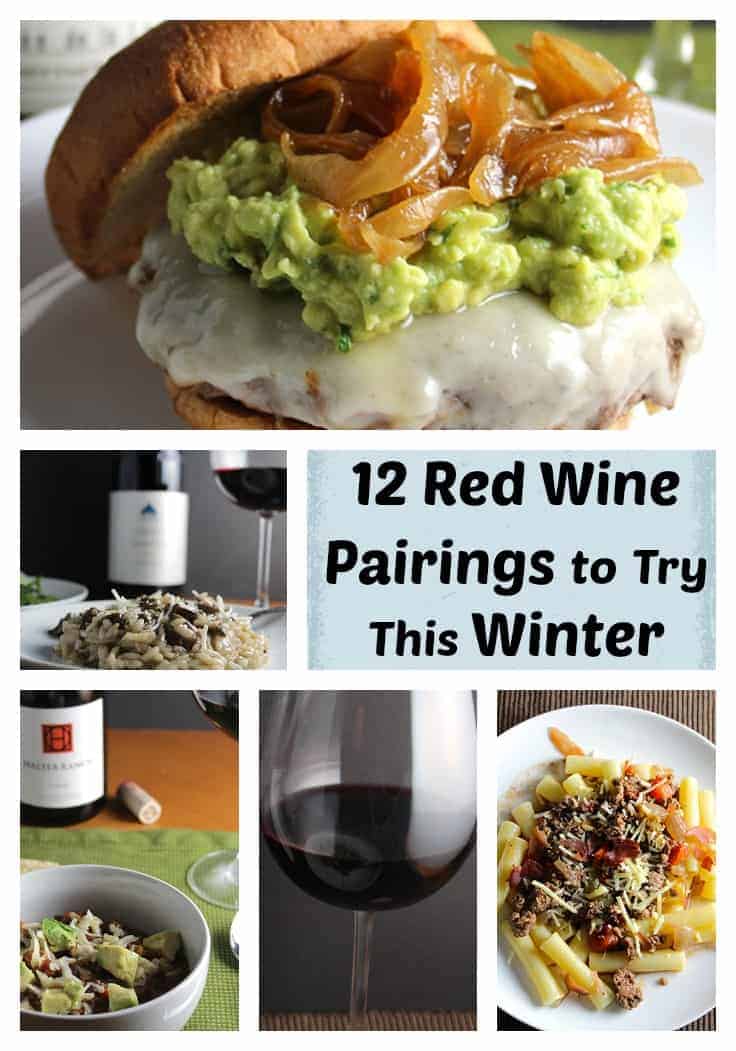 As I write this, winter is still officially a few days away. The weather has still been on the mild side. But here in New England, we know it's coming. Days so cold you feel it to your bones. Getting dumped on with snow every weekend for week after week. Let's not even talk about wintry mix! What better way to take the edge off a cold winter day than a savory, slow cooked meal enjoyed with a good glass of red wine. So today I bring you 12 Red Wine Pairings to Try This Winter to gird you for what is to come.  If you like this post, I also have a page dedicated to red wine pairings that I update whenever I find another good one!
So what if you live closer to palm trees or cactus, and don't even own a shovel? Hey, I know it still gets a little chilly at night in the winter down where you are. If it's cool enough to put a jacket on, you can enjoy these winter red wine pairings too! If you are still grilling and wearing shorts, you might also want to check out my 40 Grilling Recipes roundup! Ok, with no further ado, let's get to our best red wine pairings to keep you warm this winter.
Bordeaux Braised Beef with a Left Bank Bordeaux  Your wine pairing can't go wrong when you serve the type of wine used in the cooking! We braised beef in an inexpensive Bordeaux, then served it with a bottle that was relatively more expensive, but still affordable.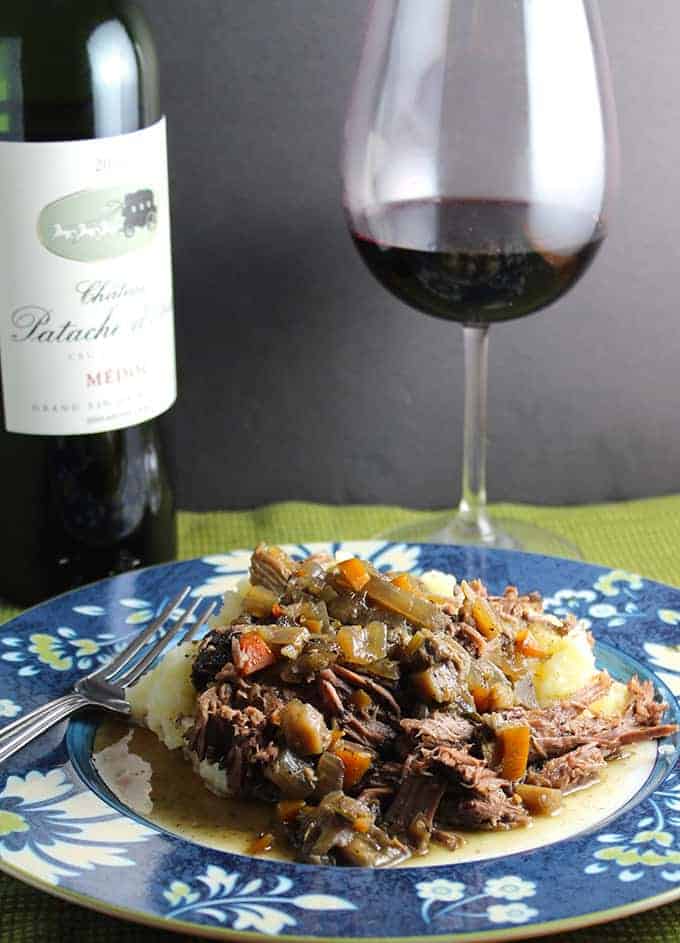 Hearty Chicken and Sausage Stew: I love hearty stews in the winter, and this one has that heartiness I crave as the weather gets cold. Pairs perfectly with a Côtes du Rhône.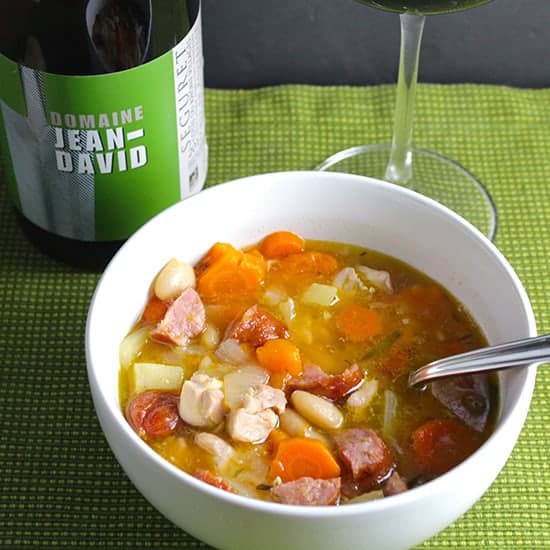 Guacamole Cheeseburger with a Cab Franc My recipe created for #CabFrancDay is one of the best overall recipes this year as well as a strong pick for red wine pairings you need to try this winter! The cilantro in the guac plays nicely with the Cab Franc.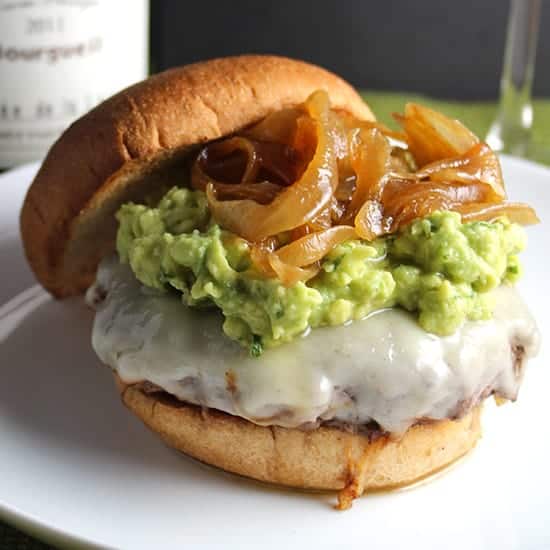 Salmon with Mushrooms and a Pinot Noir Salmon generally goes well with Pinot Noir. When the salmon is topped with mushrooms and served with Pinot, it is definitely one of my favorite red wine pairings!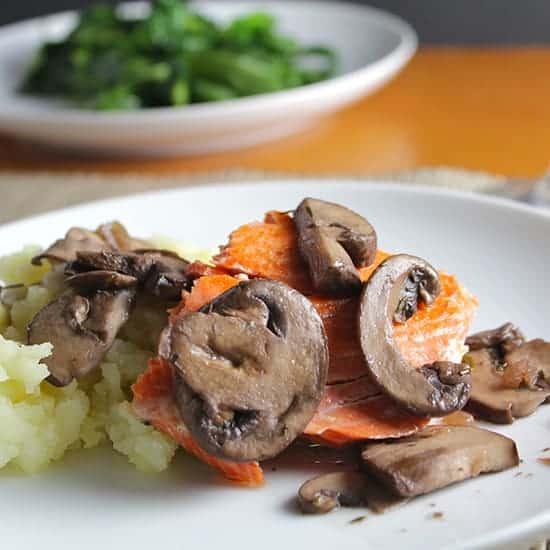 Bolognese Sauce with Crispy Prosciutto and an Italian Red Wine The crispy prosciutto is a nice touch in this bolognese sauce. I served it with an off-the-beaten path red wine from the Emilia-Romagna region, made from the Centesimino grape. If you can find it, give it a try, or go with another interesting Italian red wine pairing.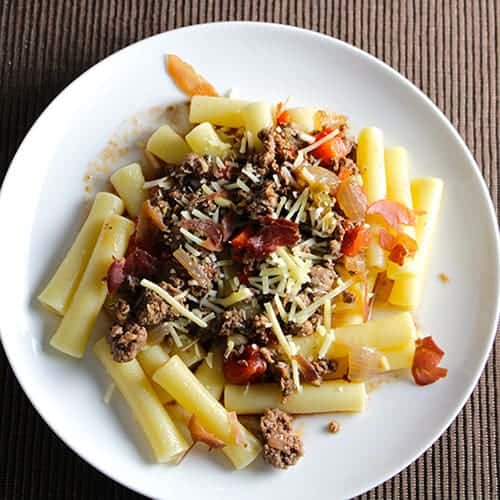 Spoon Roast with Horseradish Cream and Cab This spoon roast recipe is one of the most popular on Cooking Chat, with visits spiking to it every Sunday. Tender beef is perfectly cooked, topped with a flavorful horseradish sauce. There are a lot of Cabs you could choose to serve with it, of course, but we really liked the one from Paso Robles that we paired.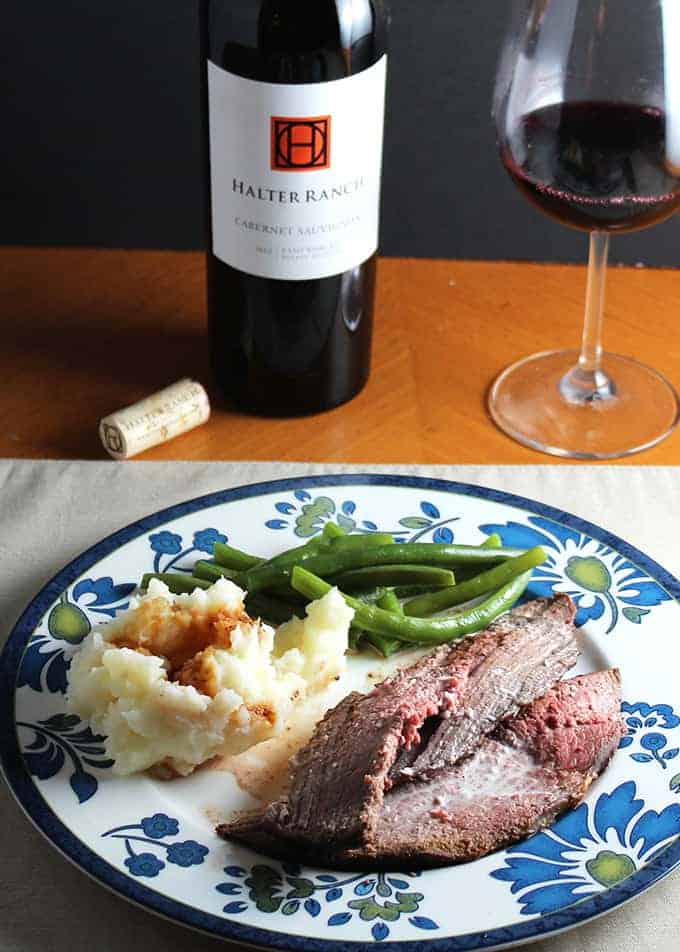 Osso Bucco and Red Wine Pairing I haven't made osso bucco, but thought this slow cooked dish deserved a spot in this winter red wine pairings roundup. I asked my Wine Pairing Weekend friends for help, and got three responses: one tasty braised beef osso bucco paired with a Merlot from Curious Cuisiniere, this version paired with a Zinfandel from A Day in the Life on The Farm, and the osso bucco shown below, which Platings & Pairings served with a Syrah. Try all three and tell me which you like best!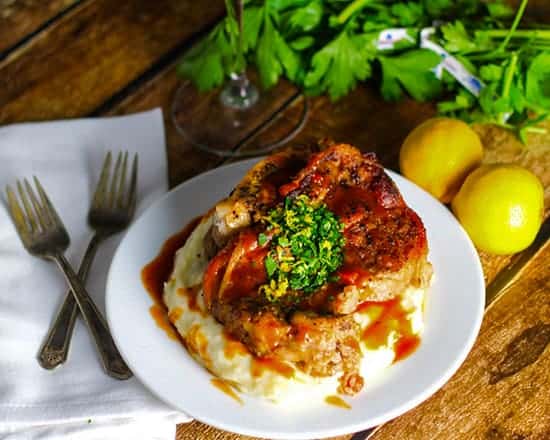 Duck Breasts Provençal with a Merlot  Duck is another savory food that I thought warranted a place in this winter red wine pairings roundup, but was lacking a recipe on Cooking Chat. Cindy from Grape Experiences came through with a delicious Duck Breasts Provençal recipe that you should try some wintry evening when you are pouring some red wine! Cindy went with Merlot and that sounds like a great choice.
Turkey Chili Topped with Avocados served with a Syrah Yes, wine and chili can work nicely together! This recipe and pairing proves it.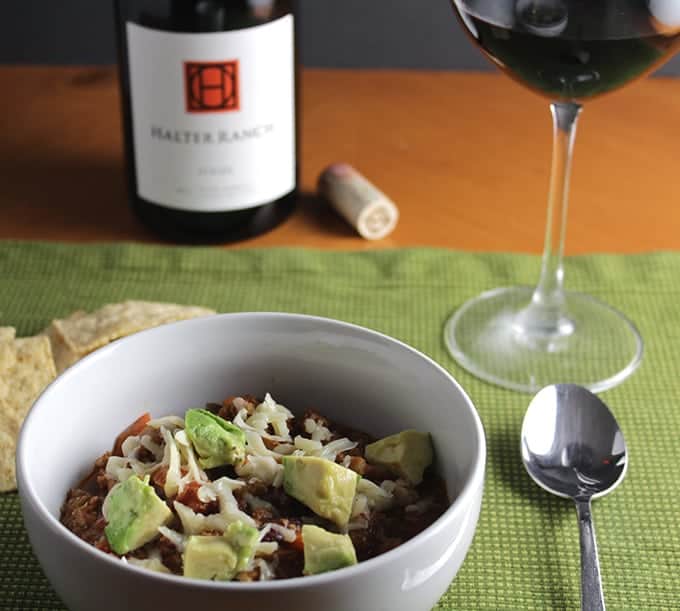 Mushroom Risotto with a Barolo Can you believe it? I almost published this winter red wine pairings roundup without a risotto recipe! Nothing says comfort cooking to me like stirring a pot of risotto, then digging in the the savory goodness along with a good glass of red wine. And if that red wine is a Barolo, then you really got something good going on!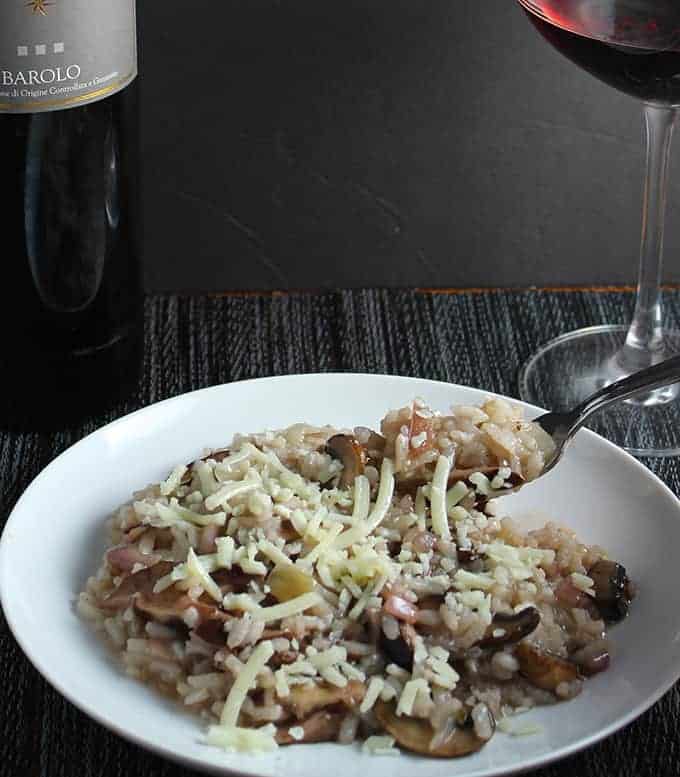 Greek Lamb Stew and Red Wine from Greece I haven't cooked much Greek food, but must say I hit this one out of the park! Love matching a regional cuisine with a wine from the same area, that is a recipe for a great wine pairing.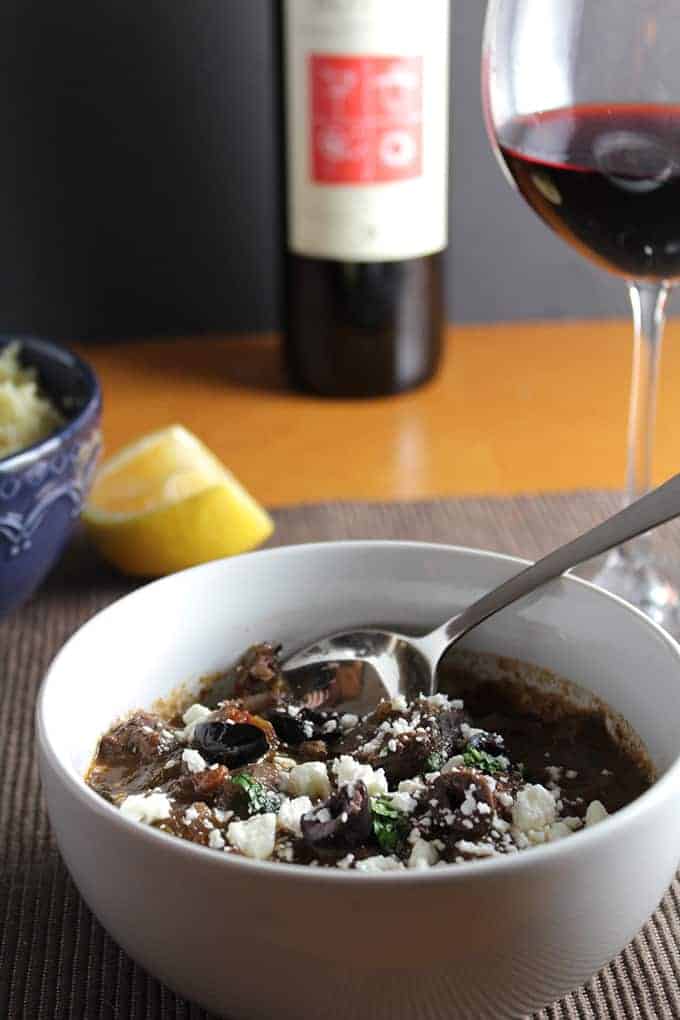 Tuscan Beef Stew with a Chianti I needed to pick one more link to share to round out my red wine pairings suggestions for you. I couldn't pass up this recipe for beef slowly simmered in Sangiovese, paired with a high quality Chianti!