Tuscan Beef Stew slowly braises in a dutch oven for fall-apart meat in a savory stew. The wine pairing for Tuscan Beef Stew is easy–Chianti, of course! Click here to jump down to the recipe.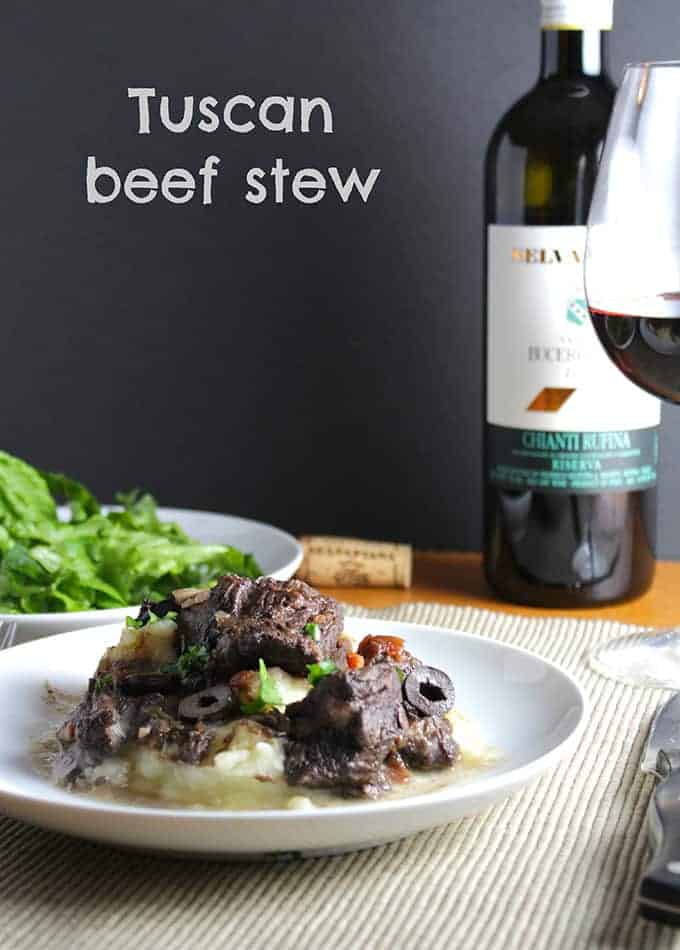 Today the Italian Food, Wine and Travel (#ItalianFWT) blogging group moves to Tuscany. I figured it would be a great time to update my Tuscan Beef Stew recipe, and find another great Tuscan wine to enjoy with it. And guess what–this is my 500th post here at Cooking Chat! I cook a wide variety of food, but much of what we eat here does revolve around Italian style cooking, so it's appropriate my 500th serves up a Tuscan inspired recipe.
Before we get to the stew recipe, a few memories of my visits to Tuscany. I had one of my most memorable meals ever in Florence. I was traveling solo just after college graduation, and found my way to a little trattoria on an obscure side street. The hostess said something welcoming in Italian, and found me an open seat at a long table of elderly Italian men. A bottle of Chianti was quickly plunked down in front of me.
All kinds of tasty food was being passed family style. Knowing about 5 words of Italian, I just politely took a generous serving from each platter with a smile and passed it on. Around the time I was digging into a nice meaty lasagna, one of the guys sitting next to me and I somehow realized we both spoke a bit of French. Now, I'd recently been in France and found my schoolbook French rather lacking. But talking to someone else for whom French wasn't his first language was perfect. We understood each other perfectly, aided by some gestures and Chianti. Oh yeah, then there was a meat stew loaded with potatoes following the lasagne. Even though I have a hearty appetite, I was pretty glad to see ripe peaches being passed for dessert.
My second time in Florence was on our honeymoon trip to Italy. We had a great time enjoying the art and great food. But the memory that really stays with me was eating our breakfast in a little hotel by the Arno, with sun splashing into the room, as vibrant as the opera blaring on the stereo. And the coffee–the best coffee ever! OK, actually I didn't even drink coffee before getting into on that trip to Italy, but it was awesome.
We just celebrated our 20th wedding anniversary this year. So we are long overdue to get back to Italy. Next time, I'd love to see more of the Tuscan countryside now that I know more about the region's food and wine.
Now, let's talk about our Tuscan Beef Stew. As is often my approach, I didn't follow a traditional Italian recipe so much as try to capture some of the flavors one associates with the region. So there's plenty of rosemary and garlic, and of course a bottle of Chianti. I did reference a recipe I'd previously tried for a Tuscan pork stew, but found I liked the preparation with beef better.
I first made this stew for a wine club meeting focused on Tuscany. In the version of the recipe below, I use a dutch oven, which takes "only" 4 hours in the oven, plus some finishing time on the stove top. Italian food isn't about hurrying, but if in your American way you need to speed it up a bit, you can increase the heat to 325 and cook for 3 hours.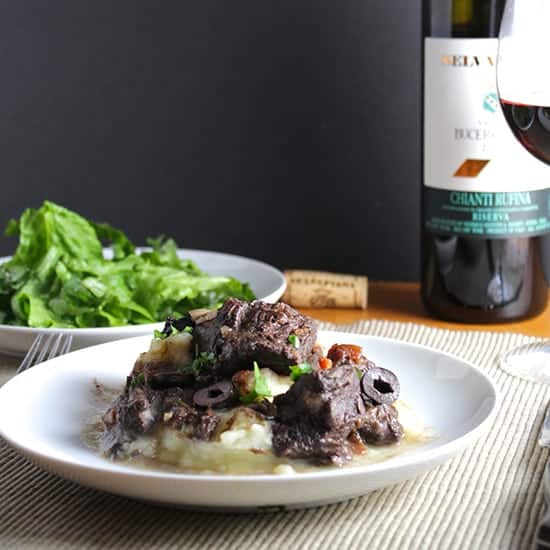 The end result is a super flavorful stew with fall apart beef, great served over mashed potatoes, a Tuscan arugula salad, and of course, Tuscan wine…
Wine Pairing for Tuscan Beef Stew
My original plan was to share details of the wine I paired with the latest batch of Tuscan Beef Stew. But alas, the scrap of paper with my notes has gone missing. So I will simply say that the 2009 Selvapiana Bucerchiale Chianti Rufina Riserva is a great expression of Chianti, and paired very nicely with our stew. I'll have to get another bottle soon and loop back with more notes on it!
From my other pairing experiments with the this stew, I can report that the 2004 Capanna Brunello Reserva and the 2009 Felsina Chianti Classico Reserva are excellent pairings for it. The 2012 Carato Toscano from Eric Banti is priced low enough to use for cooking the stew, but tasty enough to enjoy with the meal.
Time to check out the Tuscan Beef Stew recipe details.
Print
Recipe card
Tuscan Beef Stew
Slowly cooked beef gets enhanced with the flavors of the Tuscan countryside for a hearty meal.
Author: Cooking Chat
Prep Time:

30 mins

Cook Time:

5 hours

Total Time:

5 hours 30 mins

Yield:

8

servings

1

x
Category:

Main

Method:

Braise

Cuisine:

Italian
1

bottle Chianti or other dry red wine

4

rosemary sprigs

4

sage sprigs

1

red onion, coarsely chopped

½

of a celery rib, coarsely chopped

1

carrot, coarsely chopped

3

bay leaves, 1 tablespoon black peppercorns, 1 tablespoon juniper berries, 2 teaspoons whole cloves, tied in a cheese cloth

2.5

lbs. stew beef, cut into

2

inch cubes

¼ cup

extra-virgin olive oil

½

of a celery rib, finely chopped

1

carrot, finely chopped

1

small red onion, finely chopped

2

large garlic cloves, thinly sliced

1 tablespoon

very finely chopped sage

2 ½ teaspoons

very finely chopped rosemary–1 teaspoon reserved for later in cooking
Salt & pinch of crushed red pepper to taste

2

whole cloves, 8 juniper berries, 2 bay leaves and 4 peppercorns, tied in cheesecloth

3 cups

reserved marinade

½ cup

beef or chicken broth

1 cup

diced tomatoes

1 tbsp

tomato paste

½ cup

or so of olives, sliced

½ cup

coarsely chopped parsley

1 tbsp

of lemon zest
a few grinds of black pepper

1.5 tsp

garlic powder or spice blend–I like Organic Healthy Earth Seasonings spice blend for meat, seafood and veggies from Whole Foods
Instructions
Make the marinade: Combine all the marinade ingredients, from the bottle of wine through the spices in the cheesecloth, in a large bowl. Place the beef in a large sealable plastic bag, then pour the marinade into the bag (having a helper is handy here). Gently shake the beef around a bit to get it well-coated, then squeeze the air out of the bag and seal it tightly. Store the beef in the refrigerator for at least 6 hours or overnight.
When you're ready to start cooking, place a strainer inside a large bowl. Pour the beef mixture into the strainer, using the bowl to capture and reserve the marinade. Remove the beef, patting it with paper towel to dry it a bit, and scrape off big pieces of herbs and spices from the marinade. Set the beef aside in a bowl.
Heat the oil on medium heat in a dutch oven. Add the finely chopped onion, carrot, and celery to the pan, cook for a few minutes until it starts to soften.
Add the garlic, cook for another minute. Next, stir in the beef, combining it well with the veggies. Salt to taste. Cook for 5 to 10 minutes, stirring occasionally to brown on all sides.
After the beef has browned, stir in the stock along with the red pepper, rosemary and sage, cooking until the stock has mostly evaporated.
Preheat the oven to 300 degrees as you brown the meat and veggies. Once the beef has browned in an oven proof dutch oven, add the 3 cups reserved marinade, the chopped tomatoes, tomato paste, and the spices in the cheesecloth. Bring to a boil on the stove top, then lower to a steady simmer and cover. Carefully move the dutch oven to the oven, and cook for 4 hours.
Carefully move the stew back on the stovetop. Bring to a steady simmer, and add the garlic powder or spice blend, salt and pepper to taste. Simmer partially covered for up to one hour to reduce and thicken the stew. At the end of this cooking time, stir in the olives, parsley and lemon zest. The last two items give a nice freshness to it. Alternatively, a bit of these last 3 items can be served on top of each person's bowl of stew, for a nice presentation. Enjoy with a glass of Tuscan red wine!
Keywords: beef stew, Tuscan food, wine pairing
Recipe Card powered by
Our Tuscan journey doesn't stop here. Join all of our other bloggers as they share with you their experience through the region of Tuscany.
Vino Travels – The clones and wines of sangiovese in Tuscany
Cooking Chat – Tuscan beef stew and wine pairing
Food Wine Click – In Tuscany, red wine pairs with fish
Curious Appetite – Tuscan baked goods and secret bakeries in Florence
Flavourful Tuscany – Tuscany: the cult of wines and the dining pleasure
Enofylz – A Taste of the Tuscany coast
Rockin Red Blog – Travel to Tuscany without leaving home with #ItalianFWT
Girls Gotta Drink – What is up with the Chianti Classico black rooster?
Italophilia – Castello di Poppiano
Orna O'Reilly – Five days on Elba
Join us next month on Saturday March 7th as we travel to the region of Trentino-Alto Adige in the northeastern part of Italy in the Dolomite mountains. For additional Italian related blogs on the food, wine and travel of Italy stay tuned to #ItalianFWT on Twitter throughout the month. Ciao Ciao!
Thinking about a wedding in Tuscan? Did you know the creator of this #ItalianFWT recently publish a book on planning your dream wedding in Tuscany? Check it out! Available through my Amazon affiliate link below.