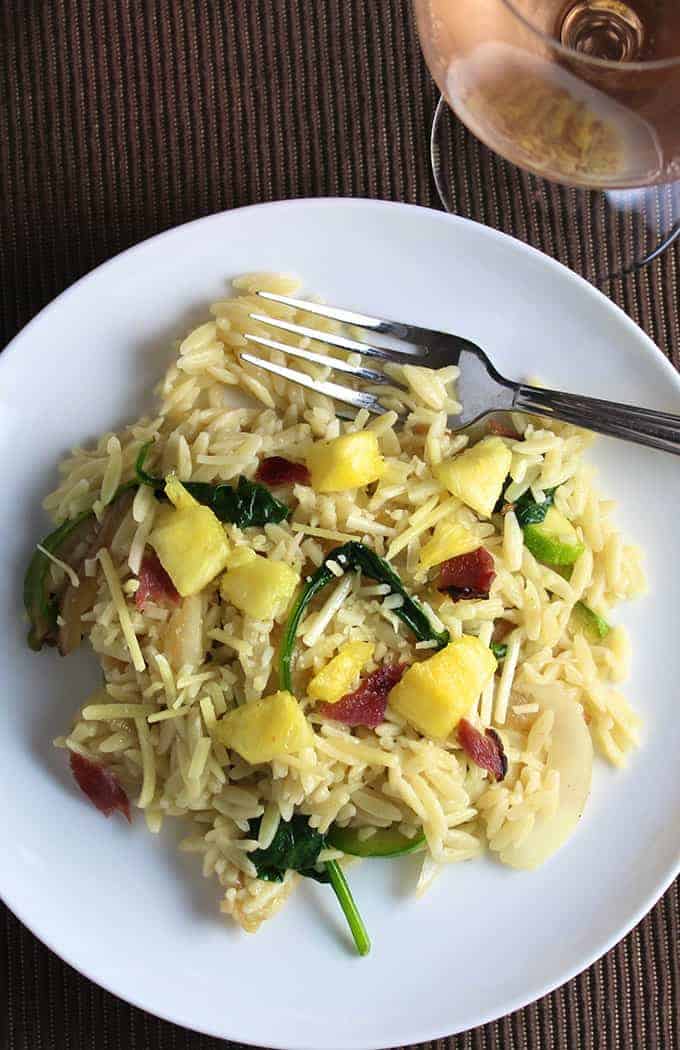 Round Two of the French Winophiles, started by Christy at Confessions of a Culinary Diva, takes us to Provence. This is a region of France I've got to get to one of these days–lavender fields, proximity to the Mediterranean, and of course, great food and wine. For now I'll have to settle with the food and wine pairings.
I thought I'd go for a bottle from Bandol, as I'm a big fan of the rosés and the robust reds from the region. But last weekend when I went to pickup wine for this post I sampled the 2014 Chateau La Moutete Grande Réserve Rosé. A wine of its quality for under $20 ($16 regular price, it was on sale at Pairings when I visited) was something I had to build a post around! More on the wine in a moment, but let's talk about the food first.
I noted a taste of melon when I first sampled the wine, so that was a starting point for my recipe planning. I also had some lean pork shoulder bacon on hand I wanted to use. My thought was to do something with a melon and bacon combo, and toss it with some orzo to make it a main course rather than an appetizer.
The cantaloupe I cut open for the dish turned out to be dry and tasteless. I needed a substitute, so I used some pineapple we had available. So we moved from the flavors of a melon/prosciutto appetizer to a Hawaiian pizza theme! I sautéed some onions, zucchini and spinach to toss with the bacon and pineapple.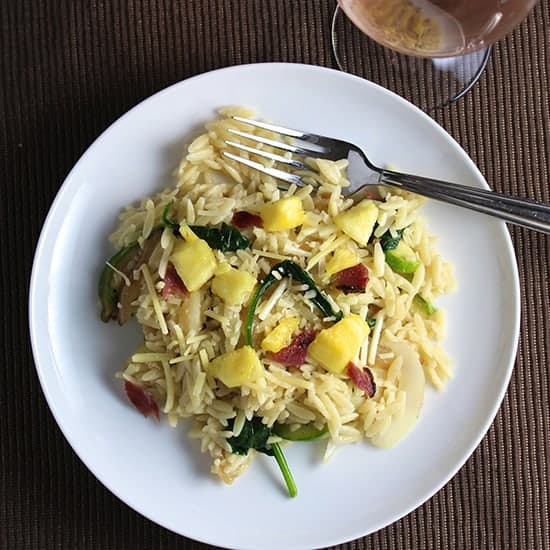 The pineapple definitely made this orzo a refreshing change of pace dish. I don't put fruit in my recipes too often, but it reminded me that it can be a nice twist. As you might imagine, the bacon adds great flavor and went well with the pineapple.
Sorry, the recipe doesn't have much to do with Provence cooking. I was getting close to the deadline for this blog event, and my goal was simply to open a good bottle of wine from Provence and come up with a recipe that would taste good with the wine. Let's see how we did…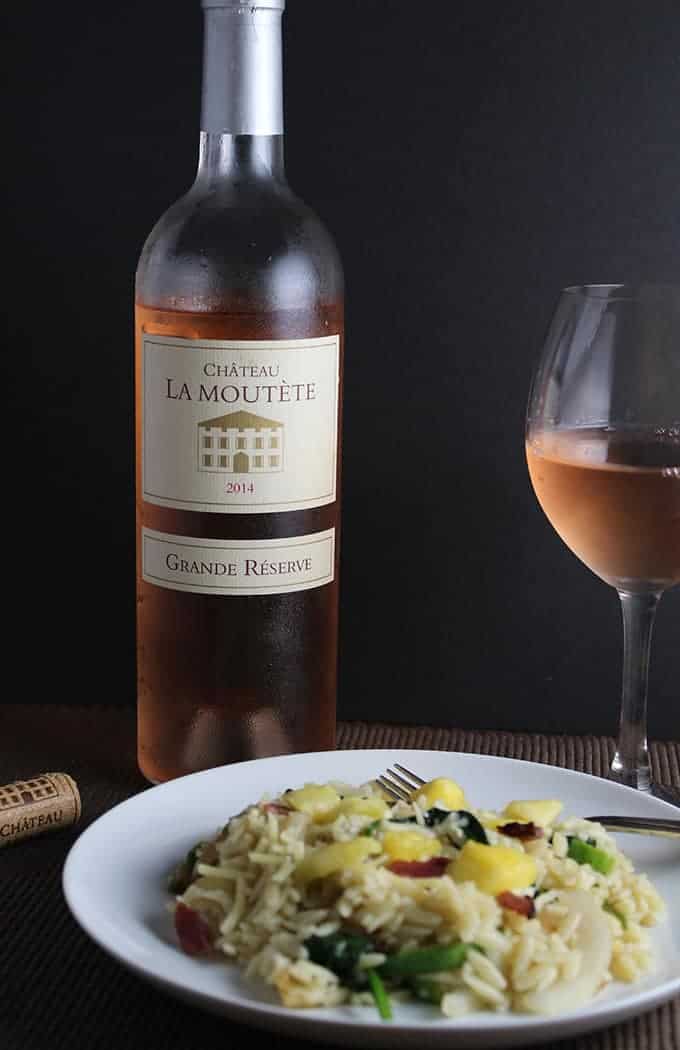 Wine pairing: As noted earlier, we had a bottle of the 2014 Chateau La Moutete Grande Réserve Rosé ($16, 13.5% alcohol). This wine is from the Côtes de Provence AOC, a large non-contiguous region in Provence, that produces the majority of Provence. This rosé is a blend of Grenache, Cinsault, Syrah and Mourvedre, a fairly typical blend for the region.
The nose of the wine reminded me of the beach somehow. A hint of the ocean, and perhaps a bit of coconut from sunscreen recently applied on a hot day. Sticking with the beach theme, in addition to a taste of melon, the taste reminded me of the orange creamsicle I used to enjoy by the ocean. And there was a bit of salinity as well. A good, well-balanced wine. Despite my unorthodox descriptions, this is a wine I definitely enjoyed and would recommend.
Now, to the pairing. The wine definitely has good fruit, but the pineapple is fruitier and has some sweetness. There is some similarity to the fruit flavor profiles of the wine and food, but they aren't quite in synch. With the pineapple being notably sweet, the wine tastes a bit drier than it does on its own. I like both the dish and the wine independently, but would grade the pairing as a B+. I happened to have enough of the dish leftover to have another night, and paired it with a Pinot Patch Rosé from California. This pinot is a bit fruitier, and was perhaps a bit better match for the dish. That said, I'd rate the Chateau La Moutete as a better wine overall.
[update to post] Speaking of better pairings, I was focusing on this new orzo with bacon and pineapple recipe, and temporarily forgot that I also was eating some Simple Sautéed Shrimp along with the orzo and the Chateau La Moutete. I suppose it should come as no surprise that this wine produce close to the Mediterranean Sea would go better with seafood than a dish dominated by the pineapple fruit! The shrimp and Chateau La Moutete pairing definitely gets a thumbs up!
Print
Recipe card
Veggie Orzo with Bacon and Pineapple
Sautéed onions, zucchini and spinach get tossed with orzo, bacon and pineapple for a pasta dish with a creative twist.
Author: Cooking Chat
Prep Time:

10 mins

Cook Time:

25 mins

Total Time:

35 mins

Yield:

4

servings

1

x
Category:

Main

Cuisine:

Fusion
1 cup

pineapple, chopped into small pieces

2

pieces of bacon, lean if possible

2 tbsp

olive oil plus oil spray

1

large onion chopped

1

large garlic clove, minced

1

zucchini, sliced in half the long way, then sliced cross-wise to create semi-circles

2 cups

baby spinich

12

ozs orzo

⅓ cup

shredded parmesan cheese
Instructions
Spray a large skillet with oil, then heat on medium. Add bacon and cook until crisp, 8 to 10 minutes.
Remove bacon from pan, set on plate topped with paper towel to cool. Crumble into bite sized pieces when cool.
Drain the excess bacon grease from skillet, then heat 1 tablespoon of the olive oil in the skillet on medium.
Add the onion, sauté in one tablespoon olive oil for about 10 minutes until the onion has softened and begun to caramelize.
Stir in the zucchini, and cook for another 5 minutes.
Add the add the garlic to the skillet and cook for one minute to release the garlic aroma. Stir in the spinach, and lower heat to medium low. Cook covered for about 3 minutes until the spinach has begun to will.
Cook the orzo according to package instructions while you cook the veggies. When the orzo is done to your liking, drain the orzo and toss with the remaining tablespoon of olive oil.
Add the sautéed vegetables into the pan with the orzo and stir to combine. Stir in the bacon bits, then the pineapple and cheese. Serve immediately and enjoy with a rosé, preferably from Provence!
Recipe Card powered by
Be sure to check out the tasty Provence posts from my fellow bloggers!
Martin from Enofylz Wine Blog shares "A Tipple and Taste of Provence"
Jeff from foodwineclick indulges in "Filet de Porc au Geniévre avec Domaine Tempier Bandol Rouge"
Wendy from A Day in the Life on a Farm brings us "A Taste of Provence inspired by A Pig in Provence"
David from Cooking Chat shares "Bacon Pineapple Orzo with a Rosé from Provence"
Camilla from Culinary Adventures with Camilla inspires us with "Spiced Orange Salad + Cave de Saint-Roch-les-Vignes Cotes de Provence Rosé"
Michelle from Rockin Red Blog brings us "A Meal in Provence"
Anna from Anna Dishes is still whipping up her pairing
Tammy from Telling Stories from Chez Nous is creating a spectacular pairing with Rosé
Christy at Confessions of a Culinary Diva is sharing "A Month in Provence"
Sarah from Curious Cuisiniere explores the flavors of Provence with "Petit Farcis (Provencal Stuffed Zucchini) and Exploring Provence Wines"
Join us Saturday, July 18th at 11 am EST/8 am PCT for a live Twitter Chat sharing wine, food and travel stories from Provence. Find us at #winophiles.
Next month we explore the wine and cuisine of the Southwest Region of France on Saturday, August 15th.