Braised Moroccan Chicken Thighs features slowly cooked chicken with chickpeas and a flavorful spice blend. Easy enough recipe for a weekday, but enough sophistication for the weekend…and a good bottle of wine! This has become a go to recipe in our house; we make it once a month or so.
We originally served the dish with a special Oregon Pinot Noir with ties to Burgundy for a French Winophiles event. During a recent remake of this braised chicken thights recipe, we paired it with a Moroccan wine. Disclosure: The Oregon Pinot discussed here was provided as a complimentary sample.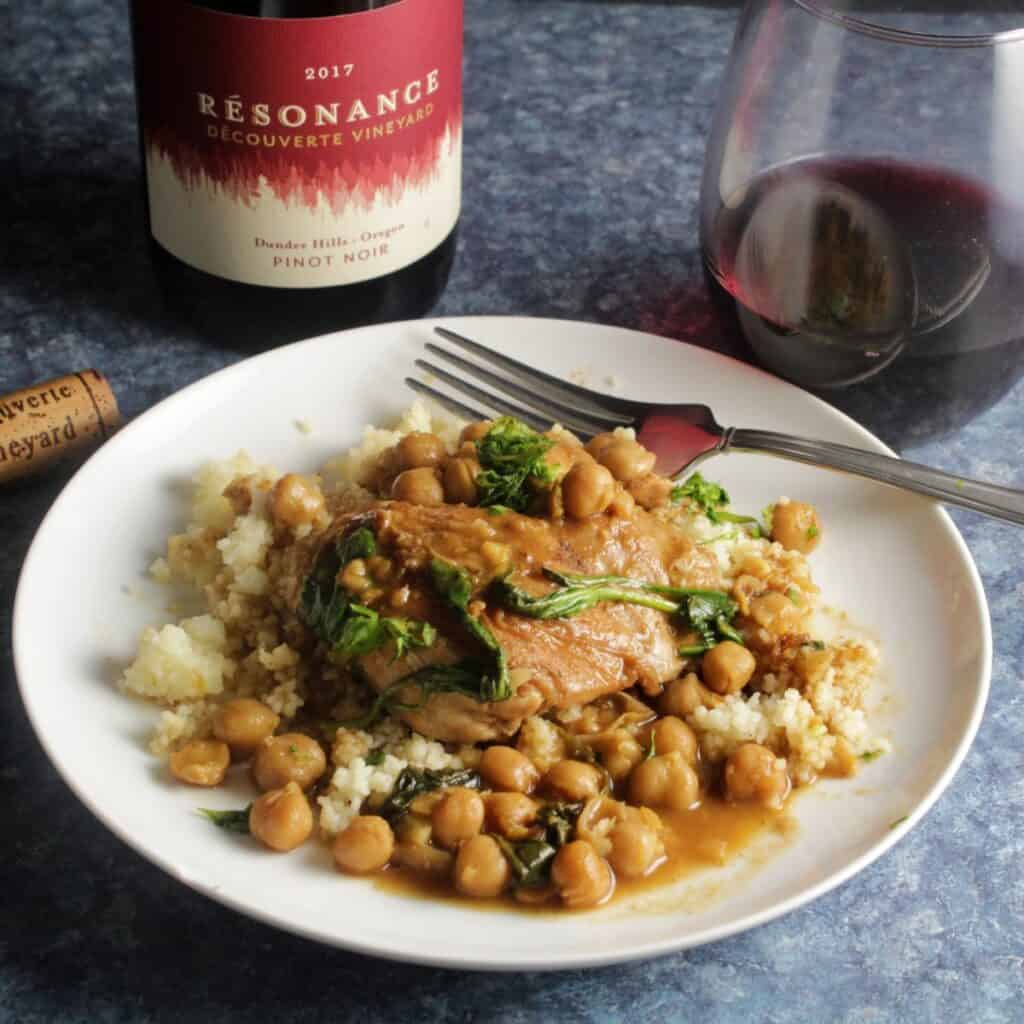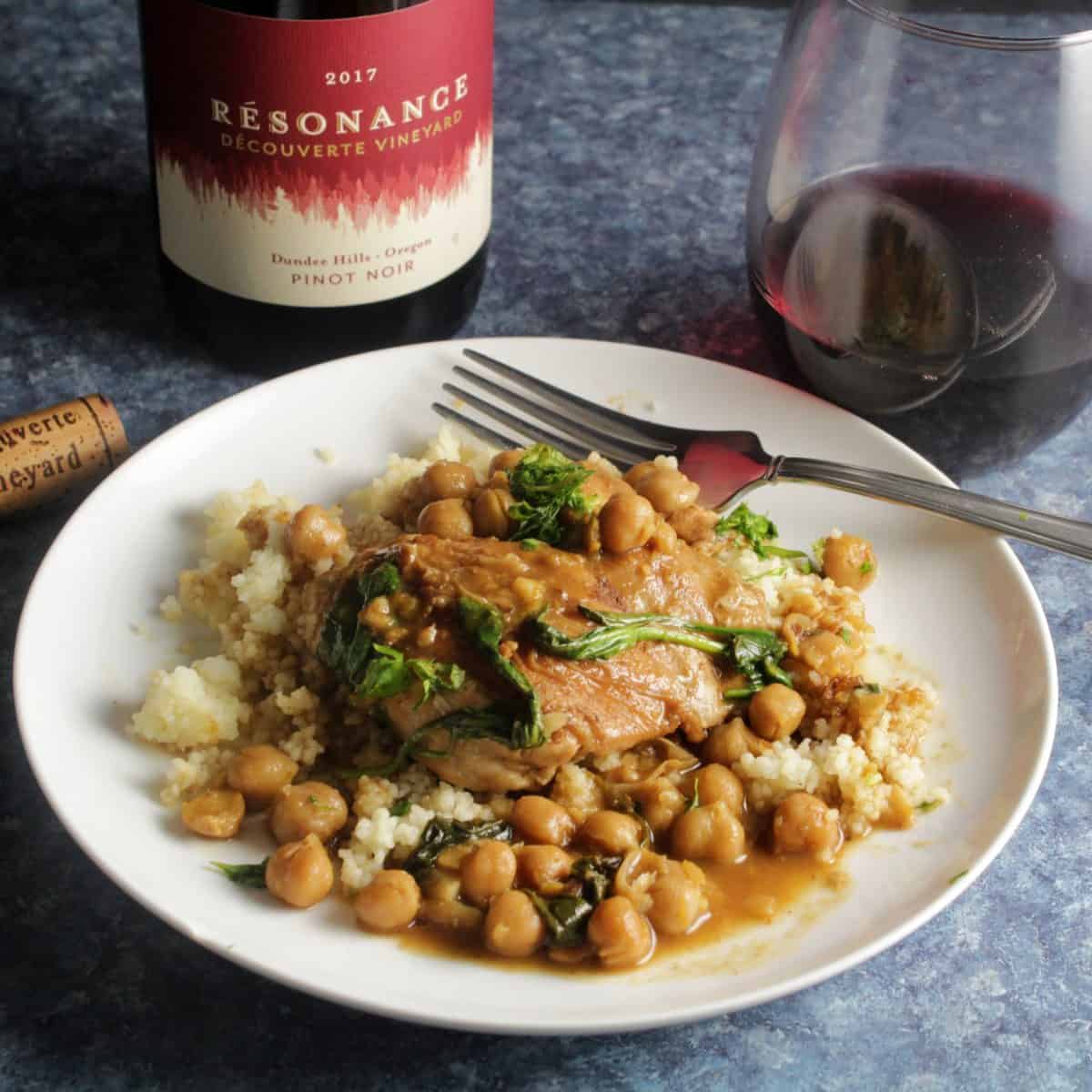 Jump to:
About this recipe
This recipe is based on the Moroccan-Style Braised Chicken and Chickpeas found in a recent edition of Christopher Kimball's Milk Street Magazine. I enjoy listening to his cooking podcast, and have been subscribing to the magazine over the past year.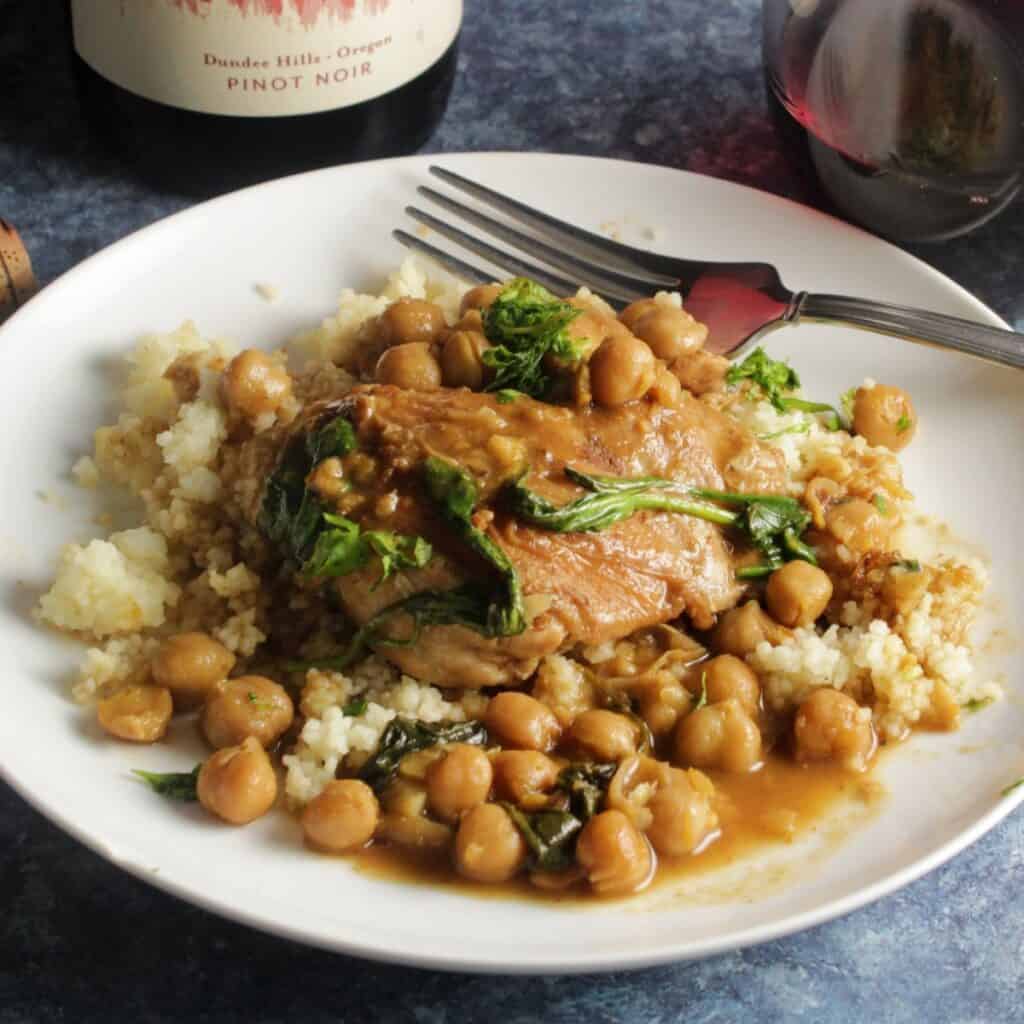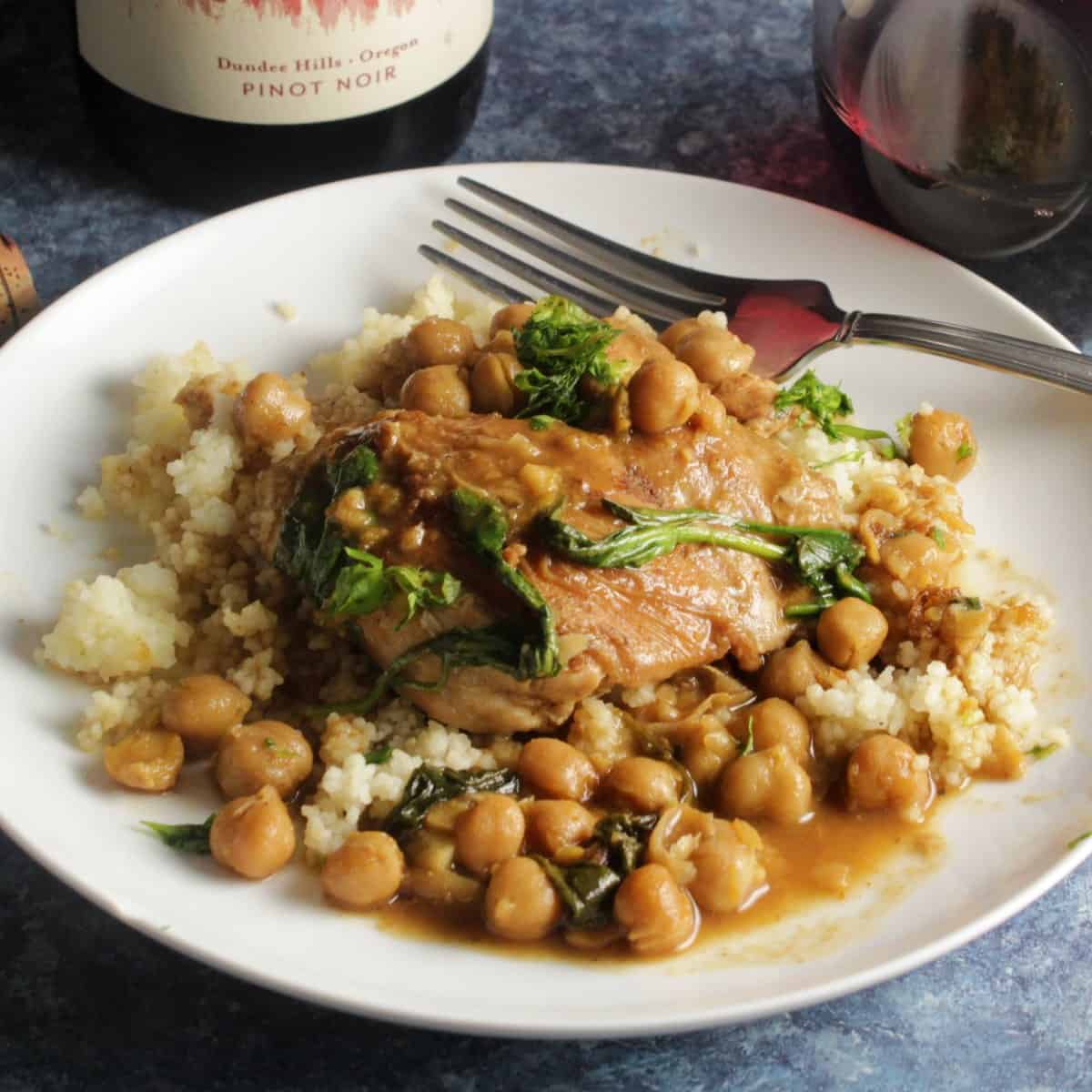 This Moroccan chicken recipe is flavored by two key ingredients — liberal amounts of ras el hanout spice blend and pomegranate molasses. And there's some lemon to finish it off.
I just made a few tweaks to the Milk Street version of the recipe, in addition to elaborating on the recipe steps and timing. I used apricot jam instead of dried apricots, and put together the ras el hanout based on this Epicurious recipe. Of course, I had to make a few adjustment to that, too. I also added a bit of baby spinach for additional color and nutrition.
The final step in the recipe is preparing a quick sauce after removing the cooked chicken from the pan. You use the remaining juices in the pan along with some lemon and additional pomegranate.
The recipe calls for pouring the sauce over the chicken on the platter, but you can also plate the chicken and the sauce individually if there are varying levels of interest in the sauce. Our teen son really enjoys this dish, but likes it without the extra sauce. You might try that option for kids that don't like as much flavor as we grownups!
I use boneless, skinless chicken thighs a lot in my cooking. I like the way the darker meat lends itself to slower cooking methods such as this braise. If you like this recipe, you might also like our Braised Chicken Thighs with Vegetables, which is more of a French flavored preparation.
What is ras el hanout?
Ras el hanout is a Moroccan spice blend that means "top shelf", as it typically involves some of the best spices available, creating a great aroma. It can sometimes contain as many as 50 different spices!
You can purchase the ras el hanout blend already made up – I'm including my Amazon affiliate link in case you want to order some. I haven't come across it in the grocery stores, and wanted to make this braised Moroccan chicken before an order would arrive. That led me to mix up my own!
Don't worry, you don't have to pull out 50 spice jars to make ras el hanout yourself! The version here narrows it down to 8- cumin, ginger, salt, black pepper, cinnamon, paprika, allspice and ground cloves.
I list the ground cloves as optional, as I didn't have that on hand but it is mentioned in the Epicurious recipe. I swapped the cayenne they call for with paprika, as I was looking to bring a little less heat to the table. One of those nights I wanted to just cook one thing as opposed needing to prepare something additional for someone here that doesn't go for things with a lot of kick.
What to make with pomegranate molasses?
This recipe calls for a good amount of pomegranate molasses. It's a common ingredient in a variety of Middle Eastern and North African dishes, but if you don't cook often from those cuisines you might not be very familiar.
I have mixed results finding pomegranate molasses at the grocery store. I have also ordered it on Amazon; here's an affiliate link to the kind we ordered most recently.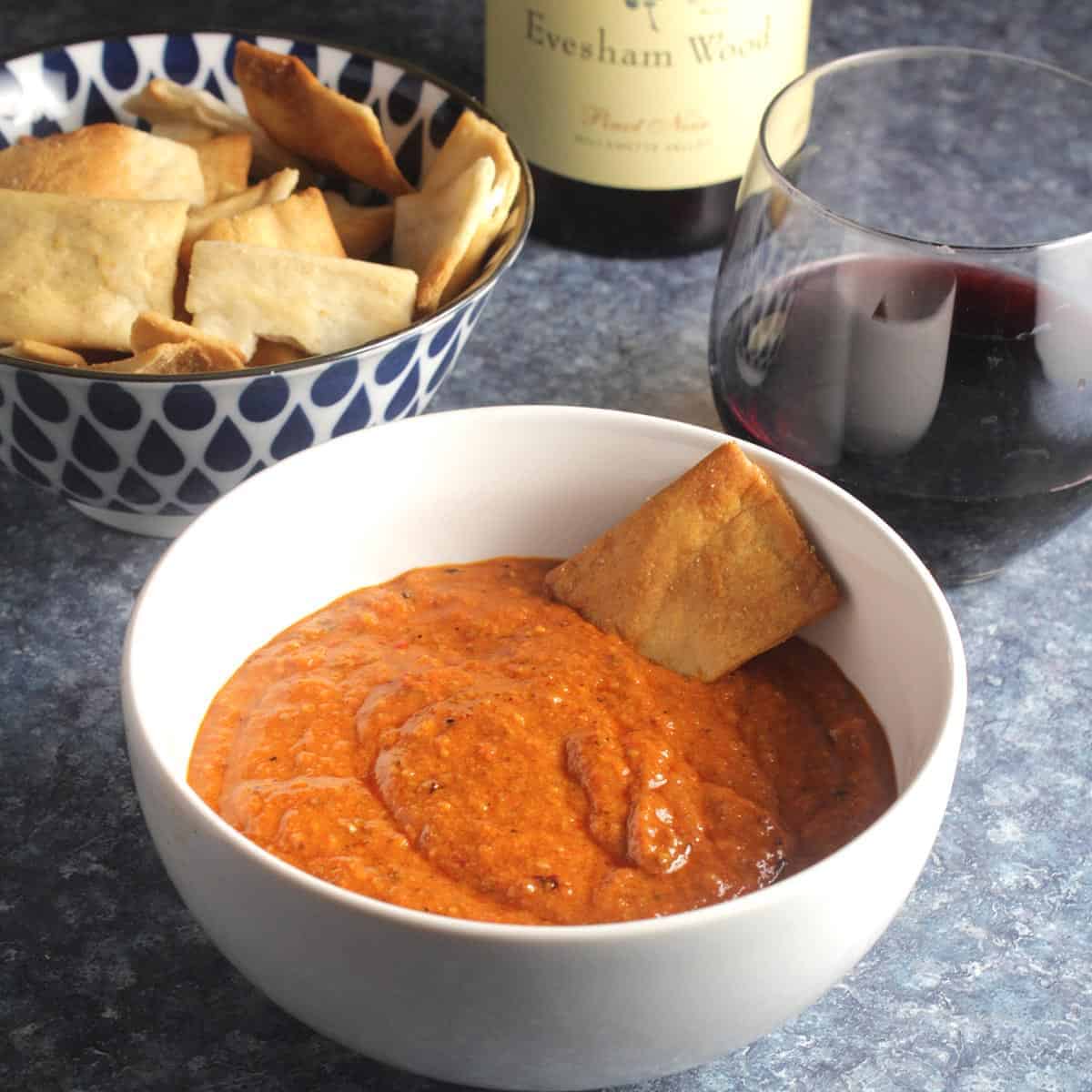 Pomegranate molasses is also featured in our Muhammara Spicy Red Pepper Dip. It's also good spread over pork chops; or you can take that a step further and make our Pork Chops with Pomegranate Sauce.
Moroccan wine pairing
Recently I attended a rosé tasting at Bin Ends Wine in Needham. After enjoying a sip of wine from Morocco, I knew I would have to get a bottle of the wine to pair with this Moroccan chicken thighs recipe!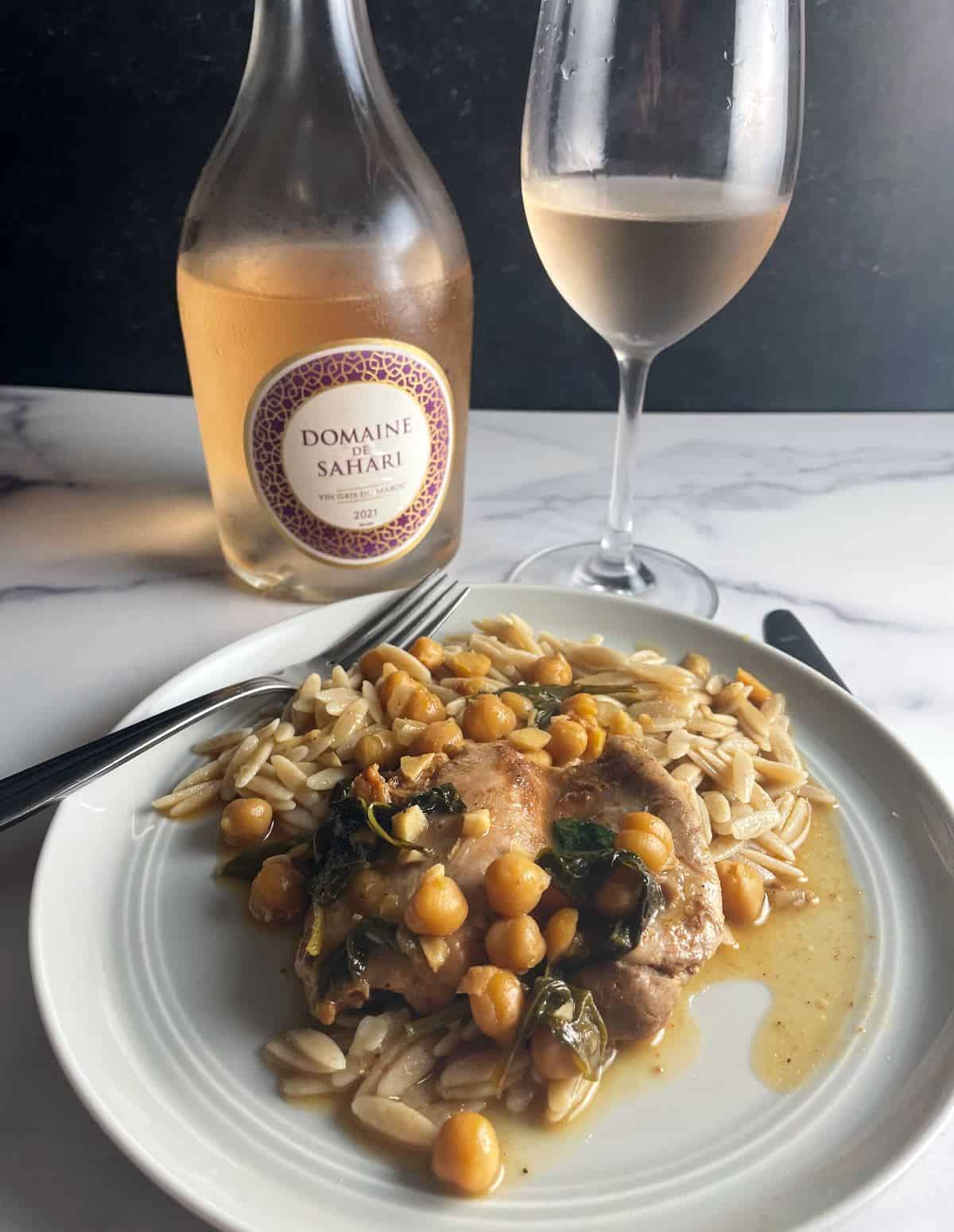 The 2021 Domaine de Sahari Vin Gris Du Maroc ($17, 13% ABV) is made from a blend of Cinsault and Grenache. This rosé has a bright floral nose with watermelon fruit on the palate, with a touch of honey and salinity.
The wine is refreshing to sip on its own on a warm summer evening. It also pairs pretty well with the Moroccan chicken. This is the first time I call that I've had a wine from Morocco, so fun to pair it with this dish. Definitely a good pairing option, especially if you are making this recipe in the summer time.
Oregon Pinot pairing
I have long been a fan of Oregon Pinot Noir. So when I heard about the French Winophiles group focusing on Oregon wineries with connections to Burgudy, I was very interested!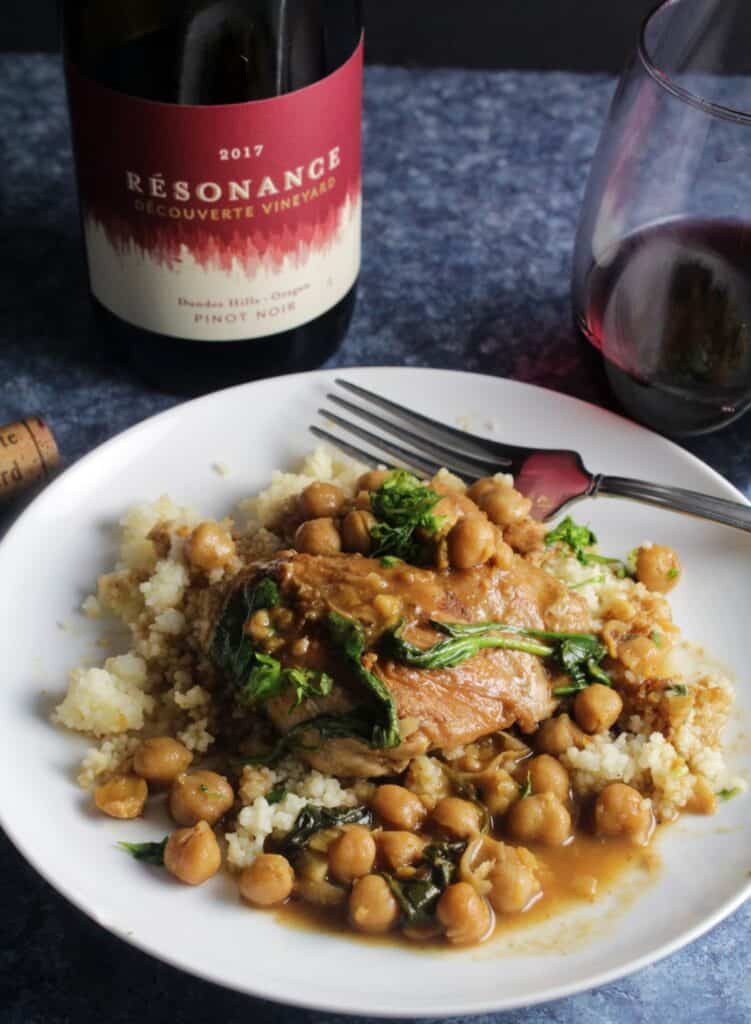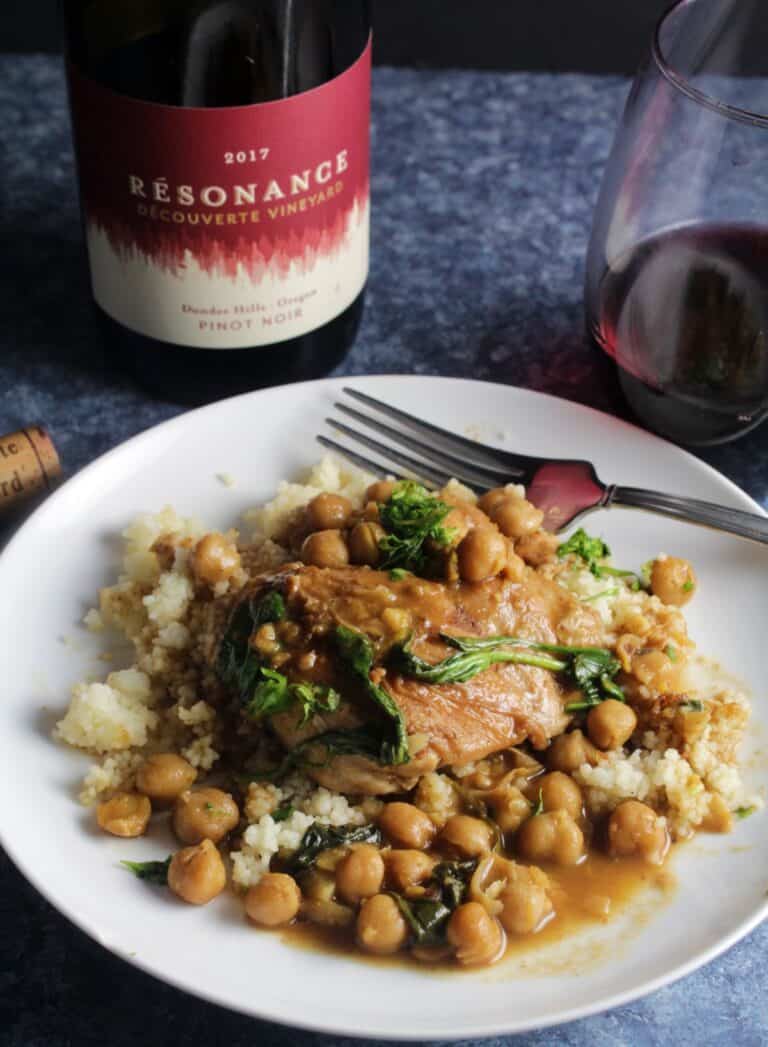 The bottle of Résonance Dundee Hill Pinot Noir had been patiently waiting in our cellar several weeks. With the #winophiles event focused on Oregon wineries with ties to Burgundy fast approaching, I was on the lookout for recipes from our meal plan that would be suitable to pair with the Résonance.
With plans to make Braised Moroccan Chicken Thighs last weekend, I thought this could be the time to open this special Oregon Pinot Noir. Chicken and Pinot can generally be a good idea, and I suspected this bottle would have the nuance needed to go with the Moroccan spices in the dish.
We were provided a bottle of the 2017 Résonance Decourverte Vineyards Dundee Hills Pinot Noir ($75, 13.5% ABV). Résonance is Maison Louis Jadot's first wine project outside of Burgundy. More on that in a moment, after we talk more about the pairing.
I get blackberry and licorice on the nose of this Pinot. The wine is delicate on the palate. Cherry fruit, with a bit of sandalwood. Also a light cinnamon note to the taste. A pleasant, lingering finish.
The wine is well-balanced, and definitely food friendly. I would definitely give this Pinot paired with the Moroccan chicken thighs a thumbs up.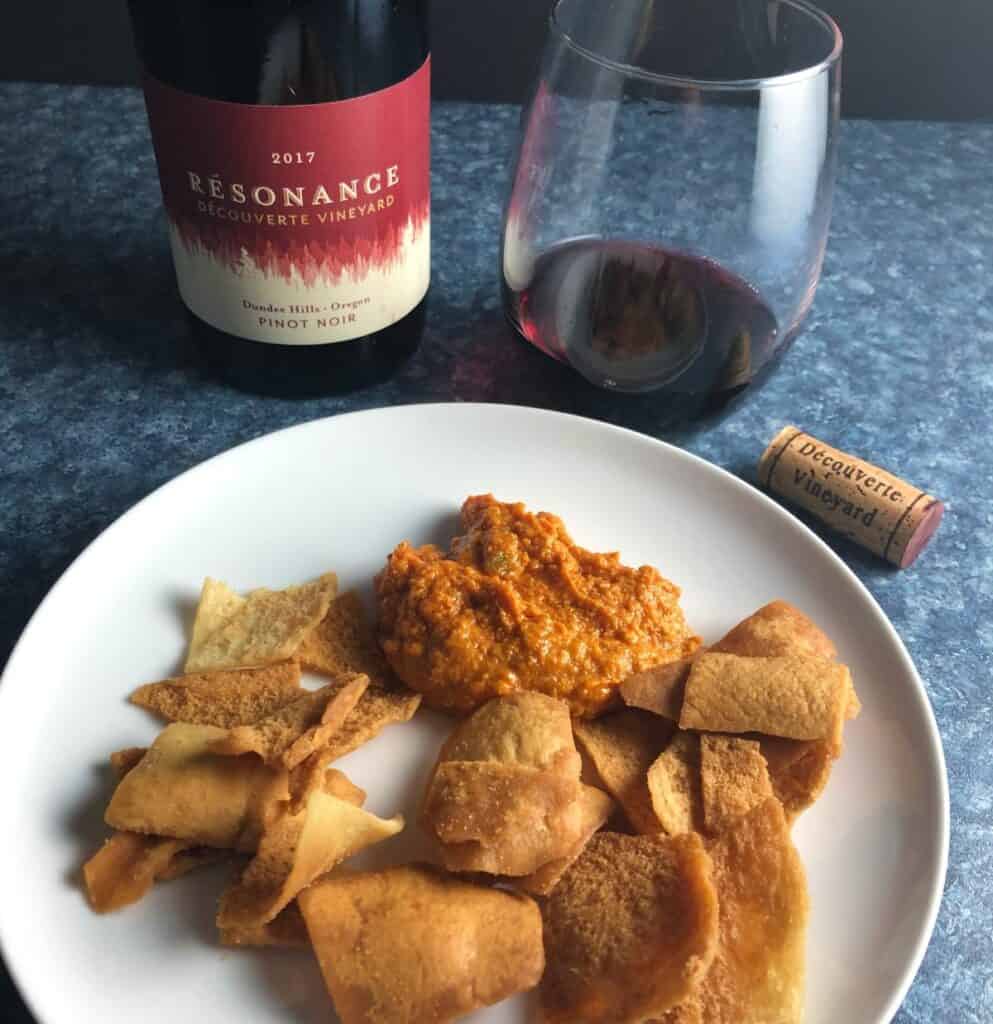 We also enjoyed the Résonance Pinot paired with our Muhammara red pepper dip. Pinot is a classic pairing for this one!
Pinot Noir from Oregon & Burgundy
Oregon's Willamette Valley is of course much newer to the winemaking scene than Burgundy. But they do share some similarities — both have cool climates that lend themselves to making high quality Pinot Noir.
Winemakers in Oregon will be quick to tell you that they are not trying to duplicate wines from Burgundy, as they lean into unique aspects of their terroir, such as the proximity to the Pacific Ocean. This article on Advinetures has a nice discussion of the similarities and differences of the two regions.
Differences aside, today's French Winophiles theme is "Oregon and Bourgogne Tied Houses" hosted by LM Archer. As mentioned, for the event I had a chance to sample the Résonance Decourverte Vineyards Pinot Noir.
Résonance is a project of Maison Louis Jadot, which has been making wine in Burgundy since 1859. The 2017 Résonance is the debut of their first winemaking project outside of Burgundy.
Located within Oregon's Willamette Valley, Résonance vineyard is situated i just west of Carlton at the foothills of the Coast Range.
The 2017 growing season started with a cold and wet winter, followed by a warm summer that allowed for full maturation of the grapes. The Pinot grapes for this wine are organically dry farmed.
The Résonance is made by well-known winemakers Jacques Lardiere and Guillaume Large. The wine was aged for 17 months in French oak barrels, 30% new.
Other pairings
During a recent remake of this recipe, I paired these Moroccan chicken thighs with a bottle of Chenin Blanc. The pairing worked reasonably well, but I would say preferred the Pinot option.
Print
Recipe card
Braised Moroccan Chicken Thighs
Braised Moroccan Chicken Thighs with Chickpeas is easy enough for a weeknight, but has the sophistication suitable for a weekend…and a good bottle of wine! The overall recipe adapted from Milk Street Magazine; the ras el hanout spice blend is adapted from Epicurious.
Author: Cooking Chat
Prep Time:

10 mins

Cook Time:

50 mins

Total Time:

60 mins

Yield:

6

servings

1

x
Category:

Main

Method:

braising

Cuisine:

Moroccan
For the ras el hanout (if making your own)
1 tsp

ground cumin

1 tsp

ground ginger

1 tsp

salt

½ tsp

fresh ground black pepper

¾ tsp

ground cinnamon

½ tsp

paprika (or cayenne for more kick)

½ tsp

ground allspice

¼ tsp

ground cloves (optional)
For the chicken:
1 ½

lbs boneless, skinless chicken thighs
salt to taste

3 tsp

ras el hanout, divided

2 tbsp

extra virgin olive oil

4

garlic cloves, minced

3 tbsp

, divided, pomegranate molasses

½ cup

dry white wine

⅓ cup

apricot jam or spread

15 ½ oz

can chickpeas, rinsed and drained

1 tsp

grated lemon zest

2 tbsp

lemon juice

1

to

2

cups baby spinach
handful of chopped cilantro
cooked couscous for serving; or you can also serve with orzo or rice
Instructions
Make the spice blend (skip if you already have ras el hanout): combine the spices — cumin, ginger, salt, black pepper, cinnamon, coriander seeds, cayenne, allspice and optional cloves in a bowl. Set aside.
Prep the chicken: Pat dry the chicken thighs. Season by sprinkling a bit of salt and 1 teaspoon ras el hanout. Set aside.
Brown the chicken: Heat 2 tablespoon olive oil in a skillet or Copper Chef Pan on medium high. When hot, add the chicken cook for about two minutes until starting to brown on one side. Turn the chicken over to brown for a minute or two on the other side. After browning, remove the chicken to a plate and set aside.
Add garlic to the same skillet or pan you used for the chicken, along with 2 tsps of the ras el hanout blend. Cook on medium for about a minute, until the garlic and spices become fragrant. Add the apricot jam, 2 tablespoon of the pomegranate molasses, cooking wine and the chickpeas. Stir vigorously to scrape up and incorporate bits of chicken left from the browning and to prevent sticking.
Braise the chicken: Place the chicken on top of the chickpea mixture, along with any juices that may have accumulated. Cover, and simmer for about 35 minutes, until the chicken is cooked through. Stir once about halfway through the cooking, and add the baby spinach at this time. When the chicken is cooked through, use a slotted spoon to move it to a clean serving platter (i.e. not the one you used for the chicken after browning). 
Make the sauce: After removing the cooked chicken, heat the remaining sauce on medium high heat a few minutes until it reduces slightly. Remove from heat, and stir in the lemon zest, lemon juice and remaining tablespoon of pomegranate molasses. Pour sauce over chicken (see notes for kid serving tip). To serve, plate a bit of couscous, and scoop some chicken with sauce to serve over the couscous. Sprinkle a bit of cilantro for garnish. We recommend the dish with a good Pinot Noir from Oregon or Burgundy!
Notes
We make our own spice blend in this recipe, but you can purchase it already made. Here's an Amazon link to purchase ras el hanout blend. 
If making your own ras el hanout, place any extra after making the recipe in a sealed glass container. I like to re-use empty spice bottles from the store for this purpose. Store in a dark cabinet, keeps for at least a month.
The quantities in the ras el hanout section of the recipe will make enough for this chicken plus a little bit extra. Double the quantities to have enough to ready to make another batch of this Moroccan chicken recipe!
Kid friendly tip: If you have kids (or grownups) that like things a bit more plain, give them a serving of the chicken before pouring the sauce over it. 
Lemon: 2 tablespoons of fresh lemon juice gives a pretty notable lemon flavor, if you are a moderate fan of lemon you could try just 1 tablespoon.
Keywords: Moroccan chicken, braised chicken thighs, recipes with ras el hanout
Recipe Card powered by
Oregon & Bourgogne Tied Houses
See what my fellow Winophiles have written about Oregon wineries with a connection to Burgundy!
Wendy at A Day in the Life on the Farm tells of "Countries United Through Food and Wine"
Camilla from Culinary Adventures with Camilla shares "Galette au Chou + 2017 Résonance Pinot Noir"
Terri at Our Good Life tells tells us about "Resonance Pinot Noir and Roasted Pork Loin"
Lynn from Savor the Harvest shares "Oregon Pinot Noir With a Burgundian Heart – Domaine Drouhin Laurène"
Jennifer at Vino Travels cooks up "BBQ Brisket with Domaine Drouhin Pinot Noir"
Linda at My Full Wine Glass shares "Oregon PN for a PNW holiday meal: A Résonance"
Robin from Crushed Grape Chronicles has a discovery: "Découverte! Pinot Noir from Oregon's Dundee Hills and Mediterranean Salmon" #Winophiles
David from Cooking Chat shares "Braised Moroccan Chicken Thighs with Oregon Pinot #Winophiles"
Jane from Always Ravenous has an "Oregon Pinot Noir Paired with Braised Chicken Thighs, Blackberries, and Fennel Purée"
Melanie from Wining With Mel tells us "New World meets Old World: Oregon's Résonance pinot noir paired with beef bourguignon"
Liz from What's In That Bottle shares a "Taste of the 45th Parallel"
Jeff from Food Wine Click! tells us about "Louis Jadot on Both Sides of the Pond"
Payal from Keep the Peas shares "Burgundy via Oregon"
Nicole at SommsTable has a "Burgundy vs Oregon Showdown with Drouhin Wines"
Jill at L'Occasion covers "Bourgogne's Western Vineyards: Crafting Pinot Noir in Oregon"
Gwen from Wine Predator shares "From France's Bourgogne to Oregon's Willamette Valley: Domaine Drouhin does Pinot Noir" #Winophiles
Michelle from Rockin Red Blog takes on "Best Of Both Worlds: Burgundy Producers Craft High-Quality Wine in Willamette Valley"
Cindy from Grape Experiences offers "Résonance Wines Express a Burgundian Vibe in the Willamette Valley"
Our host, L.M. Archer shares life "À Table with Domaine Drouhin Oregon and Résonance Wines"