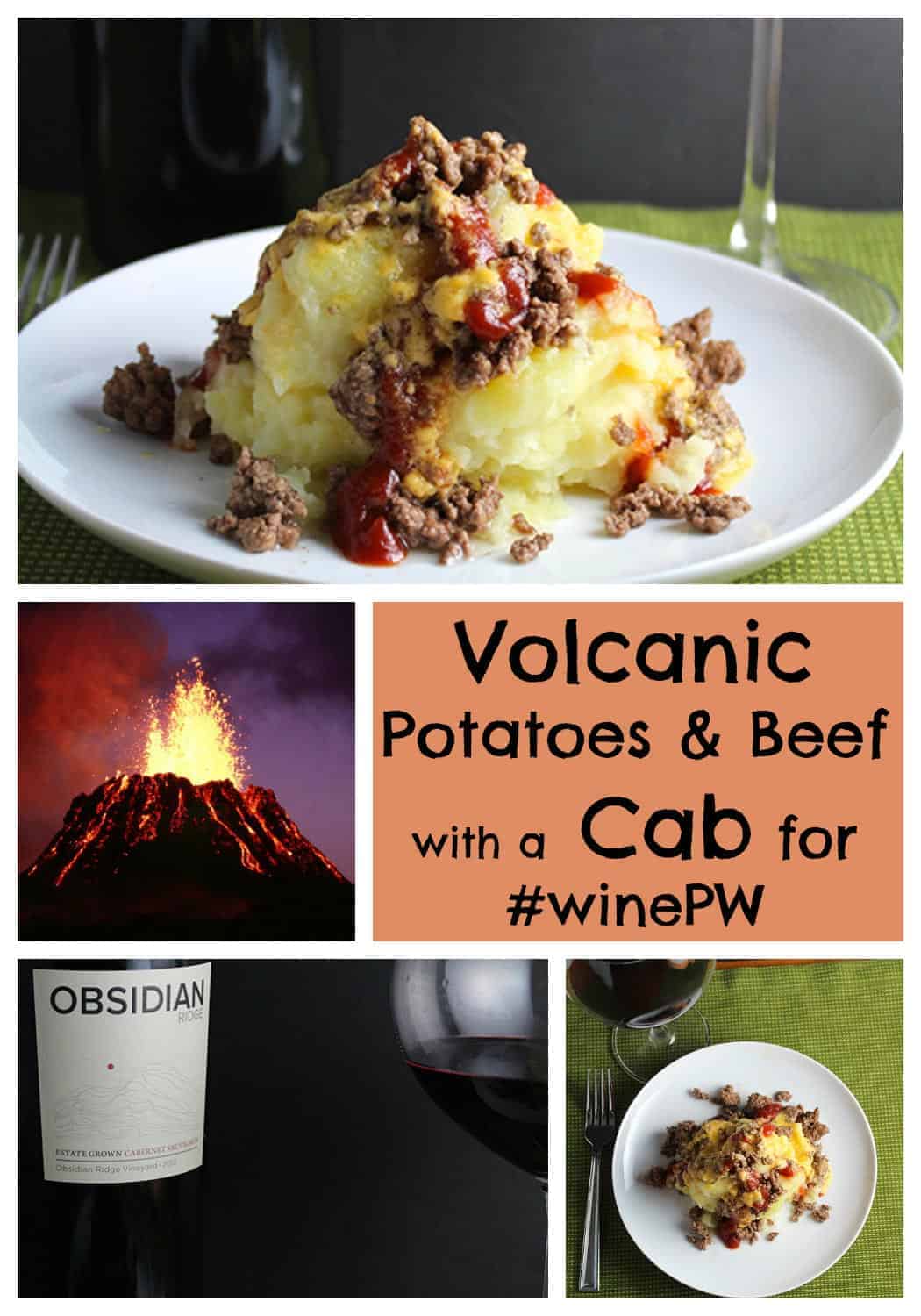 Camilla gave us a fun theme, "Scorched Terroir", for this month's Wine Pairing Weekend. She asked us to try a wine from an area with volcanic soil, and come up with a pairing for that wine.
The topic was an eye-opener for me. I've had some wine from near Sicily's Mt. Etna, and a couple other Italian wines I recall being noted for their volcanic soil. But now I realize that volcanic soils can be found in more places than I realized, including Napa. So I wound up going just a bit north of Napa to Lake County California for my #winePW selection. But let me talk about the Volcanic Potatoes and Beef recipe a bit before covering the wine details.
When I started thinking about the food I might make for this #winePW, I wasn't sure what region I'd pick a wine from. So I started thinking about a food that also would tie into the volcanic theme. Toying with the idea while on the beach one day, perhaps inspired by the sandcastles my son was building, I came up with the idea of making something that would bear some resemblance to a volcano.
With some input from my young castle builder, I came up up with this Volcanic Potatoes and Beef. I started with a base of mashed potatoes, which can be shaped to resemble a little mountain. Crumpled ground beef covers the potato mountain, to look a bit like lava rocks. Some ketchup and a orange-yellow cheddar over the beef gives us our molten lava flow. OK, I won't say our dish looked exactly like a volcano, but I do think it does suggest volcano a bit, don't you?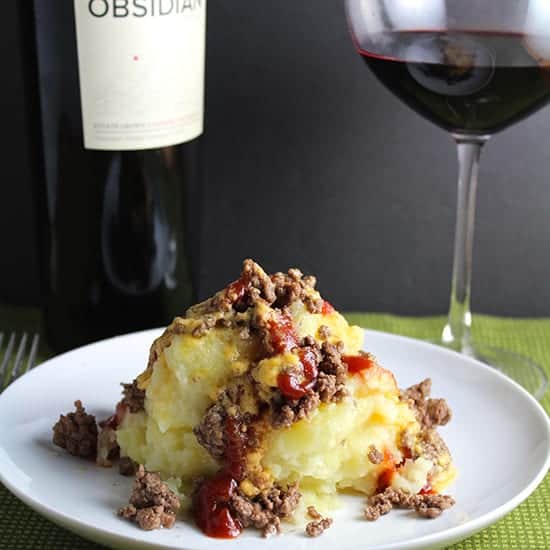 Wine Pairing: I had the Volcanic Potatoes and Beef dish in mind when chatting with Ray from Pairings Wine and Food about wine options for this scorched terroir theme. He mentioned a few from Sicily before his description of a cab from Obsidian Ridge Vineyard, which he said definitely had notable taste of the volcanic soil in addition to simply being a very good cab for the price. So I was sold, and went with the 2012 Obsidian Ridge Estate Grown Cabernet Sauvignon ($34, 14.3% alcohol).
Obsidian, the bottle reminded me, is a glassy black rock of volcanic origin. According to the bottle, obsidian litters the slopes of Obsidian Ridge Vineyard. The vineyard is located at 2,640 in Mayacamas Range, giving it an altitude moderated climate.
So the Obsidian Ridge Cab definitely has volcanic soil credentials, let's talk taste. I got lavender on the nose, blackberry and slate taste. A bit chalky mouthfeel at first, suggesting that ashiness that can come with a volcanic soil. But that chalkiness smooths out in the glass for a nice long finish. I really enjoyed the wine.
This big cab was a good match for the heartiness of the potato and beef combination. The only aspect of the pairing that could be improved upon is that the acidity in the ketchup didn't work too well with the wine. For a more optimal pairing, I'd go easy on the ketchup or just skip it in favor of a bit extra cheese sauce!
But overall, I recommend the pairing as one that can be fun for grownups and kids alike. Well, the kids can have fun with the volcanic themed food as the grownups involved enjoy their wine and opine about its scorched terroir qualities. Cheers!
Print
Volcanic Potatoes and Beef
A savory dish constructed to bear a resemblance to an erupting volcano, Volcanic Potatoes and Beef is a fun recipe to make for kids!
Author: Cooking Chat
Prep Time:

15 mins

Cook Time:

25 mins

Total Time:

40 mins

Yield:

4

servings

1

x
Category:

Main

Cuisine:

creative
6

medium yukon gold potatoes (or similar good mashing potatoes)

1 cup

cheddar cheese (yellow-orange in color), shredded

1 cup

milk, divided

3 tbsp

butter

1

lb ground beef

1 tbsp

olive oil
ketchup to taste
salt and pepper to taste
Instructions
Put a large pot of water on to boil. Rinse and peel the potatoes. Chop into 2 to 3 chunks per potato.
When the water comes to a boil, add the chopped potatoes to the water. Boil for about 20 minutes until the potatoes are tender.
Next, heat the olive oil in a large skillet on medium heat. When heated, add the beef, salt to taste and gradually break the beef up with a sturdy slotted spoon, stirring occasionally. The beef will take approximately 10 minutes to cook through.
Heat ½ cup of the milk in a small sauce pan. When it is starting to bubble, gradually start stirring in the grated cheese. Stir the cheese until it has melted and created a little cheese sauce. Leave on low heat to keep warm.
The potato should be finished cooking as the beef finishes. Drain the potatoes, and mash the potatoes with the milk and butter. Adjust the butter and milk quantities as needed to get the potatoes to the consistency you like them.
Plate a scoop of the mashed potatoes, shaping it to resemble a small potato mountain.
Use the slotted spoon to scoop out some cooked beef from the skillet, letting the excess fat drain through the spoon before serving the beef over the potatoes. Arrange it on the side of the potatoes to make it look like lava rocks tumbling down.
Now, squirt several lines of ketchup going down the side of the potato mountain. Your eruption is really getting going now!
Finally, pour a scoop of the cheese sauce over the potatoes so that it tumbles down the side of your "mountain." Now it's time to eat your Volcanic Potatoes and Beef before it explodes!
Recipe Card powered by