Last Updated on
We are on vacation at Cape Cod this week. That means we are going for easy dinner options, a combination of whipping up quick things or takeout. We have a tradition of ordering pizza the first night we arrive at the cottage, and I thought that would be the perfect time to open up a Montepulciano D'Abruzzo for today's #ItalianFWT visit to D'Abruzzo. So no recipe to share today, just a simple Pizza Pairing: Montepulciano D'Abruzzo.
Now, I have to confess, Montepulciano is one of those wines I grab at the shop a fair amount, but don't know a whole lot about it. I have probably been reminded a few times that Montepulciano is a red wine grape varietal, and shouldn't be confused with the Tuscan town by the same name, that is the source for Vin Nobile di Montepulciano, made from Sangiovese grapes.
I had a rough idea that the Abruzzo region is in Central Italy. Jen filled in some of the details about the region's boundaries in her preview post for this event: Abruzzo is bounded by the Adriatic in the East, Le Marche to the North, Lazio to the West and Molise to the South. Conditions are good for grape growing, and Montepulciano is quite prolific. That helps bring us good quality wines at a nice price! Montepulciano is typically less acidic than some Italian wines. A simple, approachable style that is easy to like. In addition to Jen's article, I found this Into Wine article to be good background reading on Montepulciano D'Abruzzo.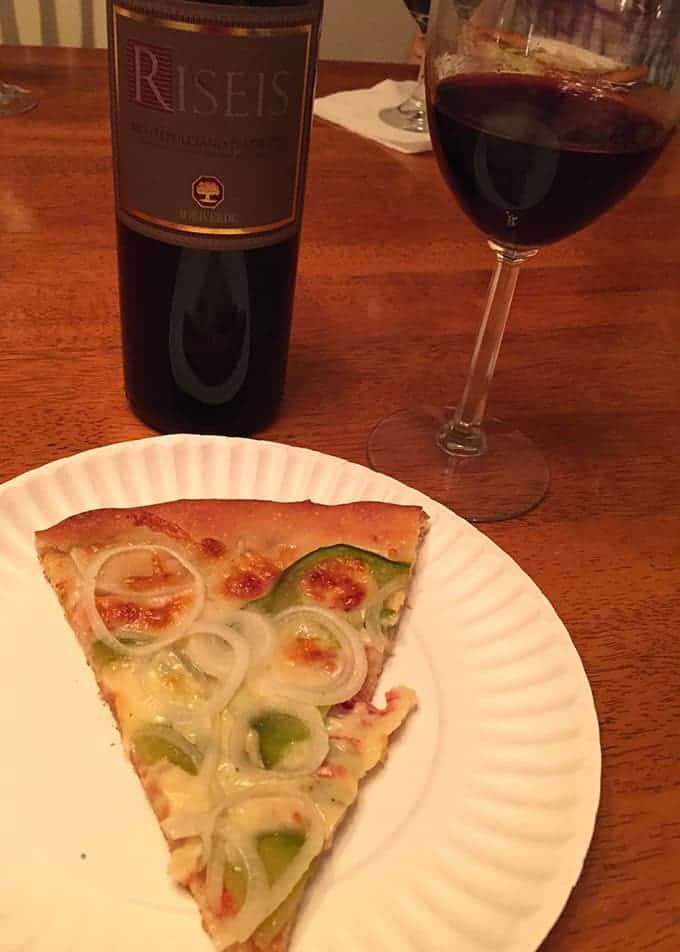 Our pairing: We have a good sized crew here at the Cape, so there were a lot of pizzas to choose from! I focused on two pies: one with green peppers and onions, the other a meatball pizza.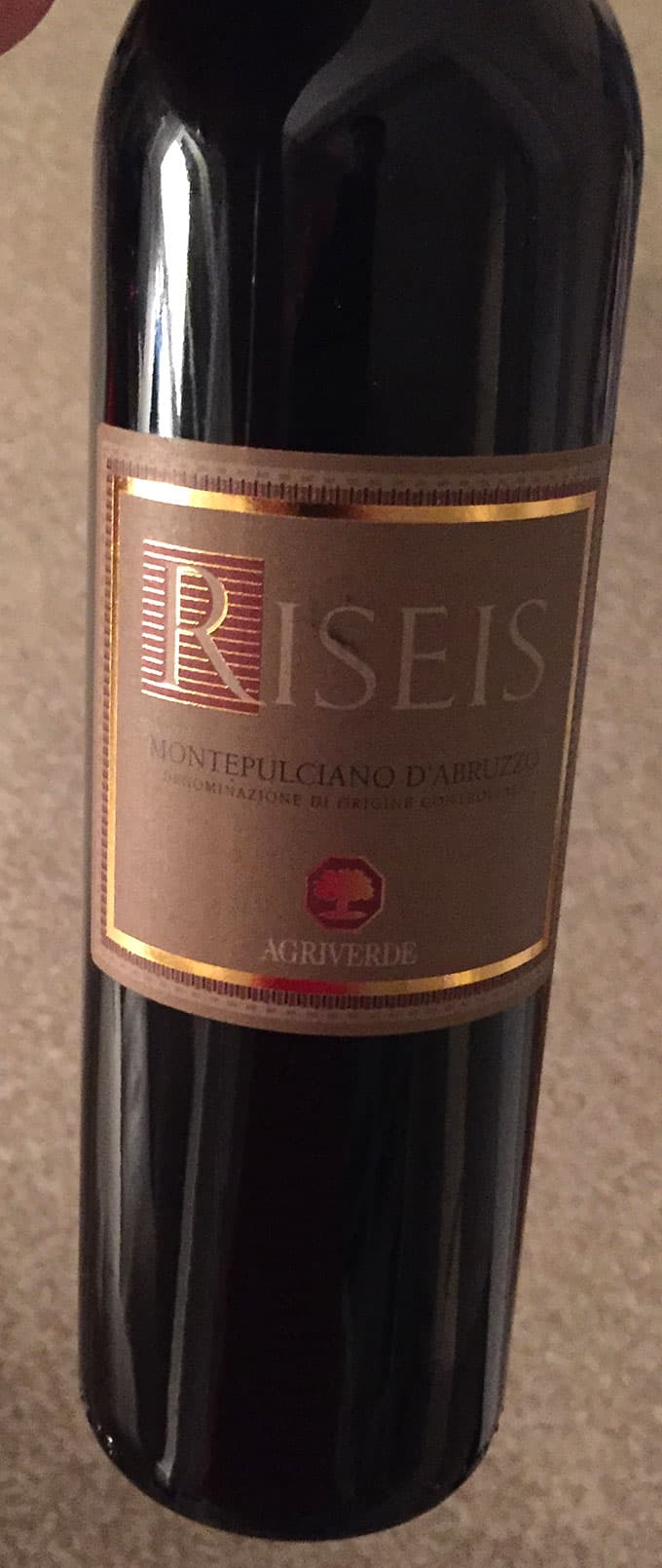 I picked up a bottle of 2009 Agriverde Riseis Montepulciano D'Abruzzo ($15, 13.5% alcohol) at Pairings Wine & Food. The winery has been in operation since 1830. This wine is a step up from the winery's entry level Montepulciano.
The wine is deep purple in the glass. Musky nose. First taste, I got blackberry and charcoal ash. Dense wine. Opens up in the glass. With the pizza, the fruit comes more to the forefront. Seems like those rustic qualities in the wine help it stand up to the pizza cheese. A good pairing! I thought it went particularly well with the meatball pizza. Definitely a bottle I'd grab again for pizza or other simple Italian food.
Follow along the Abruzzo journey with my other Abruzzi fans and make sure to join us next month on October 3rd as we will be covering the region of Umbria. You can also chat with us live this Saturday morning at 11am EST on Twitter at #ItalianFWT. Hope to see you there!
Vino Travels – The Montepulciano d'Abruzzo Colline Terramane DOCG with Cerelli Spinozzi
Rockin' Red Blog – The Natural Wonders of Abruzzo
Italophilia – American in Abruzzo
Confessions of a Culinary Diva – Abruzzo Comfort Food & Wine
Cooking Chat – Pizza Pairing: Montepulciano d'Abruzzo for #ItalianFWT
The Wining Hour – 3 Wine & Food Pairings with Gusto from Abruzzo
Food Wine Click – Aruzzo 1st Course: Farro and Butternut Squash Soup with Passerina
Culinary Adventures with Camilla – Polpi in Purgatorio
Enofylz Wine Blog – Grilled Lamb Lollipops with Cantina Zaccagnini Montepulciano d'Abruzzo Tralcetto