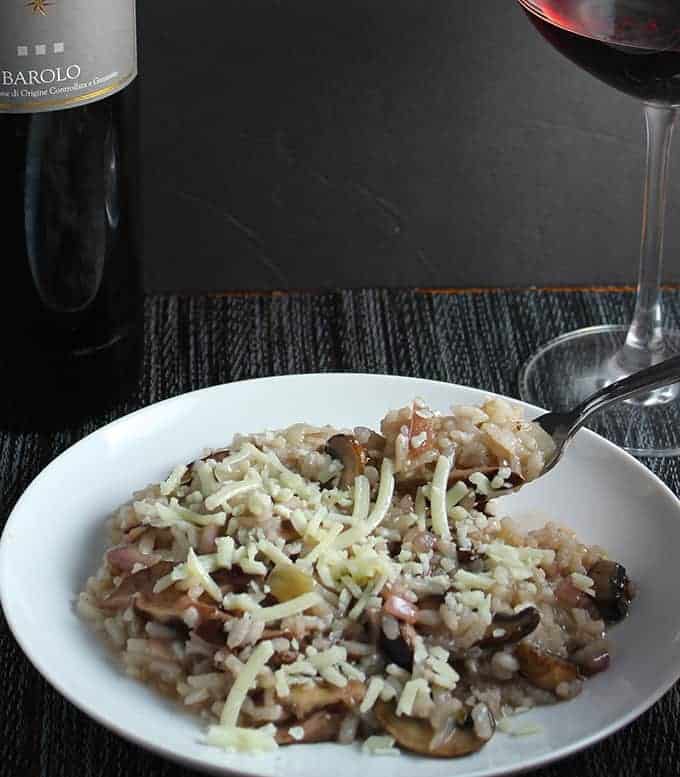 We have enjoyed mushroom risotto many times since this recipe was originally posted. You can see an updated version in recipe card format here.
One of the highlights of the Barolo vertical tasting I enjoyed earlier this fall at Pairings Wine & Food was the scrumptious mushroom risotto that paired so well with the wine. This great match served as a good reminder that one sure-fire way to make a great pairing is to serve traditional regional foods and wines together. Last night I attempted to duplicate this combination in some fashion. It was quite good, though I think my version of the risotto needs a little tweaking to compare with Ray's version. But here's my recipe, suggestions welcomed!
For the initial risotto prep
2 cups arborio or carnaroli rice, I used the latter
7 cups broth
2 tablespoon olive, 1 tablespoon butter
½ cup white wine
1 small onion, chopped
1 lg clove garlic, minced
For the mushrooms & finish the dish
1 shallot, minced
4 cups wild mushrooms, I used mix of shiitake & cremini
2 tablespoon truffle butter, divided
1 tablespoon regular butter
½ cup red wine
1 teaspoon fresh oregano
½ teaspoon dried thyme
pepper to taste
½ cup parmesan or romano, I used a blend
Cook the rice: Bring the broth to a gentle simmer and keep warm. Note I used vegetable broth that I had on hand, but I think beef or chicken stock might have worked better. Melt the butter with the olive oil over medium heat. Add the onions & garlic, saute until the onions start to get soft, about 5 minutes. Add the rice, stir to get it evenly coated with butter/onion mixture, about 2 minutes. Add the white wine, cook until it is absorbed. Add a ladle or two of broth to the rice, stir in and cook until the broth is absorbed. Add another ladle of broth and repeat process. You need to be stirring quite frequently throughout the process–though I managed to juggle that with the mushroom prep. Once all or most of the liquid has been absorbed and the rice is tender to the bite, you are ready for the mushrooms & finish touches.
Prep the mushrooms: Melt 1 tablespoon of reg butter & 1 tablespoon of truffle butter in a skillet. Add the shallots, cook until softened, 3-5 minutes. Stir in the mushrooms, cook until they begin to soften. Stir in the red wine, oregano, thyme and pepper. Cook about 5 minutes until the wine is mostly absorbed, then keep on low heat to keep warm.
Finish the risotto: Stir the mushrooms into the cooked rice, then stir in the cheese and the other tablespoon of truffle butter. Serve at the table with extra cheese. I served with an arugula salad, its peppery greens are a nice compliment to the dish.
Wine Pairing: This dish just begs for a red wine from Italy's Piedmont region, so if a friend happened to have given you a Barolo for Christmas, why not open it! The bottle I opened was the 2006 Le Coste Di Monforte Barolo from CC Guidobono. Light brick red in the glass & definitely had the unique Barolo bouquet. First taste-cherry, leathery and chewy. A bit tight, decanted for a bit. Started getting tawny and plum qualities. I was sipping it a bit while cooking, but the wine really came into its own enjoyed along with the dish–they were just meant to go together. Barolo is generally one of those wines that you don't really appreciate fully on its own and this bottle was no exception. I'm not an expert on Barolo aging but would say this would probably improve with a few years aging at least, but it is definitely accessible now too.