I love Indian food! And if you have visited Cooking Chat before, you know I'm interested in finding good wine pairings for our meals. Apparent, I'm not the only one interested in finding wine pairings for Indian food, because lots of people searching on the subject find their way to Cooking Chat. So as a public service, I will keep trying to different wines with Indian food and sharing about them here.
Today we are talking about wine pairing for Tandoori chicken. I made Grilled Tandoori Chicken for the recent Asian themed #SundaySupper, and was pleased with our wine pairing.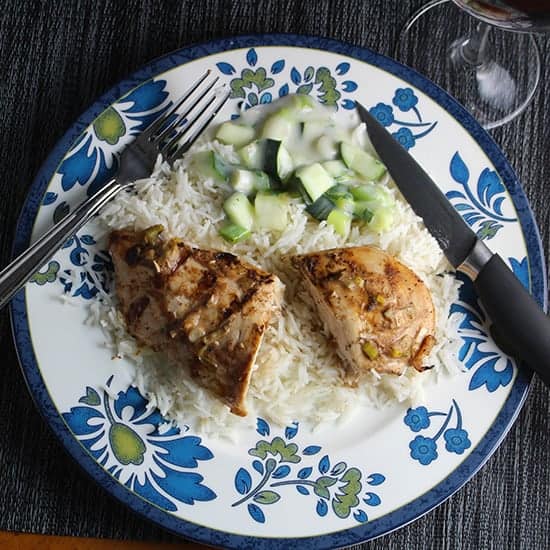 Most of the time, I go with white wine for Indian food. Crisp white wines can work pretty well. I especially like to pair wines with a bit a sweetness. For instance, a Muscat worked well with chicken tikka masala and aloo palak some time ago.
What about red wine with Indian food? We open more red than white here, so I've been interested in finding red wine that works with Indian food. But anything too tannic is going to clash with the Indian spices, as I found out the hard way a few times. Then we opened a Carmenere with a beef curry, and that worked quite well. A red wine and Indian food pairing success!
Today's wine pairing for Tandoori chicken: Tandoori chicken is milder than some other Indian dishes, which makes it a bit easier to match with a red wine. The chicken marinates in a yogurt spice blend. My grilled tandoori chicken recipe used garam masala and a curry blend. It was flavorful with a bit of spice, but not overwhelmingly hot. Grilling the chicken gave it a smoky quality along with the spice.
I served the grilled Tandoori chicken with a bottle of 2011 Foris Pinot Noir from the Rogue Valley, which is located within the Southern Oregon AVA. I got violet on the nose, and nice berry fruit taste. Soft mouthfeel, with a bit of smokiness.
Why was this Pinot a good pairing for our Tandoori chicken? Pinot tends to go well with chicken–a lighter style red wine with a lighter meat is one reason. Both the wine and food had a touch of smokiness, so that was a nice match. The fruit forward aspect of the berry taste complemented the spices. The acidity wasn't as noticeable in the Pinot compared to some, but it's there in the background, further enhancing the pairing.
So my conclusion: The Foris Pinot Noir, and other fruit-forward pinots, can be a nice wine pairing for Tandoori chicken. This Pinot could also pair well with other mild to moderately spiced Indian dishes.