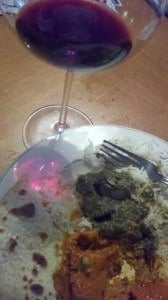 Five years later, my article "Pairing Wine with Indian Food" remains one of the most visited posts here on Cooking Chat. Now that we have a good Indian takeout place around the corner from us, we have been having Indian food a bit more regularly, providing opportunity for more experiments with wine pairings.
My original post on this topic led with a recommendation of Sauvignon Blanc, which I gravitated to for Indian food at the time. More recently, I've tended to gravitate more toward something with a touch of sweetness, particularly Rieslings. But I'd come across a few articles suggesting red wine pairings that can work with Indian food, and was curious. A recent spontaneous run to the Indian Express, without any whites chilled and waiting, provided a chance to experiment…
I recalled tasting the 2008 Full Moon Red Wine, a red blend from Paso Robles, and thought perhaps it could stand up to the Indian food. The grapes in this wine seem to be a state secret (not listed on their website) but I seemed to recall it included Zinfandel and/or Syrah. This wine has a bit of spice in it, something I generally like. But in this case, it competed with the the spice from the food. Rather than refreshing or cleansing my palate, a sip seemed to just increase the heat in my mouth. Not a good combo! Sorry, I have to disagree with the winery website that it is "interesting enough to drink with everything." It's a perfectly serviceable wine on its own, just not a match for Indian food. After dinner, the wine was pretty pleasant on its own; actually tasted a bit sweet at that point.
So after this experiment, it's been back to the whites with Indian food. And I can report on two more grapes that worked well. The 2010 Greenvale Vidal Blanc ($15) has both sweet and tart elements, medium bodied and a bit syrupy in its mouthfeel. This flavor profile worked well with chicken tikka masala. As a bonus, Greenvale is produced in nearby Rhode Island. I had a chance to meet the owner this spring at Pairings Wine and Food, and was also impressed with their Chardonnay and Cabernet Franc.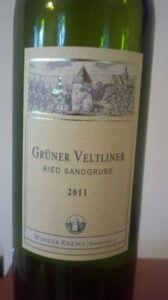 After getting back last night from a week of travelling, I was again dialing for Indian Express, and seeing what was on hand in the cellar that we might serve with it. I had a sense a Gruner Veltliner could work with Indian, and wasn't disappointed. The 2011 Ried Sandgrube Gruner Veltliner that we served had some nice minerality and enough peach fruit to offset the heat of the food (chicken tikka masala again with a vegetable curry).
I'm willing to give the red wine and Indian food another chance, but would love some tips on pairings that would work! Until I find something that does work, I'm going to keep recommending whites here.