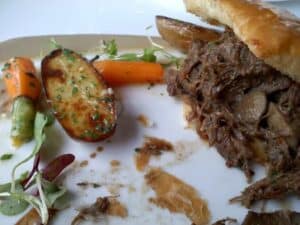 I won't have a chance to make Boeuf Bourguignon tonight
All summer, I've been getting a great recipe in my inbox each week from the organizers of Julia Child's 100th birthday celebration. I agreed to be on the list and part of the process of honoring her legacy by preparing and sharing about one or more of her recipes. Alas, it's been a busy summer, and it seems like the recipes coming in haven't dovetailed well with my schedule or the temperatures. (no, not going to roast chicken in 100 degree weather!). Now, today is the big day, Julia's 100th birthday. And there will be no Boeuf Bourguignon made in our house today–I'll be out leading our softball team in a big playoff game!
But I do want to pay tribute to Julia's legacy. Anyone who participates and enjoys America's vibrant and diverse food culture today certainly owes Julia a debt of gratitude. I'd say it was a combination of her passion for food and people that made the difference, providing both the motivation to get into food but also a comfort level that made the cooking process accessible.
If you've read My Life in France or seen Julie and Julia, you are familiar with the singular moment when Julia had an amazing French meal that include sole meuniere cooked to perfection and a bottle of Chablis. The exquisite treatment of the simple ingredients and the passion for the food and service shown at this restaurant turned her on to the potential of great food. In her words it was "An opening of the soul and the spirit". Not too long after that she was scouring Parisian markets for ingredients every day and enrolled in Le Cordon Bleu. And the rest is history.
I started thinking back to recall if I had a similar moment that turned me on to cooking and enjoying great food and wine. I realized that for me, there was no single epiphany, but a series of experiences that have moved me along in my culinary journey. In honor of the great Julia Childs' 100th birthday today, I recall my "Nine Julia moments." Would love to hear about yours!
didn't have pics of my early food days
so here's our young foodie!
Starting young Unlike Julia, who got her food inspiration a bit later in life, I've always been pretty interested in experimenting with food. As a kid, I liked to play around with combining different foods on my plate. I came to love the combination of mashed potatoes with peas and/or corn (and of course, plenty of butter). I planned to start a restaurant dedicated to serving this concoction exclusively. No immediate plans, but stay tuned! (maybe a food truck at least?)
Be bold A few visits to the original Olives in Charlestown, back in its heyday, helped me develop appreciation for big, bold flavors. Though it's been over a dozen years, I can still taste the wild mushroom risotto dish with succulent truffles. Realizing we couldn't eat at Olives regularly, I got two of Todd English's cookbooks and began attempting with some success to recreate the experience at home. More recently, the food at Craigie on Main has been an inspiration in terms of letting great ingredients shine forth.


The things we do for love Jodi may not share my passion for cooking, but she does play an important part in my food journey! Cooking fettuccine primavera for one of our first dates nudged me to move beyond the two dish repertoire I featured in my first year living on my own. And she convinced me to try Indian food on one of our first trips together (it was hard to come by in Kentucky), and that is now one of my favorite cuisines. While I may be the main cook, enjoying good food with Jodi and now our son is an important part of the fun.
Wine country We'd been getting a bit interested in expanding our enjoyment of wine in our twenties, but a visit to California's wine country took my interest to another level. I'd love to tell you my wine epiphany occurred at a small boutique cult cab maker or something like that, but it was a visit to Ravenswood, a pretty big name, that got me going. Jodi and I visited during a slow time in late November, and we were the only ones in the tasting room for awhile. The server had deep knowledge of each wine and would show us where the grapes came from for each thing we were trying. This helped me begin to appreciate the link between a wine and the terroir of its grapes.
Passion for Pairings Fortunately, we had a chance to a enjoy a few wine dinners at Boston's Aujourd'hui before it closed. Now, there are some other good programs like this in the Boston area, such as the one at L'espalier (updated: L'espalier has now closed, too). But what made this really special was the way sommelier Brick Loomis would transport you to the region featured that night with his stories and passion for pairing food and wine. The Rhone dinner we went to was especially memorable, with Brick conjuring up a feeling that we were at a great restaurant in Lyon as we sampled our Chateauneuf du Pape. Aujourd'hui is closed but my desire to appreciate the interplay of good food and wine continued, helped in this journey by Pairings Wine and Food and of course, the wine dinners we do ourselves.
No pesto for you! I was wowed by the food in Italy during my first visit right after college. Heading there for our honeymoon, with some cooking experience under my belt, I was eager to sample the authentic Italian food once again. I was especially looking forward to having some pesto, which I'd started to enjoy making at home. But alas, there is no fresh basil available in March, so they weren't offering it then! At first, I was frustrated about this. Then I began to appreciate that this commitment to using what is fresh and seasonal is key to great food in Italy and anywhere, for that matter.
Bring on the eggplants! Last year we participated in a community supported agriculture (CSA) program for the first time. Getting a big bin of whatever veggies were ready for picking every week has certainly been a great way to learn more about cooking seasonally and finding creative ways to use vegetables. Until this time, beets and eggplants were two vegetables that I shunned. But they are also abundant around here in the summer, so I experimented with different ways to prepare them. I've now found several preparations of both beets and eggplants that I enjoy…grilling or roasting them being a key starting point.
Yipes, 40%! I was already pretty focused on trying to make use of most of the food we have on hand, and have gotten pretty creative in my use of leftovers. But reading that Americans waste approximately 40% of our food really hit me, and I've redoubled my commitment to avoiding food waste by being strategic about using what's on hand. Also, I try to anticipate when I won't be able to use something, and either freeze it or share it.
Foodie friends Cooking tasty, healthy meals at home for our family of three is my primary focus as a cook. But it's good fun to get together with a group of passionate foodies and kick things up a notch, too! Several times a year, we'll get together with a group of friends that shares an interest in creative cooking and good wine and have a special multi-course dinner. This is a great way to get new ideas and share some new creations. Great food and wine is definitely meant to be shared–something Julia certainly appreciated!
So these are some of the experiences that have inspired my journey into enjoying the world of food and wine. What are your Julia moments? Whatever they may be, I'll wrap by wishing you bon appetit! in memory of our passionate foodie inspiration.