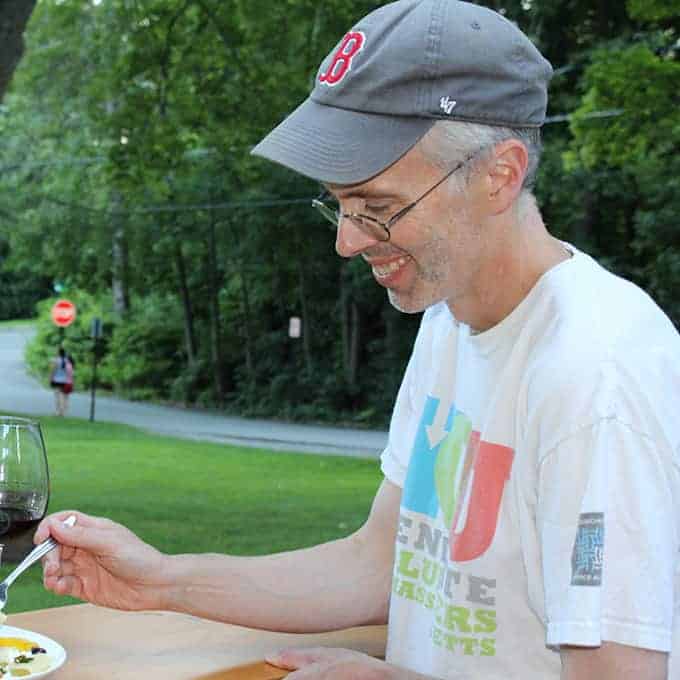 I'm glad to live in a time where it's fairly common for us guys to do our share of the cooking. In fact, in my circle of family and friends, it is often the male in the house that does the majority of the cooking. Fair enough, we eat more too. But I realize there are still a number of my fellow males that have not gotten into cooking and rely on others to do the cooking. You may be a bit daunted about the idea of getting into the kitchen to prepare a meal. If you fall into that category, but are thinking it would be nice to cook for your wife and/or mother on Mother's Day, these tips for dads cooking are for you!
1) Keep it simple If this is one of your first forays into the kitchen, this isn't time to try to duplicate an elaborate recipe you saw a celebrity chef make on the Food Network. The best meals let a few, high-quality ingredients shine forth to carry the flavor. Pick something fairly simple that gives you a realistic shot at executing it reasonably well. I learned to cook by getting a few easy recipes down, and gradually expanding my repertoire over time.
2) Make a plan Figure out what you are going to make at least a day in advance. This will allow plenty of time to track down the ingredients you need. Write out your list of ingredients, and put the shopping trip in your calendar. Make a schedule for making the meal, working backward from when you hope to have it on the table. You might also be able to get something done a day in advance; such as prepping a sauce or a marinade, and thus make the day of food prep easier. Make sure you have the tools you need for the job–you don't want to get into cooking and realize you are missing a vital tool.
3) Choose the meal thoughtfully Choose a meal the mother(s) being honored will appreciate–it's not time to make your favorite! What does she typically order at a restaurant? You don't have to do the same exact dish, but if she goes for pasta, you might want to choose something in that department. If goes for filet mignon, plan on a carnivore friendly meal. Focusing on a favorite food is one good option; but you might also make something that brings back good memories. I can be assured a good reception when I make the first meal I made for Jodi on an early date (fettuccine); you might similarly do something from a first date or a special trip.
4) Research alternative ingredients Don't dismiss a recipe that sounds good just because there is one ingredient you can't find or that seems wasteful to buy just for a small quantity. If the recipe doesn't suggest other options, simply Google "alternatives ______ [fill in ingredient]". I often find that yields good ideas.
5) Don't do all the work Focus your efforts on preparing the main entree. If you want an appetizer or other pre-dinner nibbles, you might be best to pick up something you can just set out with little effort. Two cheeses for variety, and perhaps a dip, tends to work well. Similarly, buying a nice store bought dessert can be a good option. Also, relying on some ingredients that are already prepped can help, such as peeled garlic or a store-bought salad dressing (though if you want to really impress, and offer "homemade dressing", my simple maple vinaigrette is super easy!).
6) Get set Get your cooking area cleared, then set out the ingredients and utensils you will need. This makes it a lot easier once you get in the flow of cooking.
7) Start early I cook a lot, and it almost always takes me longer to make the meal than the time indicated on recipes. I'd start working on the meal at least 30 minutes earlier than the recipe would suggest you need to. Feeling rushed or that people are waiting hungrily can move cooking into the stressful zone. You can always get items chopped and set for cooking well in advance. If you do finish something early, most things can be kept warm for a bit, covered on low heat.
8) Timing tips As I said, it's fairly easy to keep most things warm. However, there are a few tips to keep in mind for timing: 1) meat can get dried out if overcooked, so time it so that if something gets ready early, it's the side dishes and not the meat. Meat continues cooking when it rests after cooking. 2) For a pasta dish, get the sauce completed well in advance of the pasta being cooked. Sauce can be kept warm and added later, but if pasta sits around cooked waiting for the sauce, it starts sticking together.
9) Involve kids Even young kids can help a bit in the food prep, and then they can share in giving the gift of food to Mom. And Mom is likely to appreciate this team effort!
10) Present with some flair Paying attention to presentation is a nice way to make a simple meal special. You might be ready to just throw that food on the plate when it's done, but take a few minutes to arrange it nicely on your good plates. Try to set up some contrasting colors for visual appeal.
11) Have a backup Hopefully after these tips it won't be necessary, but you are likely to feel a bit less pressure if you know if something goes really bad, it's OK to call for your wife's favorite take-out! I've been cooking for twenty years now, and there have been 2 or 3 times we simply had to walk away from a dish that just couldn't be eaten.
12) Do the dishes You probably have a system for sharing chores; and if your wife usually cooks you might be the dishes person. You might have figured this out, but if you are switching into the cooking role on Mother's Day, the dish duty doesn't get traded unless you want to lose all the points you earned by cooking!
OK, twelve tips might seem like a lot. But they are pretty simple to follow on your way to an enjoyable Mother's Day feast for all!
Before I sign off, I need to credit Isabel from Family Foodie with getting me thinking about these tips. I saw she picked "Dads are in the kitchen…" for her #SundaySupper theme this week, which made me think some Dads could use a few pointers!