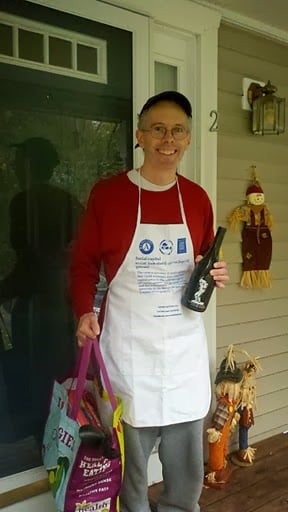 As 2014 rolls in, it is our wallet more than our waistline that needs tightening here. Though we had some nice splurges around the holidays, we actually began our quest to closely monitor our household budget in the latter part of 2012. But we start 2014 with some very clear budget goals, including the food and wine departments. I will share this journey both in the interests of public accountability and to offer some tips to others seeking to eat well on a budget.
My mission this year is to redouble my efforts to prepare healthy, tasty food while bringing the groceries in under our budget. We typically aim to spend $150/week on groceries for our family of three. All but a couple of our suppers are prepared at home. I do most of our shopping at Whole Foods, which I've found can be done on a budget with good planning…and by being sure to avoid shopping on an empty stomach! I value their standards for meat and fish, as well as the abundant choices of local and organic produce, not to mention limited processed foods. But what really has locked us in to shopping there is our son's multiple food allergies. Thankfully, newer regulations make it easier to find allergy safe food at other stores, too; but from the early days managing our son's allergies I came to depend on the product labeling and selection at Whole Foods. I should also note that purchasing specialty allergy-safe products is a cost factor that can be challenging.
I share the above information so you have some context on what's behind our budget number. I will share how we're doing related to our target, but I think what will be more useful are the tips and recipe ideas I share in the quest to bring our food bill under budget.
1) Check the family calendar: First thing I do is look at our calendar, and see if there are nights we won't be around, or where I'll be too late to do any cooking. Jodi and I both work full-time outside the home with several evening meetings per month. In the first full week of January, however, there weren't any meetings scheduled as people get back into work mode. So I was planning for family suppers at home every night.
leftover Pork & Cabbage was one part of this week's plan!
2) See what's on hand: I look to see what ingredients are on hand, particularly things I want to be sure to use up. For this week, I had leftover Skillet Pork and Cabbage that I made last Friday night, to use up some cabbage on hand and pork bought on sale and frozen. I scheduled these leftovers for Monday's meal–it's nice to start the work week with a meal on hand. I also saw I had half a bag of shredded mozzarella to use–this stuff gets moldy quickly! Also have a jar of store bought tomato sauce, so will make pizza mid-week with some store bought crusts. I favor from scratch over prepared items, but working 50 hours a week or so, a few time-savers in the mix make sense.
3) See what's on sale: My mind is already percolating with menu ideas looking at what's on hand, then I check the specials for the week via the Whole Foods Market Woburn Facebook page. If I have the opportunity to get into the store for an item or or two toward the end of the prior week, I also peruse the store for specials that aren't on the flyer–there are usually additional ones to be found. I'm particularly keen on building our meals around the meat and fish on sale–that's a key way to get their quality protein and stay within budget. Whole chickens were on sale, which set-up the perfect frugal weekend cooking plan: roast chicken on Saturday, turn the leftovers into stock and hearty chicken stew on Sunday. In addition to providing a foundation for Sunday evenings stew, there was enough stock to freeze for two more uses (saving $4 at least, not to mention the reduced sodium). And that stew cooked up enough for a leftover night during the week, plus a lunch. So let's see, that $8 chicken provided the protein for 3 family suppers and one of my lunches. #Winning!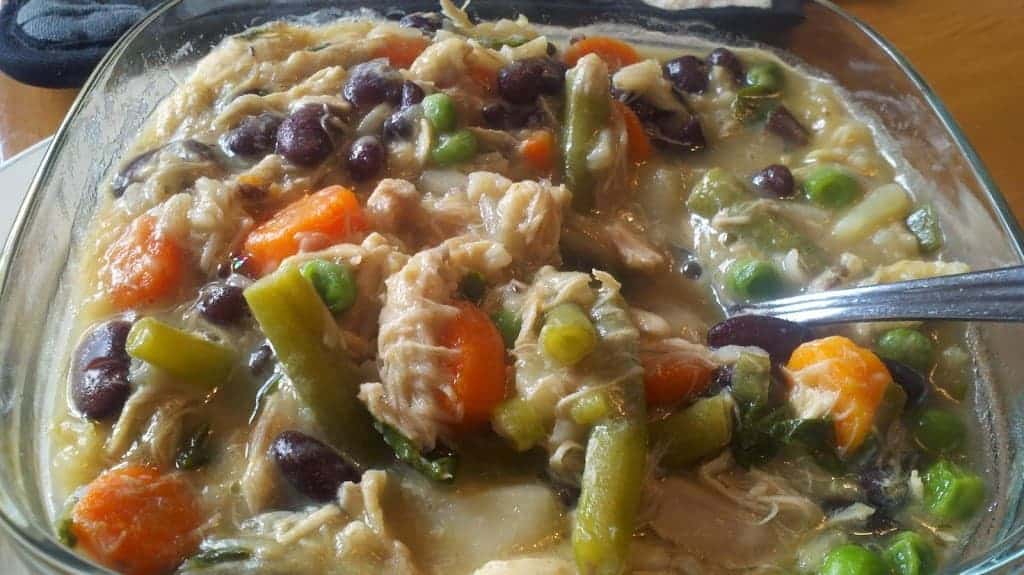 4) Create your meal plan and shopping list: Once you've done the first three steps, you are ready to map out your meal plan for the week that take into consideration schedules, sales and what's already in your kitchen. I tend to be pretty specific about the cooking I plan to do over the weekend, to try to build up some meals for the week, such as with the stew mentioned above. I look for things that have multiple uses. For instance, many meals need half a head of cabbage, so if I'm using some for a soup on Sunday I might plan to make Skillet Pork and Cabbage, a regular in our house, during the week. I'll be sharing a lot more sample menus in the coming weeks! Once I have the basic meal plan, I write down the ingredients I'll need as well as other basics we need for the week.

5) Aim for just enough to get through the week: As I said, I'm pretty specific about my weekend cooking. Then I'll typically have a couple things I plan to prepare during the week. I might have a rough idea of when I'll cook them but I build in some flexibility to see how much leftovers are generated from the weekend and early week cooking. Often two additional meals to be made during the week is enough along with leftovers. I'd rather run out of the planned meals toward the end of the week and need to go back for an item or two or simply get creative with what's on hand…this approach has generated many tasty "Frugal Friday" dishes such as this Everyday Pasta with Ground Beef and Chickpeas.
6) Plan one meal with items that won't spoil: I like to have one meal plan waiting in the wings where most of the ingredients won't spoil if I don't get to it. Sometimes one meal generates a surprising quantity of leftovers, or there's a last minute meal out of the house that arises, so this approach helps avoid waste. Tacos with refried beans as the protein is common one in this department for us. We can add to that base veggies I've gotten for the week and any bits of meat that may have been left from a prior night–or make it a meatless night if there are no such leftovers. The soft 365 whole wheat tortilla shells can be frozen if needed, or sometimes we go with the hard shells which keep. Frozen ravioli or tortellini are another good option here, and I also like to keep tasty frozen sausages that can be incorporated into many things.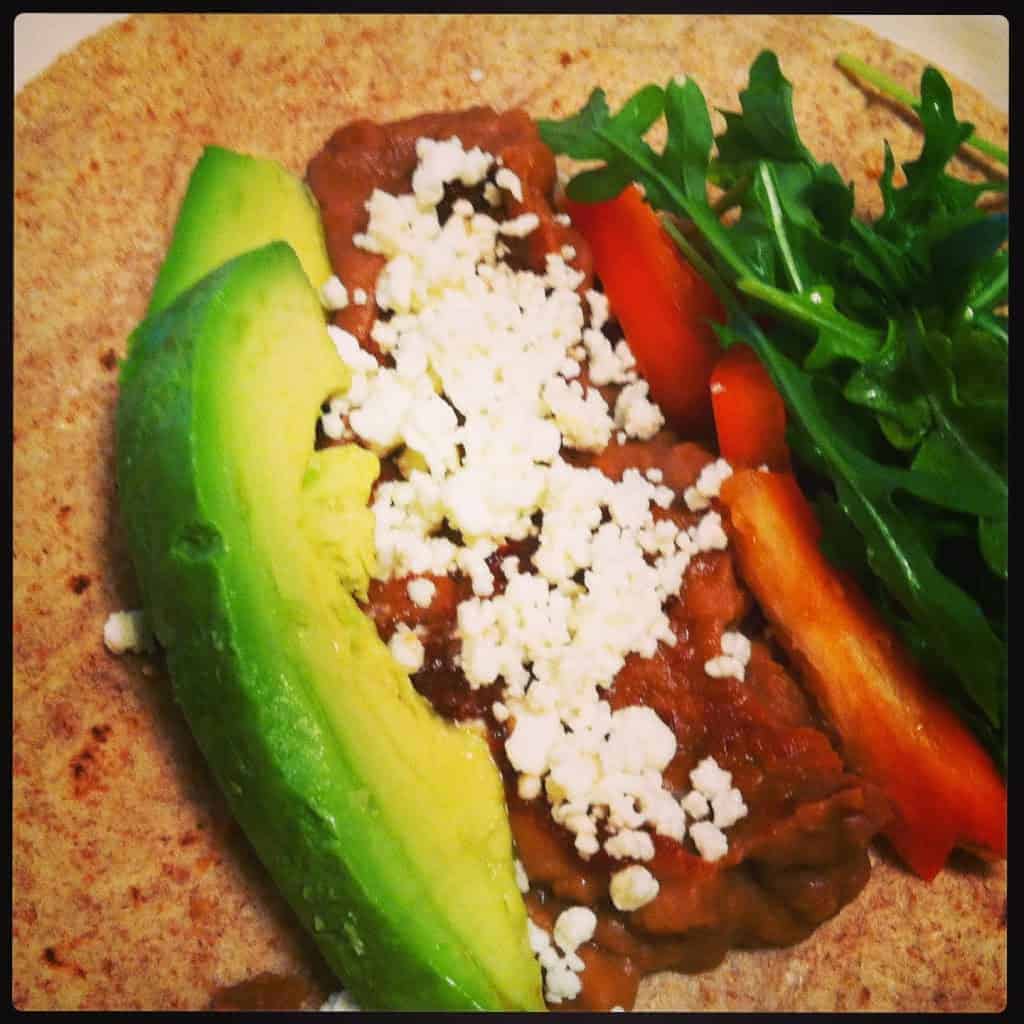 humble refried beans can be dressed up with what's on hand!
7) Include things you DON'T need on the list: I make a point to check how much we have of basic things we use a lot–for us that includes bread, soynut butter, milk and apples. I write down what we need to re-stock and things we don't need…I think a lot of people miss that step, and just reflexively always buy certain things. If you're trying to save on your bill and manage cash flow, you don't want to spend $5 on a jar of soynut butter if you already have plenty (unless, of course, it's on sale!).
8) Eat before you shop: I guarantee you, if you shop at Whole Foods or another spot where you love their food, you will spend way over budget! I suspect many folks that tell me Whole Foods is expensive don't do this, go in and try some tasty samples and buy all the good stuff in sight. Eat first, stick to the list and stay strong! Now when I stay stick to the list, we still need to be on the lookout for specials. I'll also put things on the list like "2 vegetables for side dishes" so that I can see what either is on sale or looks particularly fresh (that's often seasonal and local).
Ok, so how's the first full week of 2014 going, as we near week's end? To recap, I roasted chicken Saturday, made stew with it on Sunday, two nights of leftovers followed by pizza with salad last night. Tonight, tacos with refried beans. As of today, we're $45 under budget for the week! I could probably pull something out of the freezer tomorrow, or I may swing by and see what's on special at Whole Foods and cook something that will still bring us in well under budget. Great way to start the new year!