This Hearty Chicken Stew recipe gets used almost every time we make roasted chicken. This stew starts with a homemade stock made from the leftovers, and uses the leftover chicken meat, too. Originally published in 2015, I came back with some updated photos, tips and wine pairings the last time I made a batch. Read along for details, or click here to jump down to the recipe.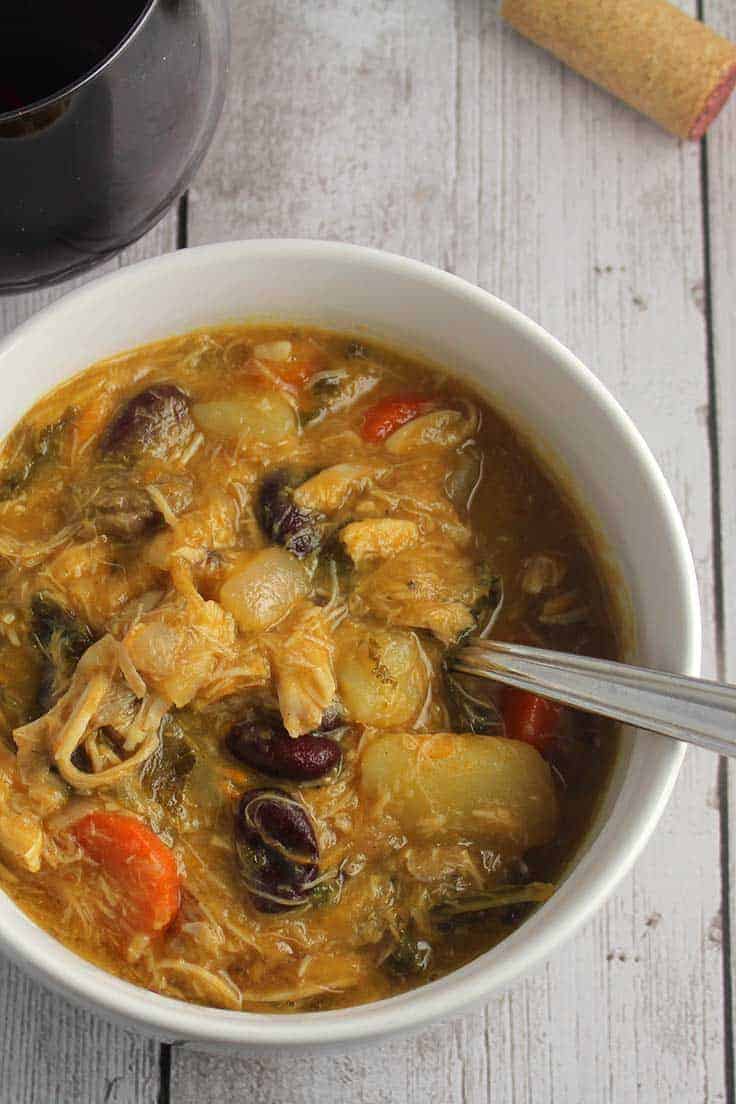 Making chicken stew with the leftovers is perhaps my favorite thing about roast chicken. Sure, I enjoy the roast chicken dinner, such as this version with portobello mushrooms. But there's something very satisfying about taking the leftovers from that first chicken dinner, and turning it into another hearty meal of chicken stew.
This chicken stew really gets its flavor from the homemade stock. I roast the chicken with garlic herb butter, so that flavor gets simmered along with the chicken meat and bones for the tasty stock. I've detailed the process for making the stock in this post. The basic idea is to remove as much of the leftover chicken meat as you can without too much trouble, and then simmer the chicken carcass for a good stretch to get a deep, rich broth.
Lately I've been simmering the stock overnight in the slowcooker after our roast chicken meal. I'll have to update the stock recipe with the slowcooker method.
This chicken stew recipe can certainly be updated to make use of the vegetables you happen to have on hand. Also, the cooking times in the recipe are your minimum times, you can certainly simmer it longer to enhance the flavor if you have time.When the simmering is done, scoop that soup into serving bowls. Serve along with some crusty bread and a glass of wine for a frugal foodie treat!
During our recent remake of this dish, we traded 1 of the regular russet potatoes for a sweet potato. That added great flavor, lending a nice touch of sweetness to the dish. We also skipped the green beans and used a bit more of the kale. Perhaps even more delicious than previous versions!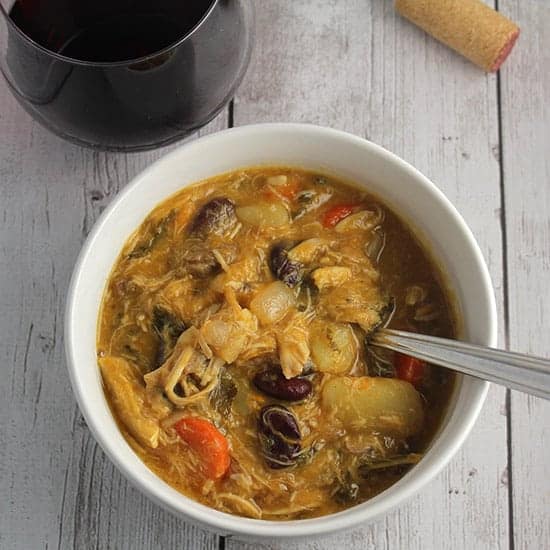 Looking for another tasty stew recipe? Try our Chicken Lentil Stew!
Wine Pairing for Hearty Chicken Stew
Pinot Noir is certainly a natural pairing for this earthy chicken stew, and you can't got wrong with that. After making a batch of Hearty Chicken Stew recently, I decided to test out some other wine pairing ideas. The first night I made the stew, we opened the 2014 Lioco Carignan ($29, 13.4% ABV) from Mendocino County. This is an interesting bottle, as Carignan is most often used as a red wine blending grape in Southern France. When I have previously had 100% Carignan bottles, they have been from France. So I was curious about trying one from California. More on Carignan can be found on this Wine Folly post.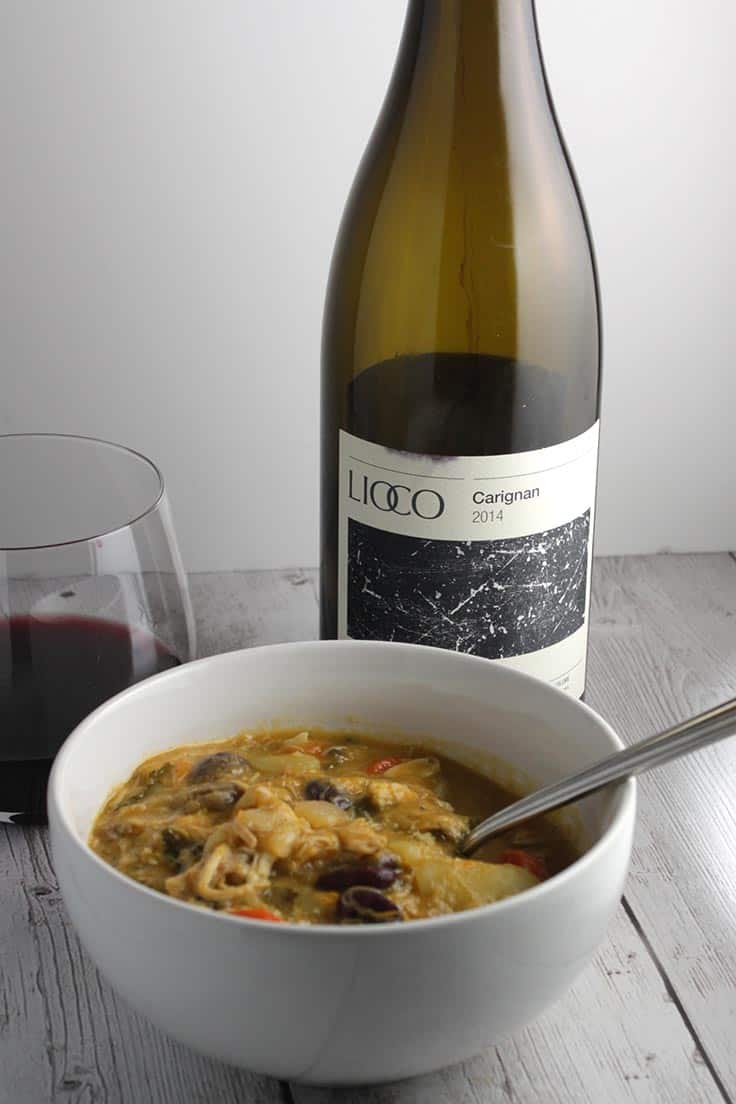 I get plum on the nose of the Lioco Carignan, and a complex taste of blueberry jam and cinnamon. If you think that sounds tasty, you are right! The wine is on the light side, and very pleasant to sip on its own. The cinnamon spice makes a nice bridge to the flavors of the stew, making for a good pairing.
When having leftovers of the chicken stew the next night, in the interest of research we opened the 2013 Exaltation California Red Blend (14.6% ABV). If I had a Cotes du Rhone or other French blend on hand, that probably would have been my choice. But given the many grapes in the Exaltation blend–Merlot, Petite Syrah, Zinfandel, Barbera, Cabernet Franc and Cabernet Sauvignon–I thought perhaps there would be something there that would pick up the stew.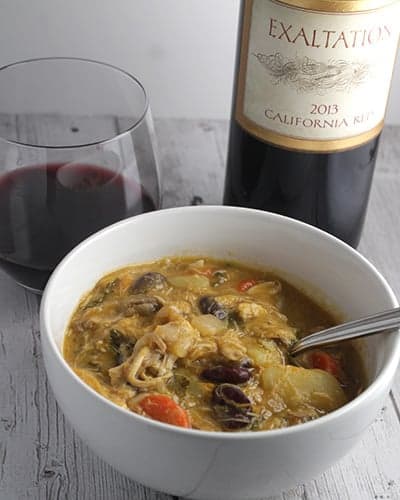 Honestly, I wasn't wild about the Exaltation blend when I first opened it. But I correctly thought it might improve in the glass. I got charcoal on the nose, blackberry fruit taste. The mouthfeel was a bit chalky. It did soften in the glass, and paired quite well with the hearty stew.
One conclusion of the various pairings I sampled for the chicken stew is that this hearty dish can match up well with a variety of red wine pairings. Single varietals like Pinot Noir and Carignan work well, and red blends can too. I would mainly stay a way from heavier, more tannic red wines like Cabernet Sauvignon.
The Exaltation blend came as part of a Firstleaf wine club shipment. I heard about this from Food & Wine magazine, and thought I'd give it a try. The bottles average out to $15. I will be writing more about the service soon.

Print
Recipe card
Hearty Chicken Stew
Leftover roast chicken serves as the basis for a hearty chicken stew. Vary the vegetables added based on what you have on hand.
Author: Cooking Chat
Prep Time:

15 mins

Cook Time:

1 hour 5 mins

Total Time:

1 hour 10 mins

Yield:

6

servings

1

x
Category:

Stew

Method:

stove top

Cuisine:

American
1

medium onion, chopped

3

carrots, chopped

1

parsnip, chopped (optional)

3

cloves garlic

3

medium potatoes, chopped (trade

1

of the regular potatoes for a sweet potato for a tasty variation)

2

handfuls green beans, trimmed, cut in ½

two

handfuls of greens such as chard or Tuscan kale, finely chopped

3 cups

or more cooked chicken

15 oz

can kidney beans
optional: a bit of bacon or pancetta

7 cups

chicken stock

1

to

2

tablespoon olive oil
salt & pepper to taste
Instructions
Heat the olive oil on medium in large pot. Add the onion, sauté until it begins to soften, about 5 minutes.
Add the carrots and garlic, sauté another 5 minutes.
Stir in the potatoes, heat for a few minutes, then add the stock and green beans. Bring to a boil, then reduce to a steady simmer on medium heat. Let it simmer until the potatoes start to soften a bit, about 20 minutes.
Add the chicken and kidney beans simmer gently for another 25 minutes or so. After the 25 minutes, check the vegetables to see if they have reached their desired softness before moving to the next step.
Stir in the greens, cook until they have wilted, 5 to 10 minutes. Length of time will depend on the kind of green you use; kale will take longer to wilt than chard. Add salt & pepper to taste.
Ladle the stew into bowls to serve. Enjoy!
Notes
You can vary the vegetables based on what you have on hand. We have also used a bit of cabbage as the green, adding that at the same time as the leftover chicken.
The cooking times are minimum to get the soup ready. More time enhances the flavor, and be sure to check the veggies to ensure they are soft enough for your liking.
Keywords: leftover chicken recipes, chicken stew, soup with leftover chicken
Recipe Card powered by